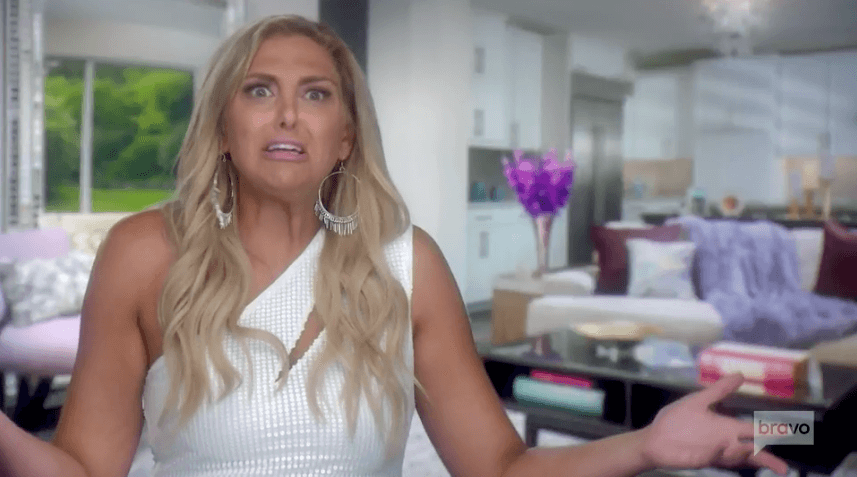 Welcome back to sunny the OC, where the Real Housewives of Orange County are living out their busy lives. Braunwyn Windham-Burke and Kelly Dodd are riding electric bikes. Emily Simpson's husband, Shane, is letting one of his twins help cook pasta. Eddie Judge lectures his wife, Tamra, that playing tennis will stimulate her brain. Uh huh. We'll see. 
Kelly Dodd and Braynwyn Windham-Burke stop riding long enough to chat about Kelly's boyfriend, Dr. Brian. His birthday is coming up and what would be a better gift than an electric bicycle? (Hmm. Let me think. A trip to Europe. A nice pair of golf clubs. A girlfriend who doesn't blow up his phone all night when he needs a break.)  
EXCLUSIVE: Dr. Brian Reagan Broke Up With Kelly Dodd Because She Beat Him Up & Cheated With Fox News Reporter Rick Leventhal!
The ladies ride tandem and it's every bit as disastrous as it sounds. They have a hard time hauling it up the hill. Taking sharp turns and heading in the wrong direction, they made it to the bike store in one piece. But when Kelly realizes the bike she wants costs $12,000, she nearly chokes to death. Oh, but the store owner was just kidding. It's only $4400. That's much more Kelly's speed. 
EXCLUSIVE: Kelly Dodd's Raunchy Sex Train During A Coked Up Threesome Exposed!
Tamra takes her son, Ryan, to the tattoo laser removal salon. She questions why he's so patriotic and accuses him of being in the Cult of Trump. Tamra has a different perspective, but she's not turning her back on her oldest. Covered in tats, Ryan is ready to put his past mistakes behind him. Well, the visible ones anyway. He starts by removing the dollar sign behind his ear. The sleeve tattoos stay put for the time being.
When Tamra mentions that Ryan doesn't quite seem himself, he whines that he never got the building blocks to life.Nor does Ryan " do" feelings. He can't talk about them or think about them. Tamra tries to share her own feelings, but he shuts her down.
Gina Kirschenheiter is getting her hair done in her kitchen. And she's going blonder. She's found a new man, Dr. Hottie, the brain surgeon. He sent her a DM, and they've been together ever since. One problem — her ex-husband, Matt, wants her back. He even suggested they attend counseling. Too late, mister.
At Braunwyn's Home of a Million Kids, the family has gathered to celebrate Rowan and her upcoming fashion show. Braunwyn's brother, Marley, flew in from Yale, and her mom, Betsey Johnson lookalike Dr. Deb, is on hand, as well. They toast Rowan with champagne. Well, except for little Hazel. She's only one. No champs until she's three. That's the rule!
Over at Chez Beador, Shannon Beador's hair and makeup people are putting her together. She wants daughter, Adeline, to slip on her heels and practice walking for Rowan's fashion show. But when Adeline strides across the floor, Shannon thinks she needs more hip action.
READ ALSO: Gina Kirschenheiter's Husband Accuses Her of Being A Drunk In Heated Courtroom Showdown!
Braunwyn is getting ready for the fashion show, too. She dons a dress with an illusion bodice and white feathers for the skirt. She describes herself as "high end Big Bird." She and husband, Sean, talk about Rowan's OCD and depression. Being a dancer only enhanced her traits and she developed a full-blown eating disorder. Now, they're worried about this show not being a success. How will Rowan deal with rejection? When Rowan enters their bedroom, Braunwyn and Sean praise her for her progress.
Finally, we're ready for the show. It's being held aboard a yacht, because that's the way they work it in Orange County. Shannon harasses Adeline all the way up the gangplank. Then, she forces her daughter to practice her walk and yells at her for not doing it properly. Adeline just isn't popping her hip the way her mama taught her. Shannon's other daughter, Sophie, thinks her mom needs to shut her piehole. All that criticism isn't helping. Shannon eventually takes to the catwalk and shows her daughter how it should be done.
The other ladies arrive. When Eddie and Tamra meet with Braunwyn, the two exchange a long hug. Eddie asks about their make out session from last week. Was there tongue involved? Yeah, Eddie. A lot of tongue. He asks to watch next time. 
Backstage, Rowan paces, acting nervous. When one of the models asks Adeline why her twin didn't show up, she says that Stella is at modeling practice. Dare I state the obvious by saying she'd get some real world practice if she walked the runway during the world famous Orange County Fashion Week? 
Gina Kirschenheiter shows up with her platinum Rapunzel locks. In her solo interview, Kelly gives us a few rules on divorce decisions. Number 1: Don't change your hair. Sure, your self-esteem might be in the gutter, but walking around looking like Daenerys Targaryen is not the answer! Braunnwyn agrees that changing your hair is like changing your life. Her doctor mother suggests Adderall might be a better fit for Gina than a new do. 
At some point, Emily shows up in time to snag a seat next to Gina. Gina whispers that Matt is pursuing her hardcore. Emily wonders if he just wants a hookup or wants back in the marriage. Gina Kirschenheiter says he's parroting all the right answers — he knows he made a mistake and wants their family intact — but she's not having it. He accuses her of being selfish. Oh, that Matt sounds like a real charmer! Emily feels that Matt is playing on Gina's emotions. 
When Shannon Beador slips into the room, Gina Kirschenheiter leaves Emily to go sit beside her. The first designer (not Rowan) shows off some basic sequin-covered dresses. The ladies applaud politely, then head upstairs early. But when Braunwyn's mom, who's dressed like Rainbow Brite and Cyndi Lauper's love child, heads off to the restroom, a man grabs her arm and demands to know where she's going. Not a shy one, Dr. Deb tells him not to put his hands on her. He claims he brushed her arm. She tells him off for disrespecting his elders, as Kelly shouts that the dude should act like a gentleman. 
The president of the OC Fashion Week, a woman named Kathy, comes to talk to Deb. Shannon is wide-eyed as she flees the small room where everyone has gathered. Kathy calls Deb "honey" and says that no one knew who she was or where she was going. Apparently, they didn't want strangers in restricted areas? Dr. Deb complains to Braunwyn. When Braunwyn finds out that no one apologized to her mom, she goes off the rails. She confronts Kathy, who asks that they talk privately before she'll issue an apology. 
Braynwyn Windham-Burke states that her mother had been attacked. Kathy throws around the "honey" word again, and says that Braunwyn is making false accusation and doesn't know what happened. Kelly, watching from the sidelines, says Kathy is pulling attitude. Kelly butts in and urges Kathy to be professional. Kathy states she didn't touch Dr. Deb, but Braunwyn steps into Kathy's space. Kathy didn't know who Dr. Deb was Braunwyn's mom and starts yelling about not being psychic. Kelly tells her to lower her voice, but Kathy turns on the mic and yells into it. Then she holds the mic to Braunwyn, almost daring her to keep arguing. Braunwyn won't do it, but Kelly has been triggered and calls Kathy a dumbass.
Braynwyn Windham-Burke urges Kelly Dodd  to think about Rowan and Adeline and discourages Kelly from fighting. No matter how angry she is, Braunwyn claims she doesn't want to ruin her daughter's big night. 
But Kathy is now stalking Kelly Dodd, sticking the mic in her face and actually hits her on the chin. Braunwyn pulls Kelly off to the side of the room, chanting, "Rowan and Adeline." Then she marches around until she finds Sean and says she's about to unleash her temper and might wind up in jail if she does. Sean looks confused. 
The security man who started it all by touching Dr. Deb leads Kathy away to regroup. When Kelly describes what happened, Tamra asks if Kelly was hit as hard as she herself hit Shannon on the head with a mallet. Kelly tells us no, it's not the same thing at all. Kelly hit Shannon as a joke! 
But now Crazy Kathy is back and is on the microphone. As she strolls through the audience like a budget basement talk show host, she complains about being bullied. She encourages the spectators who witnessed the fight to use an anti-bully hashtag. Finally, the emcee puts an end to things and starts the show. 
Rowan, who has been backstage and spared from seeing her mom and Kathy verbally spar, watches as her models begin to walk. And when Adeline hits the runway, Shannon cheers and Sophie tears up. 
At the end of her show, Rowan strolls out, walking hand in hand with Adeline. Rowan says it's the proudest moment of her entire life. But as soon as Braunwyn and her family get in the car, she fills Rowan in on what happened with Dr. Deb. She yells that no one should fuck with her family. Sean tries quiet her down and takes the focus off the altercation and puts it back on Rowan.
The next day, Emily Simpson and Braunwyn meet at the equestrian center for a ride. Emily's mother owned a breeding business. She's anxious to get back to riding because it's a great stress reducer. She and Braunwyn take a trail and bond over having terrible mothers and absent fathers.
Braunwyn's dad was an alcoholic surfer. Dr. Deb's anger didn't encourage him to be a father. Emily's father rarely had contact with her, and that's where Emily's anger comes from. ForBraynwyn she fears abandonment. Emily admits that Shane isn't always a good husband, but he's a great father who's there for his kids. Except for when he hides away in a hotel room, studying for the bar exam.
Over at Gina Kirschenheiter's , she's curling her long tresses and FaceTiming Tamra. She's heading to therapy with Matt — not to get back together, but to affectively co-parent. That might be difficult, considering the night before Matt called and texted Gina all night long. He finally showed up at her new house around 1 a.m. She hadn't locked the door and Matt snuck in. He was in her bedroom before she knew he was inside the house.
Matt's looking for jobs in Orange County. That might be a good sign. Gina's not shutting the Matt door, but she's not eager to let him back in, either. While she didn't want him coming over in the middle of the night, she also finds it kind of flattering. Still, Gina doesn't want the responsibility of splitting up the family. Tamra reminds her that Matt did that all on his own by cheating.
Tamra meets up with Ryan for coffee. She's been worried about her son. He admits he hasn't been dating or even seeing friends. He has no interest in anything right now. Though he claims he's not a victim, he feels that he didn't have a good foundation to build his life on. He hated his step-dad, and though Ryan now claims no one guided him through young adulthood, he fought Simon at every turn. Would he have his life together if he'd followed Simon's rules? Maybe.
Ryan believes that Tamra and Simon used him as a trial kid, and the other three children from their marriage benefitted from the mistakes they made with him.
Tamra wants Ryan to go see Dr. McKayla. Tamra calls her a life coach and says it's hard to watch Ryan act so disinterested in life. Ryan's open to getting some fresh insight. Tamra's keeping her fingers crossed.
And this ends our episode. So, do you think Kathy was a loose cannon or was she justified in yelling at Kelly and Braunwyn? Was Shannon being too overbearing with Adeline? And what was Gina's reaction when Matt walked through the door in the wee hours of the morning?
"Like" us on Facebook  "Follow" us on Twitter and on Instagram