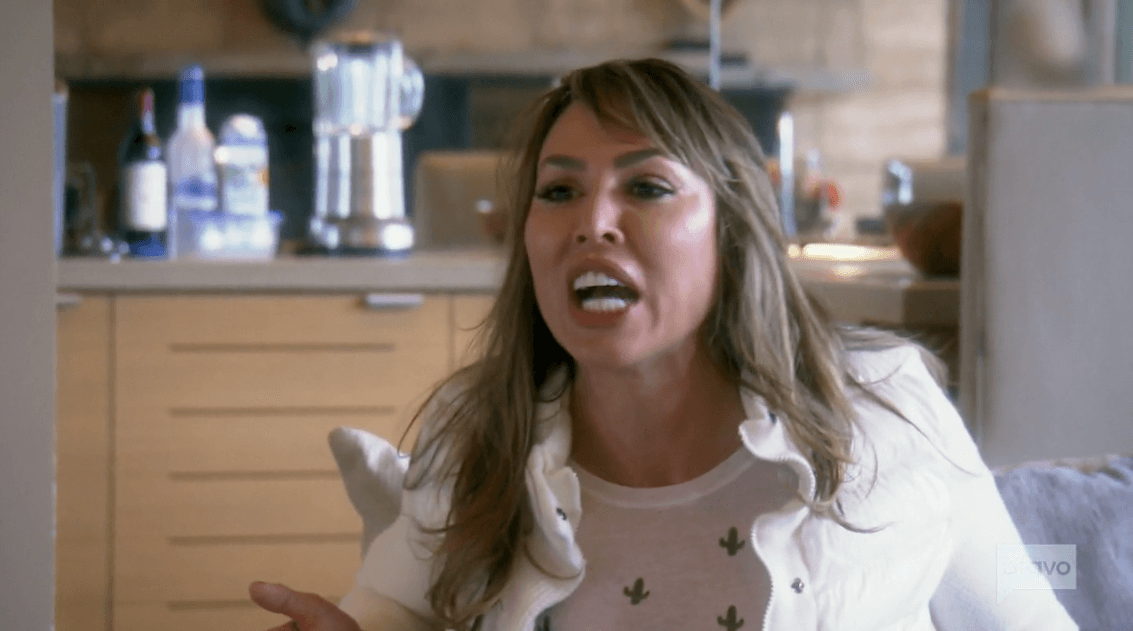 Welcome back to the Real Housewives of Orange County. If you'll remember, the ladies are at a health spa in Arizona. But Shannon Beador isn't feeling very zen since Kelly Dodd conked her on the head last week. Now, Shannon is at urgent care to make sure her brain isn't bleeding. Tamra Judge is along to hold her hand. And the other ladies are waiting for dinner back at one of the villas. The electricity may be out, but the energy healer brings her own brand of power in the form of healing crystals.
Gina Kirschenheiter holds onto a rose quartz and feels happy for the first time in a long time. Braunwynn Windham-Burke, Kelly, and Emily Simpson make their way through the dark desert to join Gina. Kelly storms in defending herself, saying she barely tapped the brass bowl on top of Shannon's head. And to prove her point, she slaps Gina upside the noggin. See? That didn't hurt. But Braunwynn looks on, horrified at Kelly's behavior. Gina, who thought Shannon's hospital visit was an overreaction, is now livid. 
Emily and Braynwyn Windham-Burke try to explain that Kelly is out of line and needs to apologize. But Kelly thinks Gina is being a wuss for not accepting a slap to the head. The two get in a screaming match about who is more out of control at the moment. (Hint: it's Kelly.) When Gina says that Kelly is making a fool out of herself, Kelly points out that she hasn't gotten a DUI nor does she have any warrants for her arrest. The energy healer looks on in sadness. Hey, I hear amethyst is good for depression.
Anyway, Kelly Dodd follows Gina through the darkened house, telling her it was all just a joke. Lighten up, already. But Gina isn't laughing, even though they hug it out. Braunwynn has some insight into Kelly's bad behavior. She thinks that Kelly lashes out before someone hurts her first. Maybe. There are a lot of mental health professionals in the OC who can help with that, I'm sure. 
Read Also: Top-Ranking Employees Quit Mauricio Umansky's Real Estate Firm To Work With Competitor Kathy Hilton Husband's Company Amid His Legal Drama!
Toward 9:30, the lights finally come back on and the ladies are downing skinny margaritas. But the fight isn't over. Kelly is still complaining that she barely touched Shannon Beador and states she plays by her own truth. Gina counters that Kelly's rules allowed her to be snarky toward Gina a few weeks prior. Kelly says that Gina's interference in her personal life was unwelcomed. If Gina were an accomplished woman, maybe Kelly would listen when Gina speaks. She basically calls Gina a loser. After all, Kelly has had 10 homes, owns millions of dollars (both courtesy of her ex-husband, Michael, I might add) and hasn't received 1 DUI. Suck on that, Gina! But Gina points out that Kelly herself has been in the big house. Touché! 
Gina Kirschenheiter complains that she's had enough of the other women's immaturity. She walks off in a huff, ready to go home. Emily tries to talk to her, but Gina admits she's angry with Emily, too. Because Emily put so much pressure on Gina to go to Vegas, Gina felt her friend was being insensitive to her legal woes.
Emily Simpson whines that Gina has ghosted her. She still can't understand why Gina couldn't just go to Vegas. Gina wants some ongoing compassion from Emily. As Gina rolls her bag out of the room, Emily sits on the bed, crying.
We catch up to Shannon Beador and Tamra in the emergency room. Shannon is fine, other than a headache and blurry vision. She had a CT scan to prove that she isn't suffering from a brain bleed. As the two women drive back to the house, Kelly calls Tamra and tears into her. How can Tamra actually accompany Shannon to the hospital? It's insane. Yelling into the phone, Braunwynn asks if Shannon is all right. Fortunately, she is. And Kelly is lucky that Shannon decided not to press charges for assault.
Kelly thinks Shannon is full of shit, despite the fact that the doctor says she might have a slight concussion. Driving back to the villa, Shannon is in tears, unable to believe Kelly's despicable behavior. 
In the aftermath of the argument, Kelly, Emily, and Braunwynn take their dinner plates and head back to their own villa as Kelly complains she's on a vacation with a bunch of old people. Girl, please. They cackle off into the night as Emily tries to drive the golf cart home.
Exclusive: Kelly Dodd and Dr. Brian Reagan Split Amid Her Cocaine Allegations & Fears For Daughter's Safety Around the Doctor!
Gina, who hasn't left for the airport, is now snuggled up on the sofa with a blanket. Tamra and Shannon arrive and share the news of Shannon's concussed state. Gina has her own complaints. She relays how Kelly smacked her on the head, too, and called her unaccomplished. And then she complains about Emily, as well.
Shannon, Tamra Judge, and Gina discuss Kelly's more outrageous moments from earlier in the day, including her sex jokes. Just then, Vicki Gunvalson calls Tamra. Vicki's cop boyfriend, Steve, says Shannon should record everything and points out that she has a year to file charges against Kelly. Shannon shrugs it off, though. She's not going to sic the cops on Kelly. Shannon believes in karma, not retribution.
Kelly Dodd calls her boyfriend and says, "We're in some kind of like, ding dong ding dong like, ding dong of ding dongs, like weird…" That's a quote, people.
Shannon and Tamra are looking forward to Woo Hoo Queen, Vicki's arrival. She shows up with a bags of fast food and immediately pats Shannon's sore head. Evidently, that concussion can't be too serious, because the doctor says it's okay for Shannon to have a drink — or several — which she does.
The next morning, Tamra complains that Shannon and Vicki were up until after 4 in the morning, screaming and giggling. Tamra calls Kelly to ask why she yelled at her the night before. Kelly, who insists she wasn't yelling, begins shouting that she is angry with Shannon. Tamra promises to keep Vicki in the bedroom so that Kelly will come over and talk.
Exclusive: Kelly Dodd Gets Into Blowout Fights With Tamra Judge & Vicki Gunvalson During Miami Cast Trip!
When Kelly arrives, Shannon asks her to have a civil conversation. She thinks Kelly has been disrespectful of the wellness process. Shannon is calm as she lists her grievances, and when Gina tries to chime in, Kelly shuts her down fast. Once more, Gina walks out of the room. Kelly screams that she simply wants to move on and have a good time. She doubts that Shannon had a concussion because she was able to drink booze the night before. In her individual interview, Kelly calls Shannon a narcissistic bitch.
Kelly Dodd jumps up and keeps berating Shannon. Tamra throws herself over Kelly to keep her from fighting. When Shannon points out that she's been a good friend to Kelly, Kelly shoots back with two words: Vicki Gunvalson. Kelly's pissed that Shannon brought Vicki on this trip, knowing how Kelly feels about the OG of the OC. Unity and forgiveness and healing crystals aren't enough to bring these former friends back together.
Kelly Dodd says Vicki has ruined her life. Shannon thinks Kelly needs to talk to people with more respect. Tamra tells Kelly to zip it, and Kelly finally admits she was wrong to hit Shannon, but she's had a rough and rocky road with Shannon over the years. They hug it out, and then Tamra forces Kelly to go make things right with Gina.
In the meantime, Emily also seeks out Gina. Emily claims she didn't sleep at all the night before. Gina thinks Emily's problems are with Shane and her marriage. She's so focused on her own unhappiness, she can't give Gina the sympathy she craves. Gina says Emily can't be kind and listen for just one day. Her divorce and legal woes are an ongoing battle. She needs Emily to support her over the long term, the way Shannon and Tamra do.
Emily goes out of her mind. Shannon and Tamra didn't have a kind word for Gina last season, now they're suddenly the three musketeers. Gina thinks Emily should care more about the optics of her legal problems. But, as Emily points out, Gina was knocking back tequila shots with Shannon just a few weeks ago. Why wasn't she concerned with the optics then, huh? Gina points out that Emily spent her anniversary without her husband. In Vegas. Dancing in a nudie review with her father-in-law, sitting front and center in the audience. (Which is still squicking me out, by the way.) 
Tamra, Vicki, and Shannon try to decide between a meditative walk or hanging yoga. Decisions, decisions! But Gina is hiding in her bedroom, and that's where Kelly finds her. Gina admits she has stuff going on that the ladies don't know about. She doesn't trust Kelly with the information, because Kelly is so volatile. As Gina breaks down in tears, Kelly hugs her and offers a Xanax. 
Over at the other villa, Emily is sobbing to Braunwynn. How can Gina treat her like this? She couldn't cancel her event in Vegas, and how dare Gina even suggest it! Emily is still riding this empowerment storyline, but let's face it. Spending your anniversary with your in-laws and not your husband is weird.
When Braunwynn and Gina go for a walk, Braunwynn assumes that Gina and Emily's friendship is over. This is the first time Gina's heard about it. They had an argument, that's all. She just wants Emily to support her through this difficult time.
Braunwynn and Gina find the stone circle at the center of the pathway, where they're supposed to write down something they want to leave behind. Gina has to let go of her fantasy of a perfect marriage and family. She buries her dreams under a rock and starts to feel better.
Kelly and Emily head to the hanging yoga class. Tamra comes in late. Dangling from the ceiling isn't Emily's cup of tea. She keeps griping about not having enough snacks. Maybe she's just really hangry? Kelly's gag reflex goes into overdrive when she sees Shannon and Vicki enter the yoga studio. 
After class, awkward silence descends. When Vicki mentions Emily's Vegas performance, Tamra asks why she and Shannon weren't invited. Emily didn't think they would want to come. And she wanted people who would cheer her on. Shannon and Tamra aren't exactly fans of Emily, especially when Tamra refers to Emily as Shrek. Ouch! Tamra denies it, but we see footage of her doing just that. Emily wonders why Tamra doesn't like her. Tamra says it's a two-way street. Emily wants to move forward, so she apologizes for not being more open with the two other women.
Vicki pipes in, saying they all have good intentions. Not one of the ladies goes out of her way to hurt the others. Whoa, now. Kelly calls bullshit on that. She insists that Vicki has been going around town, looking for dirt on Kelly. Vicki denies it, and Kelly stomps out of the yoga studio in anger.
And this ends our tranquil journey to the wellness spa. Who is right — Gina or Emily? Did Shannon really have a concussion? And will Kelly ever learn the art of self-control?
"Like" us on Facebook  "Follow" us on Twitter and on Instagram