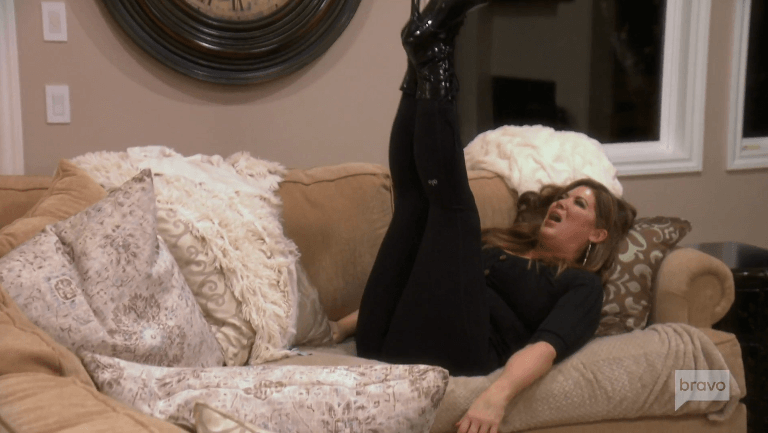 On the Real Housewives of Orange County, we open with Emily Simpson setting up for a kids' party. She asks husband, Shane, for help, but he admits he's a dick and only lends a hand on special occasions. And then you wonder why America doesn't like you, Shane!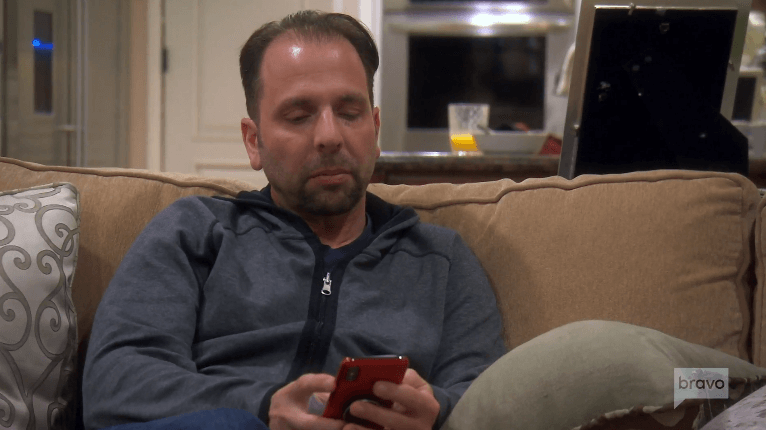 At Braunwyn Windham-Burke's, her dozens of children play with broken, hand-me-down toys. As Gina Kirschenheiter gets ready for the party, she can't get any respect from son, Luca. Shannon Beador and Kelly Dodd meet up for a walk, because they'd rather eat carbs then be at a party with thirty screaming youngsters.
Over at chez Simpson, the party is in full swing for little Annabelle's sixth birthday. Dozens of kids partake in pizza, Cheetos, face painting and unicorn cake. Emily tells us that children's parties are a competitive sport in Orange County. Gina shows up late, wearing a throw rug from her bathroom. And since she's not driving (that pesky DUI, you know) she has to Uber her way around town.
During her stroll, Kelly complains that the last time she saw Gina, the woman wouldn't stop talking about trains. Mainly, the one Kelly supposedly pulled with eight random dudes. How dare Gina give Kelly advice when her own life is falling apart? Shannon shares that she and Gina are now gal pals. But she and Emily aren't buds yet, even though Emily texted an apology to Shannon for those savage tweets. Kelly admits she's going with Emily to Vegas, to watch Emily perform her sexy dance onstage. The dance her husband wants no part of.
Back at the party, the kids go ham on a pinata. Meanwhile, Gina confides to Emily that she and Shannon are >thisclose<. And while Gina tries to explain how terrible it would have been for her kids to see her hauled away in cuffs, Emily tells her own harrowing story of being carted off in an ambulance. Yeah, it's pretty much the same thing. Right? Gina is disappointed her friend doesn't understand her position as a criminal. But Emily can only focus on the fact that her archnemesis, Shannon, is now bonding with her bestie, Gina.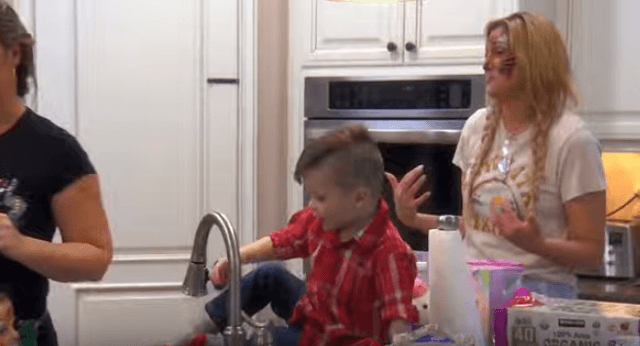 Shannon wants the ladies to head to Arizona for a spiritual, wellness retreat. Oh, and she plans on inviting OC alum, Vicki Gunvelson. Needless to say, Kelly isn't down with that decision. Shannon thinks they should just put their weapons down and have peace. But Kelly doesn't even want to be in the same room with the OG of the OC.
Over at Tamra Judge's house, her son, Spencer, stumbles out of bed for lunch. Spencer is now a lead trainer at Starbucks. Tamra is proud of her youngest son. He broke up with his girlfriend to concentrate on his full-time college studies.
Spencer hasn't talked to Ryan since their argument over The Wall. Spencer claims he didn't call his older brother a Nazi and wants an apology. He sees Ryan as closed off. Using his extensive knowledge from in Psych 101, Spencer theorizes that Ryan has daddy issues, and since Tamra had to work all the time there was no one telling Ryan what to do — that's why he now resents authority figures. Thanks for clearing that up, Spence. Tamra admits she feels guilty for raising Ryan without structure. Ryan's problems are partly her fault.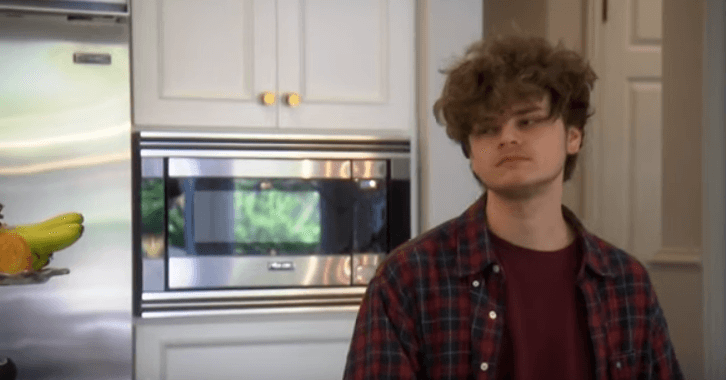 At Kelly's, Jolie plays with foundation colors and makeup while Kelly phones her brother. They speak about their younger brother. Until recently, he and Kelly didn't get along, but he's since apologized. On her girls' trip to Arizona, Kelly wants to meet up with her fam. The bad blood between Kelly and her family happened when little brother, Eric, and mom, Bobbi, moved in with her. They were only supposed to stay a few months, but months turned into years. Kelly felt that they were taking advantage of her. Bobbi left in a huff and moved back to Arizona. Their separation has lasted two years, and Kelly's ready to mend fences. When she finds out her mother has been feeling unwell, Kelly realizes how important it is for Jolie to reunite with Bobbi. Jolie thinks the women should put the past behind them and move forward.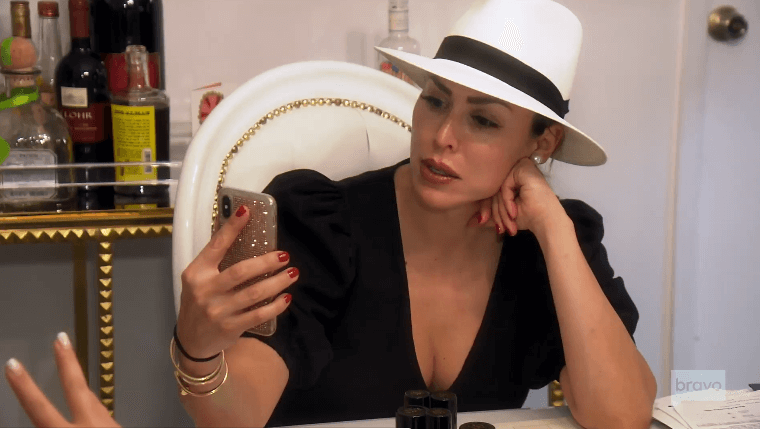 Kelly leaves her daughter to head to the condo downstairs — where Dr. Brian has rented space and spends a couple nights a week with Kelly. We learn that Brian and Kelly spent all morning humping each other. Eww? But Brian does counsel Kelly to make things right with her mom before it's too late. He comforts her and tells her to be the bigger person.
We meet up with Braunwyn and her mom, Deb, the hippie doctor. They talk about Braunwyn's grandparents, who were the most stable people in her world. Braunwyn isn't happy when she finds out that her aunt has popped in to see Braunwyn's twins. Her only rule is to keep the kids away from Auntie, but her mom didn't abide by the rule. Braunwyn's aunt can't go more than ten minutes without badmouthing Braunwyn to her children. There's a long history of strangeness regarding this aunt. She'd show up at Braunwyn's school and say awkward things in front of her classmates. But Dr. Deb is more interested in talking about bees. Braunwyn tells her mom to stop shutting her down during important conversations and pay attention. Puh-lesae!
EXCLUSIVE: Kelly Dodd & Vicki Gunvalson Call A Truce During Tucson, Arizona Cast Trip Amid Production Threats!
Braunwyn's isolates and closes people off when she's upset, and she's trying to change her ways. When she tries to tell her mom how upsetting the situation with her aunt really is, her mom doesn't seem to care. Can she trust her mom to be with her children? Um, maybe? But…bees!
Shannon drops by Tamra's house. She tries to sell Tamra on the wellness retreat. Shannon claims she wants everyone to be nice to each other. Especially Vicki and Kelly. And make no mistake, Tamra is on Kelly's side. Vicki hasn't learned that gossip is painful, however, wasn't it Tamra who brought up the train in front of the cameras? Yes. Yes, it was. Shannon also thinks it's time for Vicki to own her sh*t.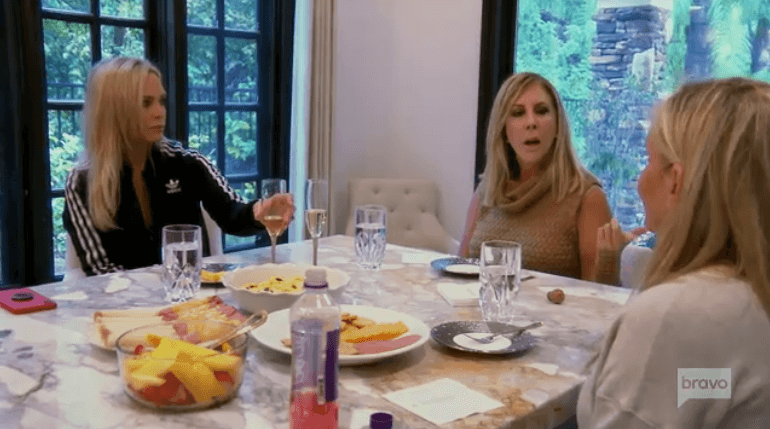 They head over to Vicki's house to ask her on the trip to Arizona. Vicki greets them with a bottle of champagne, a meat tray, and engraved napkins that say #whoopitup. Tamra talks about how Eddie's heart surgeries made her aware that she needs to get her affairs in order. And instead of planning a funeral for herself, she wants to be stuffed like a dead squirrel. Shannon veers the conversation to the spa visit. Vicki asks if Boring-wyn will be coming along? And no, she didn't make up that nickname, she just repeated it.
EXCLUSIVE: Kelly Dodd's Raunchy Sex Train During A Coked Up Threesome Exposed!
Now, Shannon demands the low blows stop between Vicki and Kelly. Why put all those bad vibes in the universe? Is Vicki capable of not reacting to Kelly's taunts? There's always a first time, right?
Gina and Braunwyn meet up at the Bounce Society to hop around on trampolines. Gina's doubtful that this is a real workout, but after bopping around for a few, Gina needs a puke break. After class, Braunwyn and Gina talk about Emily's trip to Vegas. Only Braunwyn and Kelly will be going with her, and Gina's upset that Emily kept pressuring her to attend. Doesn't this woman understand Gina can't go to Vegas to party? The optics wouldn't look good to the judge.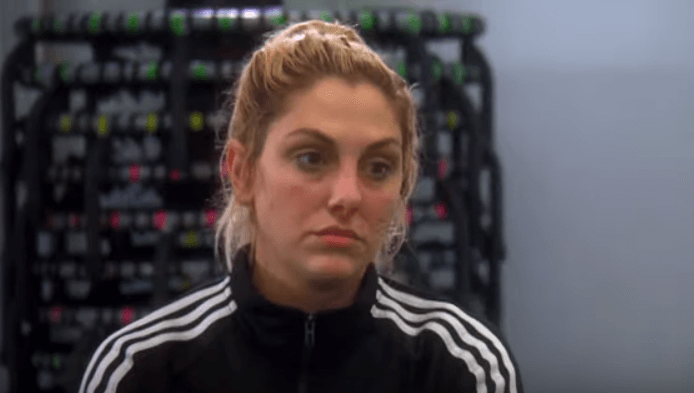 Gina thinks Emily dancing around on stage with naked women is a cry for help — or a mid-life crisis. Braunwyn had one of those. She wound up in the hospital. I hope she explains what happened, because now I'm coming up with all sorts of scenarios. Was there a straight jacket involved? Tranquilizers? Banana bags? What?! I need to know!
At Five Crowns, Braunwyn and Deb wait for her castmates to join them for dinner. Deb has already become pals with the girls through social media, but now they get to meet face to face. There's hugs and gifts and comparisons of Deb to Betsey Johnson.
Braunwyn and her mom argue over a ring Braunwyn is wearing. Deb insists on getting it back, but Braunwyn claims Deb gave her the ring as a gift. They bicker a few minutes, making the other ladies uncomfortable.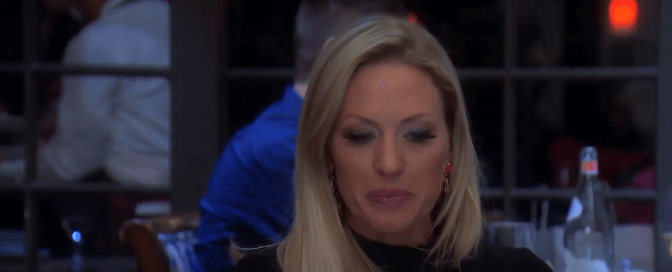 Deb was 27 when she met Braunwyn's stepdad. He was 19, by the way. Deb loves her some younger men! She plans on staying in town to watch the kids while Braunwyn goes to Vegas. As the night progresses, the ladies love Deb's sense of style and freedom. She brings crystals for each of the women, and endears herself to them even more. Deb suggests the women set up an altar in their house.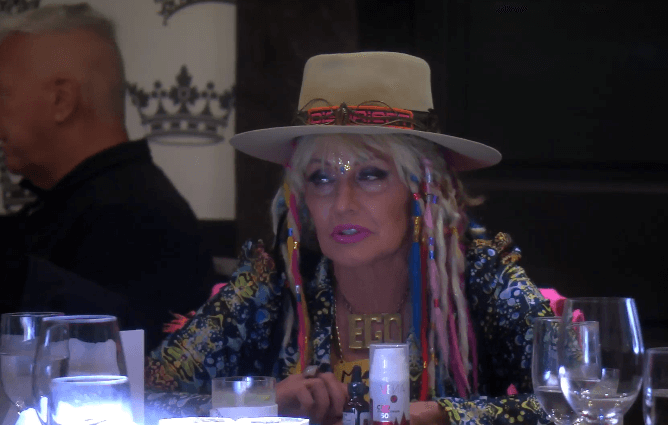 Kelly is still on the fence about the Arizona trip. She really doesn't want to see Vicki. Braunwyn thinks Vicki is an insecure woman, and that's why Vicki lashes out at people. Shannon says Vicki is apologetic and wants to put an end to the bad feelings between her and Kelly. But Kelly calls Vicki a "washed up bitch" and refuses to back down if Vicki comes after her on the trip. The other women swear they'll have Kelly's back, while Shannon urges peace and coexistence.
Over at Emily's place, Shane is actually playing with his children. Emily shows off her shiny, patent leather booties which she'll be wearing on a Vegas stage. Shane thinks they look like witch shoes, and he's not impressed. Irritated, Emily puts them on and hopes to impress her husband with her sexiness. But she can barely convince him to come and sit with her for a few minutes.
Emily points out that Shane was gone for two weeks while he studied for the bar exam. And since he's been home, they still haven't really spoken to each other. Their communication sucks. While she's listing off their problems, Shane can't seem to put his phone down long enough to pay attention.
He claims she texted him nasty comments before he left on his study sabbatical. She wants to go to therapy or a mediator or something to help them communicate. She's tired of the way he talks to her, all that sarcasm. Shane thinks she's bashing him, and by the way, he's not sarcastic. He's satirical. Ugh.
So, what's your take on this week's episode. Do you think Emily is being a good friend to Gina? Will Vicki and Kelly be able to make peace?
"Like" us on Facebook "Follow" us on Twitter and on Instagram