RECAP: 'Southern Charm' Kathryn Dennis Reluctantly Accepts Ashley Jacobs' Apology!
After last week's chlamydia scandal, Southern Charm starts this week with Chelsea Meisner meeting for lunch with her dad. Over fish bites and hush puppies, Chelsea says she isn't sure she wants to go into business with Austen Kroll's girlfriend, Madison. Mostly because Madison fights dirty. Chelsea's dad agrees with her, and tells her to go it alone.
Over at Kathryn Dennis' rental, Danni Baird shows up. They hug like they haven't seen each other in years. Kathryn is lurve with a songwriter named Hunter who lives in Nashville.
EXCLUSIVE: ASHLEY JACOBS BLOWS THE LID OFF WHITNEY SUDLER-SMITH'S SECRET GAY LIFE!
Over sandwiches in the courtyard, Kathryn admits she talked to Madison. But Danni isn't in a forgiving mood. No one will soon forget that Madison spilled the tea about Danni contracting an STD from Shep Rose. But Kathryn likes the girl. They're both young moms, and they've done crazy shit in the name of love. Danni gives Kathryn permission to friend Mads, but Austen is still on Danni's shit list. He's the one who let the chlamydia cat out of the bag, so to speak. While lunching, Kathryn receives a text from Eliza Limehouse, inviting her to a fox hunt. Liza uses words like tally ho, which only confuses Kathryn.
MUST READ: KATHRYN DENNIS INVOLVED IN DANGEROUS CAR WRECK WITH HER KIDS — SHE HIT 3 TREES AND 2 LIGHT POLES!
And speaking of Ms. Limehouse, she's innocently working at her family's inn when Ashley Jacobs stumbles in. Liza expected Ashley to come to her last party full of love and forgiveness, but that's not what happened. Mainly because Ashley's an asshole. Now, Ashley wants to talk to Kathryn and apologize. Does Eliza think this is a good idea? Um…maybe. After all, there is another fox hunt coming up. Wouldn't it be great if Ashley could get it right this time? Sure, Eliza. Keep dreaming.
Craig Conover and Austen get together for a drink. They talk about Shep's ultimatum to Austen: either break it off for good with Madison, or they can't be bros anymore. Craig sees all sides of the issue. Austen realizes that he's been holding back from Madison because he's worried about what his friends will think. But Craig puts it very simply: if a nuclear war were coming and Austen could only take one person to a safe island to live out the rest of his days — who do ge take? Austen's immediate response is, "Madison!" Just one problem. Madison has a kid, and Austen's made it really clear he's not ready to take on fatherhood. Also, his wishy-washy indecision over their relationship makes me crazy!
When Cameran Eubanks has dinner with Shep, they discuss his property that he bought in the marshes. Cam told him that was a concern, but he didn't listen. But Cam stops her gloating when Shep orders a gingerale instead of a cocktail. Shep isn't making any promises, but he's trying to clean up his act. What he's not cleaning up is the mess Austen is making of his life. If Austen chooses Madison, Shep won't be around to pick up the pieces of his friend's broken heart. Not this time!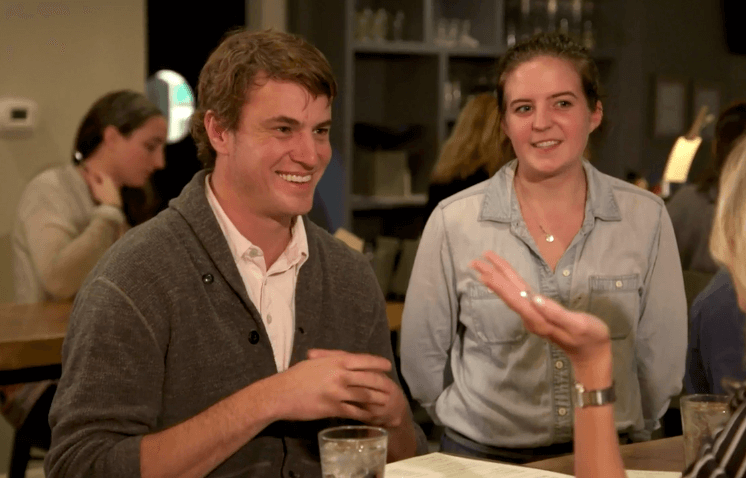 Cameran wonders if Madison has some kind of information on Austen, basically blackmailing him into staying with her. Shep agrees, admitting he has a lot of dirt on Austen, but has refrained from spilling secrets…until now. At Cam's urging, Shep tells about Austen's romantic Valentine's Day gesture. It seems that Austen wrote out "Butt Stuff?" in rose petals. And Madison was all for it. Cam is truly horrified, but whether she's more shocked at Austen's presentation or the subject matter is anyone's guess.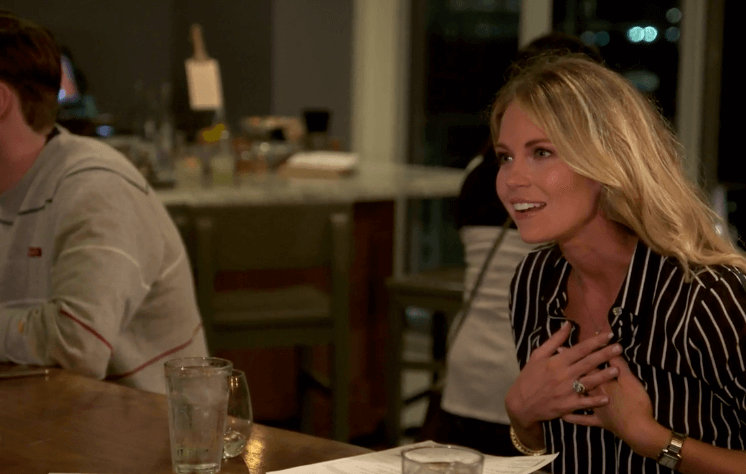 Meanwhile, Austen meets Madison for dinner. He's so nervous, his ears are hot. They order mussels and a bottle of wine. Madison isn't really sorry that she dropped the chlamydia news, but she probably shouldn't have said it. Austen understands her motive, sort of. But she can't keep spilling tea that Austen's told her in private. He claims that his feelings for her overwhelmed him and that's why he cheated — in a three-way — because he's a self-saboteur. So, where do they go from here? He finally admits he loves her and he's all in! Butt stuff ahoy!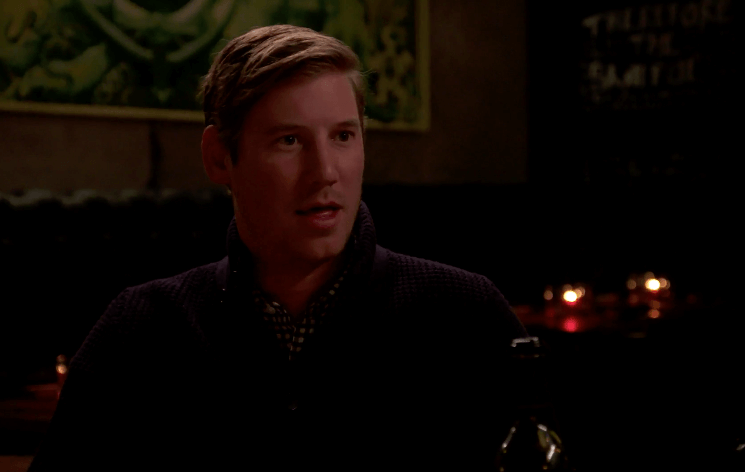 The day of the fox hunt arrives. Eliza is sporting her grandmother's antique fox-hunting broach — as one does. Shep and his dog, Little Craig, stop to pick up Bailey, his girlfriend from a few seasons ago. Shep's ginger ale drinking ways were short-lived, and he's slightly hung over. Bailey is also a friend of Austen's. Bailey wonders how the two men will react to each other. Shep likens his friendship with Austen to a nuclear winter. That doesn't sound hopeful.
As the two men meet at the tally ho, they're overly polite to one another. Chelsea and Naomie Olindo take to the horses and join the hunt, but decide at the last-minute to back out. Craig arrives, and to everyone's disgust, Ashley joins the group. Naomie tried to warn the girl to stay away from Kathryn, but she wouldn't listen. Now, everyone expects the worst.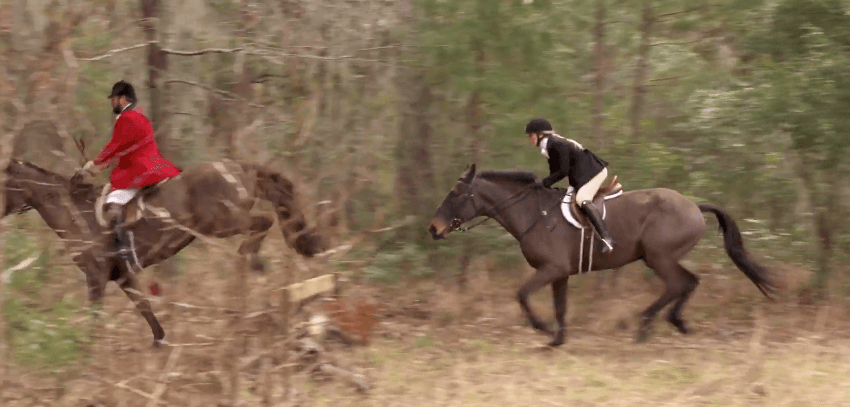 Once the hounds are released, the hunt is on. But don't worry, it's not a real fox hunt. It's a faux hunt. The charmed ones are nestled inside hay wagon, drinking. Everything stops when the hounds lose the scent. And…that's it. A lot of preparation for very little pay off.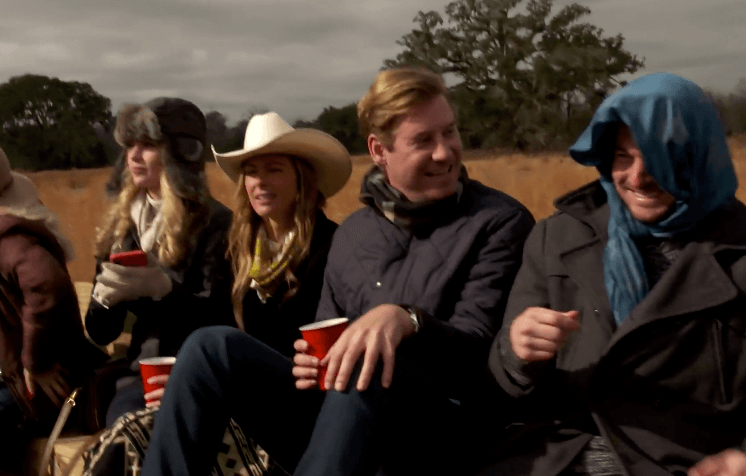 Everyone heads back for lunch. Danni and Kathryn arrive late, but just in time for the food. Kathryn's sassy red hat matches her boots, and she's sporting two pairs of false lashes. While Ashley is making fun of Kathryn's braids, Austen confesses that he and Mads are back together. Craig gives his tentative blessing.
So far, Ashley and Kathryn have stayed away from each other, but over lunch, Cam decides they need to role play. Cam plays the part of Ashley, and she does a pretty good job of acting like a lunatic.
Soon, the real Ashley approaches Kathryn. They head off for a face to face away from the charmed ones. Craig stays nearby to make sure the two women don't get into a cat fight. Ashley actually apologizes for the shitty things she said last season. She admits that when she went home to Cali, her family was ashamed of her behavior. Then she tries to rewrite history by stating she was always supportive of Kathryn and Thomas Ravenel's relationship.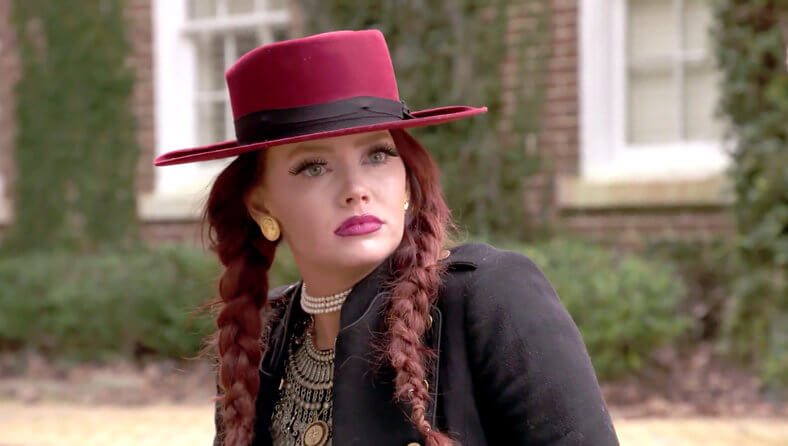 Kathryn isn't believing a word that comes out of Ashley's mouth. But Ashley persists. She wants to be able to wave at Kathryn across the street when they see each other. Is that asking too much? Yeah, it kind of is. But Kathryn wishes her the best and leaves.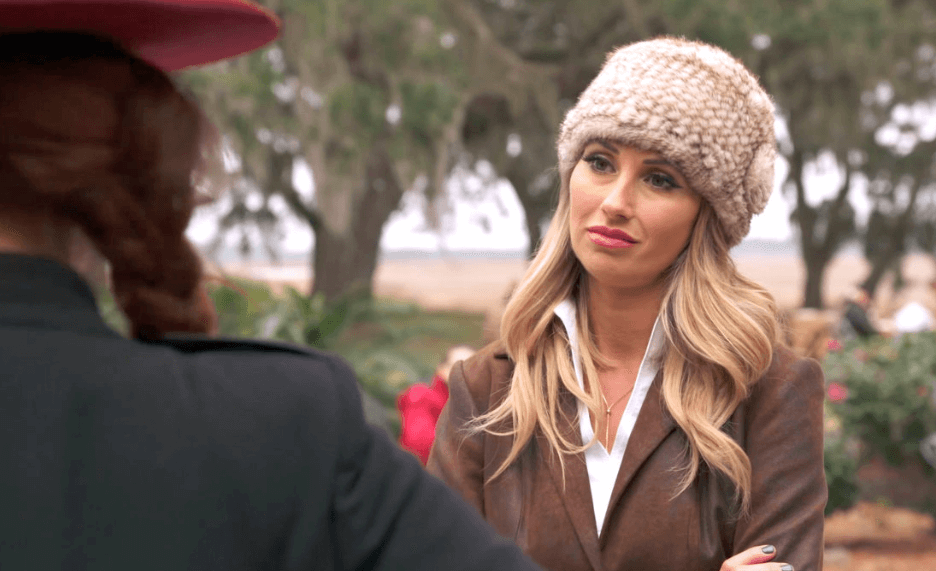 The girls gather around Kathryn to get the scoop. She doesn't forgive Ashley, and she never will. Ashley complains to her friends that she and Kathryn don't even speak the same language.
Eliza finally shows up after the hunt. She's satisfied that Ashley Jacobs and Kathryn didn't scratch each other's eyes out. Success!
Shep and Austen bump into each other at the bar. Shep scowls in Austen's direction, then walks away. But Austen isn't one to be ignored. He tells Shep that he's back with Madison. Shep is disgusted, disappointed, and confused that Austen is going down this road again. Austen admits he doesn't want to feel this way for Madison, but hey, love. Right? Shep is done. He can't hang with a man who makes such stupid decisions.
And this is the end of our Southern Charm episode. So, do you think Austen made the right choice? Is Madison a fool for taking Austen back? And should the charmed ones have shoved Ashley Jacobs off the wagon during the hunt?
"Like" us on Facebook  "Follow" us on Twitter and on Instagram 
I'm a fiction writer by day and a reality TV addict by night.