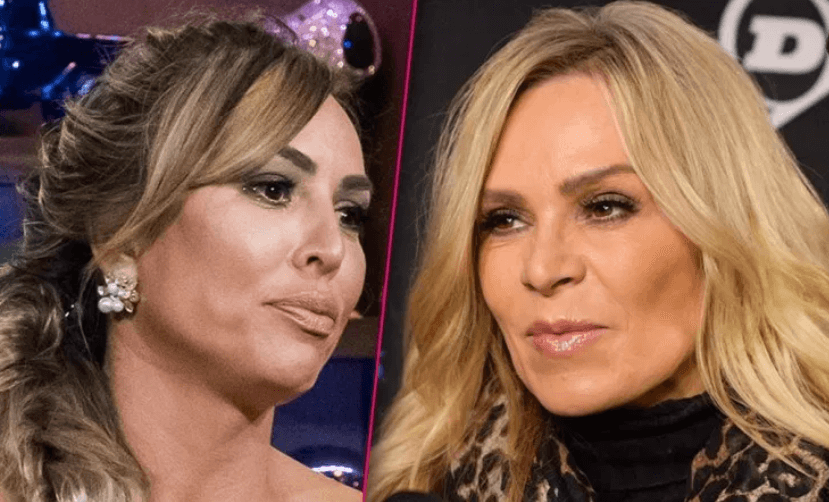 The Season 14 premiere of The Real Housewives of Orange County was lackluster but the real action was happening on Twitter between Tamra Judge and Kelly Dodd.
Their feud boiled over on Twitter after the episode aired with Kelly Dodd firing the first shot at Tamra for boasting about her new $2 million home in one of the OC's most prestigious gated communities, Coto de Caza.
When a fan tweeted, "2,000,000 is not 'rich' for that area," Kelly  jumped right in and replied, "You can't buy a tear down in Newport Beach for $2m. Coto is a nicer Temecula." Note, "Temecula" is a city in Southern California, surrounded by hillside vineyards and several golf courses.
The comment did not sit well with Tamra, who fired back, "Do you own a house? I own 2."
EXCLUSIVE: Kelly Dodd's Raunchy Sex Train During A Coked Up Threesome Exposed!
A Kelly fan attacked Tamra's parenting: "You own 2 homes…but at what cost? Not having contact with your daughter? Kelly would never choose #RHOC over Jolie." And Kelly asserted, "I would never!!!"
Things took an ugly turn when the fight dissolved into who's richer — Kelly tweeted, "Living in Coto you're rich!! lmfao who says that?? Coto is in the sticks!" To which Tamra savagely clapped back, "I pay for my houses. I don't date old men for money."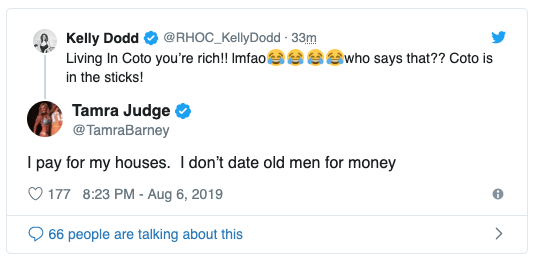 Kelly quickly snapped back, "I sold my house for $5m dollars!! Lmfao!! I could pay for your house with cash!! Lmfao."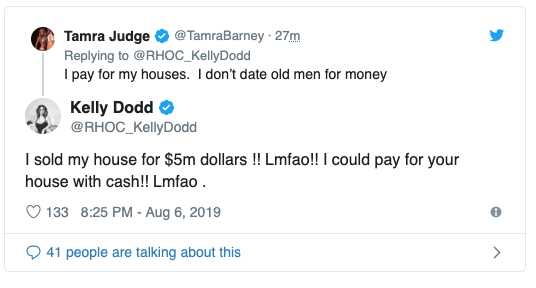 "You're so blessed," Tamra replied. "I hope you buy you 5 million dollar home soon."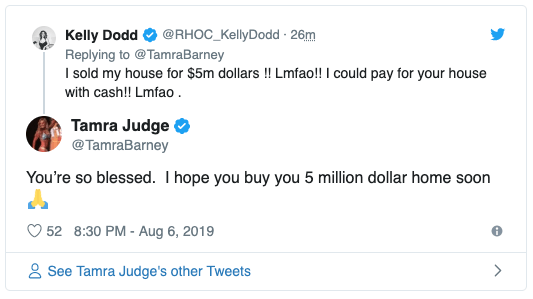 Kelly, 43, then tried to age-shame Tamra, 51 — although they're only 8 years apart.
"And my boyfriend is your age!!" Kelly tweeted her co-star. "So I guess you're saying your old!! Lmfao." Tamra simply replied, "Yup I'm old."
Kelly Dodd's Drug Abuse & Whoring Is Front & Center On 'RHOC' Season 14 Trailer: 'I Don't Do Cocaine, and I'm Not a F*cking Whore!'
Replying to one of Kelly's since-deleted tweets, Tamra Judge said, "Let's compare income? If it bothers you that much."
In another now-deleted tweet, Kelly replied, "Take ur own cbd & relax. Michael [Dodd] was the president of many public companies & I was left with a windfall not a salary u rely on soley…who did you marry? A spin instructor? When you time runs out on the show #youarenext let's see if your husband sticks around!! #sugarmama."
"What is Kelly's real Job?" a fan asked Tamra Judge on her "let's compare income" tweet.
"I think we all know the answer to that," Tamra fired back.
"Don't bring Eddie into it," someone asked of Kelly on the same thread. "The poor guy has a heart condition. You two cat fight all you want but leave the men out of it."
"She brought my boyfriend into it," Kelly smugly responded.
The Real Housewives of Orange County airs Tuesdays, at 9:00 p.m. ET.
"Like" us on Facebook  "Follow" us on Twitter and on Instagram