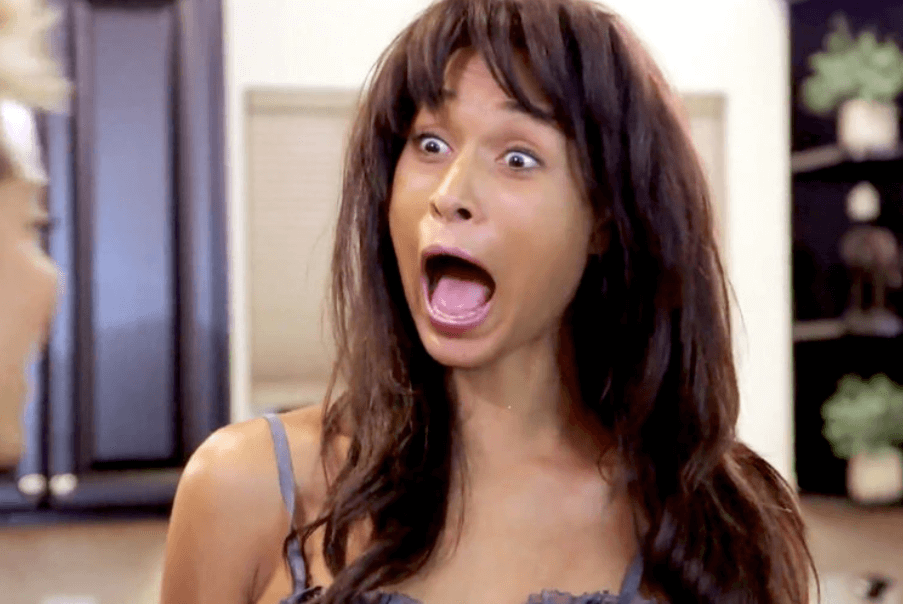 Katie Rost has revealed that she was not invited to The Real Housewives of Potomac and goes after Michael Darby.
Despite being a friend of the show this season, Katie has generously inserted herself in the drama surrounding Ashley Darby's sexual assault scandal. As fans know, Ashley has found herself at odds with Karen Huger, Candiace Dillard Bassett, and Robyn Dixon over the scandal.
RELATED: Katie Rost Reveals Michael Darby Tried To Arrange A Hook Up With Her Boyfriend Amid His Sexual Assault Charges!
In a recent Instagram post, Katie shared that she was not invited to the Real Housewives of Potomac reunion and took a shot at Michael Darby by referring to him as "Chester the Molester," — "I have been told I will not be asked to the reunion, I want to be there. Obviously I have a place there. That's not right! You are going to have Michael Darby, aka Chester the Molester there and not me!!!! WTF Bravo! Not cool #rhop #somethingstinksindenmark." Katie posted on July 30.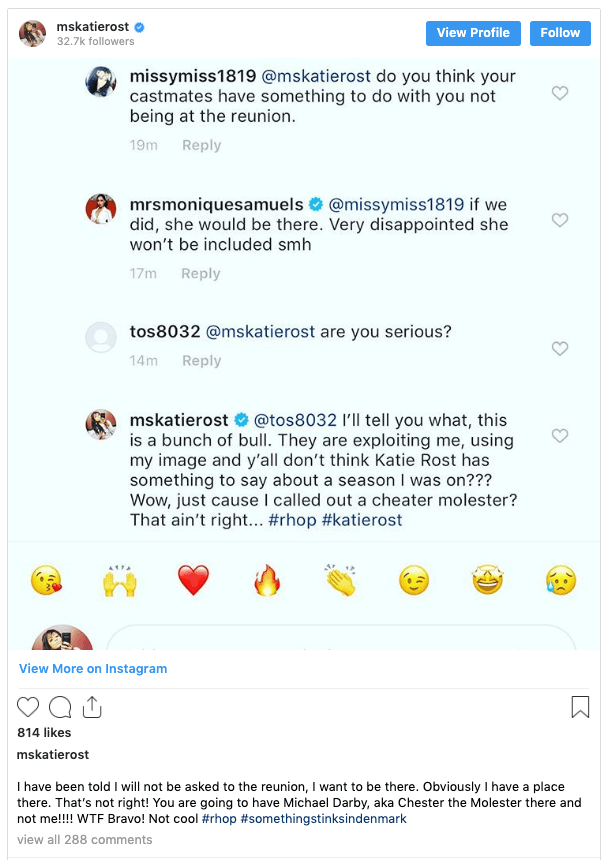 Ashley Darby should be busy with her newborn baby, but instead she's on Twitter throwing shade at her fellow RHOP costars.
The new mom took to Twitter on July 17 to first share an update with fans on how she's been doing since welcoming her first child, son Dean Michael Darby, on July 7. Hello my friends!" Ashley tweeted. "This motherhood journey is the best feeling in the entire world!"
EXCLUSIVE: Monique Samuels Speaks Out Amid Her Explosive Feud With Candiace Dillard — Monique Blocked Candiace and Warned Her 'Not To Become Ashley Jr!
She also teased that she's not about to hold anything back at the upcoming RHOP Season 4 reunion. "I have stepped out of my peace bubble to say I will spare no one at this reunion," she tweeted, adding that the RHOP ladies "will hear what I have to say then."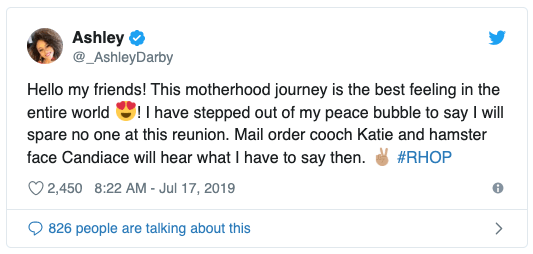 The Real Housewives of Potomac airs Sunday nights at 8:00 p.m. ET, below.
"Like" us on Facebook  "Follow" us on Twitter and on Instagram