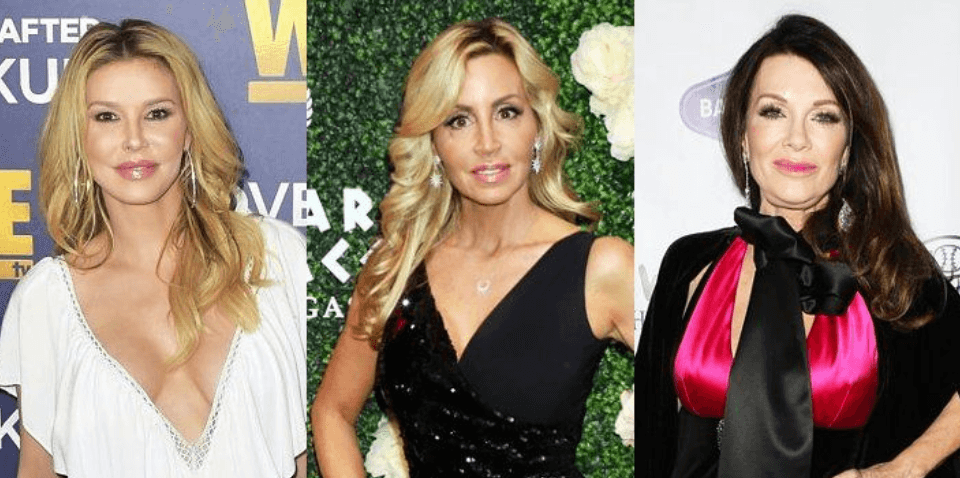 Lisa Vanderpump is fighting back against Real Housewives of Beverly Hills stars, Brandi Glanville and Camille Grammer amid ongoing drama from the season 9 reunion.
On July 28, the British restauranteur tweeted, "First, @CamilleGrammar speaks for herself, we have seen that," the SUR restaurant owner, 58, recently wrote in response to an article that addressed Grammer's claims that Glanville, 46, was the reason LVP decided to skip the RHOBH reunion.
RELATED: Lisa Vanderpump's Husband Drags 'RHOBH' Stars For 'Bullying' His Wife — Calls Out Their Lawsuits, Rehab & Bankruptcy Scandals!
Vanderpump's tweet follows Brandi's claims that Camille comments during the reunion taping were written by Lisa Vanderpump.
"Let's be 1000 percent clear, Camille came in with a script and all of it was written by Lisa Vanderpump," she said during a recent episode of her "Brandi Glanville Unfiltered" podcast. "She came in with bullet points she had to get out. [Lisa] wrote it. I know Lisa. So Lisa's last act as a housewife was to make sure that if she's going down, bitches are going down with her."
RELATED: Lisa Vanderpump Employee John Sessa Exposes Kyle Richards For Lying About PuppyGate Set Up & Blasts Her For Slandering His Boss!
Camille had previously revealed that the drama from the reunion was Vanderpump's way to possibly return to the show.
"I think she just wanted to make sure that she left [the door] open with all of the other women so that she could come back and blame me for the entire season of everyone calling her out on her bulls–t," she said. "I don't think LVP's days on Housewives is [sic] over. I don't. I think that she'll take a season off, she'll come back. Whoever the weakest link is, she'll get in with them and they'll make up or she'll blackmail someone and get back in somehow."
Camille appears to be #TeamLisaVanderpump and recently called out Teddi Mellencamp, Denise Richards, Lisa Rinna, Kyle Richards, and Dorit Kemsley for forming an alliance against the British native. 
As for the suggestion that Glanville will return to the hit Bravo series in place of Vanderpump, the U.K.-born reality star added: "Secondly, I don't give a damn if @BrandiGlanvilIe joins #RHOBH. In fact, I think she SHOULD join THIS cast, as she would fit in perfectly."
Lisa Vanderpump did not attend the season 9 reunion but was certainly a major source of fodder for the ladies. Part one and two of the reunion centered around the women dragging Vanderpump.
The Real Housewives of Beverly Hills dramatic three-part reunion airs Tuesday nights, on Bravo, at 9:00 pm ET. 
"Like" us on Facebook  "Follow" us on Twitter and on Instagram