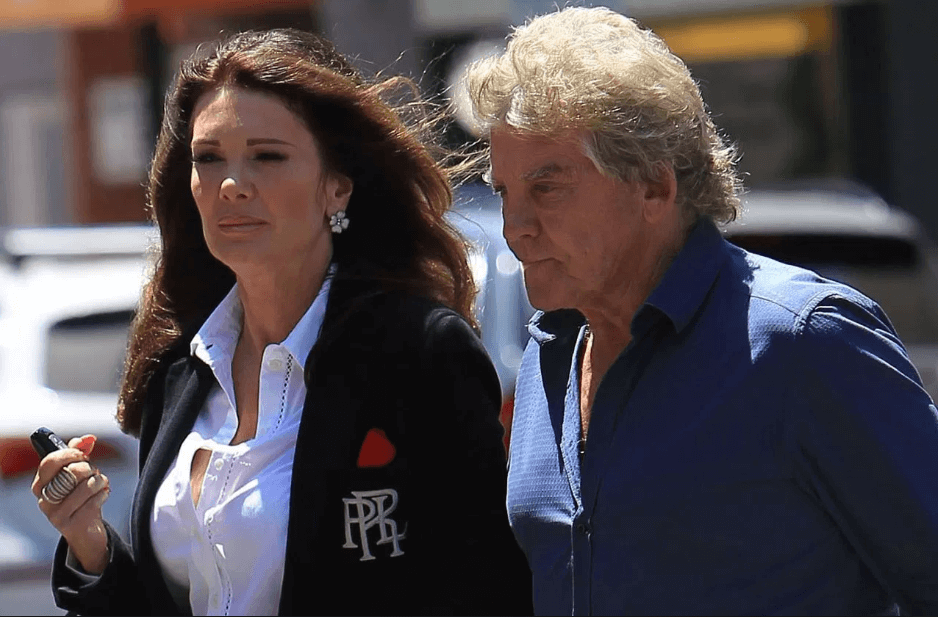 Ken Todd got his wife's back!
On Sunday, Ken Todd celebrated his birthday and went on Twitter to call out Real Housewives of Beverly Hills stars, who bullied his wife this past year. "It's my birthday and I will speak if I want to!" the restaurateur captioned a series of notes.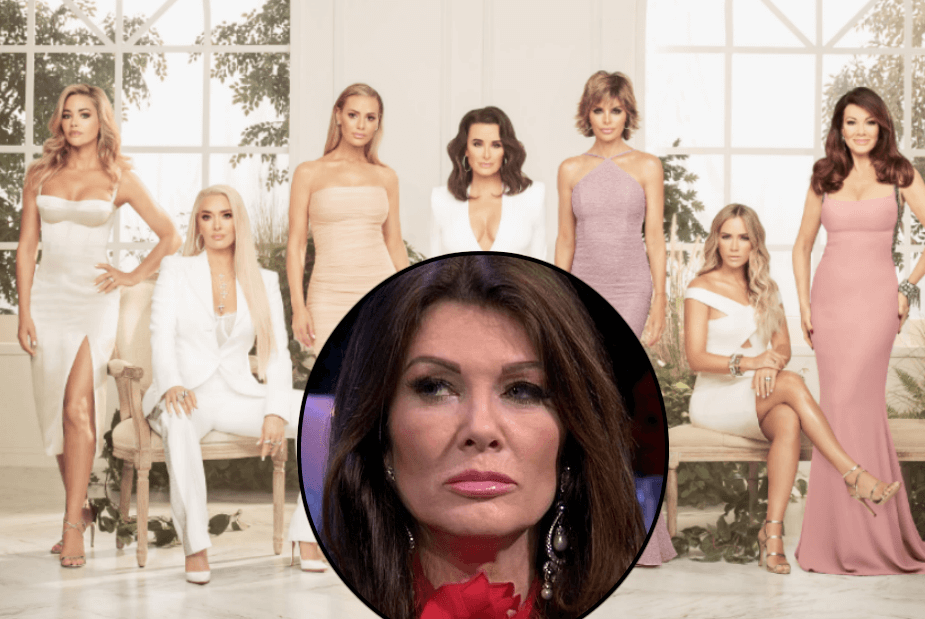 In the message, Ken, 61, puts Teddi Mellencamp, Lisa Rinna, Kyle Richards, and Dorit Kemsley on blast for their involvement in the #Puppygate scandal. He also takes a swipe at Camille Grammer's 'bad gums' insult.
"I would like to get some things off my chest," Ken wrote, saying that it's now been one year since "all that negativity against my wife started."
"There has been a huge amount of nastiness that has pushed my wife to the brink," he continued. "When, at a time in her life like this, she needed her friends!"
ERIKA JAYNE'S HUSBAND LOSES MILLION DOLLAR LAWSUIT — ORDERED TO PAY $16 MILLION BUT HE'S ALREADY DELINQUENT ON THE PAYMENT!
As fans know, #PuppyGate is the drama that plagued season 9 and drove Lisa Vanderpump to quit the reality series after appearing on the show for nine years.
"What really irks me is the hypocrisy of this whole matter. The very PUBLIC issues — lawsuits, over 50 million dollars of them, loans in default, rehab, business misdoings, bankruptcies — have all been swept under a carpet. Lifestyles paid for with other people's money, I call bulls**t!" continued Ken.
LISA RINNA'S DUGHTER DELILAH BELLE HAMLIN REVEALS SHE WENT TO REHAB TWICE & HAS MENTAL HEATH ISSUES!
Ken states he was the one that advised his wife not to attend the Season 9 reunion over the bullying. Vanderpump did not attend the season 9 reunion but was certainly a major source of fodder for the ladies. Part one of the reunion centered around the women dragging Vanderpump.
"I didn't want my wife to go to the reunion as it has been bullying. Yes, I used that words, bullying, because that is what this nonstop attack has been," he wrote.
"I am asking for this hatred to stop!" Ken continued. "It sickened me to see my wife in tears."
JUDGE FREEZES DORIT KEMSLEY'S BANK ACCOUNT OVER PK'S $1.2 MILLION LAWSUIT — SHE CAN'T TOUCH A DIME!
He addressed Camille's "bad breath" insult — calling it the final straw.
"To now attack her personal hygiene disgusts me," Todd wrote. "I could put it out here that my wife's breath is as sweet as she is as, I am the one who kisses her daily I should know. I am angry as it is a vile lie…Like so many other things that have been said about her."
The British native concluded his statement by saying 'Goodbye Kyle' to the 'vicious' drama.
"So it's not just Goodbye Kyle that I want to say … it's goodbye to all of the vicious nastiness…there I feel much better now. Happy birthday to me," Ken wrote.
Read Ken Todd's lengthy birthday post below.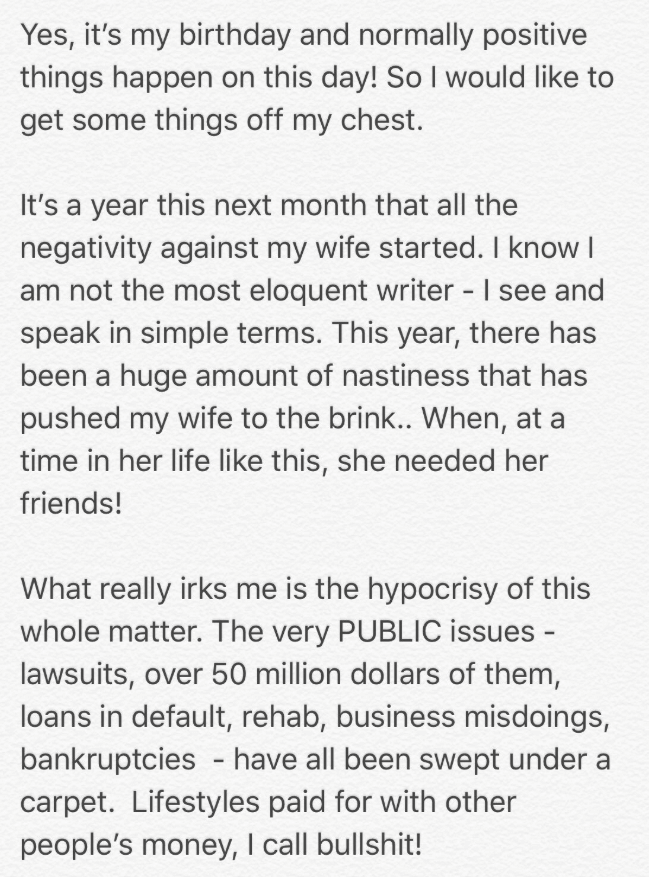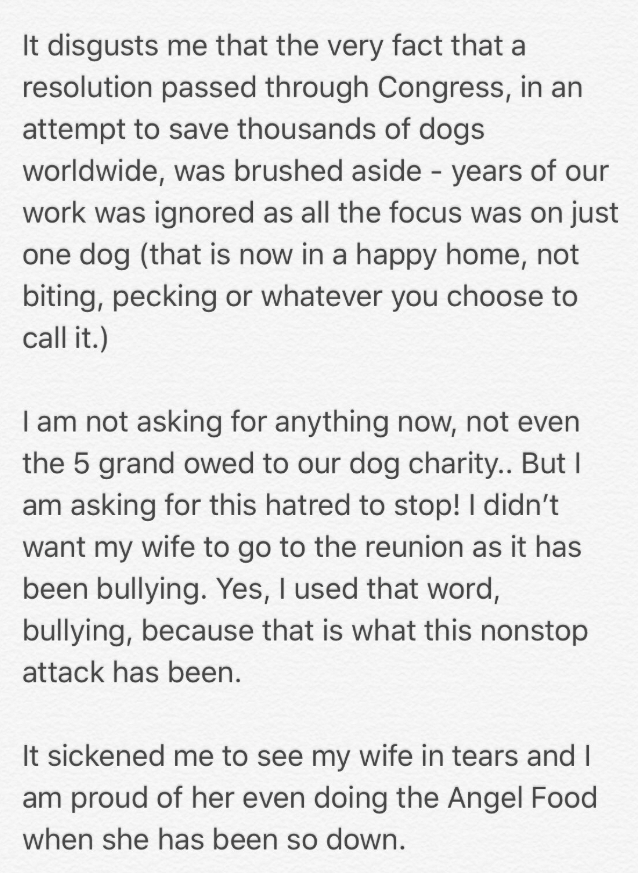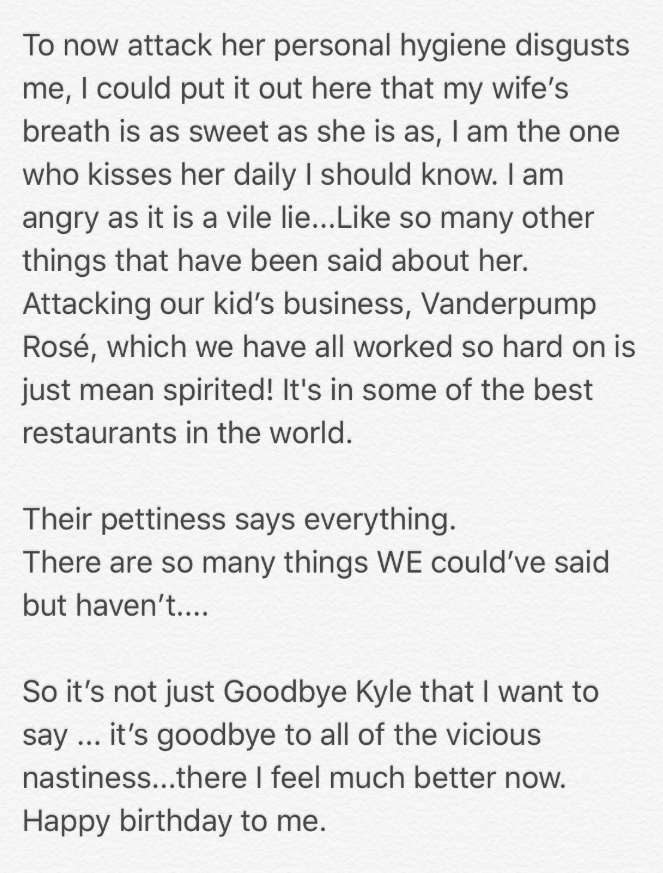 The Real Housewives of Beverly Hills dramatic three-part reunion airs Tuesday nights, on Bravo, at 9:00 pm ET. 
"Like" us on Facebook  "Follow" us on Twitter and on Instagram