Real Housewives of Beverly Hills
Lisa Vanderpump Employee John Sessa Exposes Kyle Richards For Lying About PuppyGate Set Up & Blasts Her For Slandering His Boss!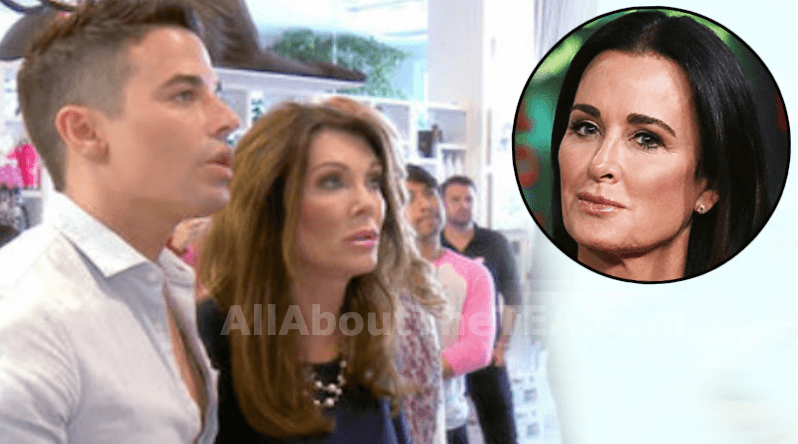 Lisa Vanderpump's trusted employee, John Sessa is calling out Kyle Richards — and setting the record straight on some allegations made by the Real Housewives of Beverly Hills star recently.
As reported, Kyle took to Twitter on July 23 to make many scathing allegations. In one tweet she wrote, "People who have spent their entire life treating life as a game and "winning" at it have had lots of practice. When I was told to go to Vanderpump Dogs way back at the beginning of the season, I knew right away what was going on" — implying PuppyGate was a preplanned set up before the season started filming.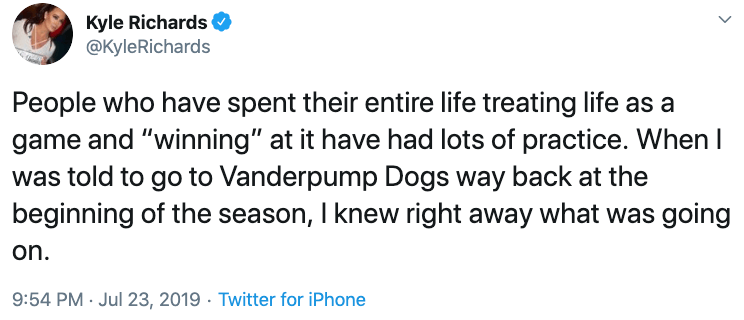 John Sessa posted emails from production that show the now infamous scene at Vanderpump Dogs with Lisa Vanderpump, Kyle Richards and Teddi Mellencamp that kicked off "PuppyGate" — the main storyline of Season 9 — was scheduled BEFORE Dorit Kemsley dumped the dog at a kill-shelter. He wrote, "@kylerichards Don't twist this & create ur own narrative. Here is the Location Agreement for the scene @VanderpumpDogs It was requested by production on 7/25 BEFORE the dog was dumped (on 7/29) & was supposed to be a scene between u and @teddimellancamp grooming ur dogs on 8/2)!"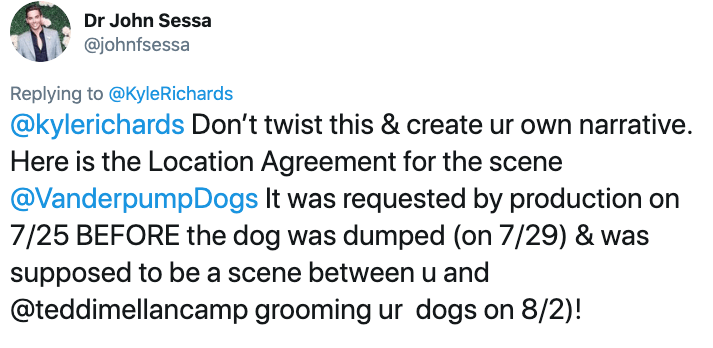 Below are the emails posted by John Sessa from RHOBH production to Lisa Vanderpump, Kyle Richards and Teddi Mellencamp.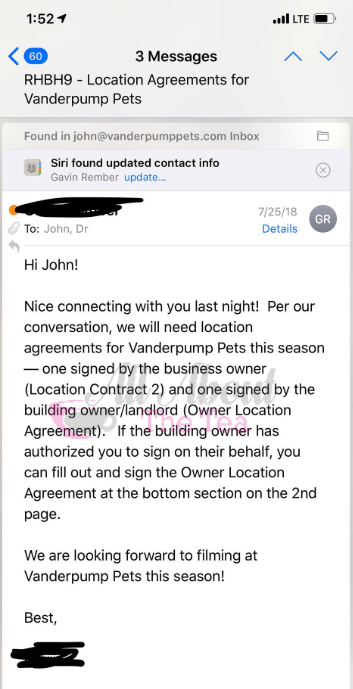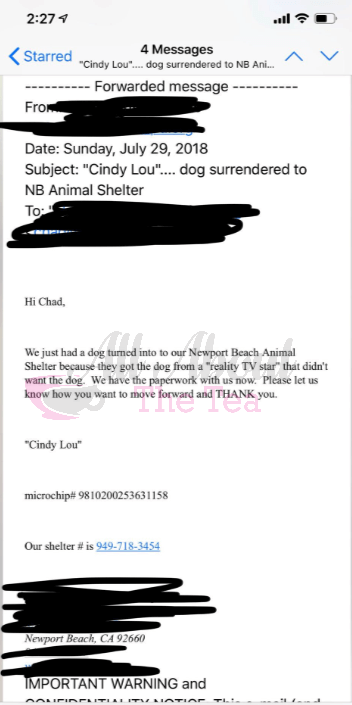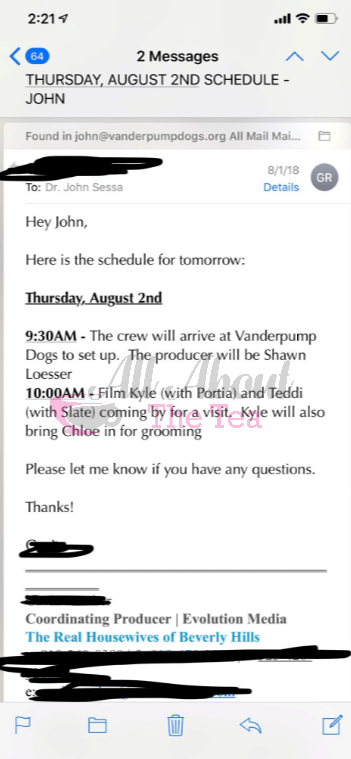 Real Housewives of Beverly Hills star respond hours later to Sessa's post — seemingly doubling down on her claim that the filmed drama was a preplanned set up. She tweeted: "John, will all due respect, they ALWAYS have us sign location agreements before every season. At my stores as well." Adding, "True that I was asked to go there to shoot a scene with my dog. But clearly that wasn't the real reason I was asked to come there.

John Sessa  rebutted by clarifying that event was intended to be a fun shoot at Vanderpump Dogs with Kyle and Teddi — Vanderpump was added to the shoot at a later date, "Kyle – with all due respect – the conversation, as you can tell in the email, already organized a fun shoot with you and Teddy and no mention of Lisa even as of August 1st?!

To which Kyle responded, "Exactly. So what changed ?" with a dog emoji — suggesting Dorit's dog drama changed the theme of the 'fun' filmed event. 
Sessa tossed some shade at Kyle — calling her out for not understanding the facts behind the $5K penalty associated with Dorit's failed dog adoption.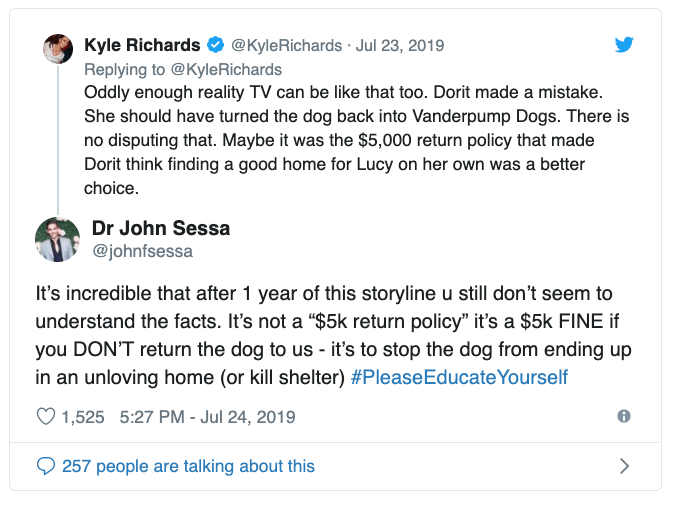 Sessa called out Kyle for slandering his boss' reputation amid their feud, "You continually maligned my friend, partner, and founder @lisavanderpump at a time when she needed your support most and shined a negative light on @vanderpumpdogs for a year but thank you for finally acknowledging the work we do." He tweeted on July 25.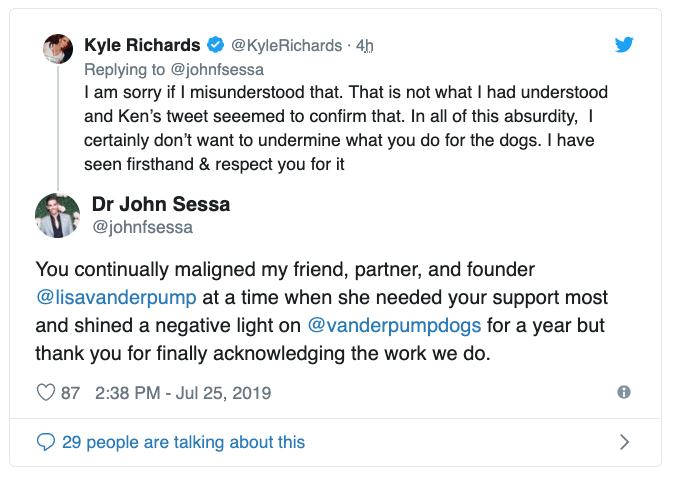 Fans know that Lisa Vanderpump attempted to clear her name after she was accused of leaking details behind Dorit Kemsley's botched dog adoption to the press. 
Real Housewives of Beverly Hills airs Tuesday nights, at 9:00 pm ET, on Bravo.
"Like" us on Facebook  "Follow" us on Twitter and on Instagram