RECAP: 'Southern Charm' D*ck Pics At Patricia Altschul's Dinner Party!
After the Weenie Toss Heard Round the South on Southern Charm last week, we begin our episode with the beauty of the Smoky Mountains. Running rivers, majestic peaks, and a disaster of a campground littered with empty booze bottles and four hung-over men stumbling out of an RV.
Shep Rose leads the way by drinking beer for breakfast. Whiteny Suddler-Smith is spending his mid-life crisis as a pseudo vegan, and Craig Conover is still angry with the two men for razzing him like a freshman on his first summer at band camp. But they call a truce when Shep cooks eggs. Still, Austen Kroll isn't fooled by Shep's apology and egg overature. He's seen Shep act like an asshat, then apologize one too many times. And he's always forgiven, but Shep never really changes.
Back in Charleston, Chelsea Meissner meets up with Danni Baird at the OBGYN office, you know, as women do. Danni is thinking of freezing her aging eggs. She wants a baby, if not now, someday. Chelsea? Eh, she's not so sure a little milk-guzzler is in her future. Danni normally would have brought Kathryn Dennis along for the ride, but after their argument, she's making due with Chelsea, who thinks the two women need to put aside their differences.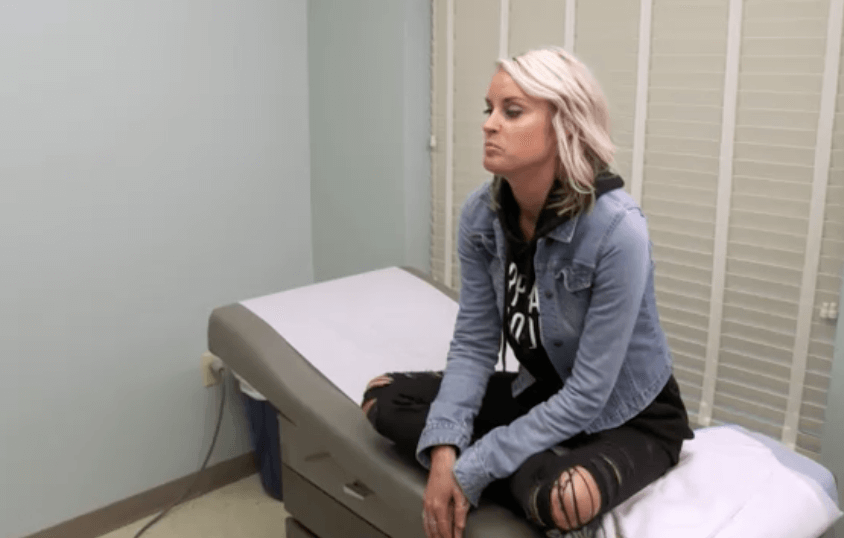 As the two ladies get confused over where the baby parks itself in a woman's body for nine months, the doctor explains how difficult harvesting eggs can be. Injections, hormones, scooping those eggs into the freezer, not to mention the expense, seem to hinder some of Danni's enthusiasm.
In Nashville, the men check into a hotel before hitting the town. They settle into a swanky suite overlooking the city. Craig, Austen, and Shep groom themselves, while Whitney wipes everything down with wet wipes. Shep's offended when the guys don't notice he shaved. And Austen gets a cleavage shot from his ex, Madison. Shep still doesn't get why Austen's heart is a little bruised after his breakup. Dude, like, get over it already!
At dinner, Whitney and Shep pick a bottle of wine ($160) and Craig mispronounces his top pick, a bottle of $80 red he can't pronounce. True to Austen's prediction, Shep starts making fun of Craig's lack of sophistication. Whitney and Shep say they've earned the better bottle, but Craig points out that trust fund brats don't really "earn" anything.
Whitney offers to pay for dinner, so the men get steak, like manly men do. Even Whitney breaks his love of free-range vegetables to have some beef. Craig reads the news on his phone and lets everyone know that Kathryn is suing Thomas Ravenel for full custody of her babies. Ah! No wonder she's seemed so stressed. Craig asks Whitney for his take, since he and Kathryn supposedly hooked up over the summer. But Whitney denies everything. Austen says Whitney should just fess up, but Shep tries to shut him down. Because a bro's sex life is private. Uh huh. Since when? In this group, everyone's sex life is up for discussion.
Shep and Craig get into another fight. Craig says their brains just don't work the same way. Of course not, because according to Shep, he's intelligent. Craig and Austen are disgusted with Shep's superciliousness. (There's a ten-dollar word for you, Shep. Suck on it!)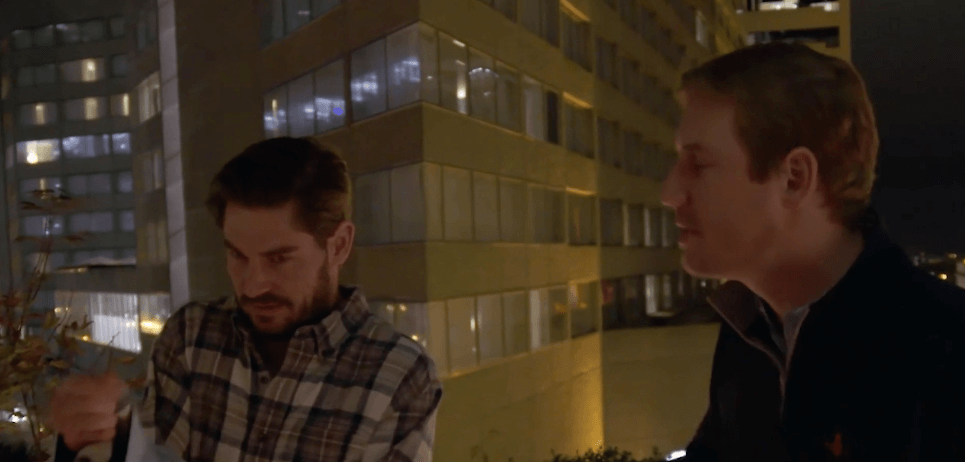 Irritated by the two men who've never worked a day in their lives, Austen and Craig (who are also a little work shy, let's be honest) slip outside, while Shep complains that Craig has no class. Austen's tired of Shep's smug attitude, and while Craig is tired of the #MeanBoys behavior, Whitney has the gall to call Craig entitled. Eventually, the men settle their differences by toasting each other and their weenie-throwing ways.
Over at Patricia Altschul's house, she humiliates her dog, Chauncy, by trying to fit him with an antique French bonnet. Poor Chaunce is too fat to get away from her, and endures the indignity. But more importantly, Patricia is switching things up this year. The men's dinner party is so passé, so this year is a women's dinner.
Back in Music City, the guys start trolling bars — meeting women and collecting phone numbers. Whitney claims he's too old to throw back shots with Craig. Austen and Shep are trying to lure women to their penthouse hotel suite. Every girl that Austen tries to pull, Shep dives in, taking over with his drunken slurs and talk of golf shots.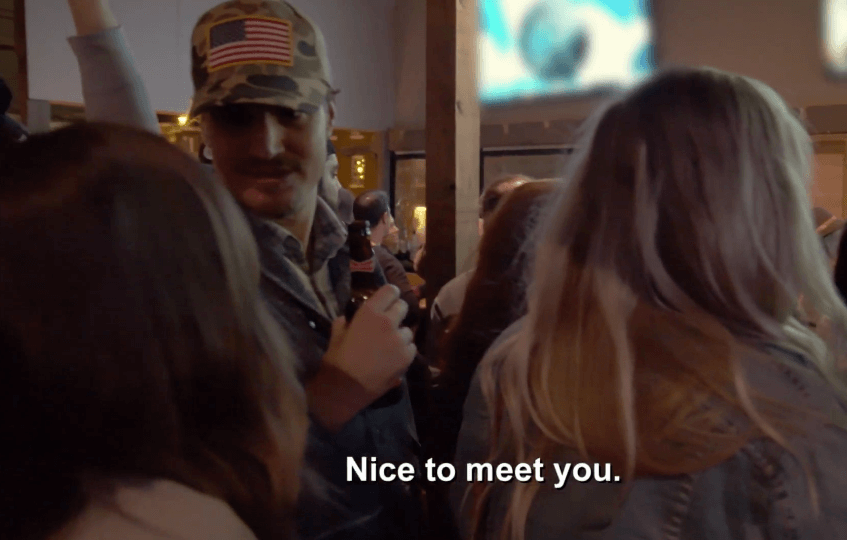 Soon, Austen starts complaining to randos about his friends' lack of support during his post-breakup experience. While he whines, Shep's hitting the karaoke stage, Craig is chatting up women, and Whitney, is…let's be honest, no one really cares what Whitney is up to.
Austen has strange women mesmerized by his tales of Madison and why he's still hooked on her. Ha ha. Just kidding. The ladies don't really care about Austen or his failed romance. And after chasing all the women away, he starts talking to strange men about his heartbreak. Nope, the guys aren't interested either.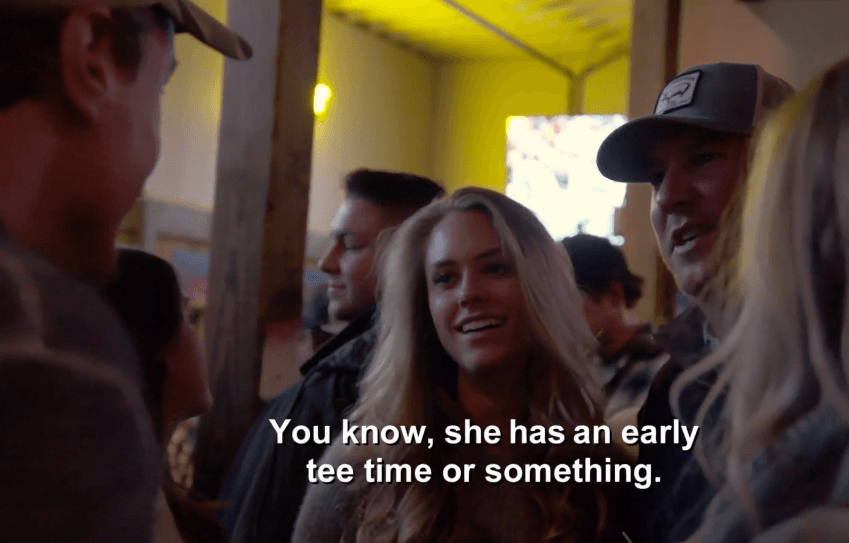 The next morning, the dude bros get ready to go home. We catch a flashback of last night's party in the penthouse. Looked a little lame, but it left Austen with a hangover from hell.
Meanwhile, Craig's ex, Naomie Olindo wants to cook her new man, Metul, butter chicken. He's Indian, after all, so he should appreciate the effort. Since Naomie comes from a family who owns restaurants, she figures she can swing it. But Indian food is a little more complicated.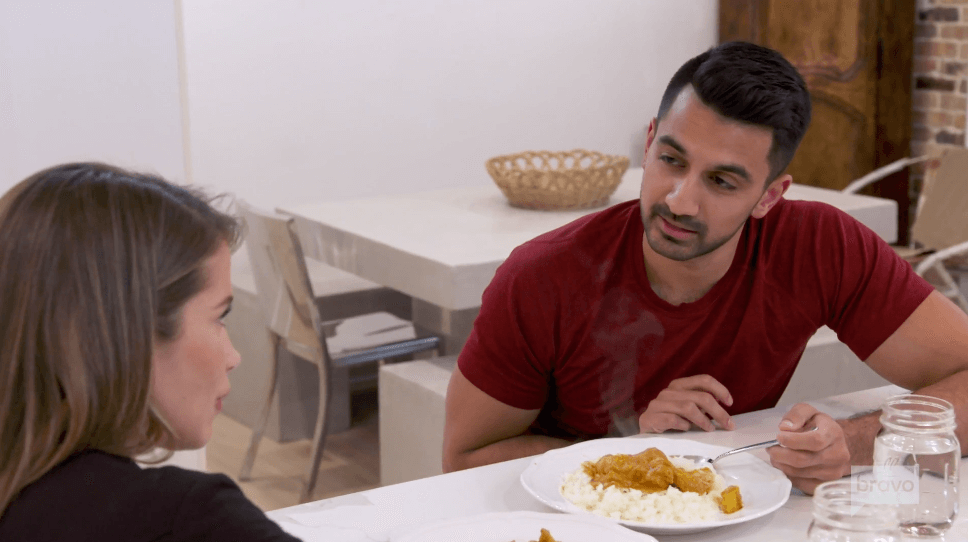 Despite her best efforts, Metul wants to order sushi. And considering she tries to use coffee creamer instead of cream, that might not be a bad idea. After tasting her creation, they decide it's inedible. Naomie is crazy over Metul, and thinks he's the one. Now, she just needs his mother to teach her about Indian cuisine.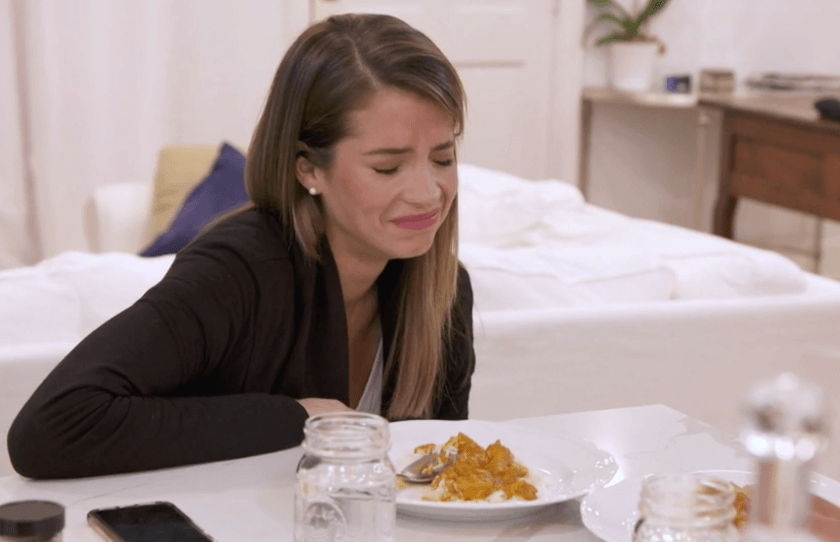 Over at Kathryn's, Chelsea stops by to talk about the Danni–Kathryn situation. Kathryn has a bad habit of cutting people off and freezing them out. She didn't like it when Danni called her out on the girls' trip, and she felt attacked. Chelsea defends Danni's complaints. Kathryn acknowledges that Danni has seen Kathryn through ups and downs. She's ready to mend some fences with her old friend.
The night of Patricia's dinner arrives. Michael the Butler is busy filling finger bowls with water and Czechoslovakian rose petals. Madison arrives first, then Naomie. She tells Patricia all about her new beau until Danni steps in. And you may remember that Madison's friend sent Danni's boyfriend, Gentry, a DM asking if he was interested in getting together with Madison. This is what finally broke up her relationship with Austen. So yeah, it's awkward.
RELATED: Kathryn Dennis Blasted By Judge For Discussing Custody Case on 'Southern Charm', Unseals Court Records & Orders Her to Pay Thomas Ravenel's Attorney Fees!
Chelsea arrives and explains why she cornered Austen at Craig's pillow party a few weeks ago. Because Austen was shit-talking her to Madison, who had the texts to back it up. Madison brings up the situation with Gentry. She blames Danni for pouring fuel on the fire of her relationship, saying Danni never should have spoken about what happened between Madison and Gentry. Danni apologizes for telling Craig, who is the biggest gossip in town.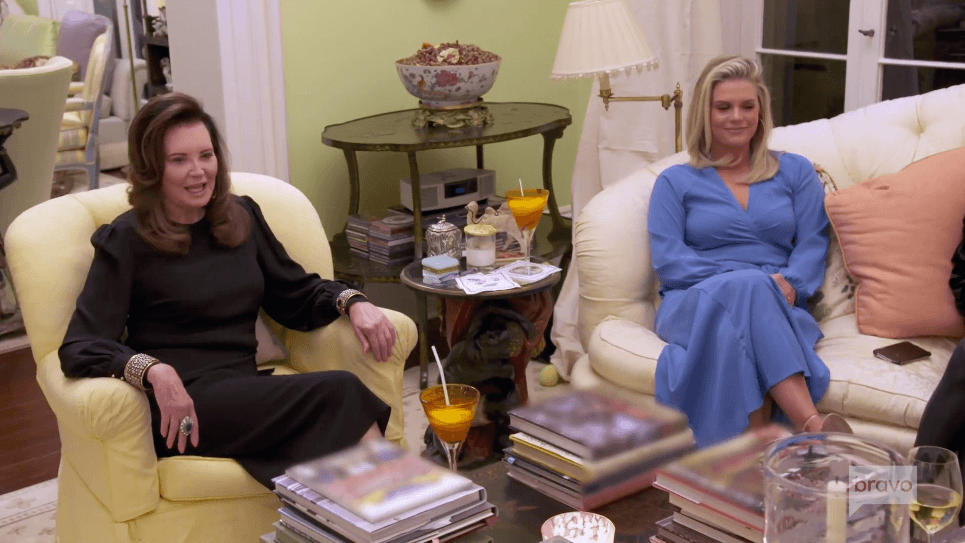 Cameran Eubanks drops in. The only person missing is Kathryn, which gives the women plenty of time to chat about her new boyfriend, the disgraced state senator and his very public dick pic. The ladies Google it, and they're not impressed with his package.
Finally, Kathryn arrives with Madison II. Kathryn says she and her new man have already broken up. What?! Kathryn is over him. And she also understands why her friends were so worried about her behavior — returning to her old ways of dropping out of sight and refusing to answer her phone. Danni looks on in disgust.
Kathryn and Danni take a minute to go talk in private. Danni admits that Kathryn's behavior hurt her deeply. Kathryn should have listened to Danni's warnings. She clearly doesn't have her friendship shit together, and felt attacked at the girls' weekend at the tree house farm. But she apologizes to Danni, and all is well.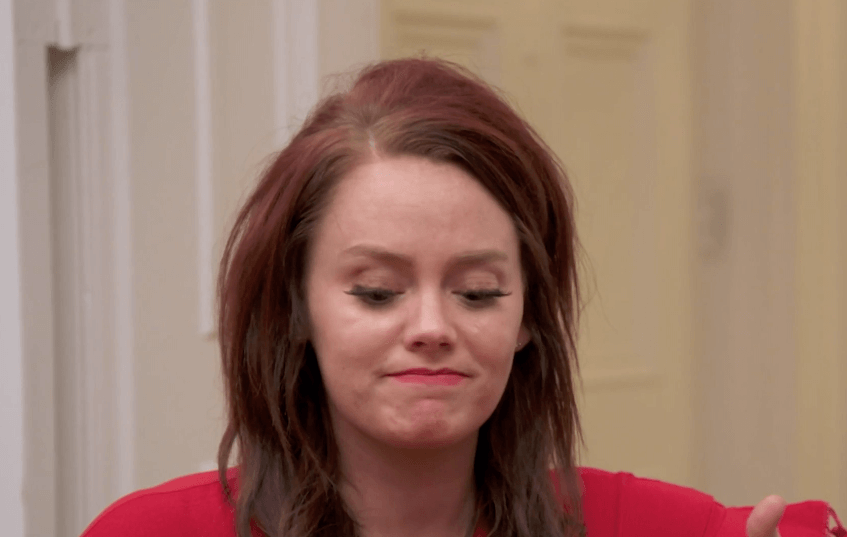 At dinner, the women are given napkins that belonged to the King of Bavaria. Huge napkins, like Sonja Morgan busted out a few seasons ago. Bedsheet size, really. Kathryn admits she wants to impress the older woman.
Kathryn Dennis' Criminal Past Gets Blasted By Her Senator Boyfriend Joseph Abruzzo's Ex-Wife!
The ladies get a lesson in eating artichokes, and sedately scrape the leaves after a dip in aioli sauce. What makes the girls calmer than the boys at these annual dinners? A lack of alcohol. So, shots for everyone! Except Kathryn, natch. Even Patricia takes a shot of tequila then sucks on a lime. But all in all, she prefers her martinis.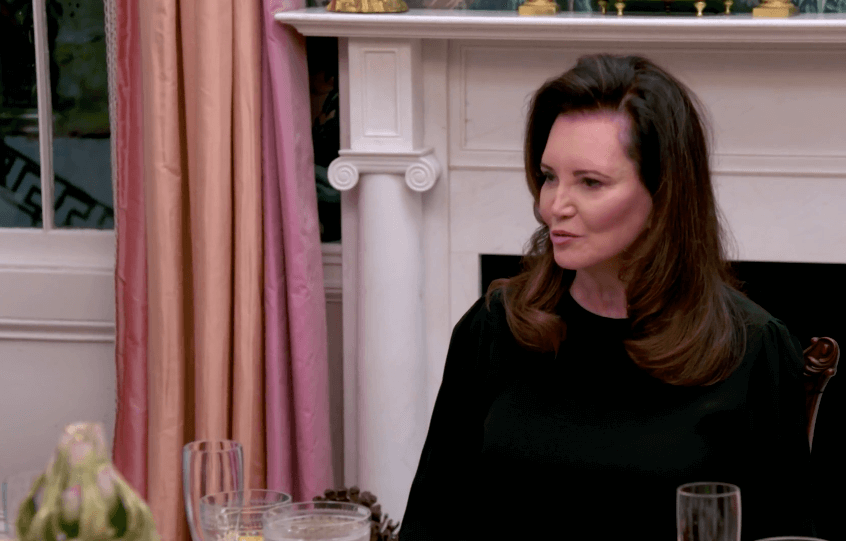 Talk turns to everyone's love life. Madison says she and Austen are finito. Chelsea claims Austen isn't a real man, but a little boy who wants Shep's approval. Patricia points out that southern men are stuck in some kind of Peter Pan syndrome — the exception being her darling Whitney, who, according to Patty, has a strong work ethic. Um…come again? They skip over that glaring lie and Madison says Shep called her a white trash hair stylist. The ladies are stunned at the lack of chivalry.
Cameran defends Shep, because inside, he's an angry man. Then Madison lets loose that Shep wanted to hook up with her when she was still married, and she gave him a hard no. Suddenly, everything makes sense. All this animosity Shep has been slinging at Madison all season has been because of his wounded pride and fragile male ego?
Naomie ponders about Whitney and Kathryn tying the knot someday. Patty admits she's heard rumors that two had recently hooked up. Again. Hey, that Kathryn is a fertile one. At least she'd provide grandchildren, right?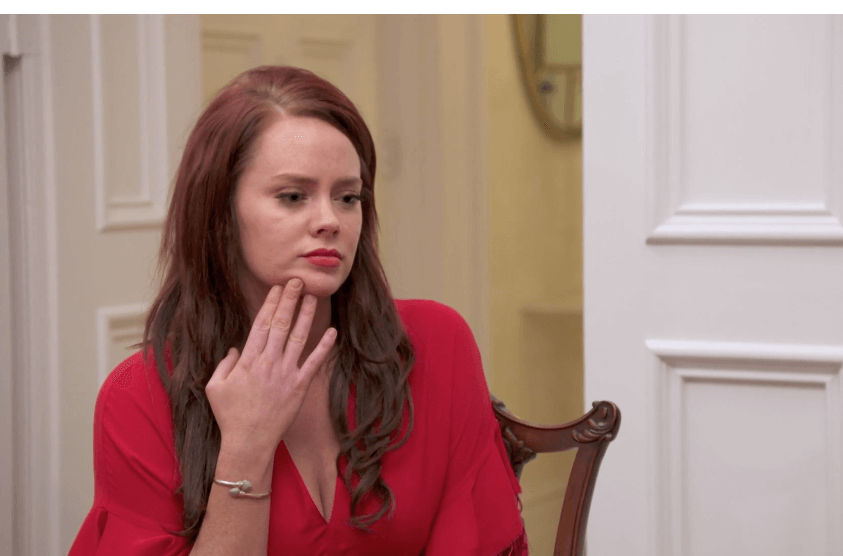 Now that the men are back in Charleston, Shep stops by the pet store to get supplies. He's calling his new dog Craig. Very mature, Shep. He drops nearly five hundred bucks for his new buddy.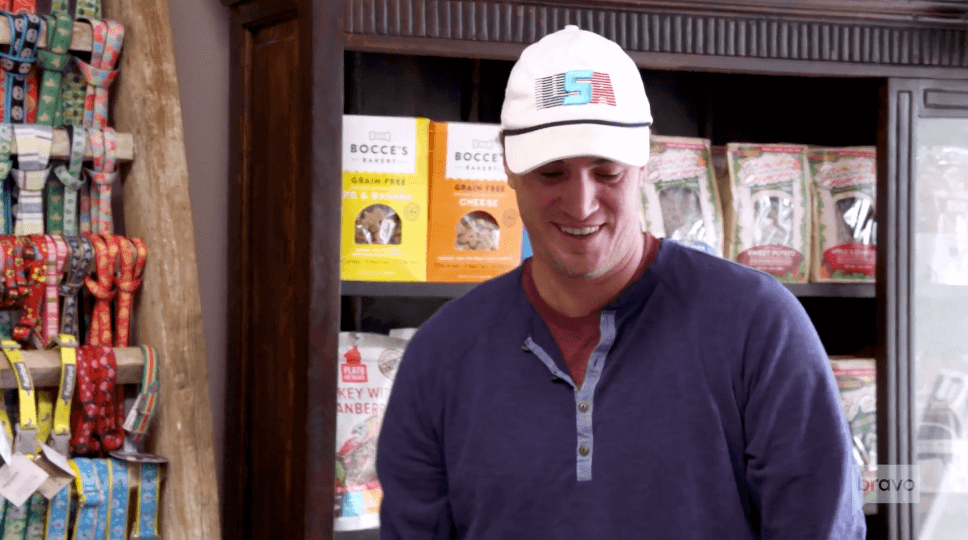 And speaking of Craig — the real Craig — he stops for dessert and coffee with Kathryn and Austen. The guys regale Kathryn with tales of Shep's bad behavior. Even Kathryn thinks he's twofaced. Yeah, he apologized for insulting her, but who is the real Shep? And Austen admits he's kind of talking to Madison. Craig looks stunned and says they're not really broken up. People who aren't together don't hang out anymore. Austen tells Craig to stay in his own lane. Enough, dude bro! The guys got inside Austen's head, and he made a bad decision by cutting things off with Madison.
So, that's our episode. Do you think Austen was right to start up with Madison? Does Shep really hate Madison because she rejected him? And will Kathryn get back on the right track after leaving her disgraced boyfriend?
"Like" us on Facebook  "Follow" us on Twitter and on Instagram 
I'm a fiction writer by day and a reality TV addict by night.