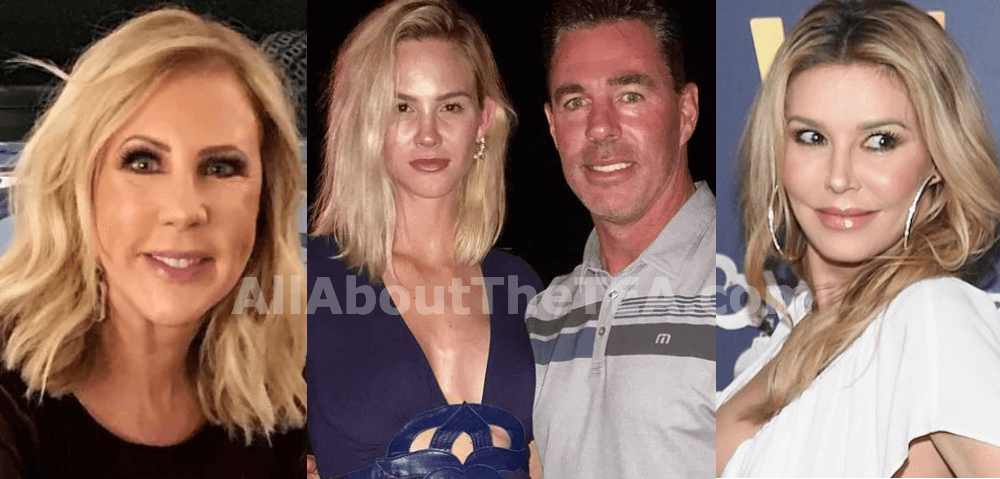 Loads of sympathy has been pouring in for Meghan King Edmonds from Bravolebs amid her husband, Jim Edmonds' bombshell cheating scandal.
On Saturday, Vicki Gunvalson consoled her former Real Housewives of Orange County co-star, "@MeghanKEdmonds I'm so sorry. You are right, YOU did not deserve this," Gunvalson, 57, tweeted.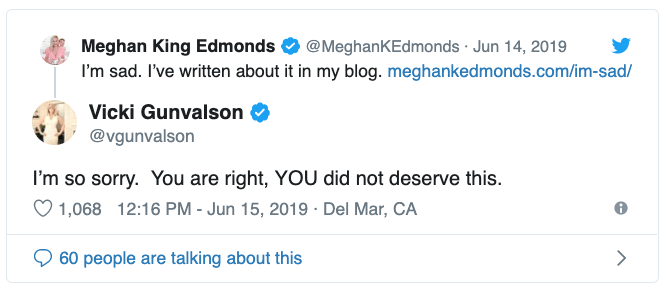 As fans know, Meghan Edmonds was instrumental in exposing the epic saga of Vicki 's ex-boyfriend, Brooks Ayers' cancer sham. The validity of Brooks' cancer was constantly called into question by Meghan and she played lead investigator on cracking the case.
During a previous altercation, Vicki made a haunting prediction about Meghan's marriage — she told Meghan's husband, Jim that their marriage would not last beyond 5 years.
Bitch Stole My Life! Did Meghan Edmonds Rip Off Her Husband's Second Wife's Dreams?
Tamra Judge also sent well wishes to Meghan after she shared an Instagram post, which read, "Healing takes time. My heart hurts for you Meg. Wish I could give you a big hug."
Former RHOC star Lizzie Rovsek chimed in as well. "Thinking of you Meg. Love you," Rovsek, 39, wrote adding five black heart emojis.
Gretchen Rossi was the first to comment on Meghan's IG post, "I'm so sorry you are going through this. Sending you all healing prayers."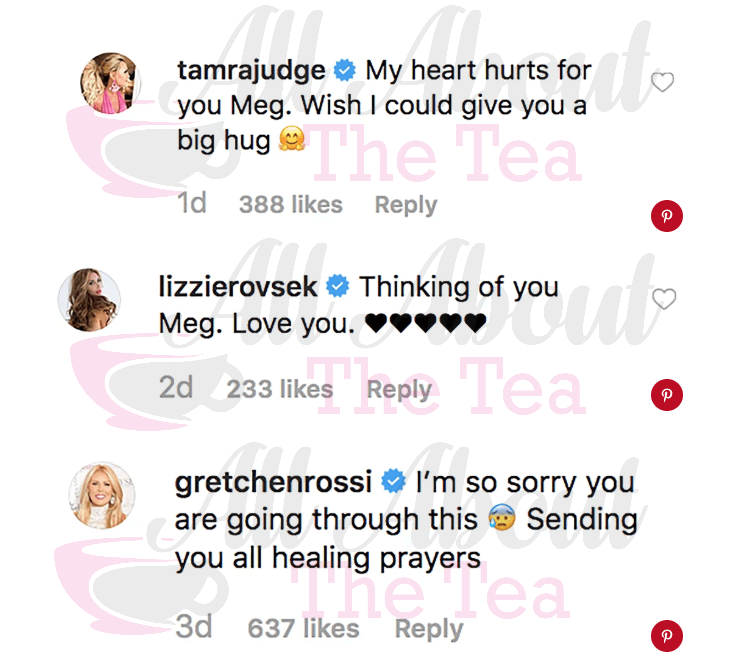 Brandi Glanville also shared some words of encouragement — even offering her number because she gets "it more than anyone."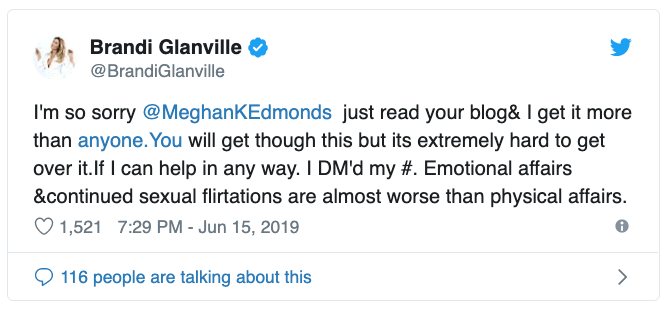 On June 13, AllAboutTheTEA.com exclusively broke the scandal about Jim Edmonds' affair with the infamous Baseball Madam.
EXCLUSIVE: Jim Edmonds' Steamy Affair While Meghan Was Pregnant With Twins EXPOSED — D*ck Pics, Threats, Hush Money & More!
Meghan then responded to her husband's cheating with a lengthy statement on her blog. The day prior to her statement, Jim admitted to the cheating allegations with the baseball madam, but described the relationship as "inappropriate conversation with this person."
Jim Edmonds Finally Admits To Meeting the Baseball Madam In Person Amid Sexting & Masturbation Cheating Scandal!
In her blog post, titled "I'm Sad," Meghan admitted that she found about the allegations when AllAboutTheTea shared them publicly and revealed that she called her husband and he reiterated that no physical relationship was had with his alleged mistress, but that he did exchange "lewd photos" with her for several months.
"Do I believe him? I don't know," Meghan wrote in her blog post. "Because I don't trust him anymore. Physical or not, he still had an affair and he admits this to me."
A rock solid source provided AllAboutTheTea.com with screenshots of raunchy text messages between Jim and his mistress, which included pictures of his penis and a video of the former pro-baseball player masturbating on the same day Meghan gave birth to their one-year-old twins, Hart and Hayes.
"I don't care about my stupid massive house, I don't care about my new car, I don't care about my diamonds. What does any of that mean when I can't have the most basic needs met? It means nothing. Smoke and mirrors," Meghan wrote in her blog.
The couple are also parents to daughter Aspen, 2.
The mom of three claims that her "face stings" from sobbing since discovering the news of her husband's cheating and revealed that the couple is also dealing with a health issue with their son Hart.
"We are worried our son, Hart, might have a neurological disorder," she wrote. "It's been the most trying last couple months of my entire life and we still don't have answers. Sometimes I leave the house after the kids go to bed so I can drive around and ugly cry in the dark with no one around. Now I have this to deal with: my one true love betraying me in the most disgusting and public way possible."
The couple's marriage troubles were well documented on the Bravo reality series, until Meghan's exit at the end of season 12.
They wed in 2014.
"Like" us on Facebook  "Follow" us on Twitter and on Instagram