Southern Charm
'Southern Charm' Recap: Cameran Eubanks Complains About Her 'Mind Numbing' Baby and Drinks Vodka Everyday to Cope!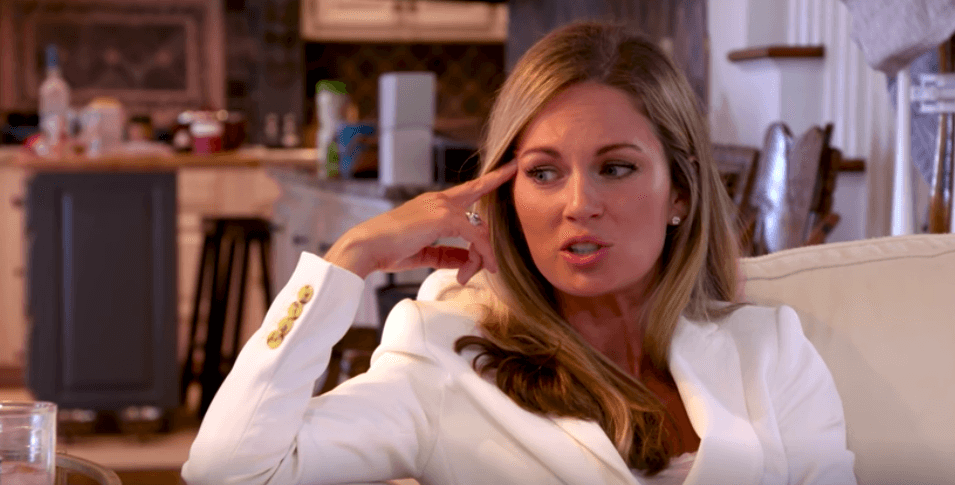 We open this episode of Southern Charm by watching the cast hustle — well, except for Craig Conover, who's still in bed. Shep Rose is already up and taking an outdoor shower after being on the beach (or just getting home from a night out on the town — tough to call), Cameran Eubanks is showing a house, Kathryn Dennis discusses photo shoots with the owner of Gwynn's, and Austen Kroll finds gross stuff stuck to the bottom of his laundered socks.
Meanwhile, Naomie Olinda is busy at work. She checks in with her parents, who are in Nice. She's also helping theme with their restaurant while they're out of town. Holding down two businesses is so hard, sometimes she doesn't have time to shower.
Chelsea Meissner talks about her new boyfriend with her father. While Nick is sailing with the America Cup team, he's under a three-year contract that keeps him out of town. Her dad sees no future in this relationship, but Chelsea's looking long-term, when Nick is finished sailing and can stay in one port — hers. Her father wonders why she chooses long-distance relationships. But Chelsea is an independent woman who likes her freedom. Back off, Dad! But even her father agrees that Nick is an upgrade from Austen. Ouch.
EXCLUSIVE: Footage of 'Southern Charm' Star Kathryn Dennis Fleeing After Hit & Run Accident!
As Cameran tootles across town, she chats with her husband, the invisible doctor. Mom, Bonnie, is taking care of baby Palmer. And that's why Mom isn't allowed vodka. Cam isn't under any such constraints, and fills her Solo cup with the good stuff.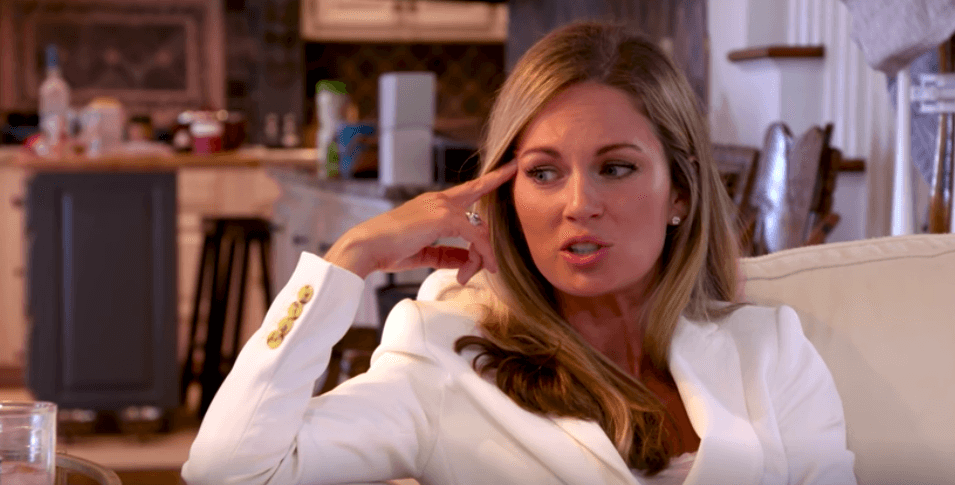 Grandma thinks Palmer is perfectly perfect. But after Cam comes home from a hard day of showing houses, she needs a drink, people. Motherhood is turning out to be complicated — and boring. Cam feels guilty, but isolated, and continuously dwells on something horrible happening to the baby. Her mother tells her to snap out of it.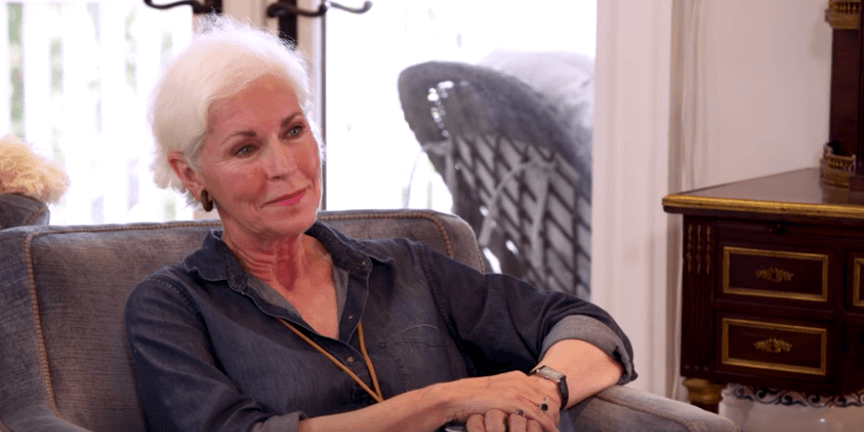 Craig and Chelsea meet up at the local nursery to pick out plants. Craig drives up in his new Jeep — a breakup gift for himself, in case he needs to take his overnight date home the next morning. Chelsea is looking for tropical plants for her shaded yard. But soon Craig takes over and starts talking about buying bamboo for his own yard. Enough about landscaping, though. Let's get to the good stuff: Kathryn's newly rented house, the one that's costing her $6600 a month. Craig thinks it's cooler than cool, but the Rolls Royce she bought is over the top. Really, you think?
EXCLUSIVE: Thomas Ravenel Accuses Kathryn Dennis of Buying Drugs from 'Southern Charm' Costars
Speaking of our red haired vixen, she's meeting up with Naomie for lunch. Kathryn is still working at Gwynn's, which is transitioning from a local boutique to having an online presence. Wearing a leather dominatrix outfit, Kathryn tells us she's become the face of the store. And she's got a new boyfriend, one who is flying her to Boca for the weekend. And yes, he's an older man — but not Thomas Ravenel old. Could this be where she's gotten all that cash for a new place and a fancy Rolls? Hmm. The most shocking thing about him, according to Kathryn, is that he's a Democrat. He's got a three-year-old kid and wears sunless tanner. They have so much in common! Naomie sees red flags all over the place, but she doesn't want to burst Kathryn's love bubble.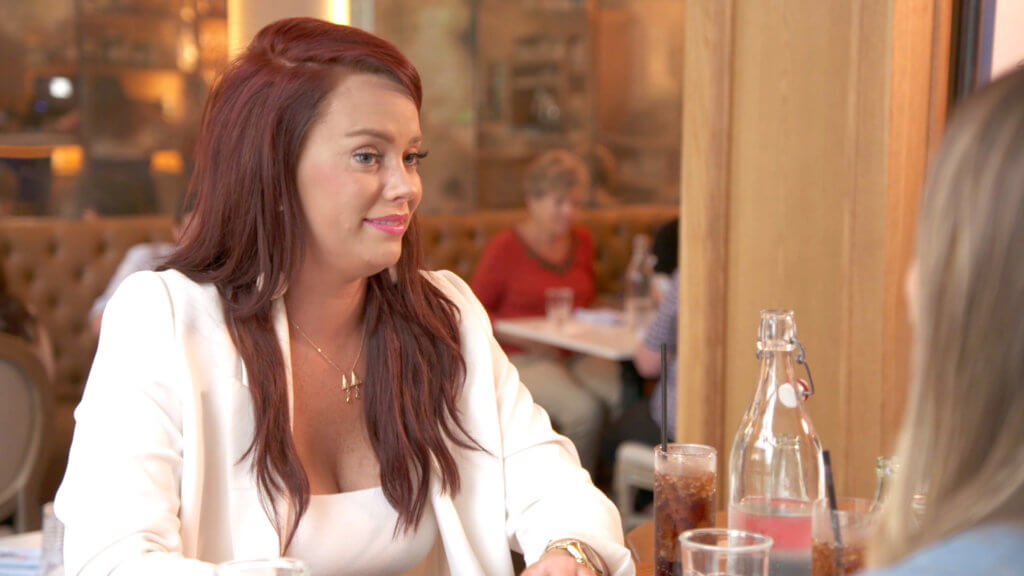 According to Kathryn, she may get full custody of her kids soon, depending on Thomas's legal situation. And then she calls herself a boss. She also wants to plan a girls' trip to get away from her chaotic life. Naomie is fully onboard.
Just as Kathryn is spilling all the tea with Naomie, Craig is gossiping about her new man with Chelsea. But Craig has more details. Juicy ones. Joe Abruzzo is a disgraced politician whose ex-wife posted his naked selfies. And it's not just the top of his head that's bald. The man is waxed all over. His wife also has accused him of being abusive. Yep, another winner. And his ex-wife has a mugshot. He's trashed her to Kathryn, just like Thomas trashed Kathryn to all of his girlfriends. I see a pattern here, and it's not a good one. Craig is right to be worried.
Shep stops by a coffee shop to get himself a flavored beverage that for once doesn't contain alcohol. He calls his mom and says he wants a puppy. His mom is putting her foot down this time. Apparently, she's taken two of his previous dogs. She's not taking a third, young man. And getting a dog has to take priority over drinking. Shep hopes that having to be responsible will help him cut down on his partying.
Craig arrives and isn't interested in coffee. He orders a double glass of wine, because one just isn't enough. Craig spends his spare time taking pictures of his pillows and is ready to finally sell them. Shep, on the other hand, spends his evenings at the bars. In fact, Austen was with him the night before until his girlfriend, Madison, told him to come home. Shep is still banging on about how Madison had revenge sex after Austen's threesome. But wait! Craig says Madison is still trolling for men — including Danni Baird's new man, Gentry. Now Craig thinks they should tell Austen what his girl has been getting up to behind his back.
Poor unsuspecting Austen is busy planning a special night for Madison. He cooks dinner and asks her to stay the night. They sit at the coffee table and share sweet potatoes and asparagus. But where everyone else sees trouble for these two, Austen is inching closer to the m-word.
On the day of the brunch at Nico, the restaurant Naomie's parents own, she invites her friends to taste the new expanded menu. Danni, Cameran, and Chelsea arrive, along with Naomie's roommate, Wilson. Talk turns to Kathryn and her new man. Danni says that Kathryn flew to New York, not Boca, with her latest politician. When Chelsea tells the girls that Kathryn bought a Rolls — and then had it repainted — Cameran's mouth falls open. They all wonder at the wisdom of Kathryn's spending habits.
Chelsea admits that her own boyfriend, Nick, has been in Sardinia, and she hasn't talked to him in six days. Cameran doesn't like this long-distance situation for her friend. But Chelsea is fine with it. After all, they get to email each other. Sometimes. Cameran has the same feeling as Chelsea's dad — that she chooses men who are unavailable because she doesn't want to commit.
Metul, Naomie's new beau, pops up at the restaurant. Cameran has a full-blown hot flash over his adorableness. Then brave Chelsea eats a snail and the women discuss the girls' trip in the tree house — a super fancy tree house. Cameran doesn't understand how a house can be built around a tree. Does it even have indoor plumbing, people?
Next, Chelsea gets into Austen and Madison's relationship. Word on the street — the street being Craig — is that Mads is contacting a man online — not just any man, but Danni's boyfriend. Then we get another view of the video where Austen pulls on his wang after getting caught in a threesome. A classic!
And speaking of the wang in question, Austen has drinks with Shep and Craig. The men are planning a relationship intervention. Neither guy wants to share this news about Madison's infedelity, but they have to have Austen's back. Over cornbread and boiled peanuts, the men try to put Austen at ease before dropping the bomb. Austen admits he's been suffering from anxiety. But so are Shep and Craig as they approach the awkward subject. Craig finally tells the news they've heard about Madison. Austen is disgusted and says the men are on a witch hunt for his girlfriend. He refuses to believe it.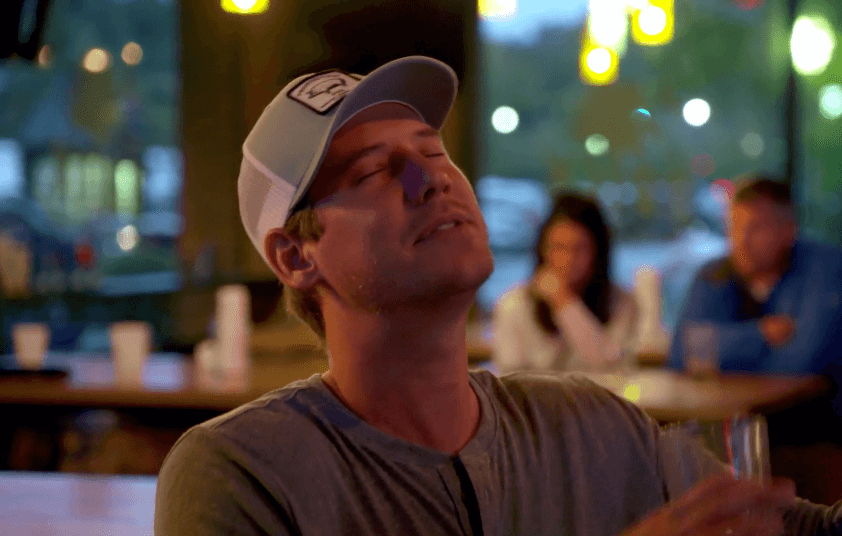 Craig urges Austen to call Danni and find out the truth for himself. Danni repeats the story, and Austen is devastated. The men urge Austen to cut things off…on the phone so he doesn't have to face her in person. Like a real man.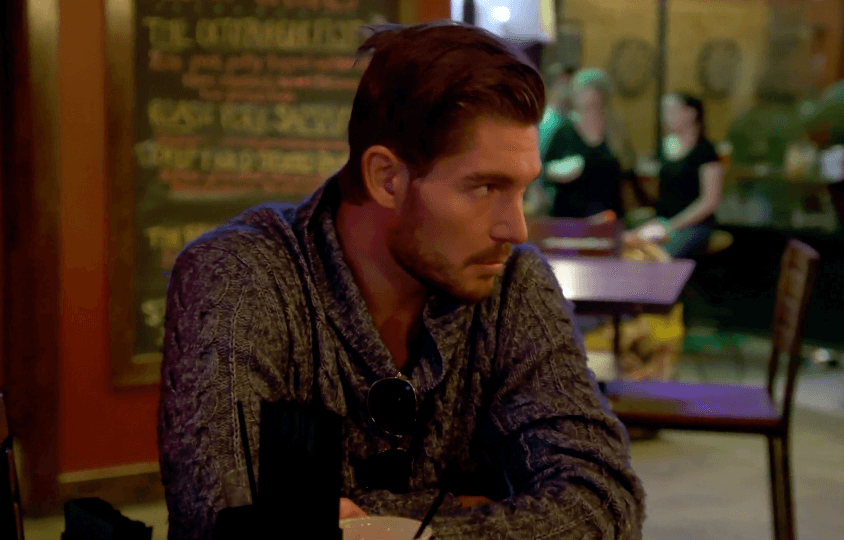 Austen leaves the restaurant and the guys follow. They head to another bar for shots and Red Bull. When Madison phones, Austen refuses to answer. Shep calls Austen a pushover, then browbeats him into calling Madison and breaking up with her. He can't understand why Austen has feelings for this girl. Feelings aren't a thing in Shep's world.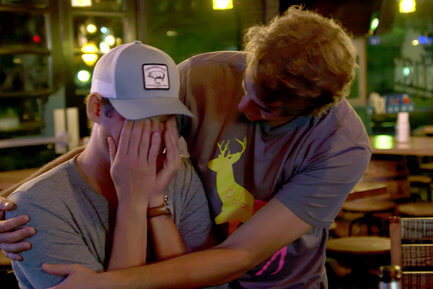 Austen steps outside and calls Mads. He asks her about the rumors, and she doesn't deny them. Not exactly. Sure, she and her friend might have contacted Gentry, but nothing happened. She has a friend who's already hooked up with him. But yeah, okay, she would have hooked up with Gentry, if he'd been interested. And that's the end of the lovefest.
Austen walks into the bar triumphant, but sad. He's now a singleton on the prowl, and Shep has his bud back. While Shep is cracking up over the situation, Austen is in distress.
So, do you think the guys did the right thing by telling Austen? And is Kathryn making another mistake by dating Joe, the disgraced senator?
"Like" us on Facebook "Follow" us on Twitter and on Instagram