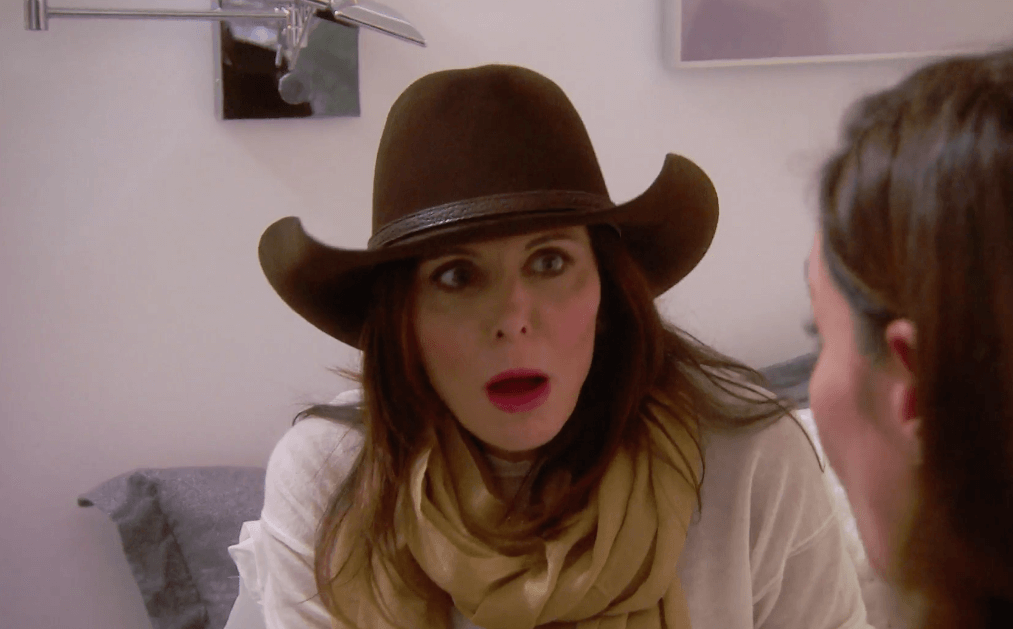 The Real Housewives of New York begins with a bounce around the cast of characters, who are all prepping for an upstate jaunt to Luann de Lesseps' new round house. Sonja Morgan is already on her way, passing the time by pointing out Luann's real estate downgrade, while sharing a brush with her dog.
We check in with Dorinda Medley, who is thrilled to be starting fresh in a new neighborhood. Dorinda is walking on air and celebrating her new life by happily pestering her neighborhood merchants. Bethenny Frankel connects with Tinsley, who sadly reveals that her pampered pooch has been diagnosed with cancer. Tinsley Mortimer describes a recently filmed night out with Ramona Singer and Sonja — where her clenched uterus was hotly debated. Sonja rammed her advice down Tinsley's throat, but Tinsley didn't buy it.
Sonja arrives at Luann's waterfront abode, and the place is lovely. Sonja kicks things off by ranting and raving about her boozy girls night interaction with Tinsley — and Bravo reveals more cringeworthy snippets of the filmed ruckus.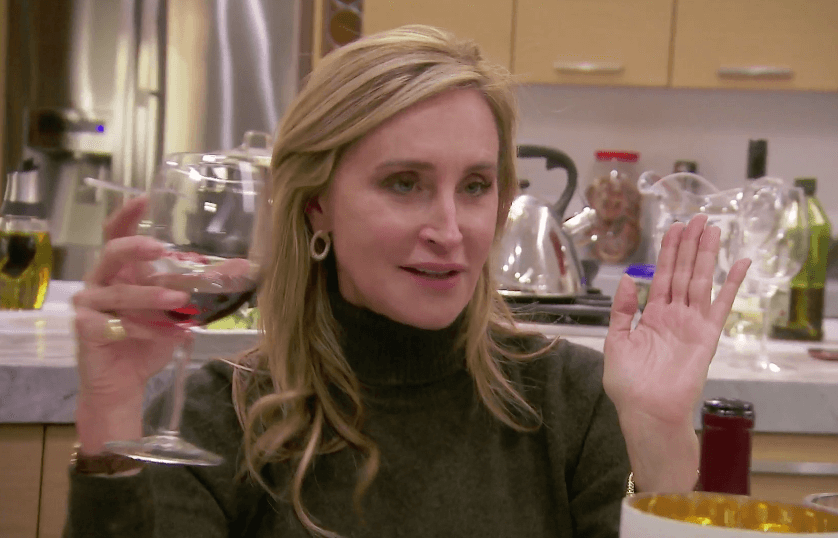 Ramona joins Bethenny and Tinsley, immediately announcing that she's turned over a new self-awareness leaf, after being called out by Barbara's bare midriff. Ramona launches the new her by assuring Bethenny Frankel that she's liked by all, despite her annoying obsession with Victoria's Secret. Bethenny delivers a lukewarm apology for missing Ramona's charity event, before complaining about Luann's pop star demands. The trio banters about Luann's delusions of magnificence before Bravo jumps us back upstate, where the proud homeowner is giving Sonja a circular tour. Back in NYC, the convo veers back to Tinsley's undecided future, and she confirms that her unused uterus is simply inadequate, especially because she's a woman, a daughter, and a devoted dog owner.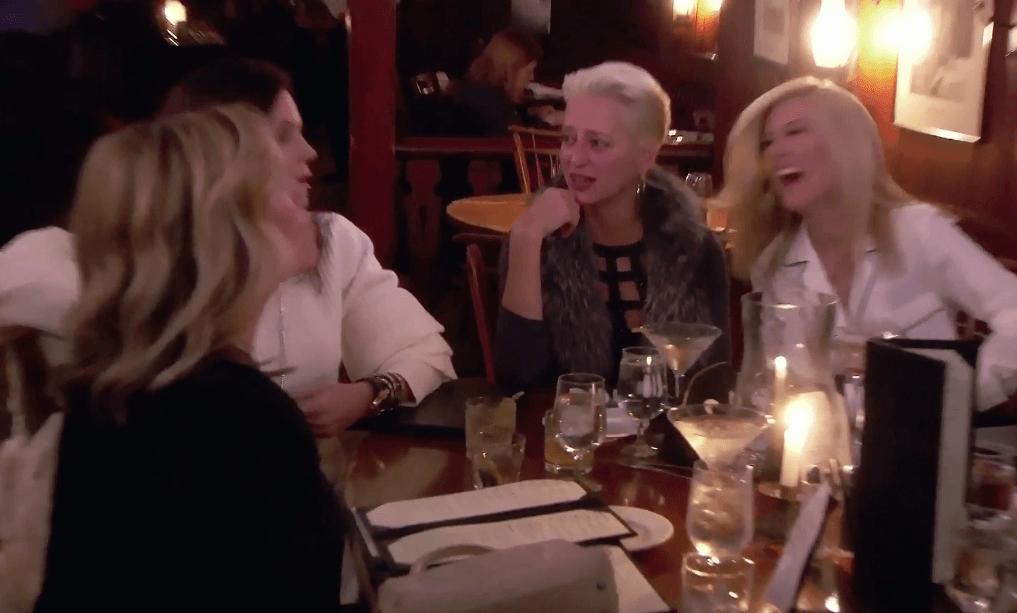 Tinsley reminds the ladies that she mothers chihuahuas like no other, inviting an involuntary twitch from Bethenny. Tinsley wants a husband and baby in that order, but doesn't feel like dating an actual male. Bethenny and Ramona agree that her dream is a lovely one, but point out that most women can't give birth in their 50s. Tinsley's inner clock is deafening, and Ramona believes that her priorities need to be shuffled, preferably before menopause kicks in. Bethenny advises her to forget about bagging a man, and focus on her real decision. Tinsley finally agrees to explore super-sperm, and the ladies nail down a four-week decision deadline. The gals wrap their meeting by signing on to a luxury cast trip to Miami. Mario might drop in for a visit — which makes Ramona giddy, and the viewing audience nauseous.
Barbara Kavovit arrives at Luann's house, and Luann is excited to host her first upstate dinner party. The ladies bust her for staying holed up in her Halloween hotel room, and Sonja calls her out for shading Bethenny's decision to go home to her daughter. Luann delivers her own diatribe about Bethenny's unsupportive exit, and Sonja continues to tattle on the ladies for being bugged by Luann's J-Lo impersonation. Sonja delivers a lofty gratitude tutorial, and Luann begins to worry about being thrashed in her own home.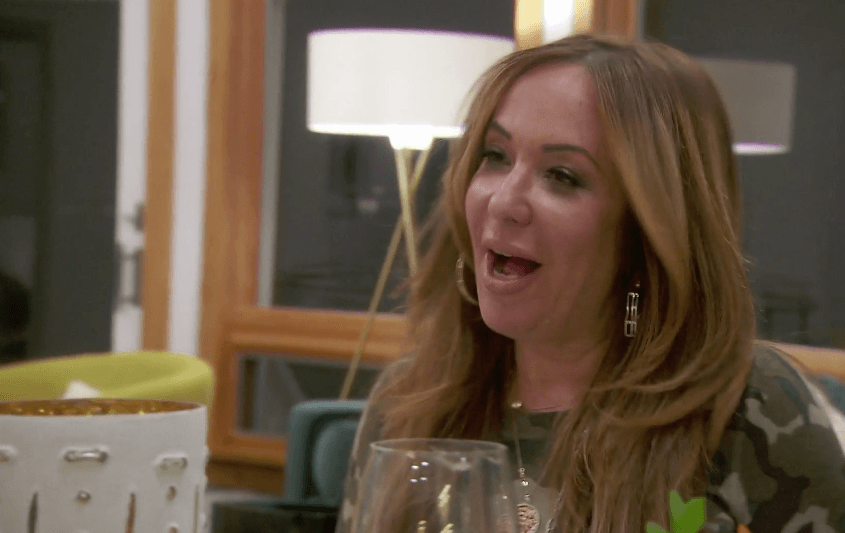 Tinsley, Dorinda, and Bethenny pile into Bethenny's car for the drive upstate, armed with lots of booze. Meanwhile, Ramona introduces this week's shameless plug while shopping for a housewarming gift. Luann debuts her statement jewelry line, and because she's braced to get clobbered, decides to rock one of the chunky numbers for the beatdown. Sonja reveals that "cabaret" has become a negative "trigger word," and Bethenny's crew decides that it would make a perfect weekend drinking game signal. Ramona continues to chatter through her Bravo-promo, torturing an innocent saleswoman, before choosing a set of gaudy candlesticks. Sonja close-talks snippets of her high school thug days with Barbara, blanking her friend's own sensitive childhood anecdote. The traveling trio shoots the breeze as the miles pass, debating the proper way to address a dwarf.
Bethenny Frankel Goes Off On American Airlines and Delta For Serving Fish!
The ladies finally arrive at Luann's abode, and the ladies love the place and the pretty view. Bethenny delivers a snarky critique, but admits that the place is cozy and a smart decision. Back in NYC, Ramona is happily social-climbing, enjoying her A-list pals at a ritzy birthday lunch.
The upstate group chatters about their plans for the evening, and Luann declares that they will be catching the performance of an eccentric senior, who brings the local cabaret heat. Luann promises a hysterical evening, complete with boas and glitz — but the ladies sniff out a sure clunker. Dorinda fires a nasty shot at Luann's off-key career in a confessional spot, while the hostess tries to dig up some dazzling wardrobe options for her unenthusiastic guests. Bethenny isn't keen on Luann's nightlife plan and Dorinda doesn't know how she'll navigate the evening without getting drunk. Tinsley references her high volume girls night out with Sonja and Ramona — and Sonja rudely admits to being rude.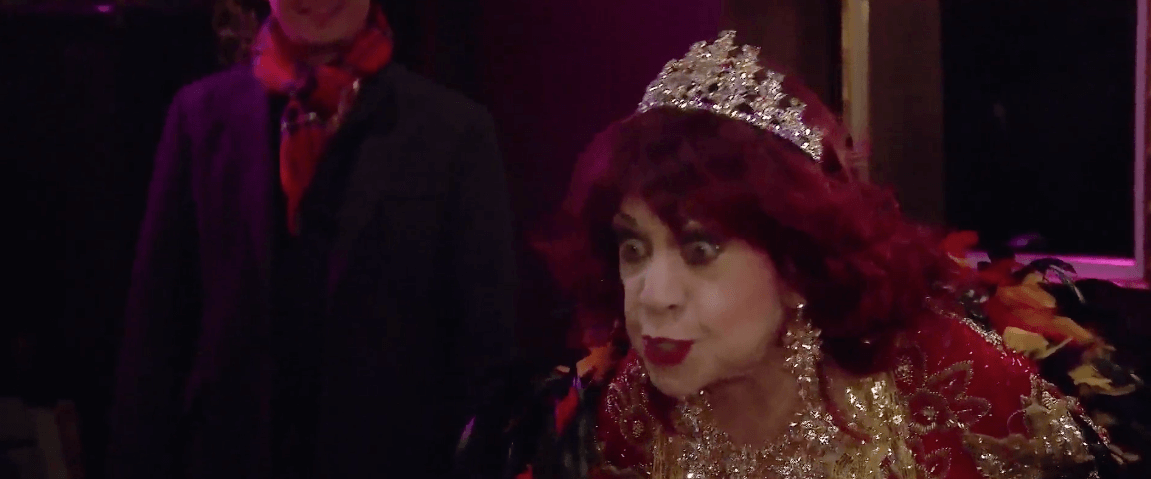 In a random shift, Barbara tries to clarify her murky sexuality, and the ladies agree to dabble in whatever with whomever. Luann reminds them all about her epic show-biz comeback, and the ladies sip in unison. 
Bethenny Frankel's Beef With Carole Radziwill Used Against Her In Custody Fight!
The conversation swings back to the Halloween show, and Bethenny addresses Luann's comments about her absence. Luann wants Bethenny to experience her success — not just her drunken failures — but Bethenny informs her that time with her child is more important than her three-hit repertoire.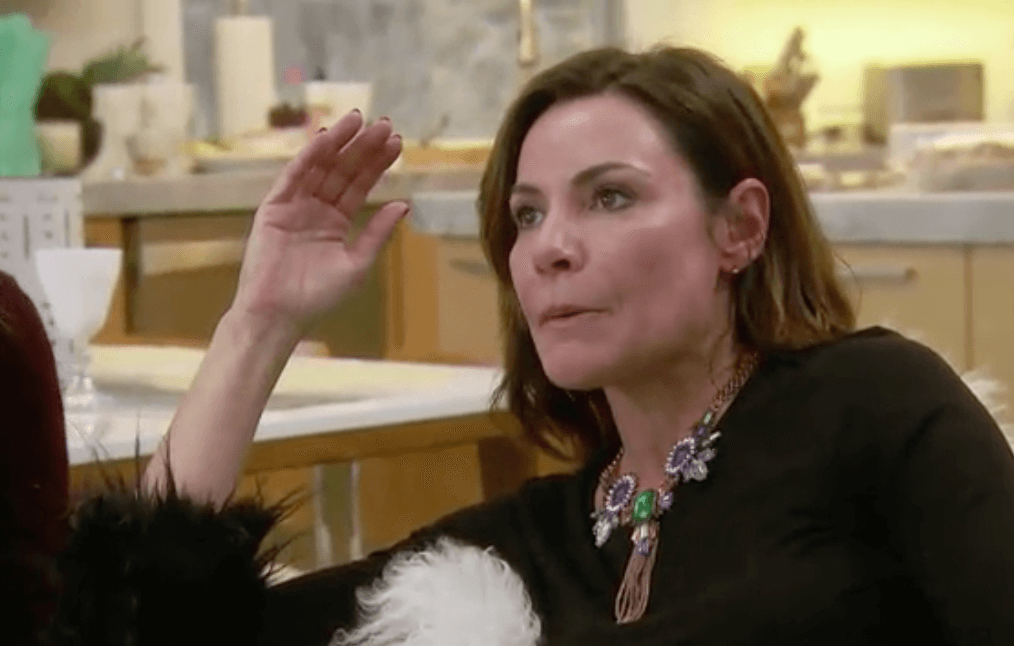 Bethenny points out that her place is with her daughter, especially when the main attraction is self-obsessed, uncommunicative, and tardy. Bethenny begs Luann to respect her life, and butt out of her parenting decisions. The others offer murmurs of support, and Bethenny keeps her cool, despite Luann's self-absorbed jabber. It's Luann's world — and Bethenny wants out.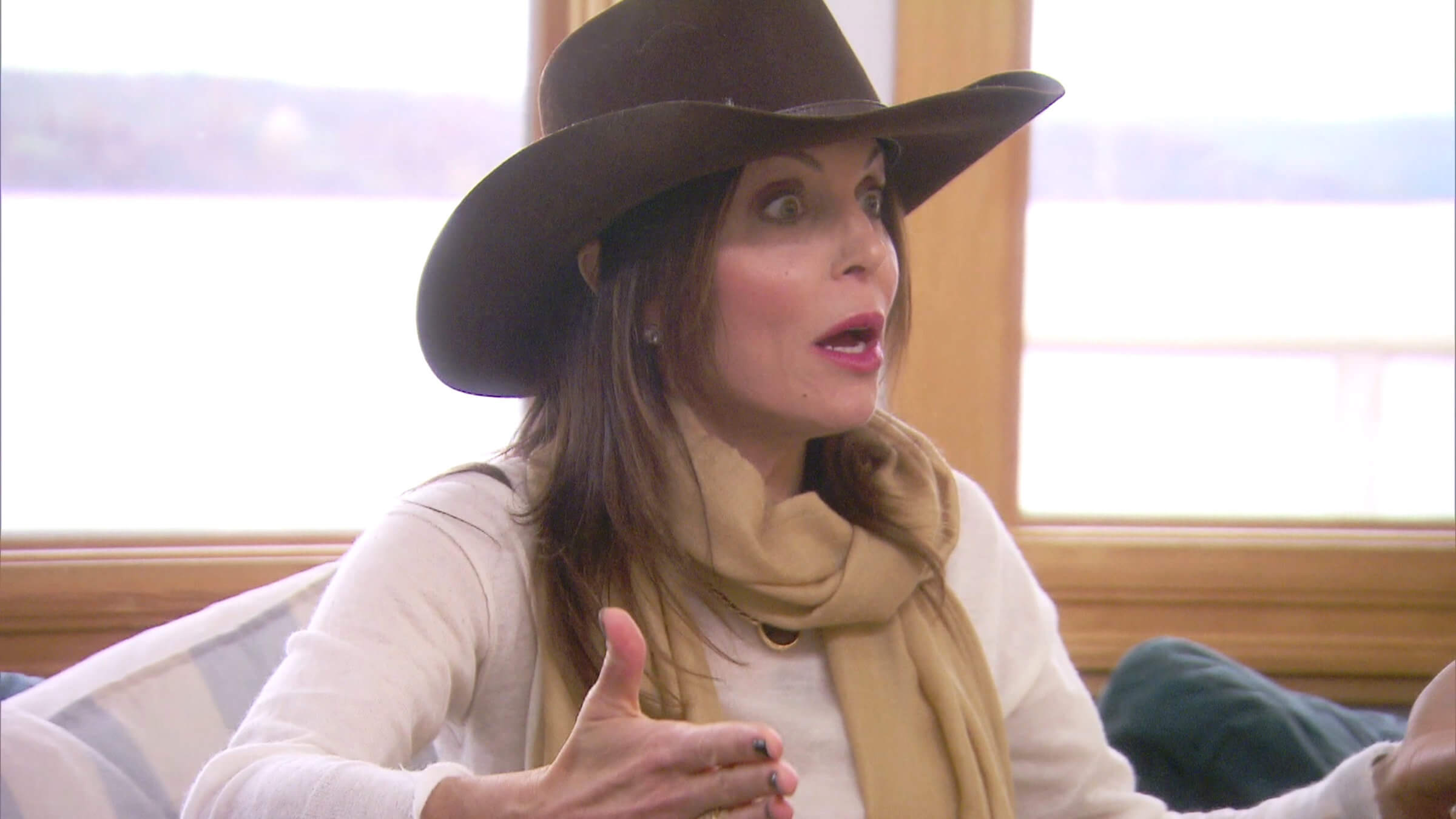 Next week on the Real Housewives of New York, Bethenny finally blows, and the ladies hit the round-house town. 
"Like" us on Facebook  "Follow" us on Twitter and on Instagram