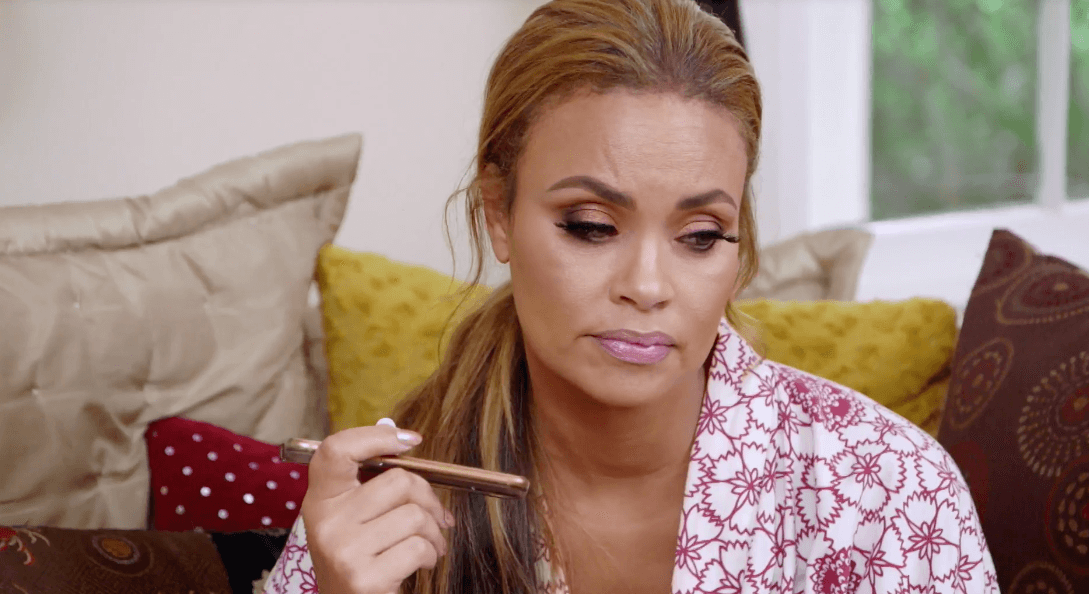 On Sunday's all-new episode of The Real Housewives of Potomac, Gizelle Bryant is left in tears after her on-again, off-again boyfriend, Sherman Douglas, ditches her right before Candiace Dillard's wedding.
In clip below from the episode, Gizelle calls her buddy, Robyn Dixon, to fill her in on Sherman's shady actions hours before the wedding.
"My biggest question is, why? Why you doing this? Why are you trying to hurt me?' " Gizelle tells Robyn. "I gave this man a second chance. Why are you wasting my time?"
RELATED: RHOP Star Gizelle Bryant Addresses Ex Sherman Douglas' Arrest For Sex With A Prostitute!
Sherman is blaming Gizelle's costar, Monique Samuels' previous insults as the reason for not attending.
"He said he's not interested in being around all those other people. And I'm like, 'That has nothing to do with me,' " Gizelle recalls. "I just feel like a complete and utter idiot. Supposedly you love me, you want to be in my life forever. Monique Samuels should never be a concern."
"I hate him," Bryant confesses. "He just cares about other people. He doesn't care about me. and if he cared about me, he wouldn't be doing this."
EXCLUSIVE: Kyndall Douglas EXPOSES Charrisse Jackson-Jordan's Shady Plot! 
Sherman's actions left Gizelle so upset, she considers not even going to Dillard's wedding.
"Do you think I want to go and every five minutes, someone is like, 'Where's Sherman?' Where's Sherman? Where's Sherman?' I don't even want to go!" she tells Dixon. "I have no desire to go. This is just effed up!"
Gizelle ends up attending the wedding solo, and addresses Sherman's complaints with Monique.
"You came for my guy and that wasn't right," Bryant tells Samuels. "If I came for [your husband]," you'd be on your ass."
The Real Housewives of Potomac airs Sunday, at 9:00 p.m. ET, on Bravo.
"Like" us on Facebook  "Follow" us on Twitter and on Instagram