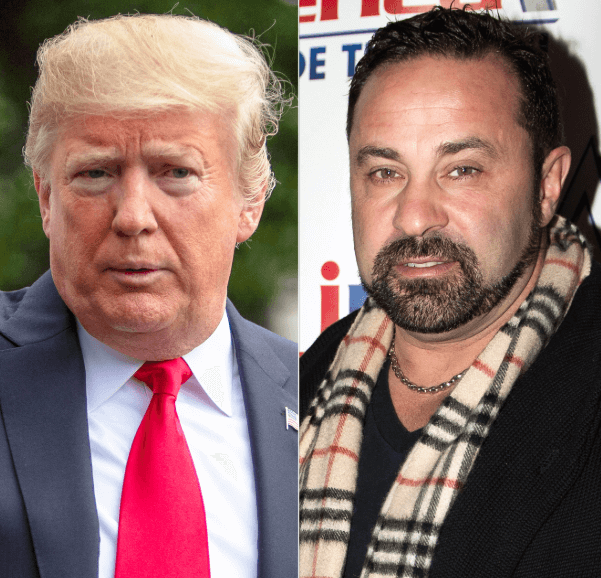 Joe Giudice's pleas for President Trump to pardon his deportation has fallen on deaf ears!  
As reported, his daughter Gia Giudice, publicly begged President Donald Trump to halt her daddy's deportation back to Italy but a source close to the administration claims Joe's case is not even on their radar.
"This has not reached the White House… If it was worth it on the merits, this would be something, but just because [the Giudice family] is asking…" A source tells People.
The insider noted that Trump will not necessarily look at a pardon request just because the person is famous — also added:
"Thousands of people have through different means tried to bring different cases [to the White House]… The vast majority of them just don't warrant the decision."
On April 25, Joe's legal team managed to get his deportation to Italy temporarily delayed after a federal judge ordered it to be postponed until a federal judge reviews his petition.
EXCLUSIVE: Margaret Josephs Throws Water In Danielle Staub's Face During Vicious Fight!
The 46-year-old fraudster was ordered removed by an immigration judge on October 10, 2018. He filed an appeal to the decision but was denied on April 11, 2019, by the Executive Office of Immigration.
In addition, Giudice's legal team has filed a petition for review with the Third Circuit Court of Appeals — that decision has not been made yet. Also, he filed a lawsuit against the U.S. Attorney General.
EXCLUSIVE: New Shocking Details of Kelly Dodd's Violent Bar Fight Exposed — Threatening Voicemails, Photos and Assault Victim Pressing Charges!
Last month, Giudice's 18-year-old daughter, Gia, launched a change dot org petition to help save her father. His wife Teresa — who admitted she will leave her husband if he's deported — supported her daughter's last-ditch effort on social media. The petition has already garnered over 51,000 signatures. The petition read,
"[Joe Giudice] knows nothing of Italian culture, laws, societal norms, he has no immediate family and will not be able to secure work in this foreign land. My father is not a danger to society, he is a warm loving man and I beg you sign our petition to give my father a second chance at being part of our lives and giving back to the community we live in once a again [sic]… We request that our President, Donald J Trump review our petition and pardon my father to relieve him of this life sentence the courts are bestowing on him, yes in Italy he will no longer be incarcerated but will he ever be free if kept from his family and be able to be a productive member of society?"
https://www.instagram.com/p/BwnUJrynsuU/
Joe Giudice is an Italian citizen who has a status of, "Permanent Resident of the US," although he's lived in the United States since he was a toddler. All immigrants, including those with green cards, can be deported if they violate U.S. laws. 
During the recent RHONJ reunion, Teresa Giudice confirmed she would divorce her husband if he is deported back to Italy. "I'm not doing a long distance relationship. I'm not doing it… I want somebody with me every day… I know exactly what happens — I'm sure he'll be with other women. It happens… You do the long-distance thing, it's not going to work. I'd be like, 'Bye bye.'"
The Real Housewives of New Jersey is currently filming season 10. 
"Like" us on Facebook  "Follow" us on Twitterand on Instagram