Lisa Vanderpump Exposes Kyle, Teddi & Dorit's Betrayal Was A 'Well Orchestrated' Plan!
Lisa Vanderpump is spilling insider tea, after her friendship with Kyle Richards imploded on a recent episode of The Real Housewives of Beverly Hills.
Kyle Richards, 50, claimed that she was defending Dorit Kemsley when she confronted Lisa, accusing her of leaking "Puppygate" details to an online outlet. But was Kyle's performance just one act of a planned production?
RELATED: Kyle Richards Claims Lisa Vanderpump Forced John Blizzard To Lie for Her!
Lisa Vanderpump, 58, addresses the confrontation in her personal blog — and reveals an inside nugget that might boost the theory that she was set up for a fall.
Lisa explains that on the day of the argument, she went to the Polo Lounge with her husband, Ken, and a friend, after Kyle exited her home. She adds that she was not the only Bravoleb in the place — and that she spotted Kyle, Teddi Mellencamp and Dorit Kemsley "huddled in a corner."
"So after KR left, an hour later Ken, my good friend Elena and I went to the Polo Lounge just a short while after the emotional nuke… And there it was… KR, DK,TM huddled in a corner chewing the fat. I was disgusted and knew it was a well-orchestrated plan, that had been executed to perfection."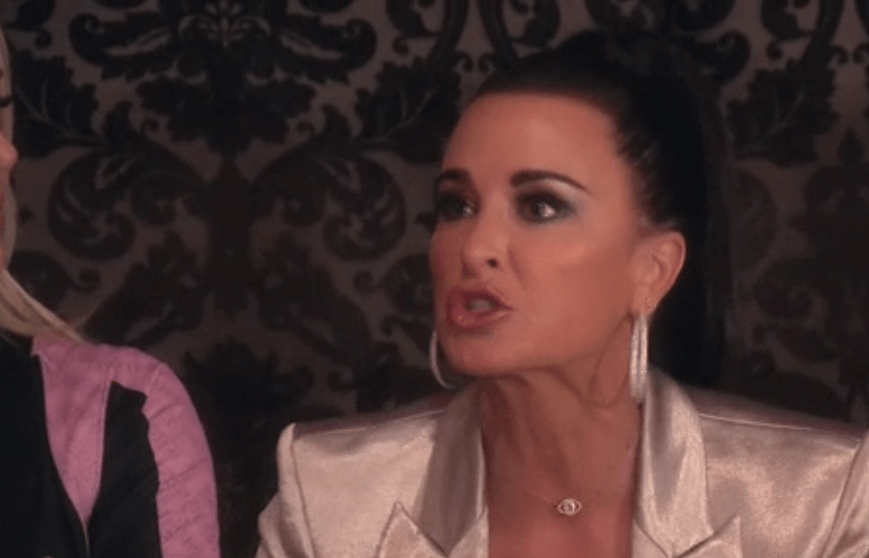 RELATED: Kyle Richards Accused of Bribing Her Daughters Way Into College — Shocked By Pal Lori Loughlin's Arrest!
Lisa withdrew from the cast after her blowout with Kyle — and confirms in her blog that she hit the BLOCK button after she received a "hollow" birthday message from her co-star, the following day.
"…..she knew I was reticent to celebrate my birthday this year so soon after a family tragedy, I was insulted that she chose to discard our friendship, as if it was insignificant."
"The fact that she clearly doesn't mourn the loss of the friendship, is evident in the 'Goodbye Kyle' scenarios on her social media in which she mocks my husband. I see the funny side of most things, but when a relationship is in tatters it would be challenging for me to mock the other party. Also, one should never accuse a friend without proof, end of story."
RELATED: Bethenny Frankel Exposes Lisa Rinna's Premeditated Plot To Take Down Lisa Vanderpump!
Do you believe that Kyle, Teddi and Dorit executed a "well orchestrated plan" — designed to freeze Lisa Vanderpump out?
Let us know what you think — and watch Real Housewives of Beverly Hills, Tuesday night, at 9 pm, ET, on Bravo.
"Like" us on Facebook  "Follow" us on Twitter and on Instagram 
Becca is a Senior Editor for All About The Tea. She's a coastal girl who loves the outdoors, and writing about the sneaky and silly side of reality TV. Her bio is short, but her snark is endless. She loves writing for the sharpest posters in the world.