Exclusive
EXCLUSIVE: Kelly Dodd's Drunken Bar Brawl With Boyfriend's Side Chick Triggered A Blowout Fight With Tamra Judge  — Tamra Exposes Kelly Pushed Her Mom Down Stairs!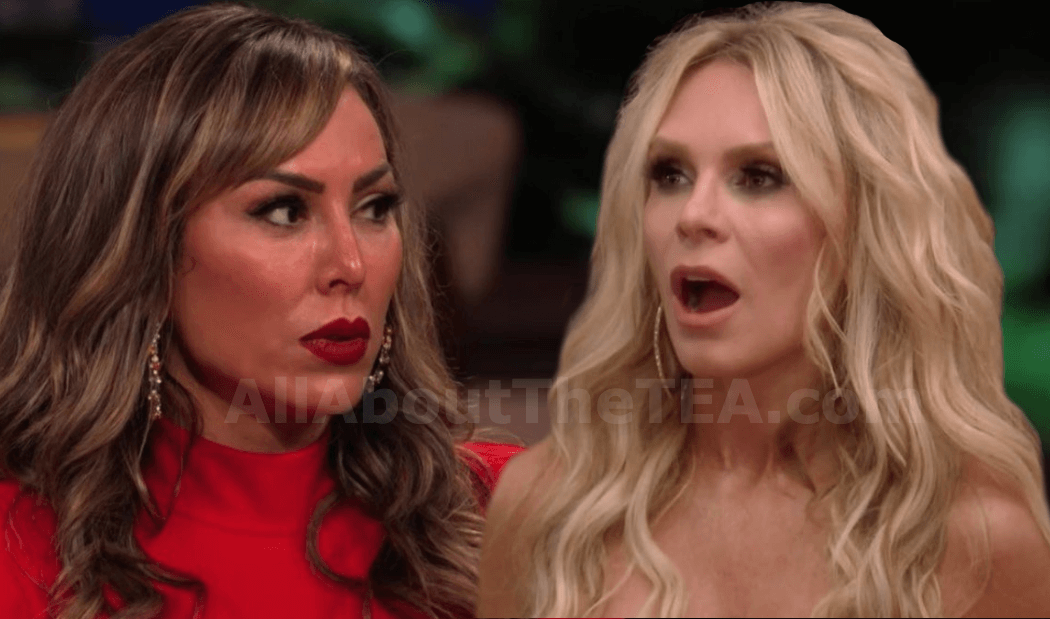 The Real Housewives of Orange County is filming Season 14 — and AllAboutTheTea.com has learned that an offseason scandal is splintering the cast, and putting Kelly Dodd in the hot-seat.
According to a production insider — Tamra Judge and Kelly Dodd got into a vicious fight last week during filming — the dispute stemming from a bar brawl between Kelly and an unidentified woman.
"Kelly got into a bar fight with a woman at the end of February in San Diego." A ROCK solid source told AllAboutTheTEA.com. 
"Kelly was drunk and attacked the woman because the lady is also sleeping with Brian [Kelly Dodd's boyfriend, Dr. Brian Reagan]." The snitch dished to AllAboutTheTEA.com. "Kelly and the other woman had been exchanging jabs [for weeks] before the fight happened."
The source continued. "Kelly injured the woman really bad…she broke the lady's finger, bruised her arm and scratched her face. As a result of the fight, Kelly and Brian broke up and Kelly behaved liked a scary lunatic over it."
Kelly Dodd and Dr. Brian Reagan
Now the assault victim is threatening to sue the Real Housewives of Orange County star, and Kelly is reportedly "very nervous and freaking out." 
EXCLUSIVE: Kelly Dodd's 'Out of Control' Cocaine Habit & Family Drama Revealed!
Fans know that Tamra Judge has a reputation for spilling secret tea — but it looks like Kelly didn't get the memo.
"Kelly told Tamra about the incident, and begged her to keep it quiet and just between them," the tipster told AllAboutTheTea.com.
EXCLUSIVE: Danielle Staub's Wedding Sham Exposed — Gina Curko Breaks Her Silence to All About the Tea 
Our source explained that Tamra ignored Kelly's wishes, and dished the dirt to her fellow Real Housewives of Orange County cast members.
"Kelly was enraged when she found out that Tamra exposed her legal drama to the other ladies and they got into a huge fight." The source explained to AllAboutTheTEA.com. "Things got so intense that production stepped in and halted filming until the situation cooled down." 
The insider revealed that Tamra filmed a scene with Shannon Beador on Friday, where she slammed Kelly Dodd as an abusive troublemaker. "Tamra bashed Kelly to Shannon, and labeled her the 'common problem' within the cast." 
"Tamra even cosigned the allegation that Kelly threw her mother down a flight of stairs. Tamra claimed that she had 'proof' to back up the alleged abuse," the insider added.
Press play to watch leaked footage of the juicy gossip sesh below.
Back in September 2018, AllAboutTheTEA.com exclusively reported that Kelly Dodd pushed her mother down a flight of stairs and routinely abused her mother while she lived with her. 
Kelly's younger brother, Eric Meza, documented their mother speaking about the alleged abuse in a revealing video recording. Press play below to watch.
 Share your thoughts on Kelly Dodd's drunken bar brawl and friendship fallout with Tamra Judge in the comments!
The Real Housewives of Orange County will premiere later this year.   
"Like" us on Facebook  "Follow" us on Twitter and on Instagram