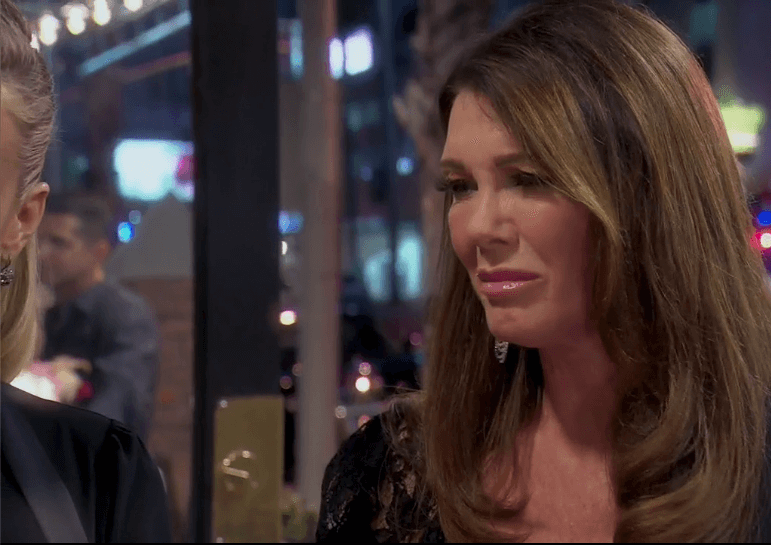 Welcome to The Real Housewives of Beverly Hills recap. Will this week's episode give us a break from #PuppyGate? Hell no. We are stuck in this together, people. First up, Kyle Richards visits Mauricio Umansky at The Agency. Still reeling from dropping off Sophia at college, Kyle says what a gift it is to have their daughter attend such a prestigious college. Mmm-hmm…a gift? 
KYLE RICHARDS ACCUSED OF BRIBING HER DAUGHTERS WAY INTO COLLEGE — SHOCKED BY PAL LORI LOUGHLIN'S ARREST!
Kyle then shares her worry with Mauricio that American Woman won't be picked up for another season – despite the fact that this show has been a point of contention with her sisters. Mauricio tells Kyle she deserves another season – despite the fact that this show has been a point of contention with her sisters.
Next we are at Dorit Kemsley's house and  Erika Jayne stops by to take over the bathing suit photo shoot.  Erika tells Dorit and the other model to sex it up. Guts in; tits out. We're not selling cookies, damn it, we're selling ass. Okay, what kind of photo shoot is this?
Over at Villa Rosa, Denise Richards and her two younger daughters stop by to visit Lisa Vanderpump. They are amused by all of the horses, swans and dogs. The miniature horses, Diamonds and Rosé, get loose and run amuck. It's quite amusing. Denise knows the other ladies are mad at Vanderpump, but she doesn't buy into that crap. And even though daughter Eloise is non-verbal, you can tell she understands everything.
Back at the photo shoot, during a break, Dorit gives Erika that, oh-woe-is-me, look. She tells Erika about the new texts shown to her by Lisa that prove Teddi Mellencamp's involvement. Dorit does not believe LVP is innocent either. She thinks Teddi and Lisa tried to set her up. Never mind about the dog in the middle of all this. Erika warns Dorit not to trust anybody, it's her standard rule.
We are in Rinna's car, speeding through Beverly Hills. She's on her way to check out a venue that Camille Grammer is looking at to celebrate her 50th. Rinna explains it's terrifying to turn 50 in Hollywood because you are old, done, and washed up. That's Rinna. Camille sees it differently. She's celebrating life, beating cancer, surviving a horrible divorce, and getting remarried. Life is good…for now. Little does she know a massive fire is looming.
LISA VANDERPUMP BLOWS THE LID OFF DORIT KEMSLEY'S ROLE IN PUPPY GATE & BLAST KYLE AND TEDDI!
After deciding the menu, Camille tells Rinna that years ago Lisa Vanderpump asked her to bring up the Taylor/Russell abuse issue, while keeping her hands clean. Flashbacks are shown. Camille calls it a character assassination, but also thinks Dorit is a complete fake, so she's on the fence on who to root for. Rinna thinks Camille is a flip-flopper, but that's better than being a shit-stirrer, am I right?
Next we join Denise and Aaron at the beach discussing their wedding plans. So far they have a venue and nothing else. They must provide everything, including the fancy port-o-potties. They acknowledge this is crazy and yet it all makes sense.
Do you ever find yourself saying, that's so California. Teddi and her therapist have their session on a walking trail. It's good to be a therapist in LA. Teddi is still in need of constant validation understanding. She complains that her friendships are causing her physical pain. Then Teddi adds a new detail we've never heard before with #PuppyGate. She says Lucy was locked in Dorit's basement for days. WTF is going on? Can this get any more confusing? Dumb question. Of course it can.
Teddi tells her therapist she will see everyone at Camille's birthday party and feels another set-up is coming her way. Teddi cries and says she doesn't like being an adult. Somebody call the waaaambuuulance.
Next up is the best scene of the entire episode. Kyle and Lisa meet for dinner. They attempt small talk and it goes pretty well. Lisa asks Kyle about the status of American Woman and we learn the show has been cancelled. Maybe now Kyle's sisters will start talking to her. Fortunately for us, Denise and Aaron stroll into the restaurant. Yay!
As an icebreaker, Lisa asks Denise if she was instantly attracted to Aaron when they first met. Denise says she wanted to sleep with him right away and was delighted to find he has a giant penis. Lisa suggests Denise not tell other women how big Aaron's penis is, but Denise just giggles. Did she smoke a fatty on the ride over? Aaron is embarrassed, sort of. He tries to explain his energy business, but Denise won't get off his penis. Ba dum tisk. After dinner, Kyle and Lisa laugh their way through the parking lot. Can I say, it was so nice not hearing about #PuppyGate.
Party time! Everyone starts arriving at Camille's fifty-is-nifty party, but storm clouds are forming. Teddi gets the cold-shoulder from Dorit until Erika says, Tell her. They go out front to talk. Dorit explains she's seen the texts and knows Teddi was involved. Teddi admits to being involved, and apologizes, but explains she was merely a pawn in Lisa's chess game. Just then, Lisa and Kyle's limo pulls up. The get out and see Erika, Dorit and Teddi huddled like witches around cauldron, so they keep on walking and go inside to wish Camille a happy birthday.
Back out front, Teddi's eyes are getting watery, again, as she accepts responsibility for her part in #PuppyGate. Dorit now wants Lisa to accept responsibility for her part. Never mind Dorit's part in all this. Rinna joins the ladies to stir the cauldron. Denise joins the ladies to tell them to come inside. Soon Kyle and Lisa join them as well and Teddi calls out Lisa for causing this. Lisa then accuses Teddi of lying by omission.
There's a question about exactly when Lisa knew that Teddi first knew. Lisa has given different answers. Rinna says all roads lead to Lisa Vanderpump. Teddi says she has taken ownership for her part, but feels Lisa never will. Then Teddi delivers a zowie. She tells Lisa if she can live with herself, then go for it, since it's been working for her for a long time. Kyle's jaw drops to the floor. Dorit says this is no longer about Lucy (she wishes) and believes this is about Lisa's betrayal. Dorit says, The truth will set you free. How profound.
Inside, PK and Ken are getting along just fine. The cake arrives for Camille, her fiancé is holding it, and everyone sings happy birthday. Camille talks about love and respect, but it falls on deaf ears. The ladies coexist with help from Mr. Tequila. Kyle twerks and does the splits while wearing a red dress. Why is she so cute? Umm, Kyle, you're not. A grown-ass woman flashing her vajayjay is not cute.
On the car ride home, Dorit updates PK on the status of his friendship with Ken. She explains that Teddi has owned up to all of the ugliness, but Lisa vehemently denies her part. PK brings up that Lisa is going through a lot with the loss of her brother and to cut her some slack. Dorit says hurt people…hurt people. Seriously? Did somebody get a book of clichés for Christmas? Anyway, Dorit says she will try to find a way to numb herself next time they are forced to hang out. Lots of alcohol should do the trick.
Next on The Real Housewives of Beverly Hills, Denise's wedding that doesn't go according to their last-minute plans.
"Like" us on Facebook "Follow" us on Twitter and on Instagram