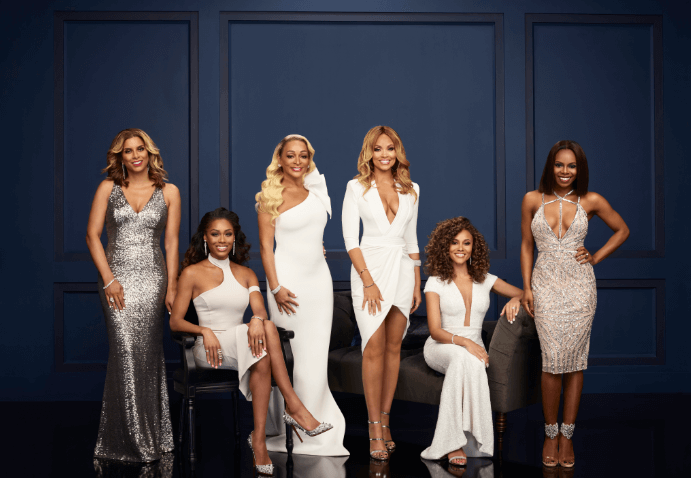 Bravo has released The Real Housewives of Potomac  season 4 trailer and the ladies are going through it!
Gizelle Bryant, Karen Huger, Ashley Darby, Robyn Dixon, Monique Samuels, and Candiace Dillard Bassett, return May 5, along with Katie Rost, as a friend of a Housewife.
RELATED: Katie Rost Posts Disturbing Bloody Miscarriage Photos Amid Nasty Custody Battle!
This season, Ashley and Michael Darby work on having a baby, but their plans get derailed when Michael lands himself in legal drama after he's accused sexual harassment. 
RELATED: Michael Darby Claims 'RHOP' Cameraman Made Sexual Assault Claims For Money!
Karen uses the incident to throw shade after Ashley meddled in her personal business in prior seasons.
"Karma is a bitch, honey," Huger tells Ashley, after implying that Michael might be going to jail. "Clankity clank. The bar of soap? You might want to help your husband."
RELATED: 'RHOP' Star Ashley Darby Pregnant After Husband's Sexual Assault Scandal!
The Darby's denied all the allegations but Candiace Dillard also challenges Ashley's assertion that "it did not happen." And the two get into a blowout fight.
"You lying," Candiace tells Ashley in the trailer, while waving a knife in Ashley's direction. "You putting out bullsh*t!"
"You better get that f*cking knife out of my m*therf*cking face," Ashley says back.
Michael, 59, was embroiled in controversy when a production company cameraman accused him of sexual assault, last year. The Bravoleb was charged with second-degree assault and improper sexual conduct, but the charges were later dropped. Ashley stood by her husband, throughout the legal ordeal.
In other baby news, Monique Samuels, is in the late stages of her pregnancy but that's not stopping her from engaging in drama!
In the clip below, Monique speculates that Ashley and Michael have a "completely open" marriage.
Monique and Candiace are no longer friends — and Candiace has made an ally in Monique's enemy, Gizelle Bryant.
"I'll drag you, pregnancy and all," Monique yells at Candiace.
"Oh you're going to drag me now?" Candiace responds.
Karen and Ray Huger are pushing through their troubles, while still watching everyone else with a side eye, as Karen launches one of her biggest ventures, her very own perfume.
Gizelle Bryant has a tale she wants to tell with her upcoming book launch, and she is also working on mending her friendships and revitalizing her love life.
Meanwhile, Candiace and Chris are stressed out by wedding planning, with Candiace's mother, controlling the purse strings.
Robyn and Juan Dixon have found their groove finding their way back to each other as Robyn also works on her property investment goals. 
Press play below to watch the season 4 trailer (swipe right to view all 3 videos).
The Real Housewives of Potomac season 4 premieres Sunday, May 5, at 9:00 p.m. ET, on Bravo! Starting May 19, the series moves to its permanent timeslot at 8 p.m. ET.
"Like" us on Facebook  "Follow" us on Twitter and on Instagram