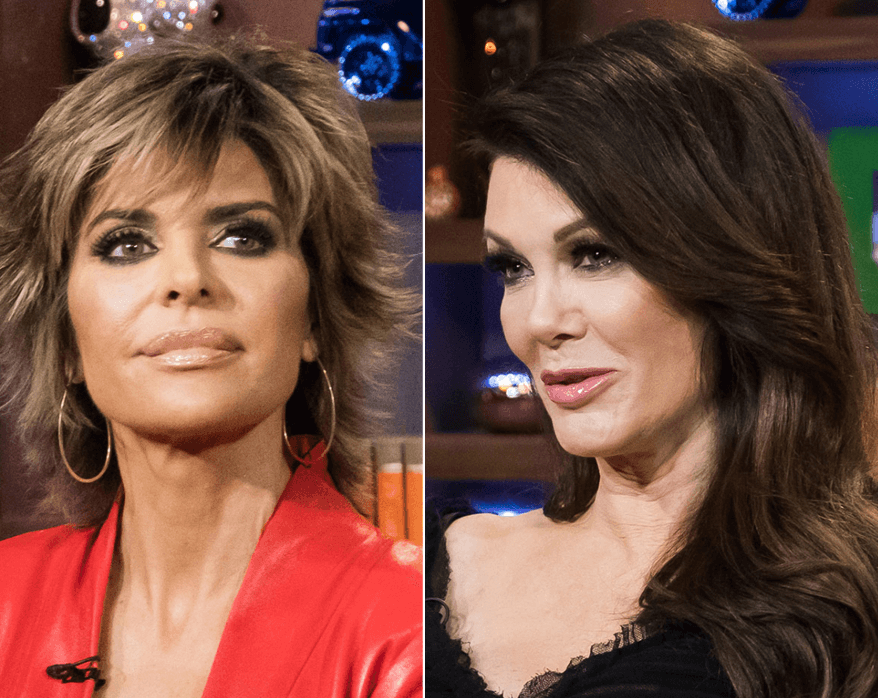 Lisa Rinna has been on a rampage lately, attacking Real Housewives of Beverly Hills co-star, Lisa Vanderpump — accusing Vanderpump of instigating cast drama in order to lay the groundwork for a Vanderpump Dogs spinoff series.
Rumors of a spinoff project focused on Vanderpump's rescue center has circulated, and a source tells Life & Style that Rinna's rage derives from jealously over her costar's achievements.
"Friends of Lisa say she's just bitter about Vanderpump's fame," a source tells Life & Style. "She would love a spinoff with her husband Harry [Hamlin] and her wannabe supermodel daughters, but this isn't the way to go about it." 
Lisa Rinna Attacks Lisa Vanderpump — Accuses 'RHOBH' Star of Setting Up Dorit's PuppyGate!
Fans met Vanderpump Dogs executive director, John Sessa, on the Season 9 premiere — when he introduced a dog that Dorit Kemsley had adopted and improperly surrendered. Rinna accused Lisa of setting up Kyle Richards and Teddi Mellencamp Arroyave, while exposing Dorit's misstep on camera. Sessa denied the claim during a recent "On the Rocks" radio show appearance. 
Kyle Richards Accuses Lisa Vanderpump of Conspiring with John Sessa to Expose Dorit Kemsley!
However, a rep for Rinna laughs off the accusations as "a hilarious accusation" and "couldn't be further from the truth."
However, the snitch claims that the soap actress is desperate to remain relevant and has hitched her wagon to Real Housewives of Beverly Hills newcomer, Denise Richards.
"Now she's clinging onto new housewife Denise Richards to stay relevant."
The source continued: "Lisa looks desperate and her antics to stir up more sh*t fell flat, it definitely didn't work in her favor," the source explained. "Andy's definitely not happy with her."
An insider tells the tabloid that Rinna's boss, Andy Cohen, was not happy about the QVC peddler's malicious Instagram post on March 12. In the post, Rinna accused Bravo and Lisa Vanderpump of creating the puppy gate scandal to facilitate a Vanderpump Dogs spinoff series — and threatened legal action.
"Lisa Rinna is known for stirring the pot on the Real Housewives of Beverly Hills, but it looks like it may backfire," the insider said. "Andy [Cohen] and Bravo executives are upset with accusations, threats and demands for money. She's gone too far."
"Lisa went off on a rant about wanting to be paid to help launch future spinoff series for Lisa Vanderpump was ridiculous. She even said her lawyers would be contacting Bravo," the insider added. "It was over the top and not something anyone should say — threatening legal action is a huge red flag for her employer."
Do you think Lisa Rinna is stirring the pot with Lisa Vanderpump over jealously? Share your thoughts in the comment section below!
"Like" us on Facebook  "Follow" us on Twitter and on Instagram