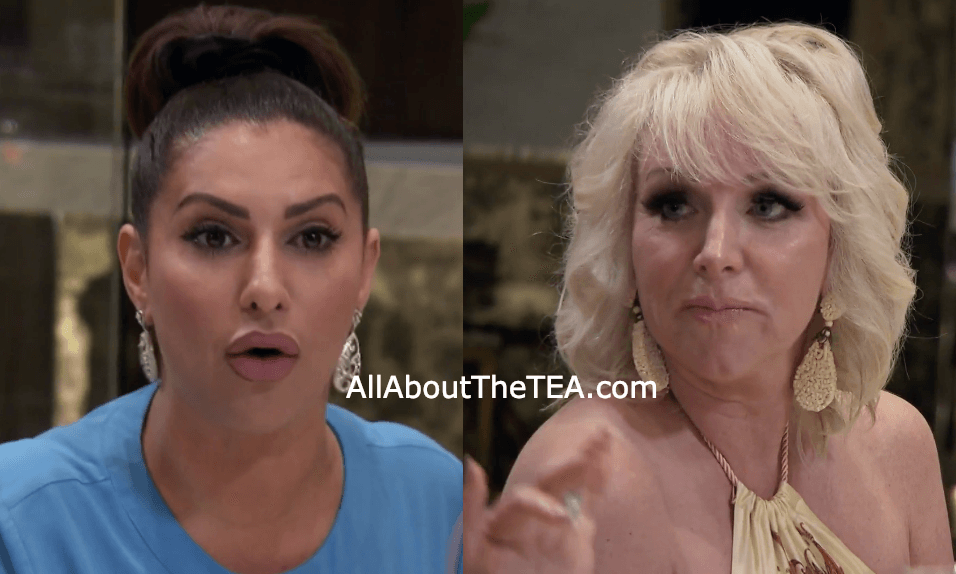 On tonight's all-new episode of The Real Housewives of New Jersey, drama between Margaret Josephs and Jennifer Aydin escalates over a necklace.
RELATED: Danielle Staub Removed Margaret Josephs From All of Her Bridal Photos!
The ladies Cabo getaway gets a little messy when some of the ladies gift Teresa Giudice, a necklace for her fitness competition. The kind gesture turns to shade when it's revealed that Jennifer Aydin's brother is a jeweler.
"Would've come out better if my brother did it," she says.
Jennifer's assertion triggers Margaret Jospehs to lash out at Jennifer.
"Jennifer, I don't know what the hell you're talking about because I called you and told you and you were like, 'Fine.' I think the cocktails are getting to your brain," Margaret says.
EXCLUSIVE: Teresa Giudice & Melissa Gorga's 'RHONJ' Reunion Fakery Exposed!
Jennifer was under the impression the ladies were gifting Teresa costume jewelry.
"Why would I f*cking pay for something from a jeweler that's not my brother?" a heated Jennifer asks.
Jennifer says Margaret is at the top of her "sh*t list," in a talking head confessional. Especially after they argued about Margaret calling Jennifer's brother's wife a mail order bride.
"You know what? It's f*cking ugly. Sorry, Teresa," Jennifer says at the table. The ladies are taken aback by the comment and say it's bad manners.
"Then I have bad manners, I own it," Jennifer says.
"I like Jen, but she's acting a little crazy…I think the tequila has given her amentia," Dolores Catania says in a confessional.
Margaret Josephs then tells Jennifer Aydin that her lip liner looks like "a monkey's asshole!"
The Real Housewives of New Jersey airs Wednesdays, at 9:00 p.m. EST, on Bravo.
"Like" us on Facebook  "Follow" us on Twitter and on Instagram