Bravo In Panic Mode After Ryan Vieth's Transgender Attack — He Deletes Instagram Account & #RHOC Fans Want Tamra Judge Fired!
Viewers are calling for a Real Housewives of Orange County cast shakeup after Tamra Judge's son was caught making derogatory remarks about the transgender community.
RELATED: Tamra Judge Cosigns Ryan Vieth's Transphobic Rant & Ryan Encourages Murder of Trans Person!
On Tuesday, Ryan Vieth posted a headline about a British transgender family transitioning their 5-year-old son — and Tamra added her two cents.
He captioned the post, "LETS BE F*CKING REAL, THE WORLD IS F*CKED. COMPLETELY F*CKED."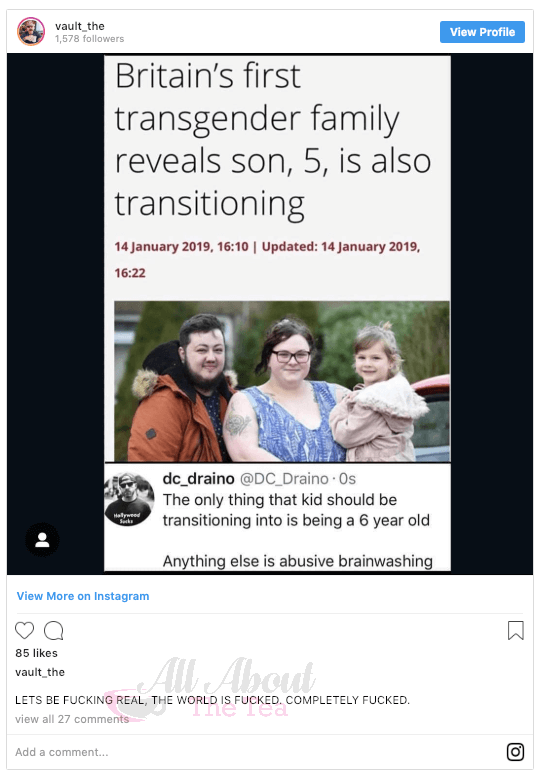 Tamra cosigned Ryan's hate-filled statement by "liking" the post and responding with, "Wow that's sad. 5-year-old can not make a decision like that."

On Thursday, Ryan Vieth amped his vitriol when he weighed in on a court case involving a transgender person suing a Colorado baker for discrimination.
"Hopefully this guy goes on a rampage and kills whatever transgendered fuk head took him to court. Ooops did I just say that….This country needs to kill off this f*ckery bullshit," Ryan wrote in the since erased post.
https://www.instagram.com/p/Bsv3LoaheAc/
Ryan Vieth, 33, has since deleted his entire Instagram account.
EXCLUSIVE: #RHOC Kelly Dodd Fat Shames Vicki Gunvalson's Friend In Vulgar Rant Then Plays Victim!
Fans slammed the outspoken mother/son duo on Twitter — and are now  launching a boycott campaign to push them out of the Bravo spotlight. 
We the fans demand that @Andy and @BravoTV fire both @TamraBarney and her racist, transphobic, homophobic son from our tv screens immediately.
Signed: Everyonehttps://t.co/YHVi2ds39S

— Jay (@ScottishReality) January 17, 2019





Tamra Judge joined the Real Housewives of Orange County cast in 2007.
Do you believe that Bravo should take action and erase Ryan Vieth and Tamra Judge  from the Real Housewives of Orange County narrative? Sound off in the comments!
"Like" us on Facebook  "Follow" us on Twitter and on Instagram 
Becca is a Senior Editor for All About The Tea. She's a coastal girl who loves the outdoors, and writing about the sneaky and silly side of reality TV. Her bio is short, but her snark is endless. She loves writing for the sharpest posters in the world.