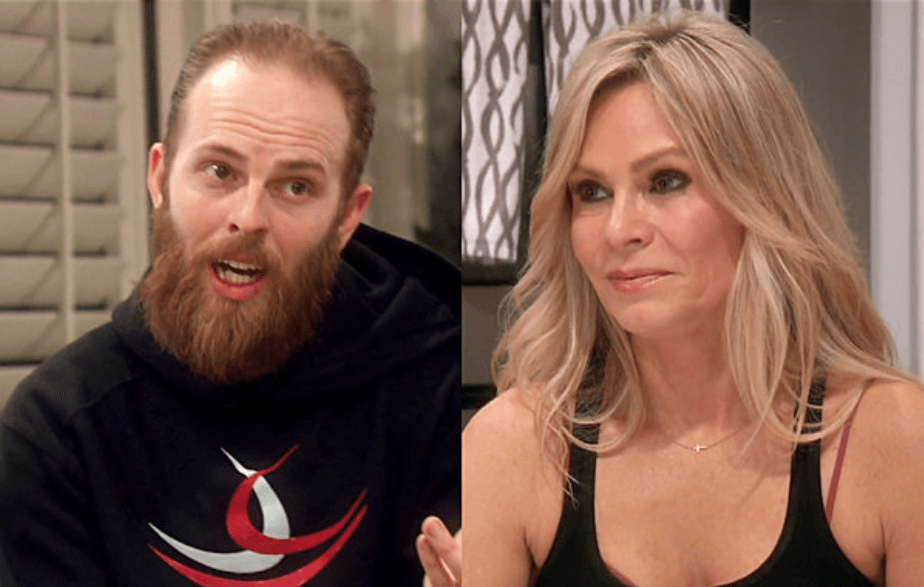 Tamra Judge's son, Ryan Vieth, has been caught making homophobic and derogatory statements about transgender people.
Ryan Vieth may be a spotty presence in his mother's life on The Real Housewives of Orange County — but on social media the mother/son duo align to unleash hate against the gay and transgender communities.
RELATED: Real Housewives of Orange County Star's Son, Ryan Vieth ARRESTED for Domestic Violence
On Tuesday, Ryan Vieth posted an article about a Britain's first transgender family transitioning their 5-year-old son. He captioned the post, "LETS BE F*CKING REAL, THE WORLD IS F*CKED. COMPLETELY F*CKED."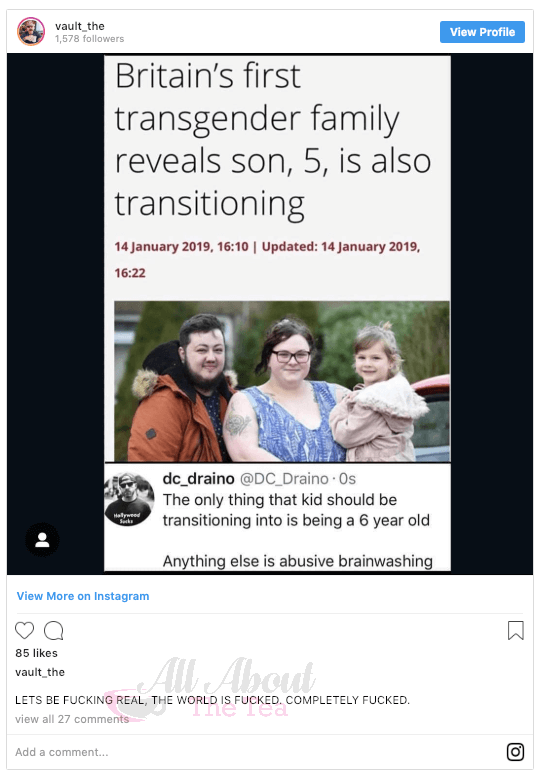 His mother, Tamra Judge, seemingly agreed with her son's hateful rhetoric and commented on Ryan's post with, "Wow that's sad. 5-year-old can not make a decision like that."

Then on Thursday, Ryan used his social media platform to urge a Colorado baker to murder the transgender person suing the baker for discrimination. After he was called out on Instagram, Ryan deleted the caption of his post but not before AllAboutTheTEA.com got a screenshot of the original caption. He wrote, "Hopefully this guy goes on a rampage and kills whatever transgendered fuk head took him to court. Ooops did I just say that." Ryan added, "This country needs to kill off this f*ckery bullshit."
As reported in May 2018, Ryan exposed a racist streak, while commenting on a social justice Instagram jab, posted by rapper, Snoop Dog.
RELATED: Tamra Judge's Son Ryan Vieth Goes on RACIST Tirade Against Black People!
This incident is the latest in a string of trouble for Ryan Vieth. In June 2015, he was arrested for domestic violence against his ex wife, Sarah Rodriguez. According to an Orange County call blotter, a female from the residence where the couple lives in Rancho Santa Margarita, CA, called 911 from a neighbor's house, late on June 27th. The woman reported that a drunk 29-year-old male matching Ryan's description, hit her, and that she thought that her finger was broken. She also communicated that she couldn't speak freely because her five-year old daughter was present.
Share your thoughts on Tamra Judge's son, Ryan Vieth's attack on the trans community. Sound off below!
"Like" us on Facebook  "Follow" us on Twitter and on Instagram