James Kennedy's Mom Calls Katie Maloney & Kristen Doute Fake 'Feminist' For Provoking Her Son Then Playing 'Victim'
James Kennedy's mom is in full mama bear mode and fiercely defending her son amid criticism over accusations that he attacks the show's female cast.
James Kennedy Apologizes For Blasting His 'Vanderpump Rules' Costars In Twitter Rampage!
As reported, Lala Kent shaded at James Kennedy's mother, Jacqueline Georgiou, who's a recovering alcoholic. James Kennedy's mother appeared on the January 7th airing of the Bravo reality series to beg Lisa Vanderpump for her son's job, after he was accused of making disparaging remarks about Katie Maloney and drinking too much.
Jacqueline Georgiou released a statement via Instagram on Friday — adamantly defending her son. She believes he never should have been fired. She seemingly excuses his behavior towards women and specifically slams Katie Maloney and Kristen Doute for triggering his explosive responses.
https://www.instagram.com/p/Bsd_GMqjgpQ/
According to Jacqueline, James never described Katie as "fat," during their argument. "Let's not claim to be a feminist then play victim," she adds, before turning the tables on James' ex, Kristen.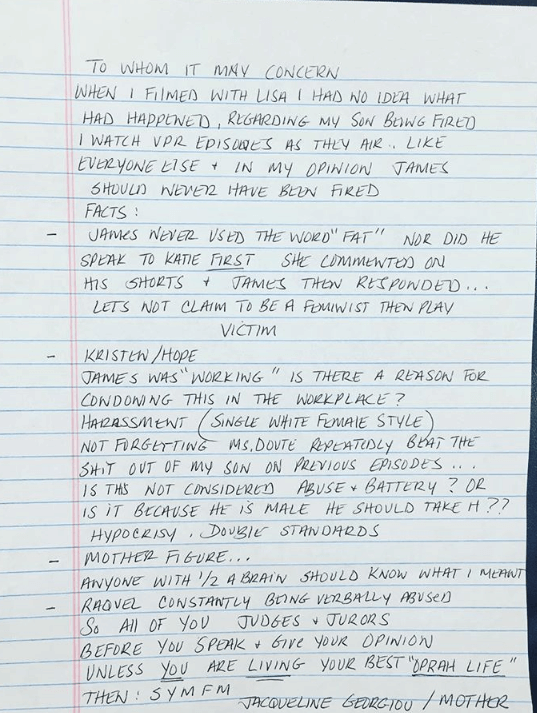 "Harassment (single white female style) not forgetting Ms. Doute repeatedly beat the sh*t out of my son on previous episodes … Is this not considered abuse + battery?" Jaqueline ripped Kristen. "Or is it because he is male he should take it?? Hypocrisy. Double standards."
Katie Maloney Plays Victim After Fans DRAG Her For Demanding James Kennedy Be Fired
She also issues a warning to Lala Kent — telling her to back off: "So all of you judges + jurors before you speak + give your opinion unless you are living your best 'Oprah life' then: SYMFM."
Share your thoughts on James Kennedy's mother defending her son. Sound off in the comments!
"Like" us on Facebook  "Follow" us on Twitter and on Instagram 
Nancy Zhāng is an Entertainment Blogger for All About The Tea. Nancy covers hot topics, recaps and celeb news. She loves to multi-task as a writer and a private chef. She received a B.S. in Mass Communications from LSU. Nancy's married and the proud mom of 2 German Shepherds.