Katie Maloney Plays Victim After Fans DRAG Her For Demanding James Kennedy Be Fired — She Hints To More 'Abused' Victims!
Vanderpump Rules mean girl, Katie Maloney, is being put on blast by fans after she demanded James Kennedy's firing. And her response may shock you!
As fans know, Katie and James got into a verbal squabble on the Dec 16th airing of the Bravo reality series.
The incident occurred at SUR's gay pride party — James called Katie fat — commenting that the shorts she was wearing weren't "working for her." The diss sent Katie into a tailspin and she issued an ultimatum to her boss, Lisa Vanderpump — fire James or risk losing her, but Katie's on-air stunt backfired with fans.
Vanderpump Rules fans were quick to label the SURver as sanctimonious for previously slut-shaming her co-star, Lala Kent.
I'm not saying that what James did was right but I remember Katie calling Lala a whore and saying she calls it as she sees it aka shes been disrespectful as well #pumprules #vanderpumprules

— Terry 😉 (@sellmeahome) December 24, 2018
https://twitter.com/firefox_53/status/1077039815869325312
#vanderpumprules Katie we are in a twilight zone where your were a sloppy nasty mean drunk 1-2 seasons ago where you were called out and given a chance to change so why can't James be given that? How many times did you do it again after you knew you had a problem? #entiltedmuch

— Urban Combat Development (@urbancombatdev) December 30, 2018
A fan pointed out Katie's previous bullying of Lala Kent, in response to Katie tweeting, "I know the truth, say what you want… #abuse #consent," on December 24.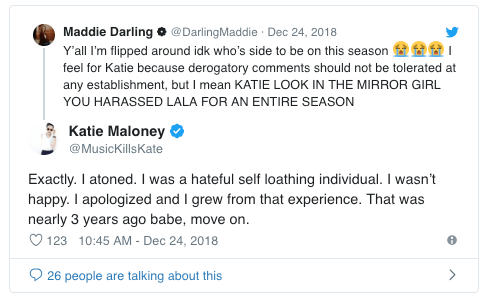 "Y'all I'm flipped around idk who's side to be on this season ??? I feel for Katie because derogatory comments should not be tolerated at any establishment, but I mean KATIE LOOK IN THE MIRROR GIRL YOU HARASSED LALA FOR AN ENTIRE SEASON," the fan wrote. 
This prompted Katie to respond by explaining that she's apologized and moved on, "Exactly. I atoned. I was a hateful self loathing individual. I wasn't happy. I apologized and I grew from that experience. That was nearly 3 years ago babe, move on."
When fans did not respond with support and words of encouragement, Katie then tweeted a cryptic message — alluding to other people involved that she's standing up for.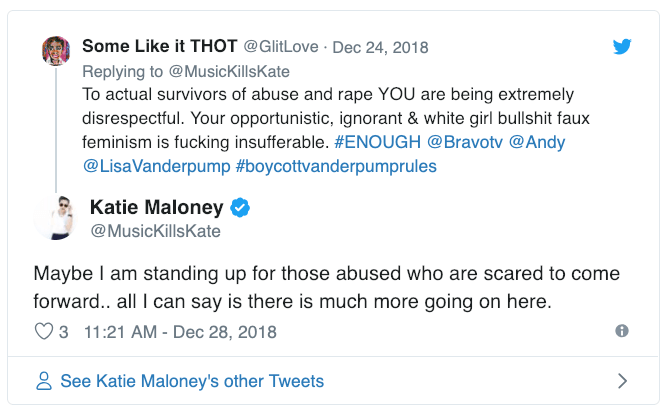 Other fans pointed out that Katie started the fight with James but neglected to share her part in triggering his fat-shaming response.
James shouldn't be calling Katie fat. However she started off with rude comments first. Then straight out lies to Lisa on what she said. #VanderpumpRules pic.twitter.com/cPaiCB0Bjf

— Marie B (@nocchio16) December 18, 2018
https://twitter.com/HappyWalkHappyD/status/1074843322248781824
https://twitter.com/Hannahb40716431/status/1077074686167547904
Do you think Katie Maloney is a hypocrite? Should Lisa Vanderpump have been given a final demand to fire James Kennedy? Sound off in the comments below!
"Like" us on Facebook  "Follow" us on Twitter and on Instagram 
Nancy Zhāng is an Entertainment Blogger for All About The Tea. Nancy covers hot topics, recaps and celeb news. She loves to multi-task as a writer and a private chef. She received a B.S. in Mass Communications from LSU. Nancy's married and the proud mom of 2 German Shepherds.