Exclusive
EXCLUSIVE: Kelly Dodd's Daughter Facing Expulsion From Private School Over "Bitch" Attack on Vicki Gunvalson!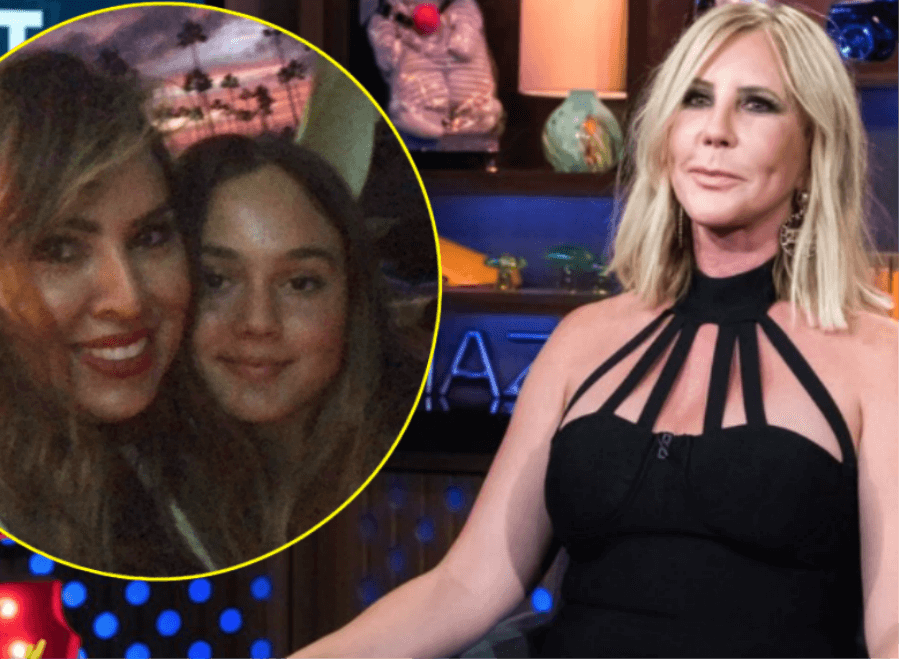 Kelly Dodd inserted her daughter, Jolie Dodd, smack in the middle of a public Real Housewives of Orange County reunion spat with co-star, Vicki Gunvalson — and has landed the 12-year-old in hot water with her private school, Our Lady Queen of Angels.
"I have forwarded the video of Jolie using the curse word to Principal, Julie Tipton [Principal of Our Lady Queen of Angels]. Jolie violated the school's code of conduct and the matter is under investigation." A concerned parent confided in AllabouttheTEA.com.
The source continues: "Based on the school's social media guidelines…Jolie should be expelled. Suspension is not enough. I do not want my child's school to have a bad reputation because of one student's bad choices."
VIDEO: Kelly Dodd Savagely Drags Vicki Gunvalson — Calls Her Rotting Cheese That Stinks!
Kelly Dodd, 43, became infuriated after Vicki, 56, accused her of cocaine use and negligent parenting during the mid-season sit-down. Kelly and Jolie took to Instagram after the episode, where the child called Vicki "a bitch."

According to the Newport Beach K-8 Catholic school's code of conduct, Jolie violated social media behavioral guidelines when she blasted Vicki, 56, on Instagram.
RELATED: Kelly Dodd's Brother Eric Meza Speaks Out Amid Niece's Vulgar Attack On Vicki Gunvalson!
Below are guidelines members of the Our Lady Queen of Angels community (students, faculty, administrators, and staff) must adhere to in social media spaces, regardless of whether these are considered professional or personal spaces.
Use Good Judgment
We expect good judgment in all situations. Behave in a way that will make you and others proud and reflect well on the school.

Know and follow the school's Community of Respect and Responsible Computer Use Policy (noted at the end of this page under Additional Resources).

Regardless of your privacy settings, assume that all of the information you have shared on your social network is public information.
Be Respectful
Always treat others in a respectful, positive, and considerate manner.
Be Responsible and Ethical
Because you represent the school, please stick to discussing only those school-related matters that are within your area of responsibility.

Adults should be open about their affiliation with the school and the role/position they hold.

If you are someone's peer, interact with them online if you are so inclined. If you are an employee thinking about interacting with a student, consider the following questions before proceeding. What is the purpose of my interaction with a student? (If it is not related to your classroom activities, reconsider using a social network.) What is the social network in which I propose to interact with a student? (If the social network in question has limited professional applications – Facebook, for instance – reconsider using that social network.) If you are uncertain how to proceed, consult your division head.

Share and interact in a way that will enhance your reputation, the reputation of others, and the reputation of the school, rather than damage them.
Vicki Gunvalson and Kelly swapped barbs throughout the reunion episode, the discord initially triggered by Vicki's decision to fix up Kelly's ex, Michael Dodd. The fallout back-and-forth exploded after Vicki accused Kelly of being a cocaine user and bad parent. Kelly reacted by melting down, snapping at Bravo producers, and crying on the phone to her ex-husband. Kelly has since taken to social media to taunt Vicki, and label her a liar. Vicki fired back, when responding to a fan.
"The fruit doesn't fall far from the tree," Vicki quipped.
EXCLUSIVE: Kelly Dodd's 'Out of Control' Cocaine Habit & Family Drama Revealed!
Do you think that Jolie is headed for the principal's office?
Watch Part two of The Real Housewives of Orange County reunion, Sunday night at 9:00 p.m. ET, on Bravo.
"Like" us on Facebook  "Follow" us on Twitter and on Instagram