'RHOC' RECAP: Kelly Dodd Attacks Emily Simpson's Husband In Drunken Tirade!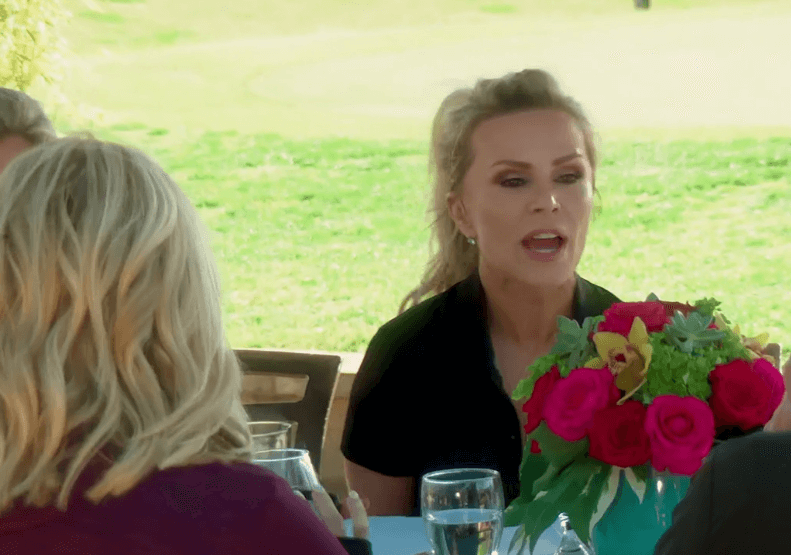 The Real Housewives of Orange County are back, can I get a woo-hoo! This episode is jam-packed with manufactured drama, so let's get this party started! We return to Vicki Gunvalson's golfing birthday party that has gone off the rails. Tamra Judge's being a big meanie to Shannon Beador over something that's between Gina Kirschenheiter and Emily Simpson. Shannon storms off, but Vicki, Emily and Gina return to the table. Tamra tells them she got yelled at by Shannon because she stood up for Emily. Tamra is drunk tough-talking and says she'll punch a woman in her tit. She's a class act, that Tamra.
Kelly Dodd leaves to go check on Shannon who is hiding in the golf shop bathroom. She won't come out, but let's Kelly in. Thanks to closed caption, we know that Kelly tells Shannon to get a backbone and let Tamra have it.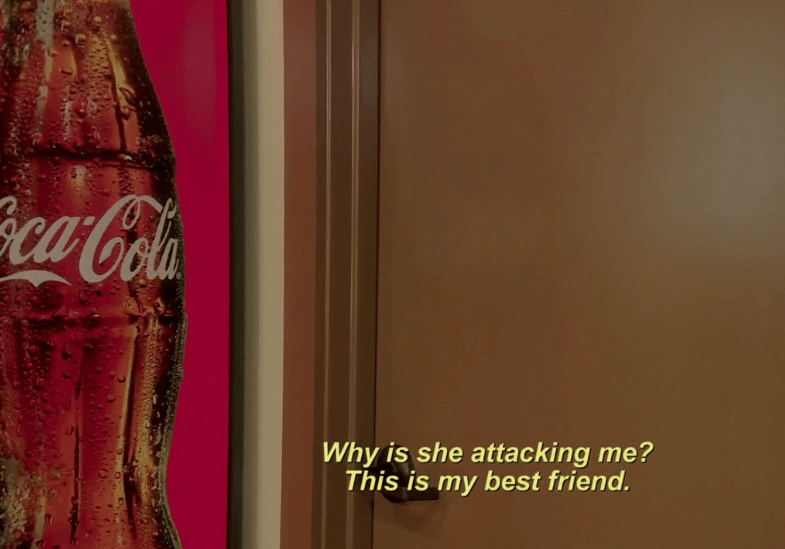 Back at the table, Emily assures the ladies she wears the panties in her family. Tamra loves that Emily makes more money than her husband and isn't a bloodsucker taking almost $30K per month. Shannon comes back and turns down the shot Vicki keeps offering her. Tamra accuses Shannon of making the fight about herself. So you know when Tamra gets drunk and her voice hits that pitch that can shatter glass? She's there now and the dogs are howling. Two cakes are brought out, one for Shannon, one for Vicki. Let them eat cake!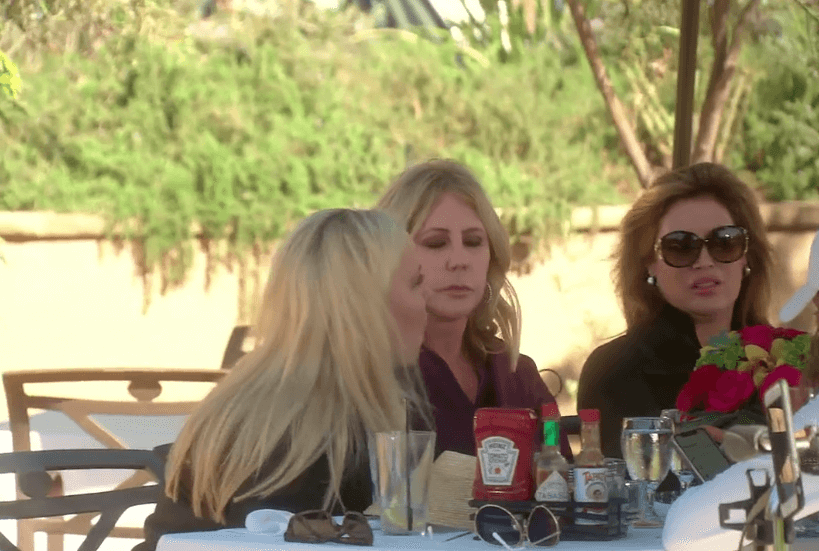 The party is finally over and it's time to leave, but Tamra decides to hang back and drink some more with Vicki because that's always a good decision. Tamra and Vicki locate boyfriend Steve in the club. Tamra slaps her hand on the table and demands to know when the wedding is. Steve gets up and leaves because this is as good a time as any to get another drink. Vicki says Steve is her George Clooney. Tamra gets vulgar. She asks if Vicki loves having sex and blowing Steve, and makes a gesture with her hand and mouth. Steve returns and Tamra asks more sex questions, embarrassing Steve, but mostly embarrassing herself!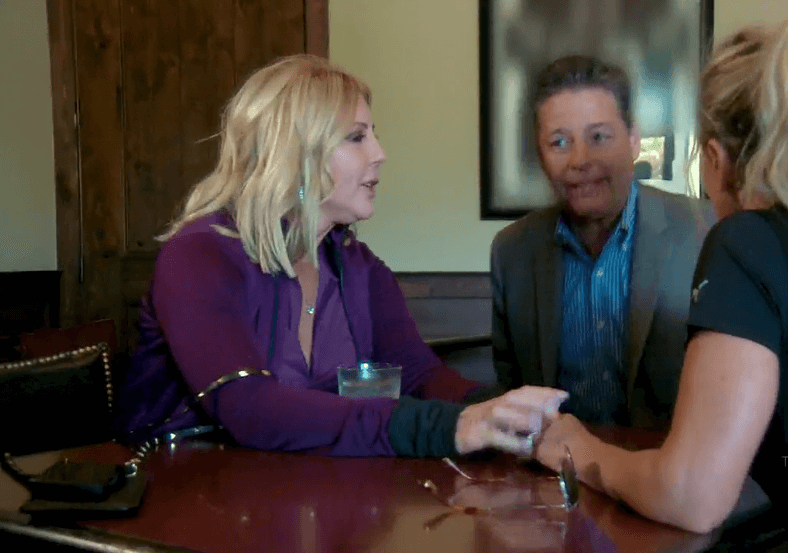 A few days later we join Tamra at her house. She's in a bad mood, taking it out on Eddie and son Ryan, making them move furniture even though Eddie has a heart condition. Tamra's throwing a party for Eddie's 45th birthday. The theme is wear red. A crises arises when Tamra learns that Eddie has invited David to his party. I mean the nerve of him, right? You'd think Tamra wouldn't care, because she doesn't, but she insists Eddie uninvite David so Shannon won't be mad at her until the end of time. Eddie relents because he is exhausted. Plus he's having a hard time looking at his wife dressed like Ernie from Sesame Street. Tamra calls her husband and son assholes. She's a class act, that Tamra.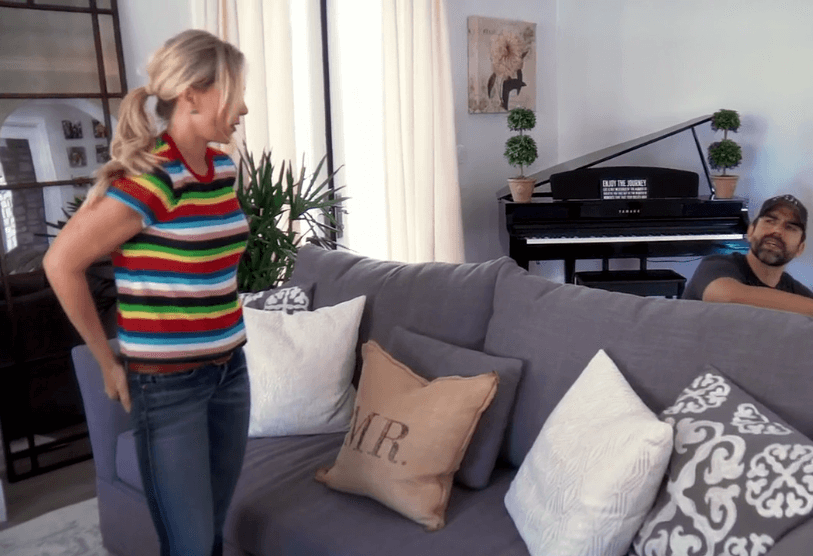 Next we stop byGina Kirschenheiter's zoo! Her kids are out of control and Vicki is stopping by for grub. Vicki picks up a photo in the hallway of Matt – the so-called husband of Gina we've never met. Apparently he's cute, but we don't know because the photo is not shown to the camera. WTF is that about? At the dinner table, one of Gina's kids pushes mom's head because he wants to go the park now. Gina sends her son to his room. Vicki commends a job well done, though she sees a red flag that is on fire and can't get out of Gina's house fast enough.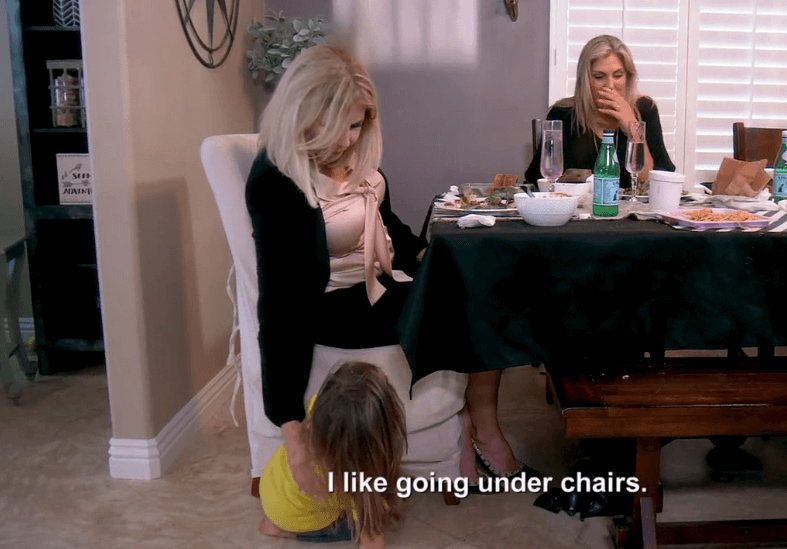 Next, we join Emily Simpson at her house. She asks husband Shane if he's excited to go to Eddie's party. He is not excited but is looking forward to it. How's that for a drab answer. Hopefully they will have plenty of Dr. Pepper for Shane.
Kelly is meeting up with Shannon at a tea café and hits on the tea guy. She orders a green drink with balls and nearly gags on it, which tells you a lot. Across town, Tamra and Gina meet up. Bravo does that annoying back and forth thing between the two scenes; Tamra complaining about Shannon and Shannon complaining about Tamra. Tamra's main complaint is it's all about Shannon when it should be all about her. Gina encourages Shannon to talk it out with Tamra and see if their friendship has run its course – kind of like her marriage.
So it's time for that talk. Not to be out done, Shannon arrives at the plant shop on a scooter. Two hours earlier she twisted her ankle on a walk. I guess Shannon just had a scooter lying around. Anyway, she is there on the pretense of helping Tamra select plants for the party. Through non-tears, Tamra tells Shannon it's all about Shannon and never about her. Shannon apologizes for not calling fast enough after Eddie's surgery. Shannon says she's made progress on being reactive though no one has seen this progress. They hold hands as Tamra shares that Eddie won't take his heart medicine, but now he is after a talk with his doctor and a phone call with Tamra's God.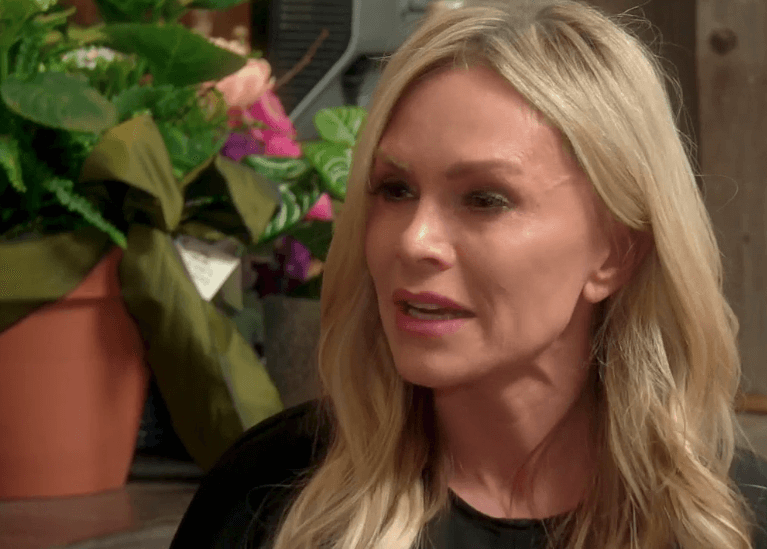 It's party time! Put on your best red and grab the popcorn because the shit is about to hit the fan. Kelly didn't get the red memo and is wearing maroon which clashes – and that's not just a clever pun. Eddie is adorable in his red and white heart suit. Ryan looks like a sparkly ringmaster. Shane meets Gina and the two hug it out. Shannon arrives and looks ridiculous in one 5" heel and a boot on the other foot, plus her scooter. The photos of Eddie when he was in his high school theater are so funny.
Vicky is hanging outside with her "husband" Steve while Kelly is nearby announcing she hates Steve. Why? Because he's friends with Kelly's ex and gave a disparaging quote to Page 6 about her.  Kelly wants to leave now because she's "uncomfortable." Meanwhile, in the kitchen Gina tells Emily she's having problems with Matt — that dude she's married to, but we don't know what he looks like. They are disconnected due to the distance and Gina's concerned she won't get her happily-ever-after with this dude.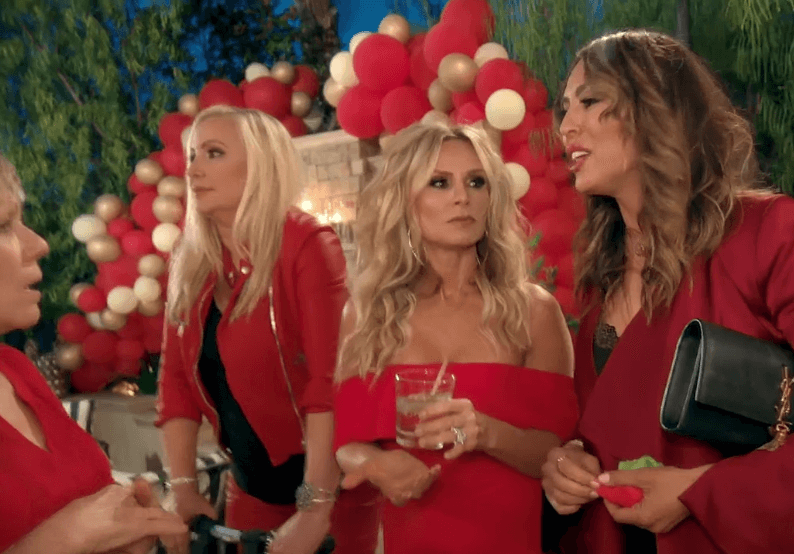 Vicki comes inside because she's tired of hearing Kelly's voice and tells Gina she gave up on her marriage too quickly. Vicki tells Kelly to make it better because they've got three unruly adorable children who need a mom and dad. Outside, Kelly is about to cause a scene concerning Steve. Shannon is trying to calm her and give good advice like, don't call him a "little bitch."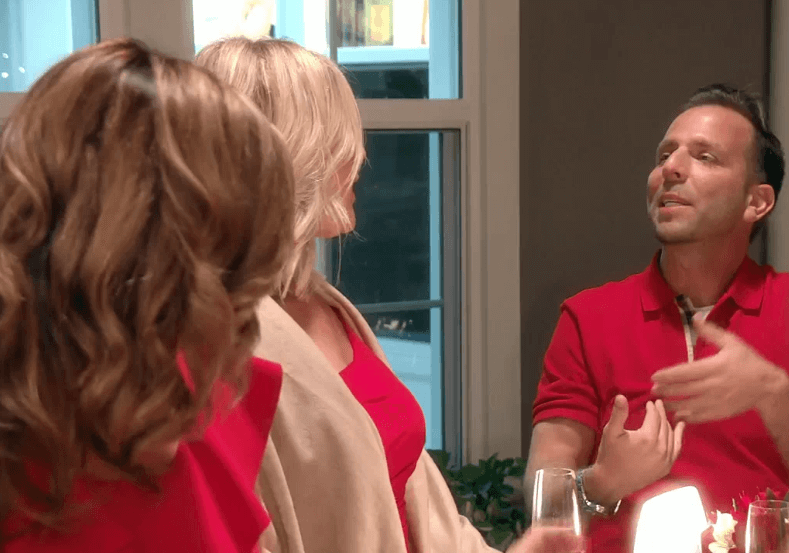 Kelly goes over to Steve, who is standing at a table with Shane, and their talk quickly becomes confrontational. Steve listens for a bit, but then tells Kelly to take her drama elsewhere. She doesn't, so Steve walks off. Shane explains to Kelly if she has something to complain about, she needs to prove it. He then asks Kelly if she thinks Steve is the only man who's written about her. Kelly asks why he's getting involved. Shane tells Kelly she's drunk. Kelly assures him she is not drunk (she is), only had one drink (she hasn't) and this is her sparkling personality (it is). Kelly calls Shane a fucking dork, a loser, a little twerp, a pussy, and a little bitch. She's a class act, that Kelly.
But here's the best part, Kelly goes over to Emily and complains about Shane being a little bitch, not realizing that's her husband, even though Kelly met the little bitch 30 minutes earlier. Shane says Kelly shouldn't have come to his table. Kelly asks Shane if this is his house, which is so reminiscent of the party years ago at Vicki's house with Brianna's husband. Remember that mess? Shane asks Emily if this is the kind of drunk she wants to hang out with.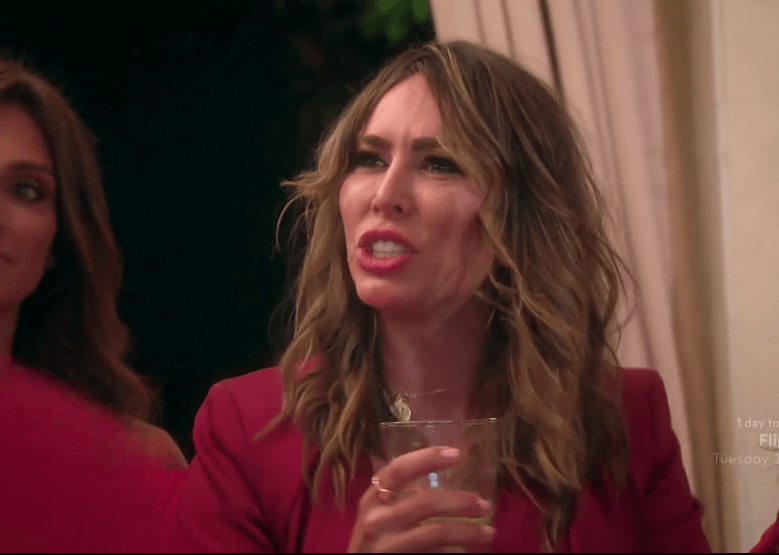 Kelly Dodd once again tells Emily she's married to a 'little bitch.' And it's on, like Donkey Kong! Emily Simpson puts down her champagne and is about to open a can of whoop-ass on Kelly. Kelly keeps saying, Hit me, hit me, over and over again. Gina is trying to break up the argument, but she's the only one. Everyone else is just standing there. The dreaded To Be Continued appears on the screen. I hate you Bravo!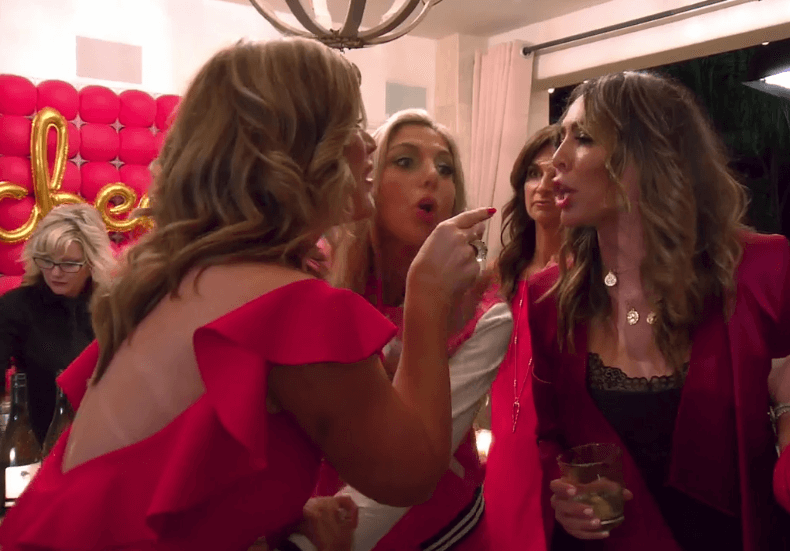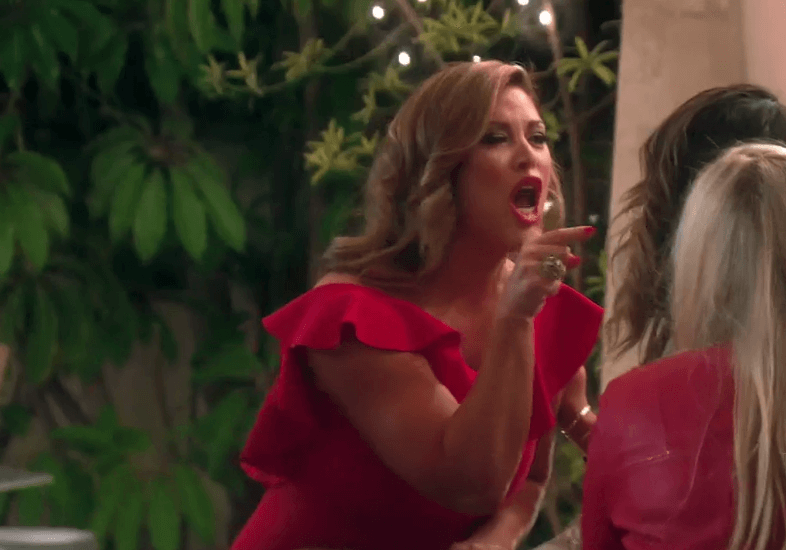 Next week on The Real Housewives of Orange County — Emily Simpson storms out and Kelly Dodd spreads the rumor that Steve Lodge is only dating Vicki Gunvalson for her money.
"Like" us on Facebook  "Follow" us on Twitter and on Instagram 
I am so lucky to combine blogging with my guilty pleasure of watching reality TV. I read all the comments and respond to most. Feel free to reach out to me. If you like fiction, I have two published novels: Three Days in Purgatory and A Reason to Run.