Wendy Osefo's Mother Threatens and Trashes Mia Thornton, Calls Her "Uneducated Crater Face"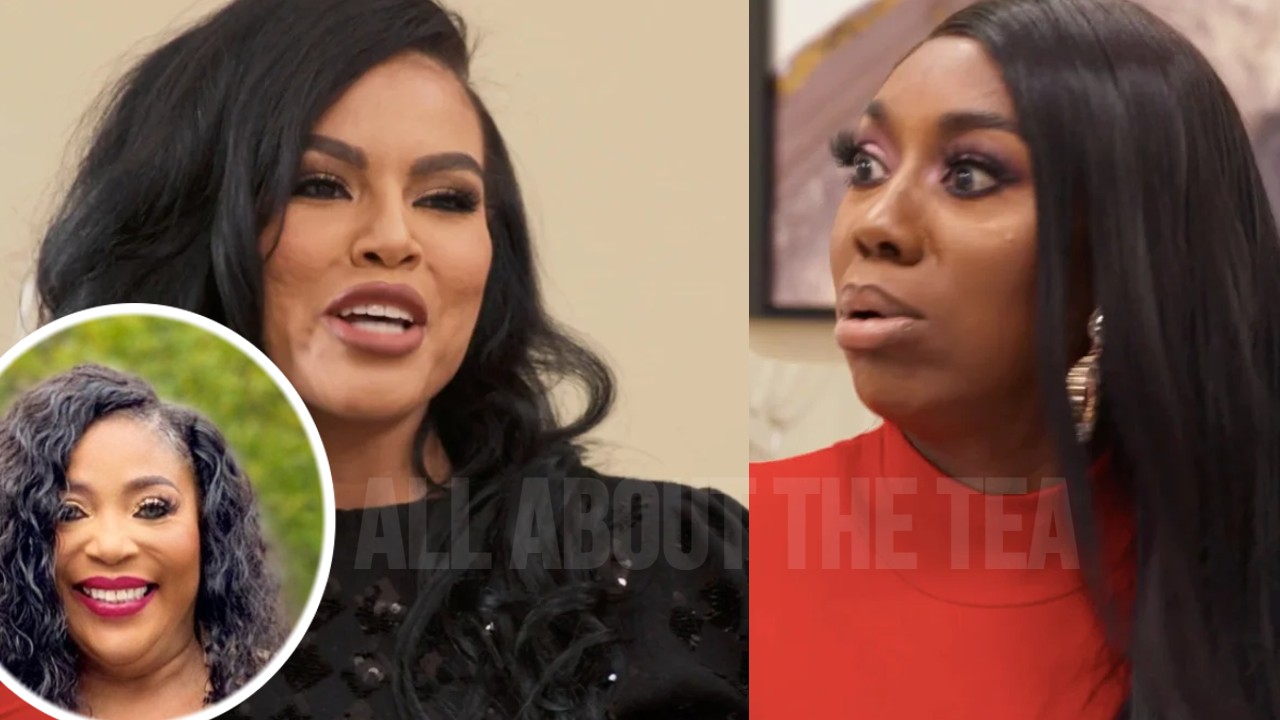 Wendy Osefo's Mother Threatens and Trashes Mia Thornton, Calls Her "Uneducated Crater Face"
Wendy Osefo's mother has entered the chat in defense of her daughter after she was physically attacked by Mia Thornton, in Miami.
RELATED: Peter Thomas Exposes Wendy Osefo After Miami Blowout
Wendy Osefo's mother, Iyom Susan Okuzu, took to social media to trash and threaten Mia Thornton after the shocking episode aired on November 20. The scene featured Real Housewives of Potomac co-stars Wendy Osefo and Mia Thornton's physical altercation at Peter Thomas' Bar One in Miami, that left many viewers traumatized.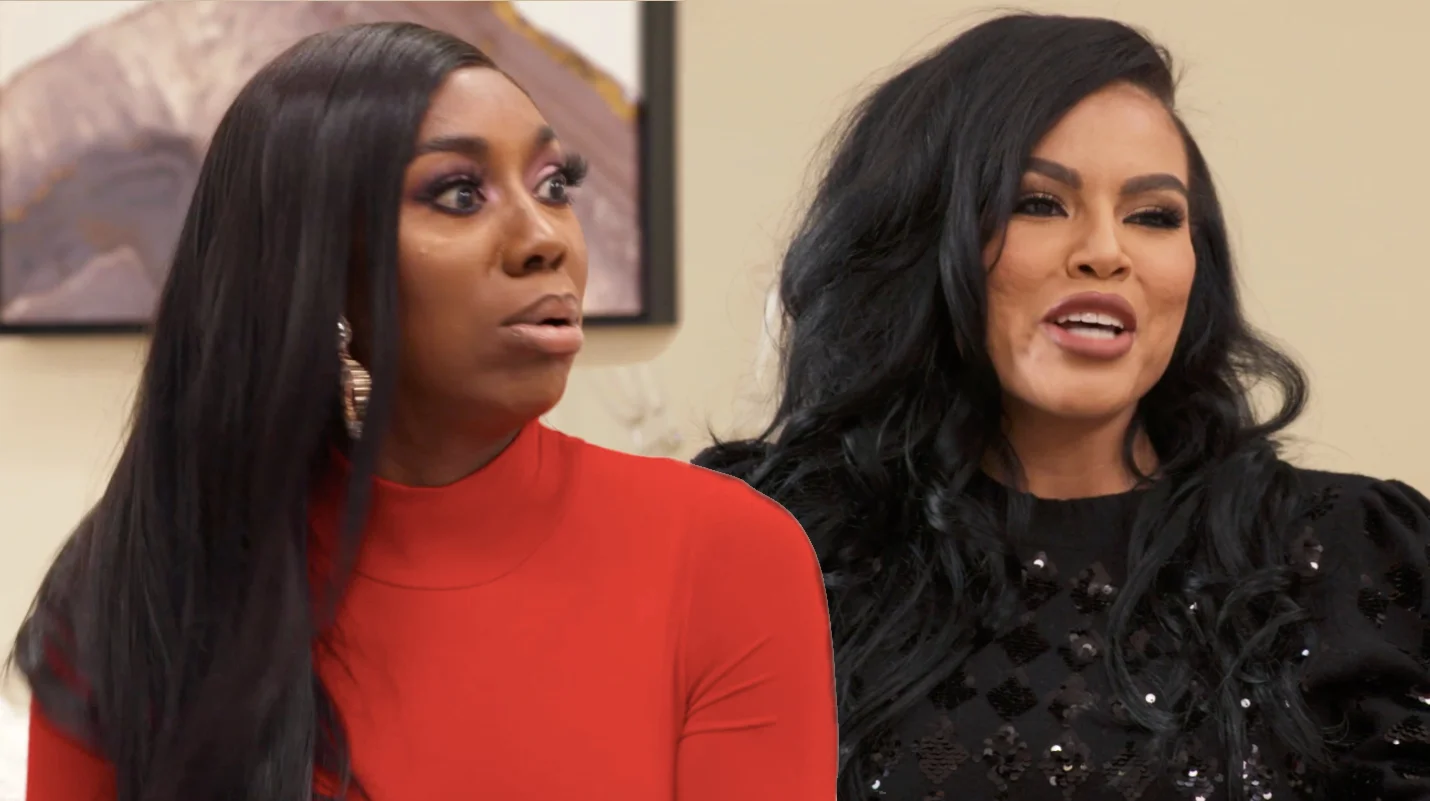 Iyom Susan Okuzu wrote, "Well, well well! Ugly inside out !! CRATER face Mia !! A bombastic, ignorant, nonsensical, baseless, wanna be CEO trouble maker!" Wendy's mother commented on Instagram.
Ms. Okuzu continued by issuing a threat, "You've bitten more than you can chew! You just messed with a "wrong" Naija [translation Nigerian] 🇳🇬🇳🇬 … MamaBear baby. Oh yes, Mia you assaulted my baby Dr. Wendy # RHOP."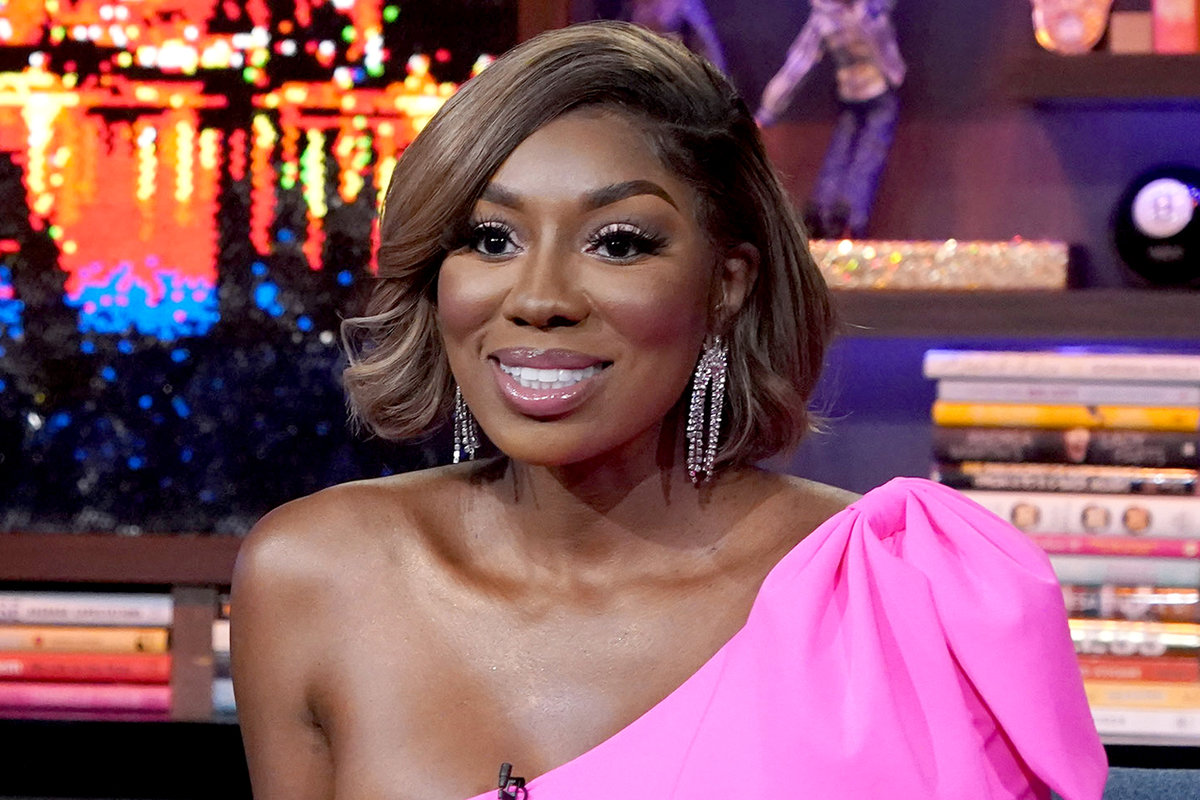 Mama Osefo added, "'Iyanga dey sleep trouble go wake am.' "na wahala you dey find" Remember, he/she who fights and run away lives to fight another day. To hell with Mia and Peter! Oh, Yeeesss, I say HOLY GHOST FIRE on Mia and Peter, and Thunderous amen 🔥🔥 QED."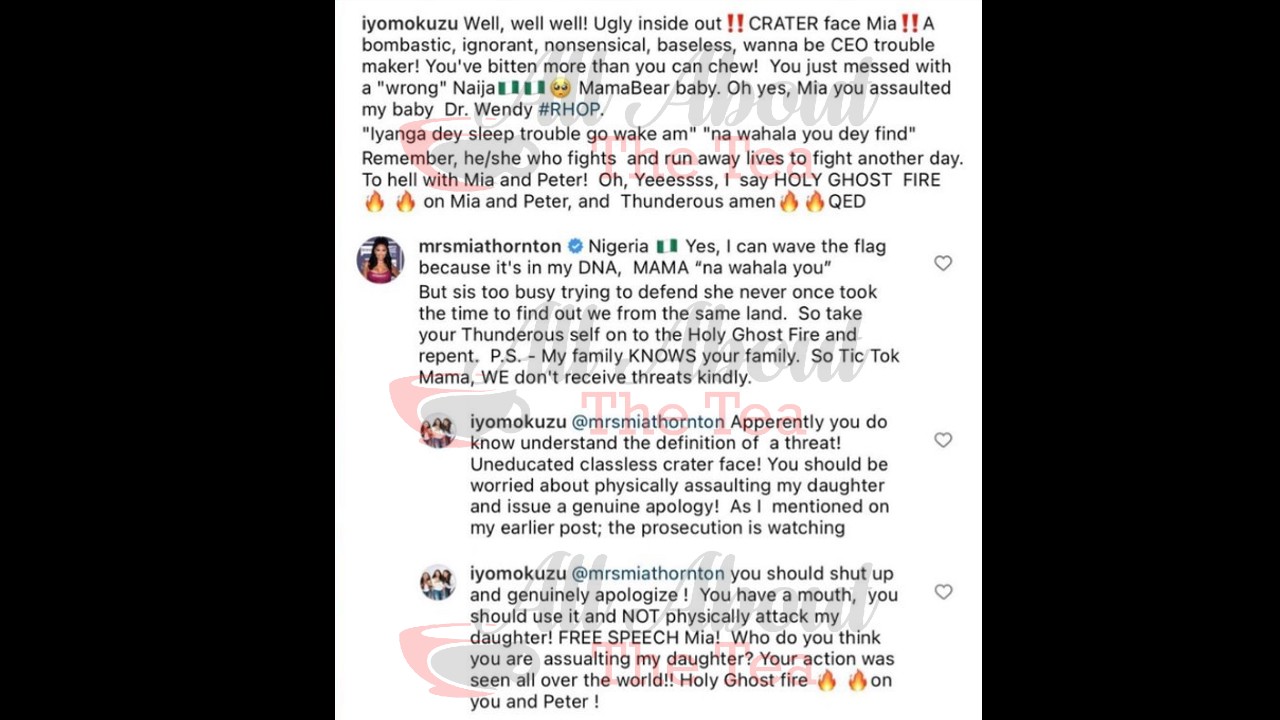 Mia Thornton was quick to respond to Wendy's mother's insults, she wrote: "Nigeria 🇳🇬 Yes, I can wave the flag because it's in my DNA, MAMA "na wahala you" But sis too busy trying to defend she never once took the time to find out we from the same land. So take your Thunderous self on to the Holy Ghost Fire and repent. P.S. – My family KNOWS your family. So Tic Tok Mama, WE don't receive threats kindly.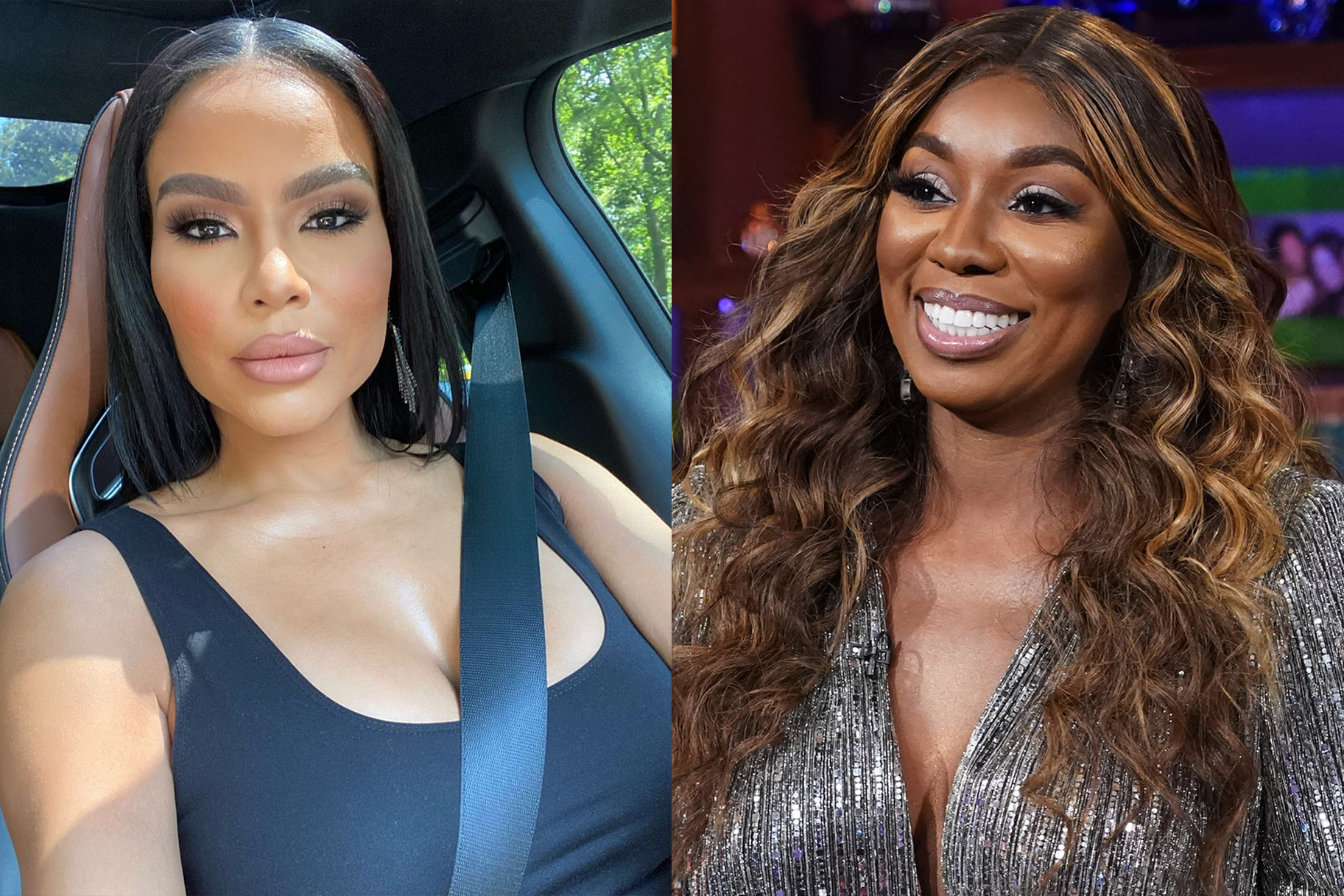 Mama Osefo clapped back, "Apperently [sic: Apparently] you do know understand the definition of a threat! Uneducated classless crater face! You should be worried about physically assaulting  my daughter and issue a genuine apology!  As I mentioned on my earlier post; the prosecution is watching.
RELATED: [EXCLUSIVE] Wendy Osefo's Nigerian Family Cursed, Shunned By Villagers PLUS Her Massive Debt EXPOSED!
The feisty African mama was not done, and continued to drag Mia Thornton, "you should shut up and genuinely apologize ! You have a mouth, you should use it and NOT physically attack my daughter! FREE SPEECH Mia! Who do you think you are assaulting my daughter? Your action was seen all over the world!! Holy Ghost fire 🔥🔥 on you and Peter !"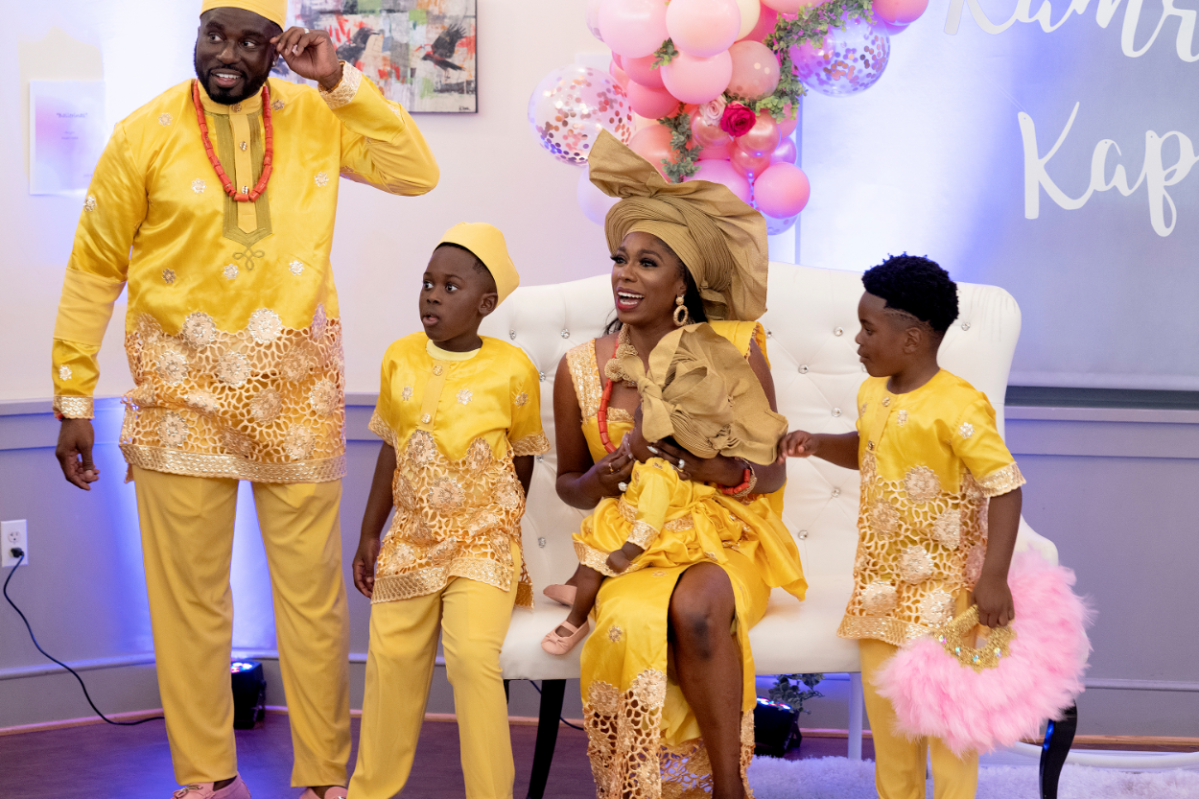 As reported, the ladies traveled to Miami, Florida and had dinner at Cynthia Bailey's ex-husband, Peter Thomas' Bar One restaurant on the water. Peter Thomas inserted himself in the drama when he told Mia Thornton that he had beef with Wendy over a Nigerian lounge business deal gone wrong. According to Peter, the John Hopkins assistant professor wasn't holding up her end of the bargain.
Mia Thornton confronted Wendy about Peter's allegations and things turned hostile quickly. Wendy attacked Mia's husband, and accused her of sleeping with Peter. The ladies engaged in an explosive screaming match with insults hurled back and forth. Eventually Mia threw a drink in Wendy's face. The fight concluded with Mia striking Wendy with her Louis Vuitton purse — and both ladies had to be restrained by security.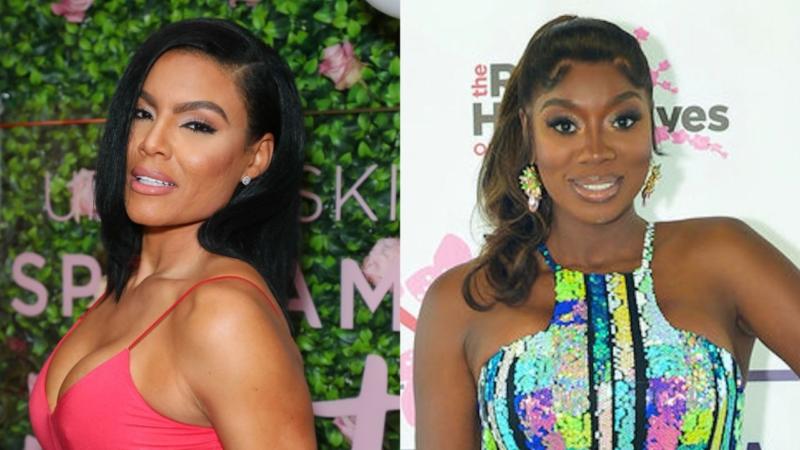 During the fight, Robyn Dixon taunted Wendy Osefo. She whipped out her cell phone and began filming the altercation, calling Wendy "antagonistic," and telling her to "shush." Robyn told Wendy if she didn't want to get physical, she should stop talking. Gizelle Bryant also took Mia's side in the fight. Karen Huger remained neutral, while Ashley Darby condemned Mia's choice to get physical.
The Real Housewives of Potomac airs Sundays, at 8 p.m. ET, on Bravo.
Stay Connected With All About The Tea: Twitter Ι Instagram Ι YouTube Ι Facebook Ι Send Us Tips
Avigail is an Entertainment blogger at All About The Tea, who specializes in The Real Housewives of Atlanta and The Real Housewives of Potomac. Avigail has a background in marketing. She's a Brooklynite living in the Bahamas, with a passion for travel, writing, reality TV watching, pop culture and spoken word.