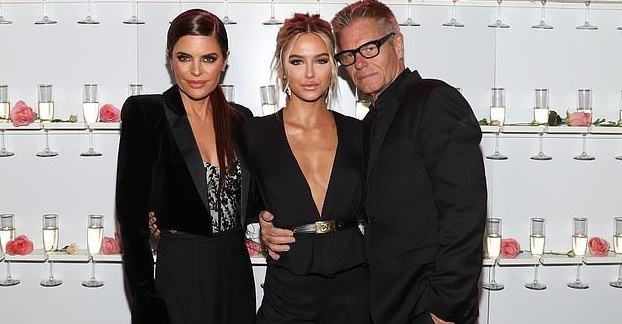 Delilah Belle Hamlin wants to celebrate the season with a paid in full therapy bill. 
The daughter of "Real Housewives of Beverly Hills" star, Lisa Rinna, and actor, Harry Hamlin, revealed in a recently posted TikTok video that she wants her parents to pick up her therapy tab for Christmas. 
"Unrealistic things I want for Christmas… for my parents to pay for my trauma therapy," Delilah wrote over a video of herself set against "Jingle Bell Rock." 
She posted a second lighthearted video, joking about her mental health issues. 
"I'm so sorry that I've been acting weird for the past several months. I'm struggling mentally," the model said while sticking out her tongue and flashing a peace sign. 
Lisa and Harry have yet to address their daughter's Christmas gift request. 
Delilah made headlines in November when she took to Instagram to open up about her battle with obsessive-compulsive disorder and anxiety, which she claimed led to a dependency on Xanax. 
Delilah shared that she was battling several illnesses, including Lyme disease, Epstein-Barr virus, encephalitis, and PANDAS (Pediatric Autoimmune Neuropsychiatric Disorders Associated with Streptococcal Infections), at the time. She captioned her Instagram share — "Here's my story I guess." 
Delilah explained that she believed that she experienced an autoimmune response to the Moderna COVID-19 vaccine. Her reaction supposedly led to migraines and severe panic attacks, causing her to seek out help from a psychiatrist. The doctor prescribed several medications. 
"He overprescribed me with one medication that one of my friends takes like 10 milligrams, and he gave me like 20 milligrams three times a day and then he gave me 3 milligrams of Xanax a day," Delilah explained. "So my body got dependent on Xanax number one, and number two, I overdosed. I didn't mean to at all. I overdosed on this one medication called propranolol. I took Benadryl with it and for some reason, I ended up in the hospital."
"I wasn't like a drug addict, but my body was dependent on it because of how much the doctor had prescribed me," the runway star clarified. "This is not all from the vaccine, I think these were underlying things that I think the vaccine may have triggered. I'm not a doctor, but that's my theory."
Delilah described feeling "hopeless" and "helpless" before deciding to enter an Arizona treatment facility. She added that "it was really hard at first being there," but "everything seemed to work" and she "cut down so much" on her Xanax use. The influencer explained that she was forced to leave the treatment center three weeks later, after experiencing seizures "left and right" from brain inflammation. She explained that the episodes made her a "medical risk.
Rinna, 58, thanked fans for the outpouring of support following Delilah's overdose, writing—"Thank you to all of the angels who have reached out, sharing their stories, sending their love and prayers. We are so grateful to you all for your help and your guidance!!" 
Delilah completed a stint in rehab back in 2019, after suffering from depression during her freshman year in college in New York City.
Stay Connected With All About The Tea: Twitter Ι Instagram Ι YouTube Ι Facebook Ι Send Us Tips