Married To Medicine
'Married To Medicine': A New Cast Member Clashes With Dr. Heavenly & Adds To The Drama In Season 8 — Watch The Trailer!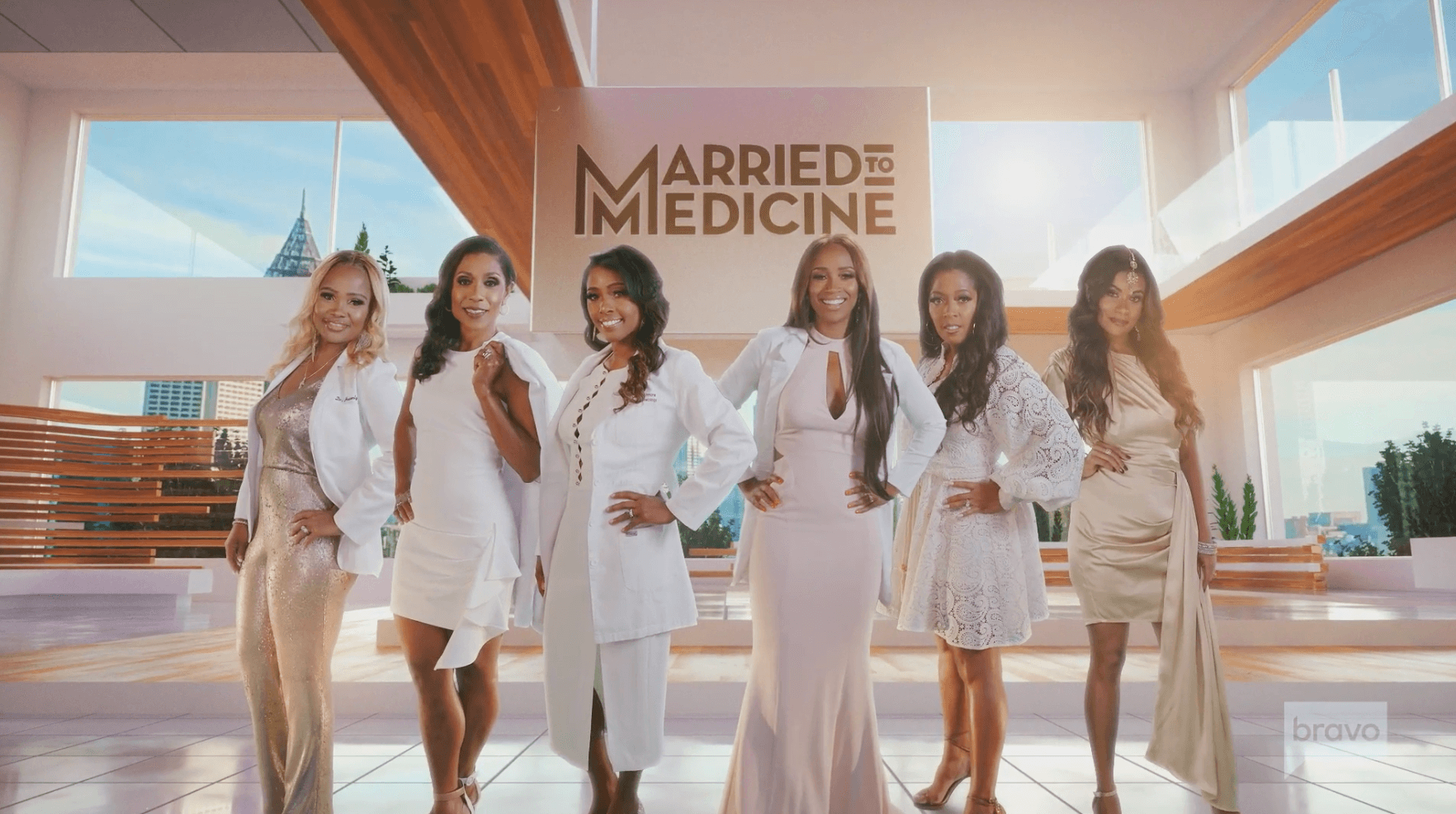 Married to Medicine returns on Sunday, March 7th, and Season 8 will feature one new face and two blasts from the past.  
Fans will meet new cast member, Anila Sajja, a bestie of Toya Bush-Harris. Anila is wife to ocular surgeon, Dr. Kiran Sajja, and a mother of two—but the reality rookie is not only a doctor's wife. The Season 8 trailer reveals that the newcomer is also a fashion blogger, who evidently knows how to have fun. It appears that Anila won't mesh well with all of the ladies and that a friendship with Dr. Heavenly Kimes will pose a challenge. 
RELATED: EXCLUSIVE: Mariah Huq SUES Bravo Plus Shocking Season 8 'Married To Medicine' Tea!
"Anila lives a fabulous life working hard and playing harder," her bio reads. "During her spare time, Anila enjoys time with her family and friends, Bollywood dancing, traveling, working out, and, of course, shopping."
"I'm not just a doctor's wife," Anila says in a confessional spot. "Have you watched The Devil Wears Prada, but like a good version of it?" 
"You work?" someone asks, prompting Anila to share that she's a blogger.  
"I didn't think that was a job," Heavenly says. 
Season 8 will also feature the return of Married to Medicine alums, Lisa Nicole Cloud and Kari Wells, who both come back as friends of the cast. Lisa Nicole was a cast member in Seasons 2 through 4, and Kari was a part of the Season 1 cast, later popping in for occasional appearances.
Dr. Jackie Walters, Dr. Heavenly Kimes, Dr. Simone Whitmore, Dr. Contessa Metcalfe, and Toya Bush-Harris will all be back as full-time cast members. 
Quad Webb is back in a friend capacity, and while some of her friendships are renewed—others have been severed. Longtime friendships will be put to the test, namely the relationship between Dr. Jackie Walters and Dr. Simone Whitmore. The ladies work to get their friendship back on track after a falling out that was teased during the Season 7 reunion. 
Marriages will be put in the spotlight, and tensions rise between Dr. Contessa Metcalfe and her husband, Dr. Scott Metcalfe. 
The group comes together for a common cause when the cast travels to Washington DC to serve as medical advisors at the March on Washington, in August 2020. The event commemorated the 57th anniversary of Martin Luther King Jr. delivering his "I Have a Dream" speech.
"This is the most significant medical mission we've ever done," Dr. Jackie comments in the above trailer. 
"57 years ago, when Dr. King and them came, they didn't have Black doctors like you all," the Reverend Al Sharpton tells the cast during a pre-event dinner. 
All About The Tea spilled exclusive Married To Medicine Season 8 tea on YouTube, press play below and SUBSCRIBE to our YouTube channel.
Most of the women stay busy as frontline healthy workers amid the pandemic, but there's plenty of time for drama as the season plays out. 
"He's got other women that are sending him naked pictures," Kari says in the preview, seemingly pointing at Contessa's husband Scott. Scott is then seen checking out photos of a woman on his phone. 
"They don't cheat because of us, they cheat because of them," Contessa later remarks to her castmates. 
Watch the Married to Medicine trailer below!
Season 8 of Married to Medicine premieres on Sunday, March 7 at 9 pm, ET, on Bravo.
Stay Connected With All About The Tea: Twitter Ι Instagram Ι YouTube Ι Facebook Ι Send Us Tips