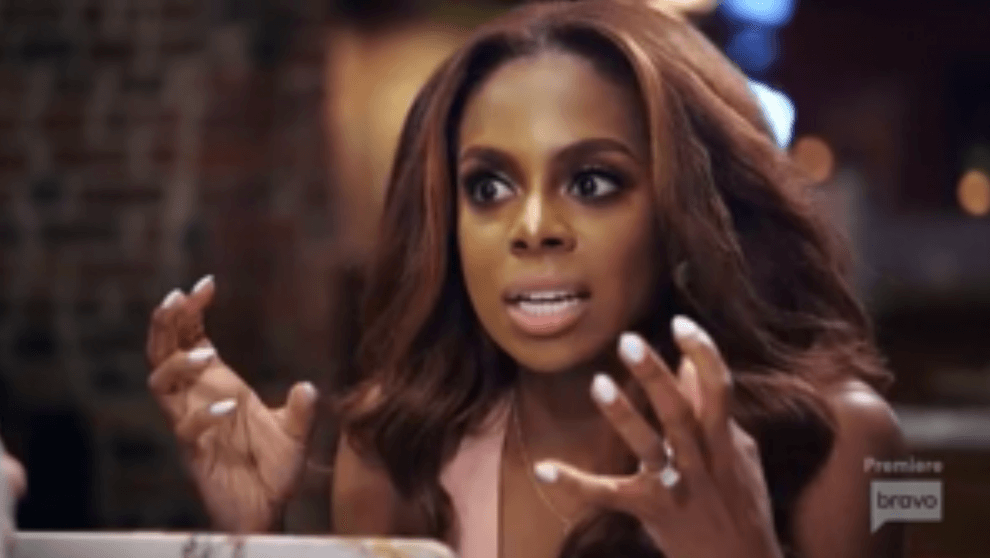 Candiace Dillard Bassett dished about her Real Housewives of Potomac castmates, shared insight about the show's future, and clapped back at Real Housewives of Atlanta star, Porsha Williams, during a recent appearance on David Yontef's "Behind the Velvet Rope" podcast. 
RELATED: Candiace Dillard DRAGS RHOA's Porsha Williams For Siding With Monique Samuels — Calls Her A 'Sidekick'!
The reality star said that her decision to file a lawsuit against Monique Samuels was never about the money. Fans know that Candiace and Monique got into a violent altercation during a cast winery outing.    
"I never wanted her money, it was very clear that I wanted her to go to jail, and people crucified me for that [like] 'how dare you want a black woman to go to jail and be away from her children?' What in the gaslighting is going on? Like, was she thinking about her children and her family when she was physically attacking me?" Candiace asked. 
Candiace labeled Monique and her team "spin doctors" who routinely spread lies. 
"I've had to back away and tune it out — it makes you go crazy that you start to question what you know to be truth because you've got so many people who are misinformed and who want to blindly follow this sociopath." Candiace stated. 
Porsha Williams enjoys a friendship with Monique and publicly defended her pal after the winery blowout. 
Candiace believes that the RHOA star has "proven [to be] someone we don't expect much from in the frame of common sense, I don't expect her to question what she's being told by a clear liar." 
"Common sense would tell you to vet certain things and not be so vehemently loud and wrong — that's the bed she's chosen to lay in and that's what they do in Stupidville," she jabbed. 
Candiace commended Porsha's devotion to the Black Lives Matter movement but added—"You would think she'd have more empathy and judiciousness in the way she speaks, and she just doesn't — you look and sound stupid."
Candiace shared that Robyn Dixon had been the most supportive during the ordeal, and that – "She would call every other week to check-in." 
She explained that while she was ready to ditch the drama on the cast trip, Ashley Darby was not on board. 
"And here comes 'Forehead' with the shit-talking about 'I wrote a letter to help Monique' but really, 'I wrote a letter to get back at you for what I think you did to me'." "I have nothing left for her – you aren't even worthy of my breath – I don't have time for her — you are literally dust at this point," Candiace declared. 
The reality star dissed Karen Huger as a "25" on a 1-10 disappointment scale commenting—"I really loved Karen, I looked up to her like an auntie, sister figure – we spent a lot of time off-camera together, but the more valuable friendship was the one that she chose."
"She did accuse me of lying under oath, which is egregious at best, like, how dare you? For her to insinuate that I would lie about what happened to me under oath is disgusting—[Karen] is no one's friend," she added. 
Candiace said that she was hoping against Monique's return to the show, and labeled the past season "incredibly toxic."   
"This could have all been resolved with a few conversations and a few choice words. And instead, she's doing a music video – You want to ride the wave because you think that you're winning because you've got 25 sick fans that are cheering you on," Candiace noted. 
So how will Candiace navigate next season if Monique returns? 
"I will not film with her, I will not work with her — I, for my mental health, cannot be around someone who is doing a music video to promote the song bragging about fighting me. And there's nothing that I need or want to say to her. This is still a job at the end of the day. I'm not working with her and that's not an ultimatum. That's nothing but my truth. I am not comfortable in that space," Candiace said. 
Watch Part 3 of the Real Housewives of Potomac reunion, Sunday at 9 pm, ET, on Bravo.
Stay Connected With All About The Tea: Twitter Ι Instagram Ι YouTube Ι Facebook Ι Send Us Tips