Real Housewives of Potomac
Candiace Dillard DRAGS RHOA's Porsha Williams For Siding With Monique Samuels — Calls Her A 'Sidekick'!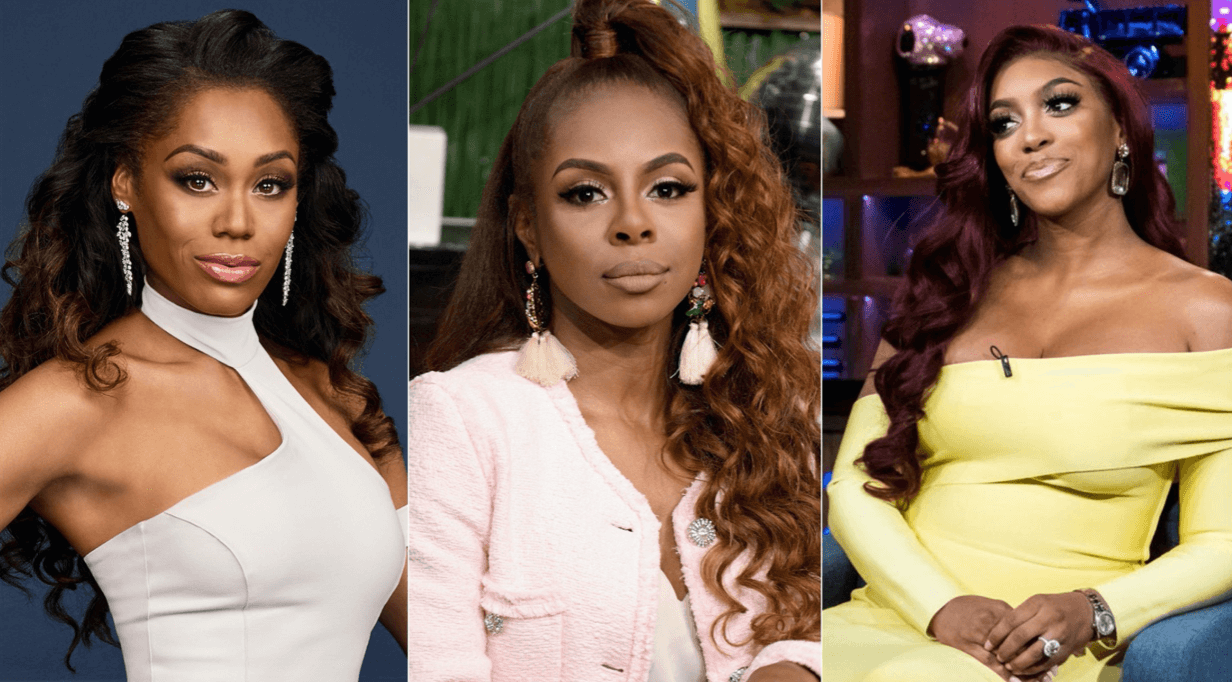 Candiace Dillard put two of her sister "Housewives" on blast in a recent interview — and it will surprise no one to learn that one of her targets was her Real Housewives of Potomac co-star, Monique Samuels.
Fans know that Candiace and Monique have been at odds all season, after the duo's physical altercation splintered the cast.
Candiace also took aim at Real Housewives of Atlanta star, Porsha Williams, who enjoys a close friendship with Monique. Porsha, her then-beau, Dennis McKinley, and their young daughter even traveled to Cozumel, Mexico to vacation with Monique's family, last year. 
Candiace sounded off about the women during a recent appearance on Behind the Velvet Rope with David Yontef podcast and wasted no time dissing their friendship. 
Candiace told Yontef that she believed that Monique had crossed a line during the winery brawl. 
RELATED: Porsha Williams SLAMS Candiace Dillard For Pressing Charges On Monique Samuels!
"100%. Yeah…There's a line. And I think… we've seen a lot of Housewives push the envelope and like push the line," Candiace said. 
"I've always used Lisa Rinna as an example when she cracks that glass on the table. That, and of course, you know, I think Porsha and Kenya kind of took it too far…" she added. 
"So you've seen people push the line…but never really cross it outside of Porsha –who…is proven herself to be the sidekick of all," the reality star said. 
"I guess Monique would be Porsha's sidekick," remarked the RHOP star. "And just the two wild people defending each other, which is very cute. But you, you know the line when you have sense, and as I like to say scruples, and when you don't…it shows. It shows how you were raised and who you really are."
As reported, Porsha weighed in on the cast feud during an October episode of Bravo's Chat Room. The chat show's co-host made it known that she was solidly in Monique's corner. 
Porsha praised her friend for taking accountability for her role in the incident and noted that Candiace had not done the same. 
"It was big of her to sit y'all down because that is very difficult to do. She has to own her part, which I feel she has, but she doesn't know if Candiace has owned her part yet," Porsha added, "So for her to take the initiative to go ahead and do it first, it's tough. And y'all are a tough crowd you have to admit that, Gizelle. You came in and you were like you shouldn't have done this."
The RHOA star compared the RHOP fight to how she felt after being taunted by Kenya Moore during a reunion taping, which also sparked a violent altercation. 
"I personally felt provoked and pushed to that level. Now, Monique, she may feel that way, as well. I just feel like in her case, it kind of built up, and I just feel like we shouldn't judge her," Porsha said.
Porsha slammed Candiace for pressing charges against Monique in a later episode of the chat series. The ladies discussed Wendy's Osefo's Sip and See, where viewers watched Candiace and Ashley Darby spar over Monique's potential jail time.
"Come on Candiace, you know better than that. You actually had a knife at Ashley," Porsha remarked. "Now, what if Ashley would have gone and called the police and tried to press charges on you? Let's be real now. That was your friend, you had an argument, it did not end well, however, don't go to the next level — I think that was too much. And I'm glad you spoke up, Gizelle."  
The Real Housewives of Atlanta airs on Sundays at 8 pm, ET and the Real Housewives of Potomac airs at 9 pm, ET, on Bravo.
Stay Connected With All About The Tea: Twitter Ι Instagram Ι YouTube Ι Facebook Ι Send Us Tips