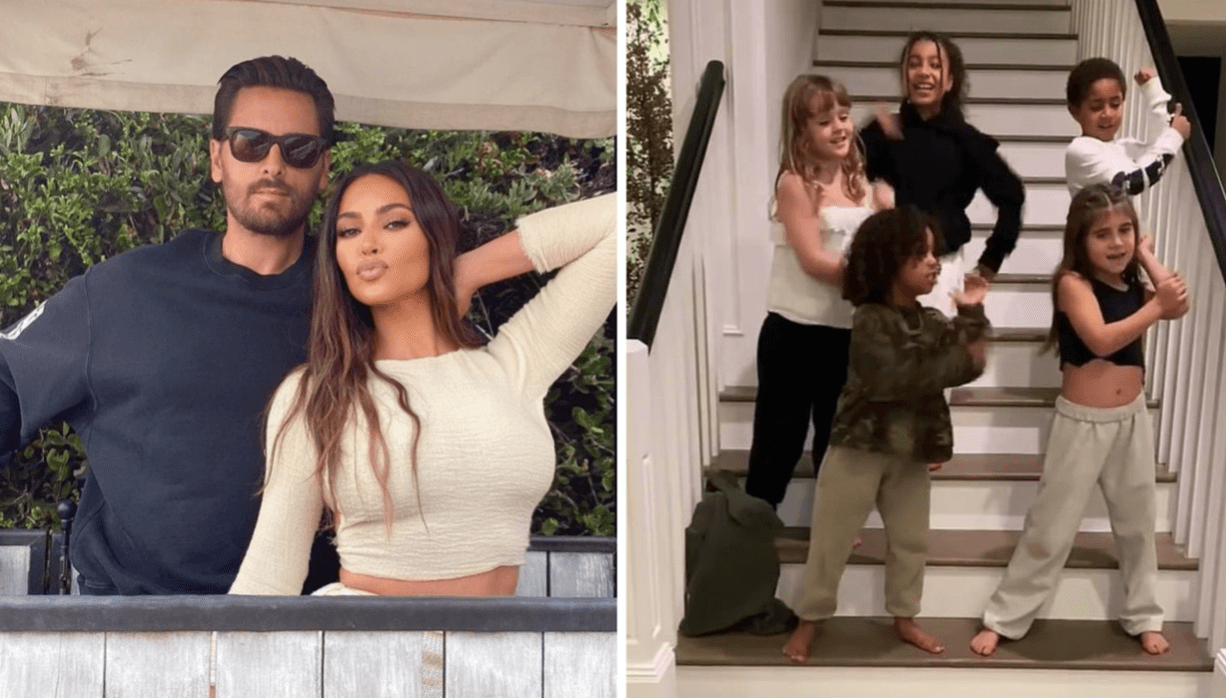 The Kardashian clan has landed in the hot seat after Scott Disick posted a video of the Kardashian kids on TikTok, sparking backlash from fans who labeled the share an example of cultural appropriation. The famous reality TV family has been hit by negative feedback over this issue before, and some believe that the alleged behavior has even boosted their brand.  
RELATED: Watch The Kardashians Hilariously Prank LaLa Anthony, Dave Chapelle, And More Celeb Friends!
The Kardashian/Jenner crew has been slammed by similar claims over their wardrobe choices, and in October, Kourtney Kardashian was bashed after she branded herself as Polynesian Disney character, "Moana" in pics snapped at Kim's island vacation spot. In 2019, Kim felt the heat after she wore a traditional Indian Maang Tikka headpiece to a church service. 
Kourtney's ex and father of her three children shared footage of their daughter, Penelope, performing a version of the haka, a Maori challenge or dance. The Daily Mail reported that Kim Kardashian and Kanye West's children, North and Saint, were also featured in the clip, as were two other unidentified children. The five delivered a war cry while performing the ceremonial dance on a staircase in the TikTok video. 
"TikTok ya don't stop. Ain't got nothing on us!" Scott wrote, sharing the video with his 24 million followers. 
Scott's viewers were less than impressed, and many immediately sounded off. 
 "Thought 2020 couldn't get any worse? The Kardashians think the haka is a TikTok dance," one person said. 
Thought 2020 couldn't get any worse?
The Kardashians think the Haka is a Tick Tock dance pic.twitter.com/0AExIO3vyR

— Tessa Berger (@tessamdberger) December 13, 2020
"My heritage better not be a damned TikTok dance challenge. I don't care that they've learned the real words rather than making up their own, this is sacred. Stop appropriating cultures," another angry onlooker commented. 
The Kardashian brood and their pals performed their own depiction of the Ka Mata, a Māori haka composed by Te Rauparaha, a war leader of the Ngāti Toa tribe of the North Island of New Zealand. Some New Zealanders weighed in on the short video, labeling the Kardashian version of the traditional haka as "wildly inappropriate," "disrespectful" and "insulting." 
Māori Council executive director, Matthew Tukaki, looked at both sides of the controversy and noted that the video could raise awareness about the Maori culture. 
"On the one hand, it's a great thing. On the other hand, I would love to have a conversation with them about what the haka means and what motivated them to do it," Matthew said, according to the Otago Daily Times. "It has to be done with true intent. It's not just something that's good for Instagram or social media."
Many believe that the high profile family crossed the line with the performance because their version did not respect the culture and did not reference the Maori. The interpretation could have possibly contributed to a reinforcement of stereotypes and cultural oppression.  
As reported—Scott Disick sought treatment in rehab earlier this year and Keeping Up With the Kardashians shared how he disclosed his decision to Kourtney Kardashian in an episode that aired in November. 
The father of three made the move two months after Covid-19 was declared a pandemic.
"In my mind, I'm thinking I wasted all this time, I can't have any privacy, I can't have any time by myself," Scott said in a confessional spot. "This is ruined. Like, I just can't handle having nothing really to do and the truth was I started feeling more and more anxious, more and more depressed — like I was going to do something bad if I didn't figure something out or take myself out of this position." 
Keeping Up With the Kardashians is expected to return in 2021.
Stay Connected With All About The Tea: Twitter Ι Instagram Ι YouTube Ι Facebook Ι Send Us Tips