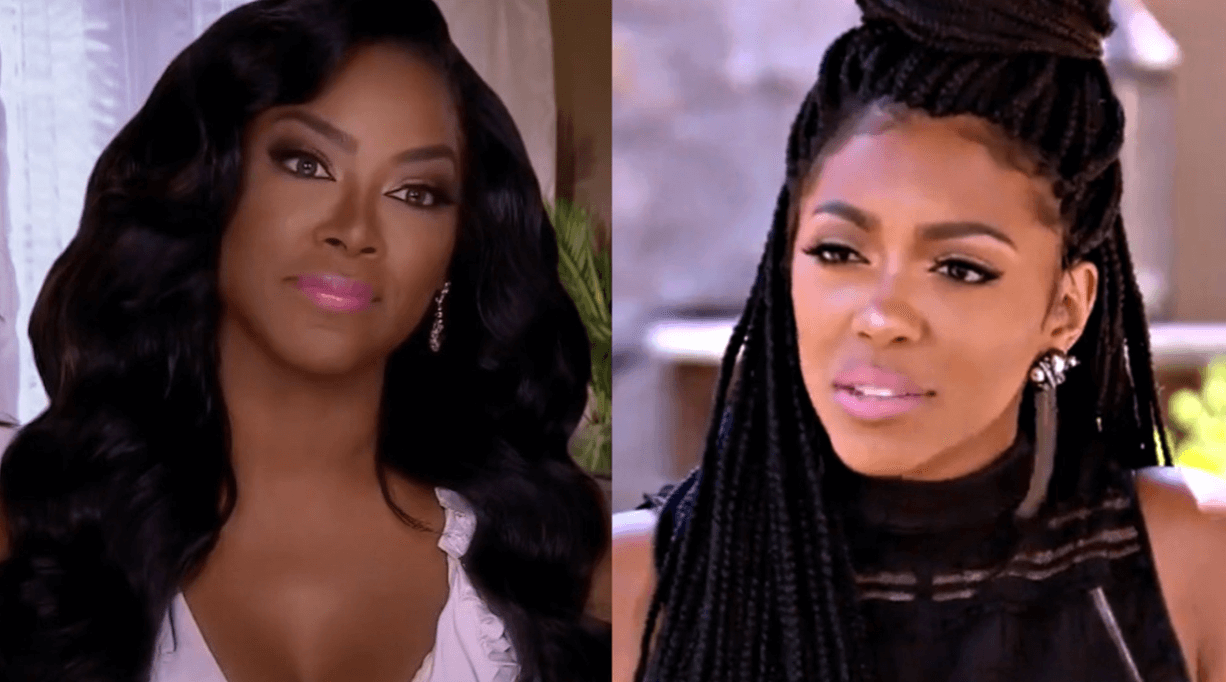 Kenya Moore isn't holding back when it comes to dishing on the "strippergate" incident that went down at Cynthia Bailey's wild bachelorette party. The Real Housewives of Atlanta star recently shaded Tanya Sam and Porsha Williams for allegedly hooking up with a stripper while on Bravo's clock. 
RELATED: 'RHOA' Season 13 Trailer Highlights Porsha Williams & Tanya Sam's Threesome With Stripper!
The exposed scandal rocked filming season and overshadowed Cynthia's October nuptials, as the Season 13 premiere date approached. Cynthia's pre-wedding bridal bash took an x-rated turn according to snitches, who reported that unidentified cast members had moved the party—along with a male stripper hired for the evening— to a bedroom. 
As reported— rumors surfaced in October that the Real Housewives of Atlanta stars allegedly got down and dirty with the dancer during the drunken bridal bash. Eyewitnesses reported that multiple hookups occurred throughout the night.
Production sources claimed that while the camera crew was wrapping up around 5 a.m., two female cast members went off and had a threesome with the male stripper. While there were no cameras present, sources claimed that the two women still had mics on and sexual noises could be heard coming from one of the bedrooms.
It wasn't long before Tanya and Porsha were tagged as the women who allegedly engaged in the threesome with the exotic dancer. Tanya denied the rumor and withdrew from filming, but Porsha stayed tight-lipped when asked about the exploding rumor. 
Not surprisingly, Kenya has wasted no time in dishing on the scandalous cast party. Kenya spoke to Access Hollywood on Monday and happily spilled the tea, confirming that "a freak show happened that night."
Kenya twirled her finger at her two cast-mates while discussing the Season 13 drama. 
"When it came out and no names were mentioned, everyone pointed to one person," she replied, addressing the anonymous edge to the story.
Kenya clarified that she was not putting down her co-stars for their alleged sexual escapades.
"No one is trying to slut-shame anyone. No one is trying to say you can't do it. You're a single person. You can do whatever the hell you want to do. Just don't lie about it," Kenya noted.
The reality star pointed out the obvious while addressing the embarrassing fallout.   
"Don't do it at work if you don't want anyone to know," she added.
Kenya noted that discovery was inevitable with all of the ladies staying under the same roof—with cameras rolling. 
"If you are in a bedroom in a shared house with the rest of the cast you should not be doing something that you do not want people to know on national television," she said.
Kenya also weighed in on how the duo should have navigated the aftermath with the other ladies. 
"And you shouldn't be bringing down other people trying to cover for you that you claim are your friends," Kenya added. 
Kenya stopped short of identifying the cast members, but Tanya was the only one to bolt and run, after details leaked about the alleged incident. Porsha has remained coy when questioned about "strippergate" and has not delivered any direct answers.  
Meanwhile, fans are on the edge of their seats.  
Watch the drama unfold on the Real Housewives of Atlanta, Sundays at 8 pm, ET, on Bravo.
Stay Connected With All About The Tea: Twitter Ι Instagram Ι YouTube Ι Facebook Ι Send Us Tips