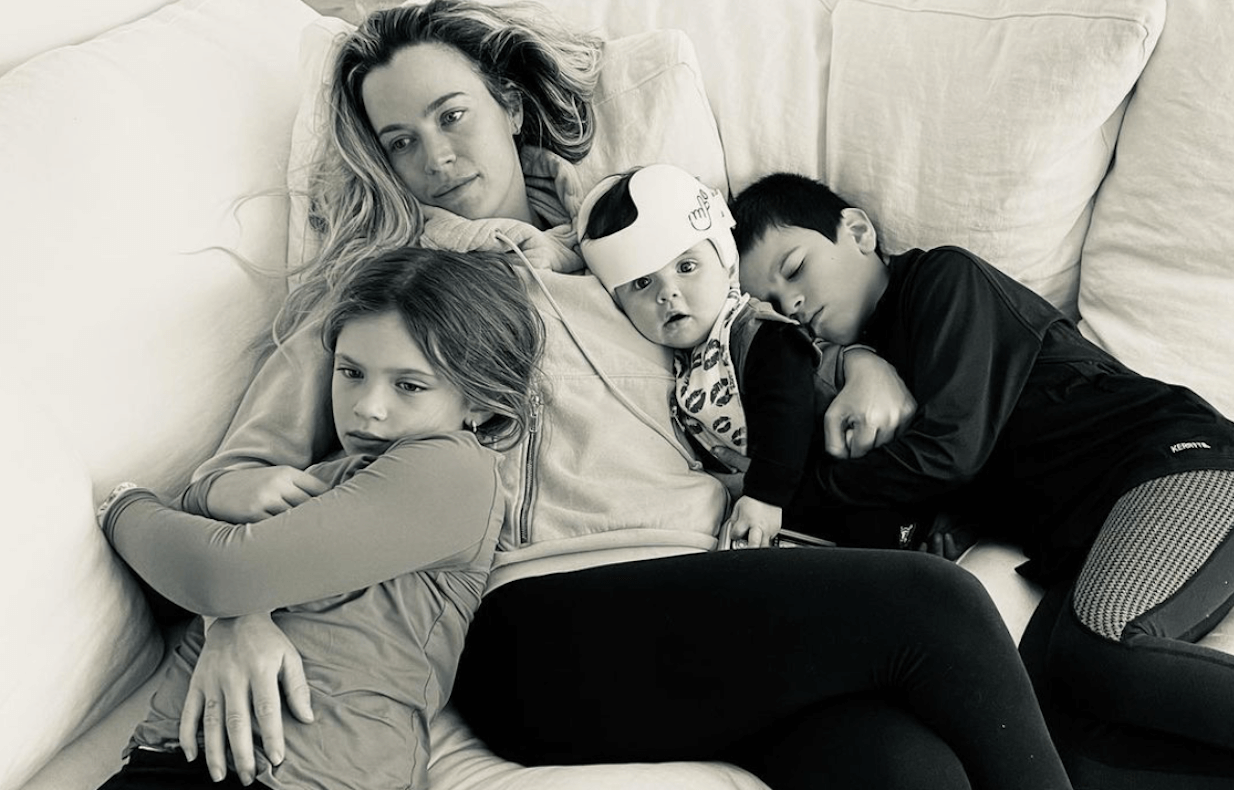 Teddi Mellencamp Arroyave is sharing a health update on her youngest daughter, Dove, who underwent a successful neurosurgery over the summer after being diagnosed with Lambdoid Craniosynostosis. The former Real Housewives of Beverly Hills star delivered a "noggin update" via Instagram, writing from the perspective of her adorable little girl. 
RELATED: Teddi Mellencamp's Husband Feels 'Tested' Ahead of 4-Month Old Baby's Neurosurgery
"Dove noggin update. 'Hi guys, I am 9 months old and other than a zig-zag scar underneath my hair across my head I wouldn't even know I had neurosurgery a few months back. I have been in this helmet aka doc band for 10 weeks and am about to grow out of it. The docs said I have to wear another helmed for 10+ more weeks but it truly doesn't bother me one bit," Teddi wrote underneath a cute snap of Dove, wearing her helmet. 
"Mom cried a little when she found that out but then Dr. Urata reminded her that not only is it helping me shape my head further, but it is protecting me as I am starting to learn to crawl and lift myself up incase I bump into something," Teddi continued in the Tuesday share. "I get to take it off one hour a day, normally during and after bath time, which is a good thing because peeyou it can get stinky."  
The former reality mom concluded the update by sharing more about her nine-month-old daughter's personality. 
"I am a happy silly baby who loves to laugh, command all the attention in a room, go on walks and be sung to. For any other #craniowarrior babies out there. We have got this," she wrote. 
Teddi was a RHOBH cast member for three seasons. She spoke out about being fired from the series in October, during an appearance on Us Weekly's podcast, "Getting Real With Housewives." 
"I think it's because you didn't see a lot of me, other than in drama this year," Teddi said about why she believes she was dismissed. "If you only see me when I'm in an argument, it's hard to see the whole picture. I wish we could have seen more of the fun stuff but it's a TV show."
She also revealed what she wouldn't miss from outside the RHOBH spotlight. 
"Nobody loves to live in [an] anxious state. I'm not a combative person [and] I don't like being in turmoil," Teddi explained. "So that anxiety part, I'm so happy to not be a part of. Of course, there is a sadness when it comes to the rest of the girls and the crew and the people I spent over three years of my life with. But the true friendships are going to still be there whether I'm on the show or not."
Teddi shared that while she was open to a RHOBH "friend" comeback, becoming a talk show host would be her "ultimate" TV gig.
"My ultimate dream, just to put it in the universe, is I would love to be on a morning show or do something like that," she said.
The Real Housewives of Beverly Hills is currently on hiatus.
Stay Connected With All About The Tea: Twitter Ι Instagram Ι YouTube Ι Facebook Ι Send Us Tips