'RHOA' RECAP: Cynthia and Mike Argue Over COVID Wedding & Kenya Moore Cries Over Divorce!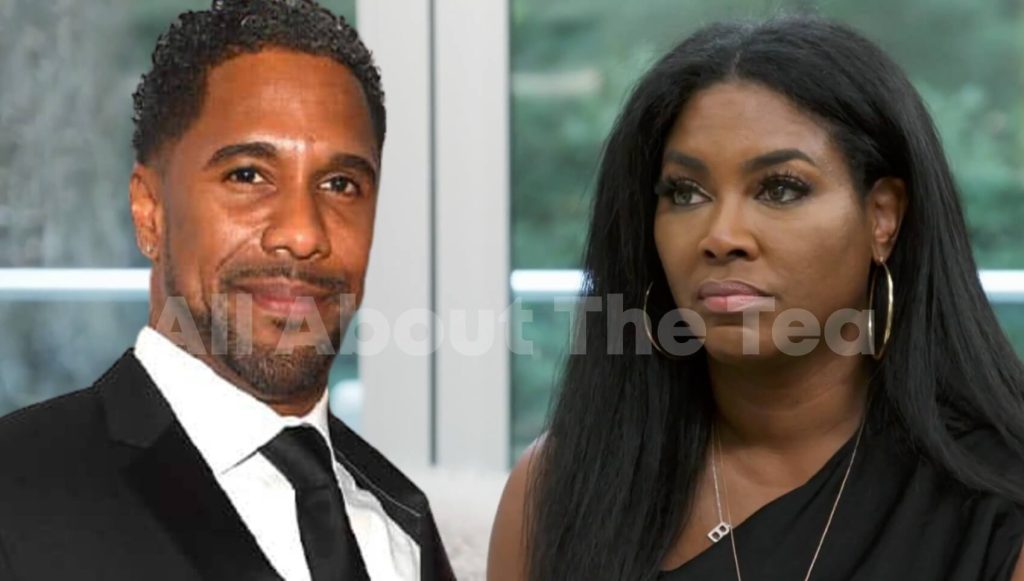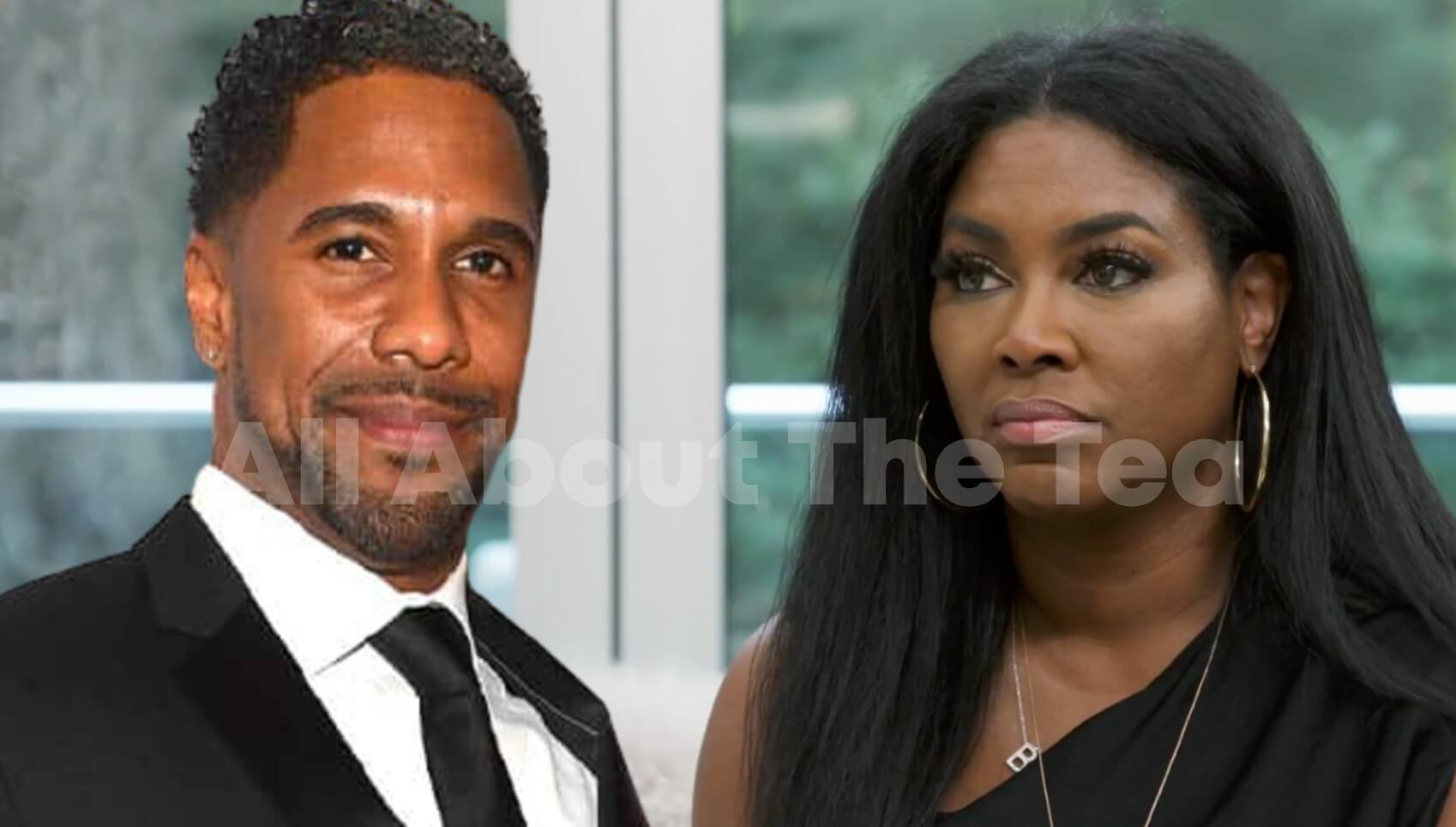 It's season thirteen of The Real Housewives of Atlanta. There are big changes in the ATL, including Covid restrictions, and BLM protests. So, let's jump right in!
We start with Kenya Moore discussing the changes Covid brought. She found the isolation depressing. Cynthia Bailey  left quarantine to protest in honor of George Floyd. Kandi Burruss fears for her own son. Porsha Williams reached her breaking point and joined the BLM protests.
We see Porsha's cell phone footage of the protest. After getting gassed by the police, she and Dennis ran. She took her fight to city hall, wanting to "speak life into those protestors."
At Cynthia's lake house, she's holding dinner for the women in her driveway. Her titties were so in my face, they were a little distracting. She even flashed a nip at Kandi. Anyway, she's back from isolation in LA, with her fiancé, Mike.
Kandi arrives first. She and Cynthia discuss Covid testing — throat vs. nose swipes. Kandi's not a gagger, so she could take the throat swab without a problem. Her words, kids, not mine! Kandi says her sex life didn't decrease. It stayed about the same. Steady Eddie! And while isolation might not have been fun, at least she got some much-needed family time. Little Blaze is eight months, and Riley is getting ready to go off to college.
Cynthia serves up kabobs — along with her boobies — and admits she's put on twenty Covid pounds. Still, she looks fantastic. But she wants to slim down a little before the wedding. Marlo Hampton arrives in a full face visor. She takes everyone's temperature before sitting down. Then she gets out her measuring tape to make sure she's sitting six feet apart. And…Cynthia has yet another nip slip. Girl. Put those things away before you hurt someone!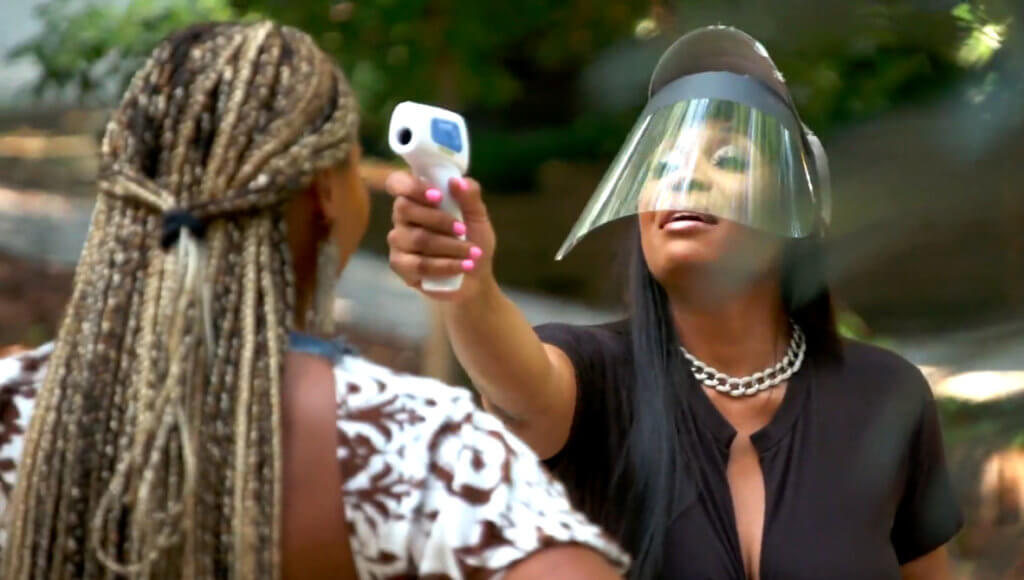 The women discuss Porsha's commitment to the cause, and the sneaky producers show the flashback where she thought the Underground Railroad was a real train. As Kandi says, Porsha's come a long way.
Cynthia tried to reach out to Kenya and get together, but Kenya always had an excuse to stay home. Cynthia is worried about how depressed Kenya sounded during those calls. She decides to facetime Kenya on camera. Sadly, they were disconnected, and Kenya berates Cynthia for having bad service.
As she drives through Atlanta, Kenya calls her friend, Brandon. She's gained some weight, too, and even a minimizer bra won't get that dress zipped. She admits to stress eating and gaining thirty pounds. She left the baby with the new nanny so she can make a trip to the divorce lawyer.
The last time Kenya was in New York to see Marc, he ignored her and focused all his attention on Brooklyn. She says she's tried to be respectful and kind, but her marriage is tanking. That's added to her depression.
At her lawyer's office, Kenya discusses her marriage. Though they tried counseling, Covid ruined Marc's business. He took his frustration out on Kenya. Kenya thinks she's a great communicator, and that Marc is the problem. The producers show her attempts from past seasons, where she's berating the other women. I think her communication skills could use some work.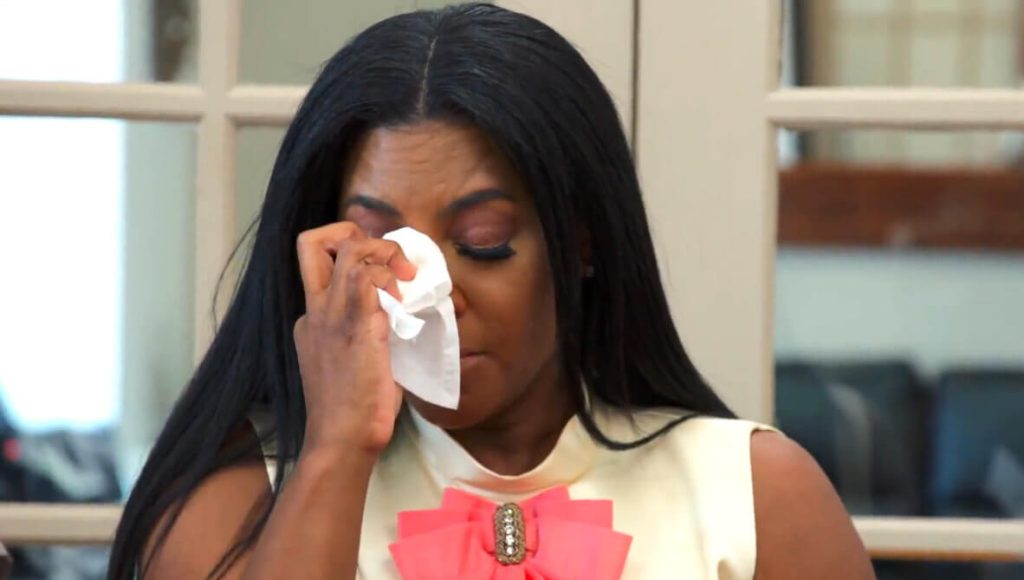 This isn't Kenya's first meeting with a divorce lawyer, but this time, she's serious. Marc's attitude is starting to feel abusive.
There was no prenup, but since she's been married only three years, she probably won't have to give up half her assets. Child custody isn't much of a concern either, because even when Kenya visits New York, she doesn't stay in Marc's apartment. Instead, he stays with her and Brooklyn in a hotel.
The lawyer counsels her to file for separate maintenance. This way, she can define custody and child support, but make sure Brooklyn will still get to have time with her father. And while Kenya has been separated for ten months, she's not ready to make a decision right now.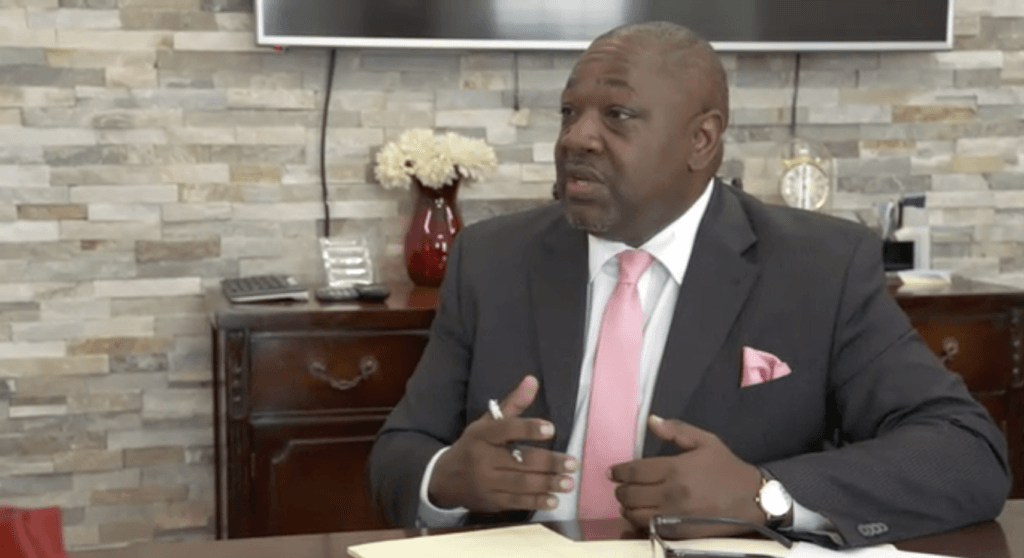 When the cameras leave the office, they linger outside, filming through the glass. The lawyer gets real, and he's still got his mic on. He tells Kenya to stop beating herself up over this dude. Black female celebrities give up a lot of their life to gain success, he says. He reminds her that Marc's failure isn't her failure. Kenya refuses to answer the producer's question about Marc's relationship with his other children. She calls it a "loaded question."
Porsha lands in Kentucky to protest. She's standing for Breonna Taylor and touches on her grandfather, Hosea Williams', legacy of civil rights. Motherhood has changed Porsha. She's educated herself about her history and is fighting for her daughter's future.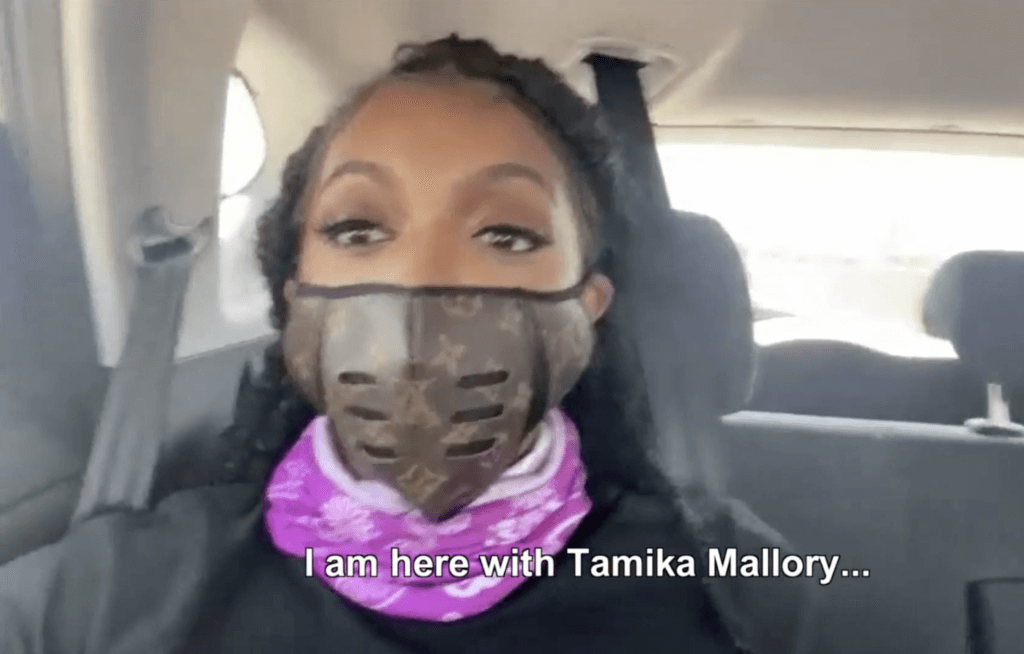 At Kandi's house, Kandi, Todd, Riley, and the little kids are washing the cars in the driveway. But Riley isn't that excited about standing in the sun, washing her own car. You can pay people to do that, right?
Most colleges have switched to online learning, but Riley is chomping at the bit to get out of the house and away from parental oversight. She's ready for NYU and prelaw classes. Todd threatens to have his spies watch out for her. And Kandi promises that Riley will be on a tight budget. Riley says it's time for her dad to pony up his share of child care in the form of college tuition. She encouraged Kandi to take him to court for back child support. Because of her legal move, Block is now texting Kandi, calling her names. But the man owes her over $100,000. He can afford a Bentley, but can't pay for his kid? No, sir. I do not accept that!
Even if he does come up to scratch — financially — Riley has no interest in a relationship with him. He's closer to his other children, and that has left a bad taste. Still, Kandi encourages Riley to accept an olive branch should Block extend one. Todd, however, says Riley isn't comfortable with her bio dad, and unless he steps up to the plate, they'll never have any kind of relationship. But he counsels her to keep an open mind about her dad.
Kenya is having some remodeling done to add a pool and pool house to her property. Cynthia and Kandi stop by to check it out. They hug, despite the earlier social distancing. Inside the house, they drink wine and sit down to chat. Kandi says her housekeeper hasn't been able to come, and her house has gotten messy. Cynthia agrees that men are always needing something and leaving a mess. But Kenya prides herself on being a housewife. Just one without a husband.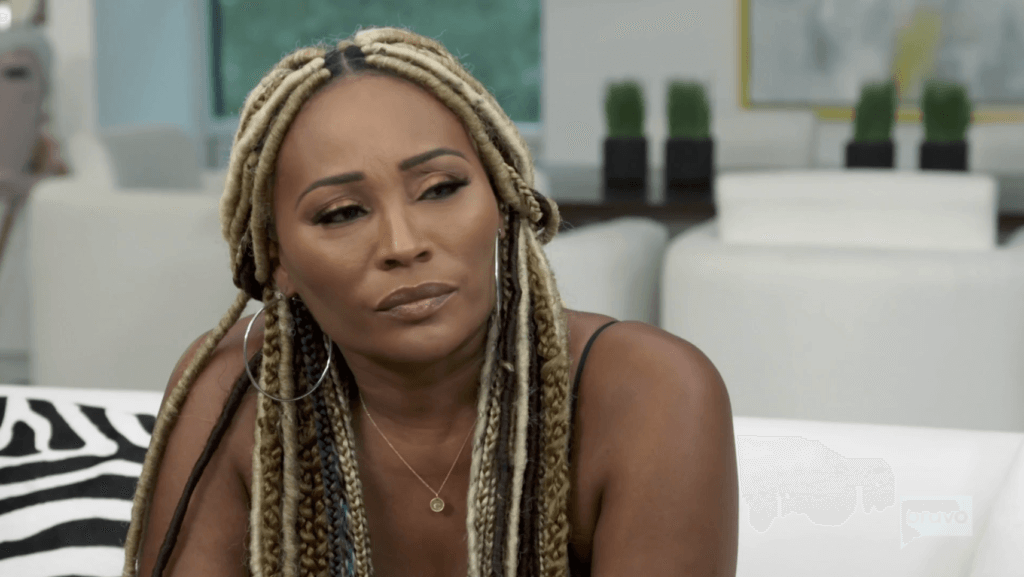 Kenya has tried to talk to Marc about their relationship. The last time she saw him, she went to New York. He picked a fight and got verbally abusive. Kandi says the power dynamic is all on Marc's side. Kenya is the one who makes all the concessions in the marriage.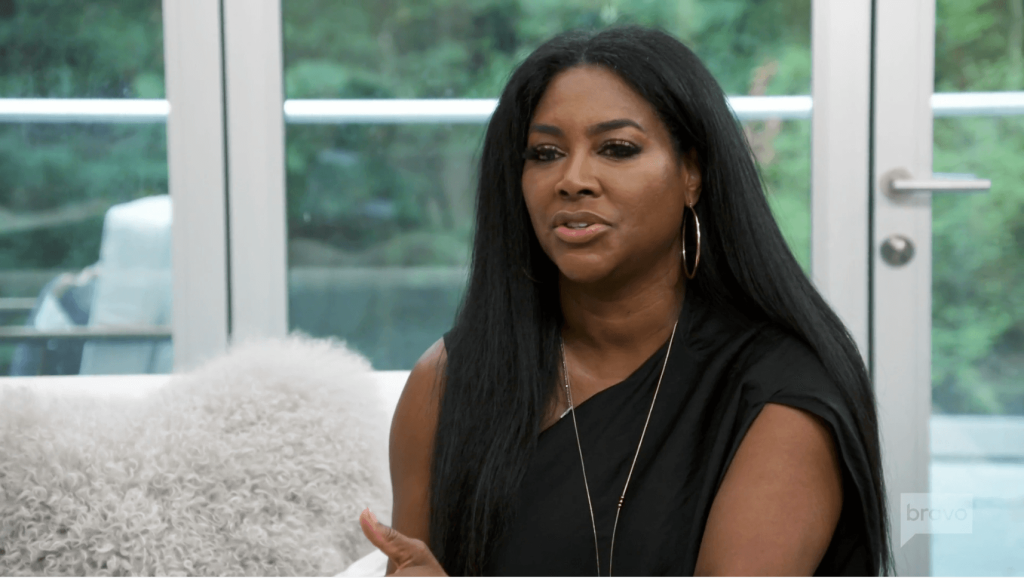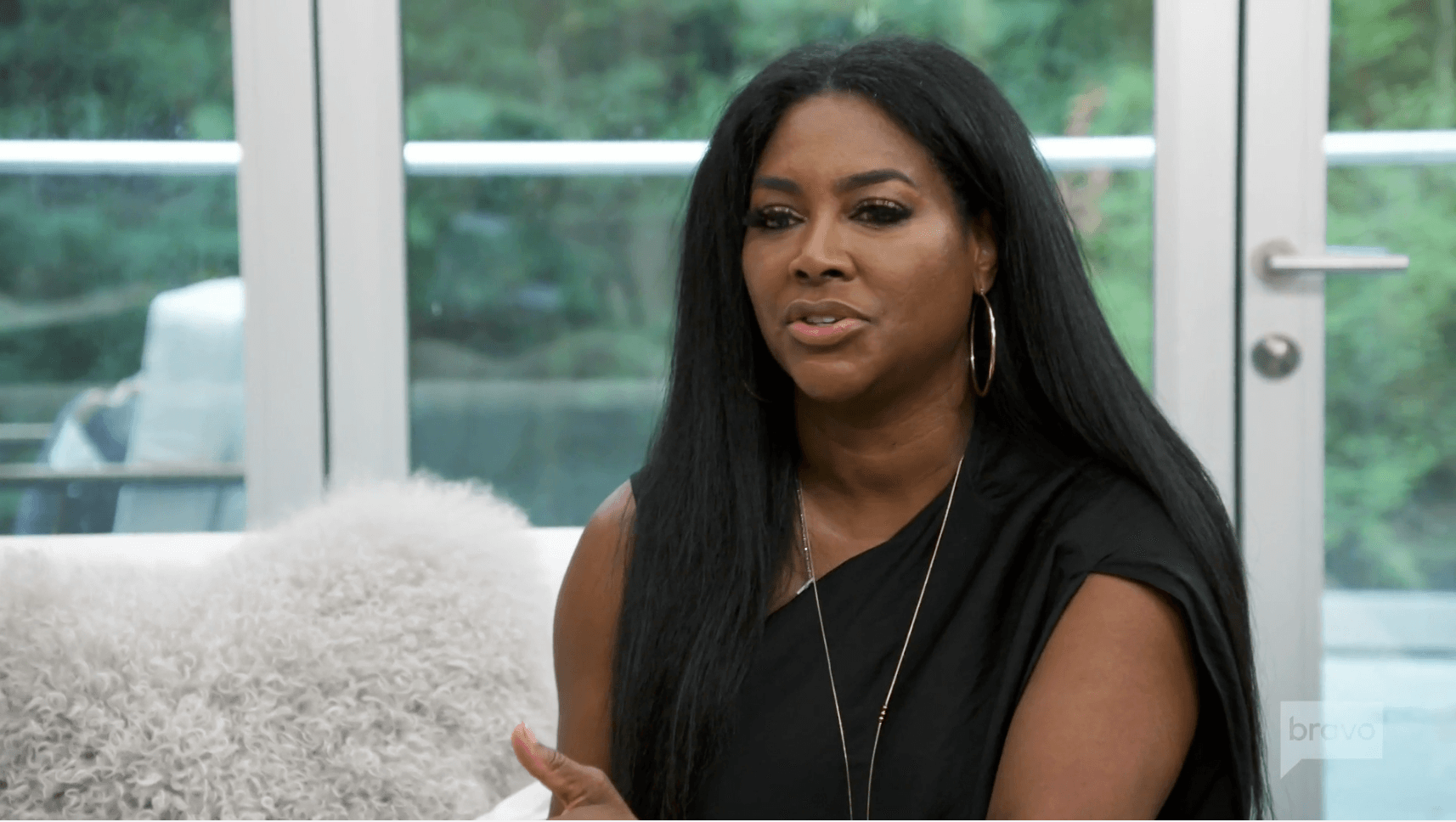 Kenya shares that she's seen an attorney. She's still on the fence about a legal separation or a divorce.
The women are tired of Marc's absence and his disrespectful attitude toward Kenya. Cynthia thinks Kenya has tried enough and should let go. It's obvious Marc isn't making her happy.
At Lake Bailey, Cynthia Bailey shares her schedule with her assistant, Chandler. Mike walks into the room as he facetimes his publicist about his book release. By the way, he's loving her bigger booty. And he's glad they're back in Atlanta, so that she can have loud sex. When they were in his condo in LA, they had their respective kids to take into consideration.
Cynthia says she and Mike got nitpicky with each other. Being in lockdown was like being in jail, but they made it through. She's ready to start planning their 10/10/20 wedding. Sadly, she's not allowed to invite more than fifty people, per Covid laws.
RELATED: Cynthia Bailey Devastated Bravo Wouldn't Film COVID Super-Spreader Wedding
She wants a bigger bash. Mike's cool with a small ceremony. She calls her mom and sister "haters" who didn't support her previous marriage. Mike is her HEA, and she wants to have a big wedding to celebrate her love. Mike tells her to chill. Ha! See what I did there? #Chill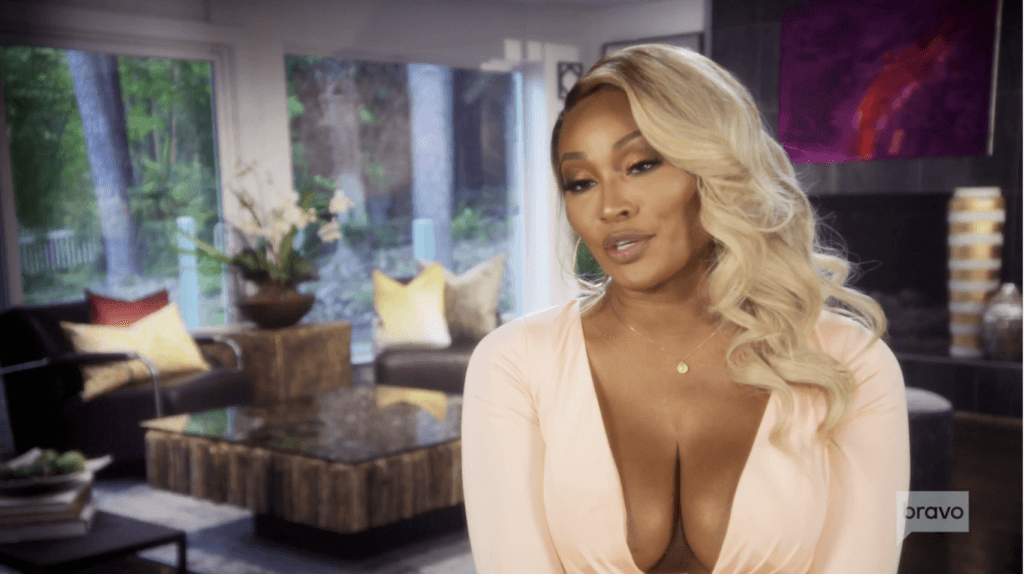 She thinks moving the wedding will be fine, but Mike is attached to the date. They're at a crossroads. Mike doesn't think he's enough for her. Does she want a marriage or a wedding?
In Kentucky, Porsha is marching. They head to the Attorney General's house to protest by sitting on the lawn and chanting. Soon, the police roll in. They try to disperse the protestors and end up arresting people, Porsha included.
At Kandi's new restaurant, things are finally coming together. Don Juan has forgotten who's paying his bills, though. First, he makes fun of Kandi's braids, and then he sides with Todd about having a lounge area. This is a restaurant, not a bar. But Todd wants layers to the business. Kandi just rolls her eyeballs. She — rightly — points out that seating will be at a minimum because of Covid restrictions. They'll need space for distancing.
She gets a call from Cynthia. They discuss Porsha's arrest and are very proud of her activism.
Porsha is released from jail after thirteen hours, along with eighty-seven other protestors. She says the jail was dirty and disgusting, but she was with thirty other women and it changed her life. Porsha hugs Breonna's mother and says she'd do it all over again.
So, are you ready for this season, Covid and all?
Stay Connected With All About The Tea: Twitter Ι Instagram Ι YouTube Ι Facebook Ι Send Us Tips
I'm a fiction writer by day and a reality TV addict by night.