Real Housewives of Potomac
'RHOP': All Hell Breaks Loose When Michael Darby And Chris Bassett Fight In SHOCKING Finale Sneak Peek!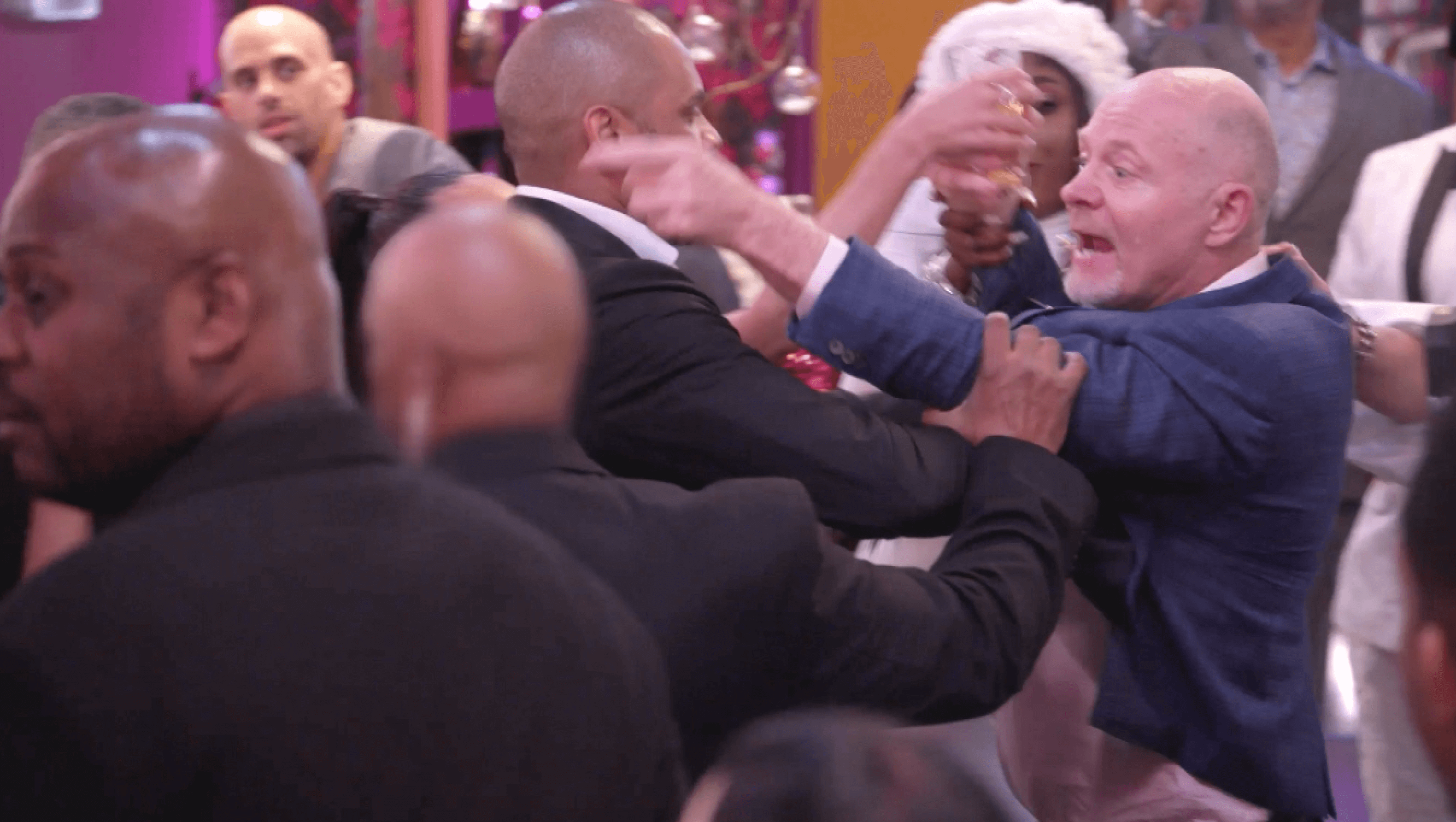 It looks like the Real Housewives of Potomac will end Season 5 in another fight. Ashley Darby's husband, Michael Darby, threatens to take legal action against Candiace Dillard Bassett's husband, Chris Bassett, after the pair get into a heated exchange on this Sunday's season finale episode. 
RELATED: Gizelle Bryant's EPIC 'RHOP' Reunion Meltdown Exposed!
The altercation goes down after Michael advises Chris to "control" his wife, who is yelling at her co-star, Karen Huger, across the room. 
"Michael, you should get the f—k out of my face," Chris snaps before pushing the restaurant owner.  
Michael responds, repeatedly yelling—"You touching me?" He calls Chris a "fu**ing idiot" after telling him that he's "going down."
Wendy Osefo's husband breaks up the brewing brawl, and it doesn't take long for Ashley to interject herself into the drama. 
"Oh, you wanna talk s—t about Monique though, right?" Ashley snaps, referring to Monique Samuels who got into an altercation with Candiace, earlier in the season. "OK, so Monique has no self-control, but what do you have? You have no self-control, do you? But you want to cry when your wife when gets hands put on her for acting like a fool."
"You want to touch me, Michael? I motherf—king dare your ass," Candiace fires back, after Michael threatens to sue Chris. 
"I'm filling suit against your man. … I'm calling my lawyer right now! He's going to jail! … You're going to jail you bald-headed f–k!" Michael snaps back. 
Watch the video here!
Fans of the series know that Candiace filed charges against Monique in November 2019, after a physical altercation exploded during a cast outing at a winery. She accused Monique of second degree assault, and Monique clapped back with her own legal complaint. Both cases were dismissed, but Candiace refused to film with Monique for the remainder of the season. The two women will face off for the first time, during the upcoming reunion series. 
"So Juan was trying to diffuse the situation," the reality star/cap designer revealed to Too Fab. "Juan is very good at, you know, kind of like separating people, trying to pull people apart. He wanted no part of that. And so, he definitely had to jump in and try to attempt to get people under control."
"[Juan] wants no parts of anything like that," Robyn, 41, told the outlet. "Like, that's just not how he would conduct himself out in public. You know what I mean? He's a college basketball coach. And so that's really not something that you would expect to see from someone in his position — to be behaving."
Robyn spoke about why the finale was a memorable one for her and her family.   
"It was unfortunately leaked on Instagram, on social media when it did happen, so you will see an engagement," Robyn revealed. "But I think it'll be very cool just to see we kind of have some discussions and we go to a therapy session, so you'll see us like really talking through our relationship. So it'll still be exciting to see us get there."
"I didn't expect [the engagement] to happen, especially not on camera, cause that's just not like Juan — he's a very private person," she added. "Our first engagement was on the beach in Miami, just he and I. So I really didn't expect it to happen in front of anyone except maybe my kids or my parents or something, but I wasn't expecting it to happen."
The Real Housewives of Potomac season 5 finale airs on Bravo Sunday, December 6 at 9 p.m. ET.
Stay Connected With All About The Tea: Twitter Ι Instagram Ι YouTube Ι Facebook Ι Send Us Tips