Monique Samuels Regrets Candiace Dillard Beatdown, Says "She Didn't Deserve All That"
Monique Samuels believes that the explosive physical altercation between herself and Real Housewives of Potomac co-star, Candiace Dillard, was about much more than a splintered friendship.
"She took a beating for 36 years of built up frustration," Monique, 37, told PEOPLE about the winery beatdown that went down earlier in the season. 
Monique admitted that she felt "absolutely remorseful" and "completely foolish" watching the incident play out. 
"It wasn't just about [Candiace] that night," Monique explained. "Once it became physical, my response was that of defending myself, but also that pounding was for every person that has ever done anything to me."
"For that, I just felt like, 'Wow, [Candiace] didn't deserve all of that,' " Monique added. "I do not excuse my actions. I take full ownership of my part in the altercation."
Monique took responsibility for the cast clash, but clarified that she felt "egged on" at the time. 
"I was not trying to engage her. I was already at the point where I realized she's not the person who I thought she was," Monique said. 
The mom of three recalled that she said "I'm through with her"—a comment that she thinks might have triggered her co-star. 
"She starts coming closer and then that hand comes right next to my chin and instantly, now that I look back, that was definitely a trigger," Monique explained. "I don't like hands in my face. I said, 'Get your hand out of my face' and 'You need to back up,' but she did not."
"That's when she starts saying, 'You gone drag me?' Where I grew up, if you don't want to engage in a fight and a person says back up, then you back up. That's where the tone changed. She egged me on with that question, and I returned it by touching her hair, which I shouldn't have done. That definitely escalated things."
RELATED: EXCLUSIVE: Blow By Blow Details of Monique Samuels & Candiace Dillard's Violent Fight! 'She Reached For A Knife'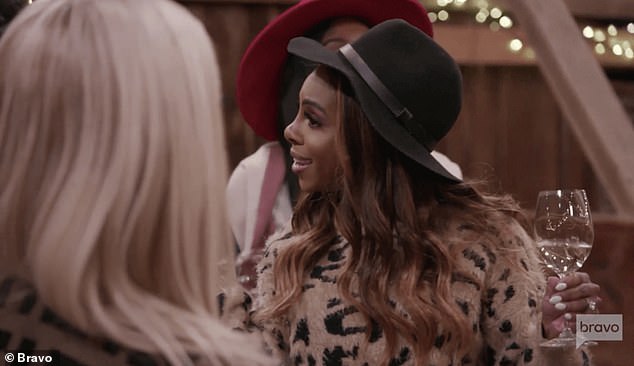 Candiace addressed Monique's assertion that she was "egged on" via a statement to the outlet. 
"If me 'egging' Monique on in a verbal altercation is Monique's justification for physically attacking me, does that mean that I was within my rights to physically attack her at Ashley's dinner when I was trying to speak and she chose to talk over and taunt me like a five year old? By my standards, no. This is a 37-year-old woman attempting to use a mutual verbal spat to justify barbaric behavior. I will never understand. Furthermore, after I was grabbed by my hair and yanked down onto a table, anything that I did to defend myself against a grossly emotionally deficient woman is my business and her consequence."
Monique explained that she initially believed that Candiace had pushed her during the altercation, but later realized that it was Gizelle Bryant trying to break up the fight. 
"I didn't know that was Gizelle. I thought that was Candiace, so I'm thinking, 'now I'm grabbing.' So as I grab her, and then she hits me in the face with the wine glass and wine splashes me … that moment is when I blacked out," Monique said. "My body just took over. I went into shock." 
Monique was later informed that Candiace did not hit her with a wine glass, raising questions about her her bloodied lip. 
"I was told by certain people in production that the wine glass didn't happen. What they didn't understand was that my lip wasn't cut with a sharp glass, my lip was busted from the impact of blunt force against my face. … Glasses were flying left and right and everyone asks why didn't I let her go," Monique recalled.
"I couldn't even hear," Monique added, explaining her reason for not letting go of Candiace's hair. "My whole entire being was in a state of shock [and] I didn't let her go because when I finally snapped out of it, [Candiace] was still throwing glasses."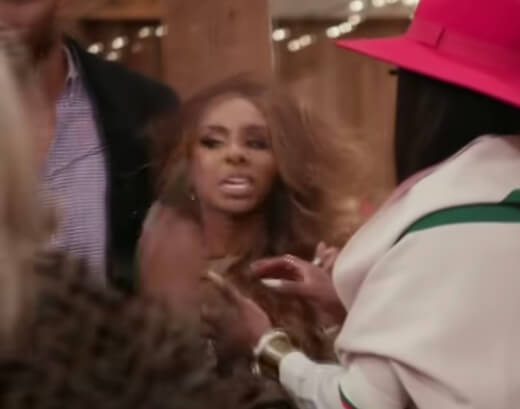 Monique revealed that she believed that Candiace wanted to stir up drama that night. 
"People ask why you went back after her and I'm like she's literally yelling, 'She's fired, right?' That made me feel she did this on purpose. You didn't expect the fight would happen but you created this and took it to a whole other level and the first thing you say is, 'She's fired?' I'm like okay, she wants me to be fired. Then let me go and finish this," Monique shared. 
"I've seen her with a knife in her hand," Monique said of Candiace pointing a knife at Ashley Darby, during Season 4. "I've seen her almost fight her husband to get someone. I saw parts of the reunion that didn't air when her and Ashley were arguing and she jumped off the couch and told her, 'You better shut your mouth before I come over and shut it for you.' I've seen her in action, so if we're having this verbal altercation and I say back up, I don't know what's next."
Monique apologized for her actions to the entire cast during a later episode,  hinting that perhaps stepping away from the show would be a wise move. 
"I requested that [Bravo] release me from my contract right after the fight, and we talked about it and they reassured me that whatever I needed to do that would make me feel comfortable they would oblige — and they did," Monique revealed.
"I took the fight so seriously that I was like maybe I don't need to do this show. I have too much to lose," she added. "No one should be able to push me to a point of being physical."
Monique shared that she sought professional help after the disturbing altercation. 
"I spoke with my pastor. I ended up hiring a therapist. I just want people to know that this wasn't something I took lightly. I was very serious about getting the proper help so that nothing like this happens again. Everything was about self-reflection," Monique revealed.
Fans of the show know that Gizelle Bryant, Robyn Dixon and Dr. Wendy Ofeso did not buy her apology, and that Gizelle and Wendy believed that the public display only reinforced negative black women stereotypes.
"I felt like it wasn't about the fight. It wasn't about them being mad about Candiace and I being in a fight. It was like finally we can kick Monique down, finally we can get her out of this circle," Monique noted of the cast reaction. 
"Wendy was the most shocking because she was the one — outside of Karen [Huger] and Ashley — that reached out to me and I thought it was sweet. We talked for two hours and she was understanding. She was like, 'I understand, you got egged on.' She said all of these things that made me feel she doesn't agree but understands. Then to see her flip the script, it was clear there was a conversation that changed her mind," Monique revealed.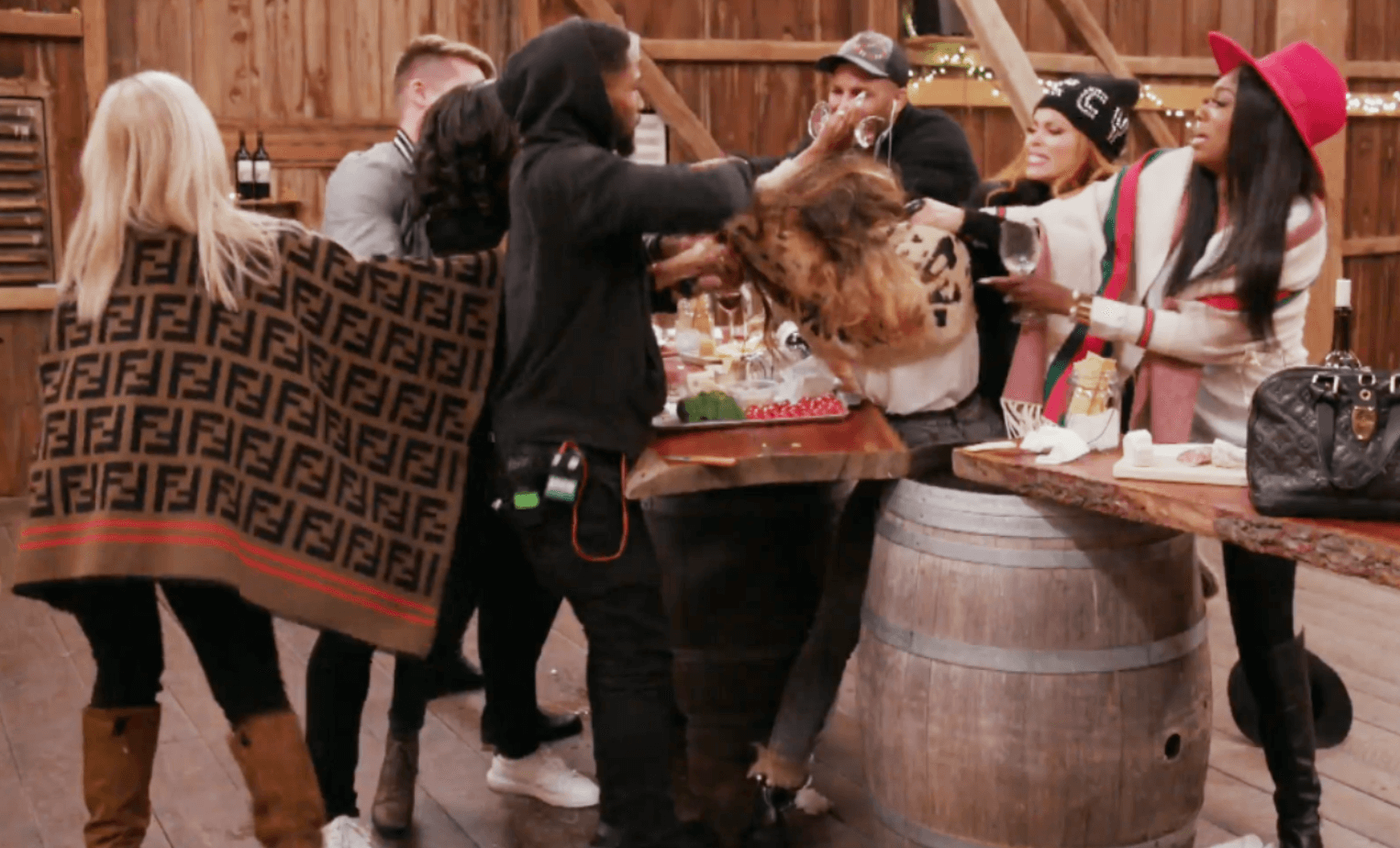 Wendy confirmed on Twitter that she did text Monique after the brawl.  
"Yes, @Iammrssamuels I texted you & we spoke via phone and I was genuinely concerned," Wendy tweeted. The #RHOP ladies know this. Nothing new. They also know, that during our call you said, 'Candiace tested me & I have never failed a test.' Not sure your purpose of mentioning me, but be blessed." 
"It's always an interesting thing when people try to generalize one person's actions and say it's representative of an entire group. If that's the case, we've all been in a position where we all haven't been the best role models. It just further shows who they are. Their closets are completely dirty," Monique declared. 
Monique addressed Candiace's involvement in the rumor that fueled the discord—alleging that she had stepped out on her husband with her trainer,  becoming pregnant with her third child. 
"You were entertaining the conversation, but you wanted to make sure whatever was said made sense. Candiace never called me about the discussions about the rumor," Monique said. 
Candiace responded to Monique's claim, telling People—"How many history re-writes is this woman going to give to whomever will listen? Once again, I was not involved in any exposé with Charrisse or anyone else; I don't care how many times Monique says it, it will never be true."
Monique added that she was disappointed that Candiace invited Charrisse Jackson Jordan to her filmed anniversary party, knowing that her intention was to spread the damaging rumor. 
"She's trying to get on camera. She's trying to come on with whatever lies and use me as a storyline to get back on the show. How is that Candiace is my friend and I didn't even know that she'd invite Jackson Jordan around cameras when you know what she's trying to do behind the scenes? I couldn't recover from that," Monique said.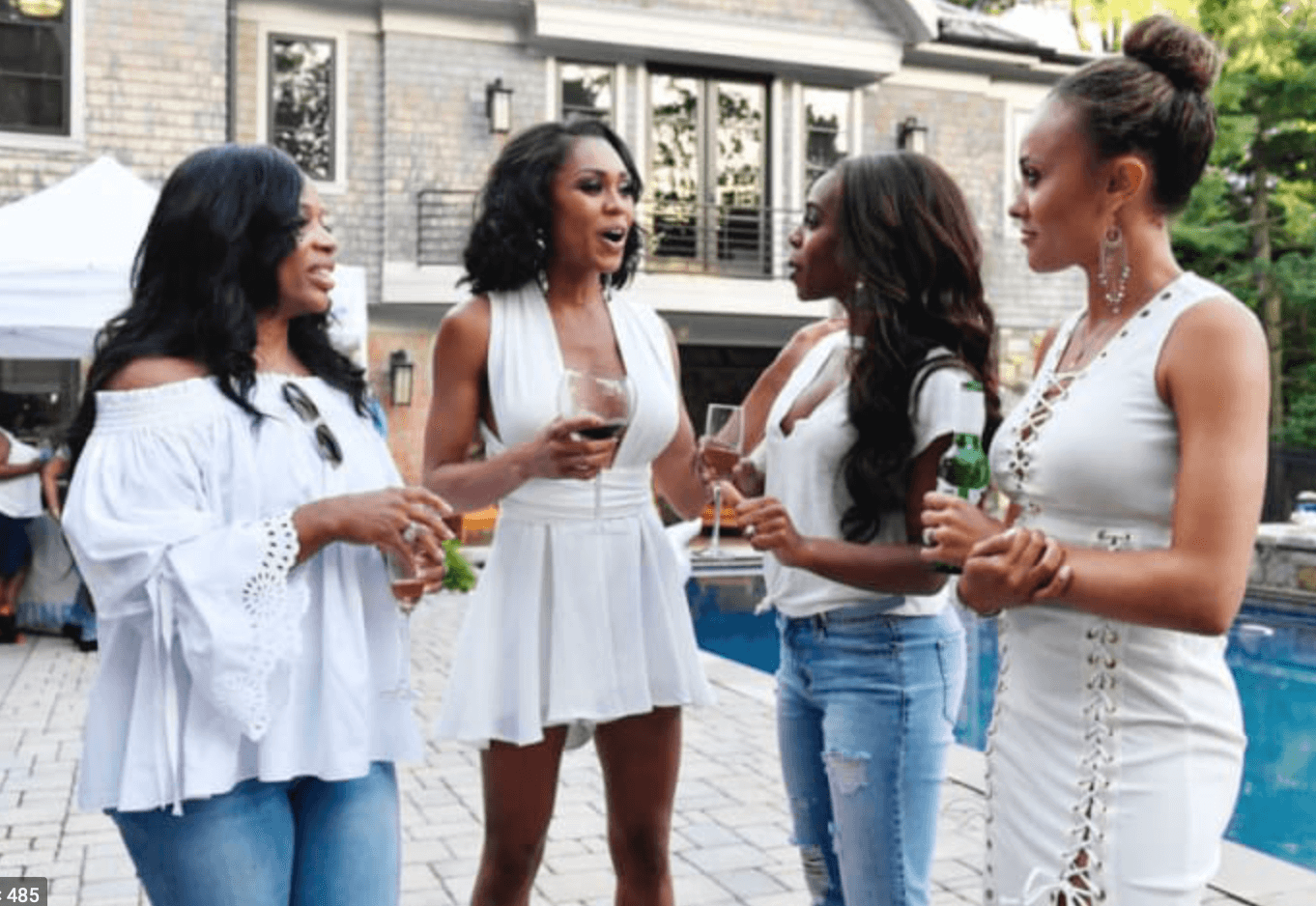 The cast mates have agreed that their friendship is over and have no plans to communicate until the reunion. 
"She's been doing a lot of talking," Monique said of Candiace. "She's done so much after the fight that it's shown me that you were never a friend. We had an altercation, it got physical, that doesn't mean I have to be her enemy. She takes no accountability. What I have to say to her will wait until the reunion and then I will say it directly to her face." 
"[The reunion] will be the only time I ever speak with her or allow myself to be around someone like her again," Candiace commented. "It's only because I want to hear how she's finally going to put the last spin on the lies she's created over the last year."
The Real Housewives of Potomac airs on Sundays at 9 pm, ET, on Bravo. 
Stay Connected With All About The Tea: Twitter Ι Instagram Ι YouTube Ι Facebook Ι Send Us Tips
Avigail is an Entertainment blogger at All About The Tea, who specializes in The Real Housewives of Atlanta and The Real Housewives of Potomac. Avigail has a background in marketing. She's a Brooklynite living in the Bahamas, with a passion for travel, writing, reality TV watching, pop culture and spoken word.