'RHOBH' RECAP: Dorit Kemsley & PK Swear Their NOT Broke Amid Tabloid Rumors!
Welcome back to an all-new episode of Real Housewives of Beverly Hills. Let's get started!
The episode opens with Dorit Kemsley and her family acclimating to their new home in Valley Village down the street from all of the Vanderpump kids. JUST KIDDING. But the house does bear a striking resemblance to the cookie-cutter modern farmhouse style homes the former SURvers now own.
According to Dorit Kemsley, all the talk in the tabloids about her and PK being dirt poor is nonsense. When asked why the house is only in her name and not PK's she responds by asking, "well what difference does that make?" Well actually a lot, Dorit, but okay…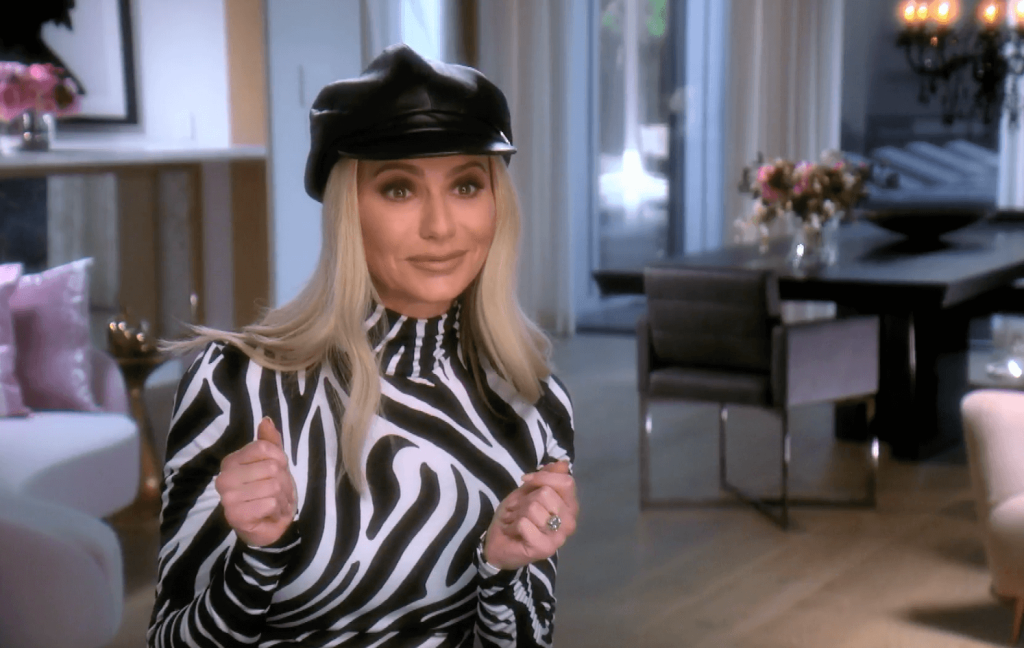 During Dorit Kemsley and PK's talking head confessional, we finally learn a tad more about PK's financial woes. The couple divulges about how PK lost his fortune during the "credit crunch" in 2008 but they're careful not to give much more information than that.
The producer then probes the couple further saying, "This follows you around. Ignoring it won't make it go away." The couple then starts passing mints back and forth and sucking them down like a couple of blowfish. Could it be that this was all part of a clever plan they had that included thinking that Bravo wouldn't air footage with them noisily chewing on peppermints? THINK AGAIN KEMSLEYS.
READ ALSO: Paul "PK" Kemsley Exposed For Hiding Money In Dorit Kemsley's Bank Accounts To Avoid Repaying $1.2 Million Loan!
We also learn more about our new RHOBH rising star, Garcelle Beauvais. Garcelle takes her friend and fellow actress, Ali Landry, on a tour of her newly constructed home.  According to Garcelle, building her very own home from the ground up has been "liberating," but at the end of the day, she's a hopeless romantic and would love to be sharing the home with someone else.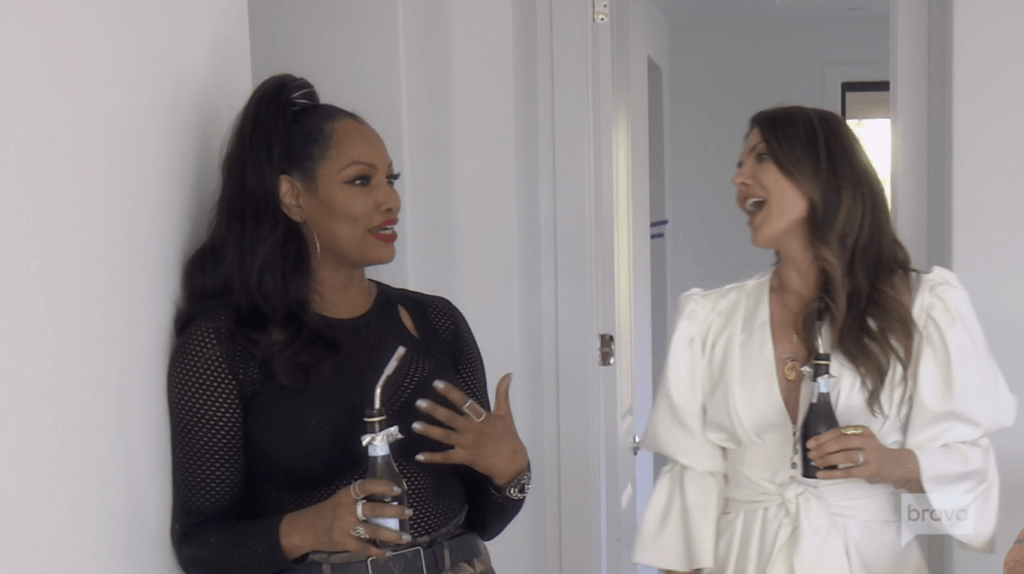 Garcelle Beauvais and Ali share a tearful moment when Garcelle says, "I remember the day my life changed." Garcelle later reveals in her talking head interview that her nine-year marriage to talent agent, Mike Nilon, was shattered after learning of his five-year-long affair with another woman.
As the old saying goes, "Hell hath no fury like a woman scorned," and Garcelle opted to get mad AND even. Instead of keeping mum about the extramarital affair, she drafted an email with the subject line "What does Tiger Woods, Jesse James and Mike Nilon all have in common?" Then she promptly hit send on a recipient list that included all of his colleagues and friends. Of course, the salacious email got picked up by the press and the rest is history.
Meanwhile, Teddi Mellencamp Arroyave  and Lisa Rinna meet for a hike and Lisa shares that her youngest daughter, Amelia, is having a rough time adjusting to her new life in New York City. According to Lisa, Amelia has been experiencing crippling anxiety dealing while trying to deal with the pressure of both work and school. Lisa shares she received a disheartening call from Amelia's therapist in New York who simply said, "I don't think it's going to work out for her right now."
Producers then ask Lisa Rinna to read a very vulnerable Instagram post penned by Amelia revealing her personal struggles with anxiety. Lisa admits that it makes her feel exposed when her daughters are open and honest on their social media because people immediately blame her for her daughters' issues. "Inevitably, people go you caused your daughter's eating disorder. You F'd your daughter up. It's all your fault."
Back in NYC, Kyle Richards  is still hard at work capitalizing on the buzz the show created for her fashion line.
After a long day of work, Kyle meets newcomer Sutton Stracke for dinner at a bougie restaurant in which Sutton orders "a pale-pink Grey Goose cosmo." Umm excuse me Sutton but pink is reserved for one person and one person only and she's no longer on the cast. You and your ill-fitting couture and custom tiaras can take SEVERAL seats.
Sutton Stracke then digs her grave deeper when we learn about her insatiable craving for all things "yacht." Sutton advises Kyle that she nix the term "leisurewear" and start referring to her line as "yacht wear." Yacht wear, yacht rock, yacht, yacht, yacht. Drink every time you hear the word yacht.
Kyle Richards seems to entertain the concept for a moment before crashing back down to reality and remembering that she's doesn't actually own a yacht. "I don't want to scare people off that don't have a yacht," she responds.
The rest of the dinner is just as painful and awkward with Sutton providing tidbits here and there about her former marriage to a presumed Daddy Warbucks type and making bad jokes about how lifting her cosmo glass to her lips is the only type of bicep curls she's interested in doing. Poor Kyle looks like she'd rather be anywhere else but is careful to insert fake laughs at all of the appropriate times. Such a good sport, that Kyle.
Denise Richards and her husband, Aaron, are finally settled back in Malibu in a "very cute" rental that Denise is quick to say has a "beachy feel" even though it's not anywhere near the beach. Hmm. Denise catches Aaron up to speed on the drama that transpired between her and her ex, Charlie Sheen, while she was in New York.
In her talking head, Denise denies that she's going after Charlie for child support. Denise explains that she planned to remain quiet about receiving zero child support until he forced her hand by filing something himself stating he shouldn't have to pay her. Honestly, this sounds like typical Charlie Sheen.
According to Denise, she has several reasons as to why she'd rather not be in a messy court battle with Charlie, the biggest one being to protect her daughters. "There's a lot that the kids don't know about their dad and I want to keep it that way."
Denise Richards is adamant that even though he is Charlie Sheen, he is still their dad and she is very careful to never talk badly about him. "I want him to be part of their lives because I met a lot of the women that Charlie entertained and a lot of them had father-daughter issues and I do not want that to be our girls." YIKES.
If all of that wasn't enough we also learn that Denise has been suffering from recurrent pain due to a femoral hernia she most likely incurred by frequently lifting her youngest daughter with special needs. Poor Denise. She can't win for losing.
The following day Garcelle and Erika Girardi meet for a leisurely brunch. Garcelle stuns Erika when she reveals that she just found out that her oldest son, Oliver, is expecting his first child. Erika feigns excitement but as she's digesting the information you can't help but see her wheels turning as she realizes that Garcelle's son is only one year older than her own. "I just saw my life flash before my eyes," she stammers. "I mean do you really want ME to pick someone up from pre-k?" Cut to footage of Erika strutting the streets of Germany dominatrix style covered in head to toe latex. Yeah… probably not such a good idea for Erika to be in charge of kiddie carpool.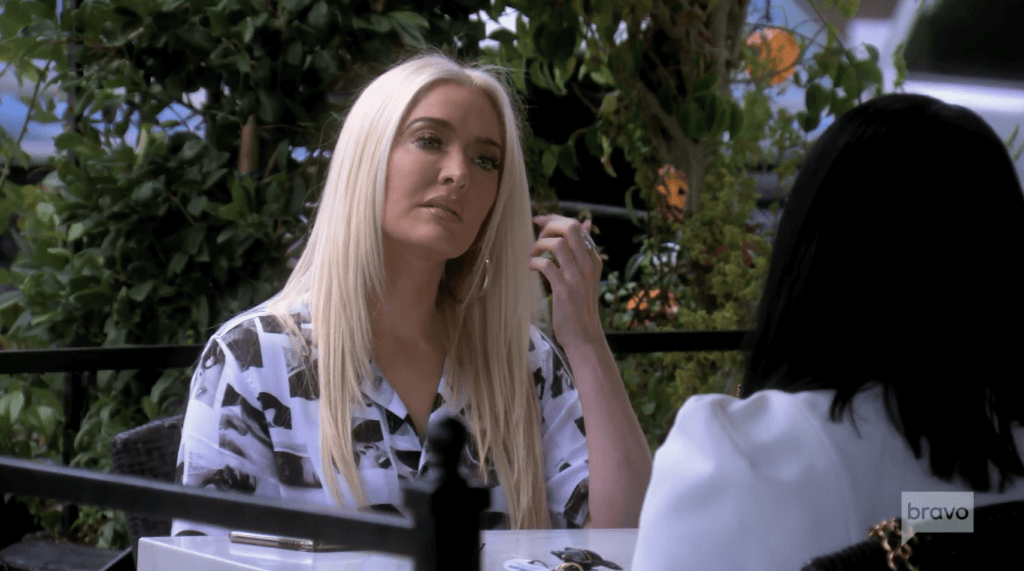 Things get even more uncomfortable when Garcelle cuts to the chase and asks Erika what the sex is like with her eighty-year-old husband. In a very rare moment, we see Erika get caught off guard. She takes a very long moment to finish fake chewing her food before responding, "It's okay."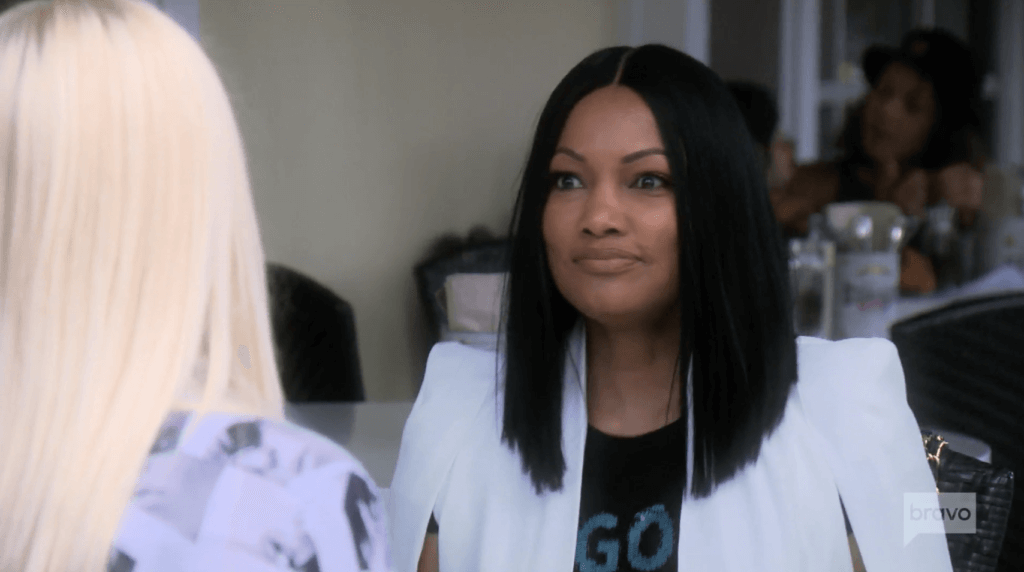 Later in her talking head, when she's much more prepared to deliver a response Erika says, "I'm tired of having to justify my 20-year marriage. Go get a 20-year marriage and then come f****** talk to me." Ladies, take note. Erika is HOT about this one.
Back at the Mellencamp-Arroyave residence, Teddi is fielding text messages from her famous father trying to explain to him why she cannot name her new offspring "Toots" while simultaneously planning the retreat for her accountability coaching biz.
On a whim, or probably not, Teddi sends out a mass text to all of the ladies inviting them to join her on the All In retreat while simultaneously giving them every out possible should they not want to come. I liken it to when one of your friends gets brainwashed by the most recent MLM company on the scene and starts peppering you with texts you about joining them in "such a life-changing opportunity." Then when you politely decline they begin behaving very passive-aggressively while maintaining that it doesn't bother them at all if you choose not to take on "the deal of a lifetime."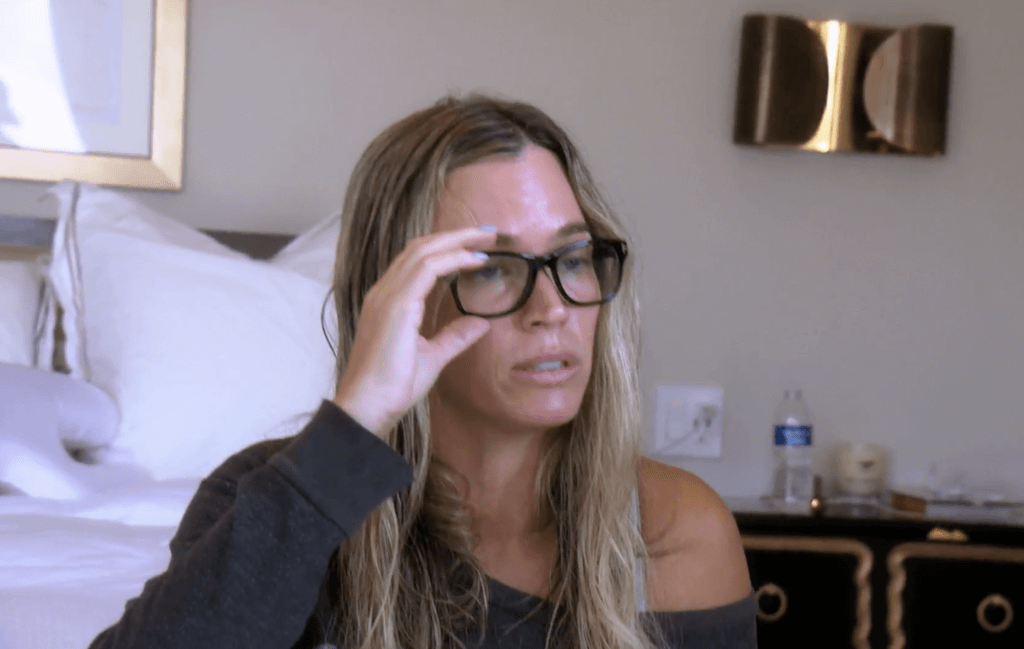 Cut to a very loopy Denise post hernia surgery. According to Denise, the surgery went well but they ended up removing FOUR hernias instead of the aforementioned two. Her hunky husband Aaron continues to dote on her while taking care of her every need. Denise says she's still not quite used to having such an attentive husband. "Thank god I have a man that truly loves me, my kids and has my back. AND he still has that big d***," she quickly adds.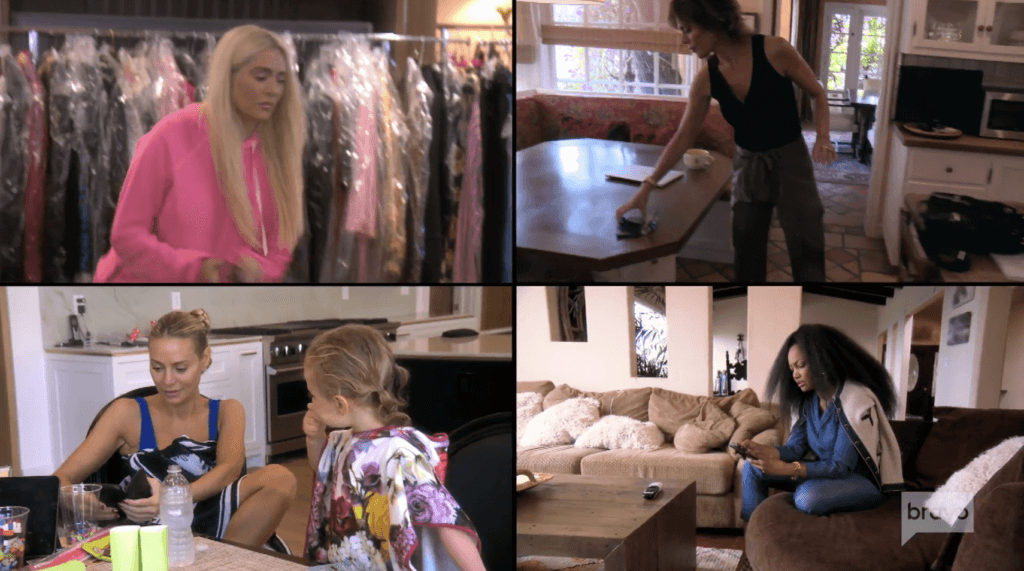 Erika Girardi  shares a tender moment with Tom when she announces that she finally has the contract in hand for her to play Roxie Hart in the Broadway musical, Chicago. She gently embraces his fragile frame while her eyes well up with non-existent tears. Was this scene part of her audition?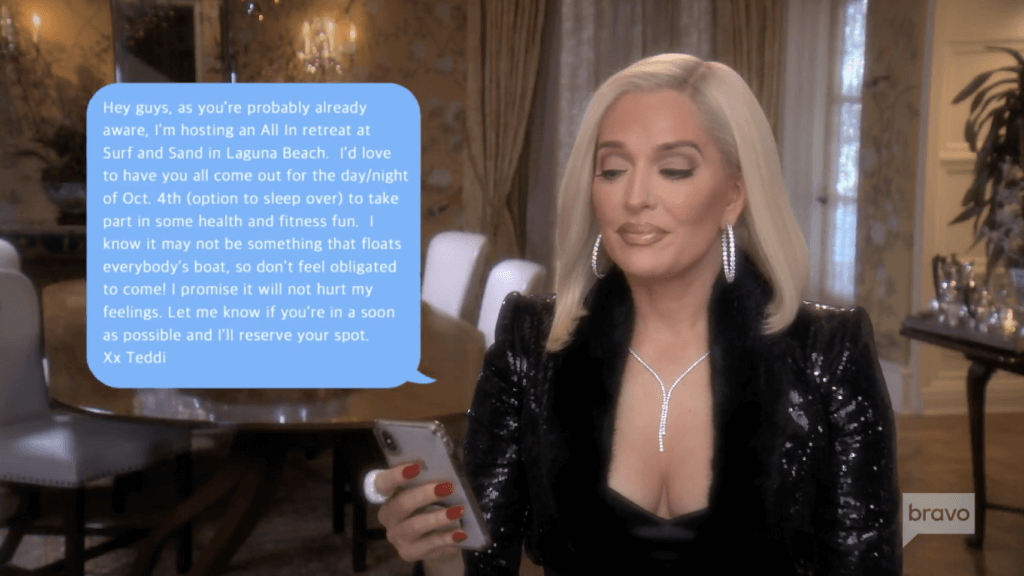 Finally, it's the day of Sutton's new store opening which is apparently supposed to include a hodgepodge of fashion, furniture, antiques and silver. Lisa and Teddi ride to the event together and Lisa takes the opportunity to get in Teddi's head about her retreat and the ladies' willingness or lack thereof to attend it.
Lisa Rinna  prefaces the conversation by saying, "I have to come clean right away. The other night I was a little sassy." She then goes on to say that she openly admitted to the other ladies that she was perhaps a little relieved to not have to go to Teddi's retreat due to her jam-packed work schedule.
Cut to a montage of clips in which Lisa takes a big fat dump all over the retreat stating "There's no fun at a retreat," while the rest of the ladies let out a collective cackle.
She then advises Teddi to not have any expectations about the rest of the ladies attending and adds, "I think you need to be very clear in this situation."
Teddi is adamant that she doesn't care if the ladies come or not, but it appears the damage is already done. It's almost as if Lisa ripped the back of Teddi's shirt up and wound the key in Teddi's back so tight, only to release her out into the party to wreak havoc.
Sure enough- in between a very awkward exchange between the Mayor of West Hollywood and Sutton (in which she chooses to berate him for her a plethora of parking and permit grievances) wind-up doll Teddi effectively mows down the entire group of ladies with her passive-aggressive attitude.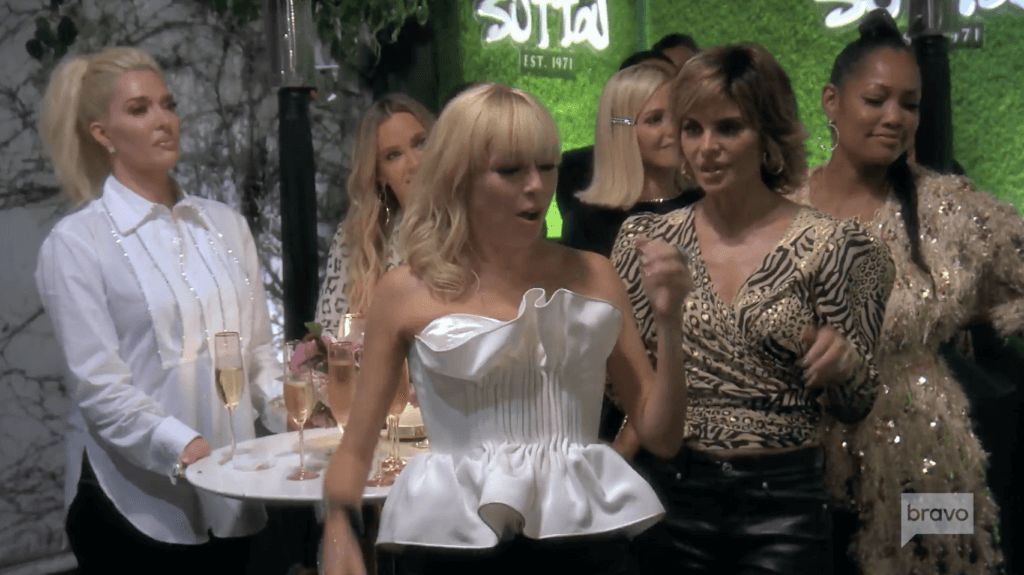 Teddi takes it upon herself to announce to the entire group that she doesn't care if they come to her retreat or not. "Here's the thing guys. Truthfully, I really don't care if y'all come or don't come."
As one can expect that doesn't go over so well with the rest of the ladies. Newbie Sutton interrupts, "Wait a minute. I'm coming and if you don't give a s*** then why am I coming?" Fair enough.
Teddi follows up by stating, "Anybody that actually wants to come because they want to do it- they should come. But anyone that's going to come and be a pain in the ass I'd really rather not come."
Garcelle comes clean, admitting "I wouldn't be a pain in the ass but I really don't want to do it," and it appears most of the ladies share the same sentiment. Well, there ya have it, Teddi. No one wants to come to your boring retreat where they learn how to exist on very little food, no alcohol, and all you can exercise activities. Sorry, not sorry.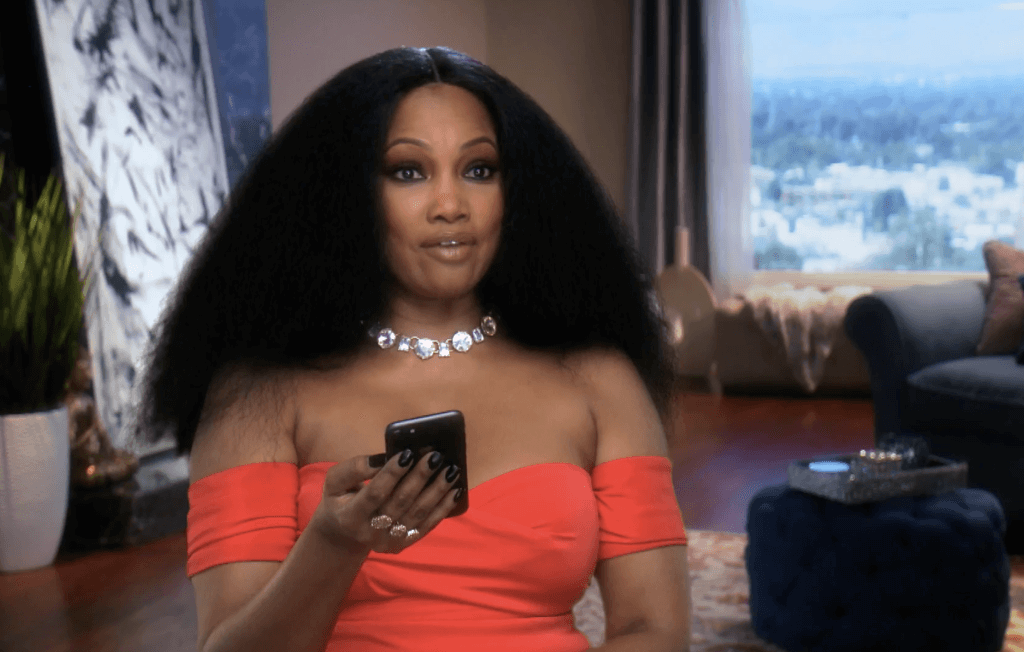 Will Teddi Mellencamp Arroyave take the L gracefully or will she grab a shovel and start digging her grave deeper? Tune into The Real Housewives of Beverly Hills next week to find out!
Stay Connected With All About The Tea: Twitter Ι Instagram Ι YouTube
Amanda Byerly focuses on Reality TV recaps for All About The Tea. Amanda is a 30-year-old wife, mother and self-proclaimed Bravo TV junkie. When she's not watching Bravo, she's writing about it, reading about it, or listening to podcasts about it. "I get by with a little help from Bravo TV."