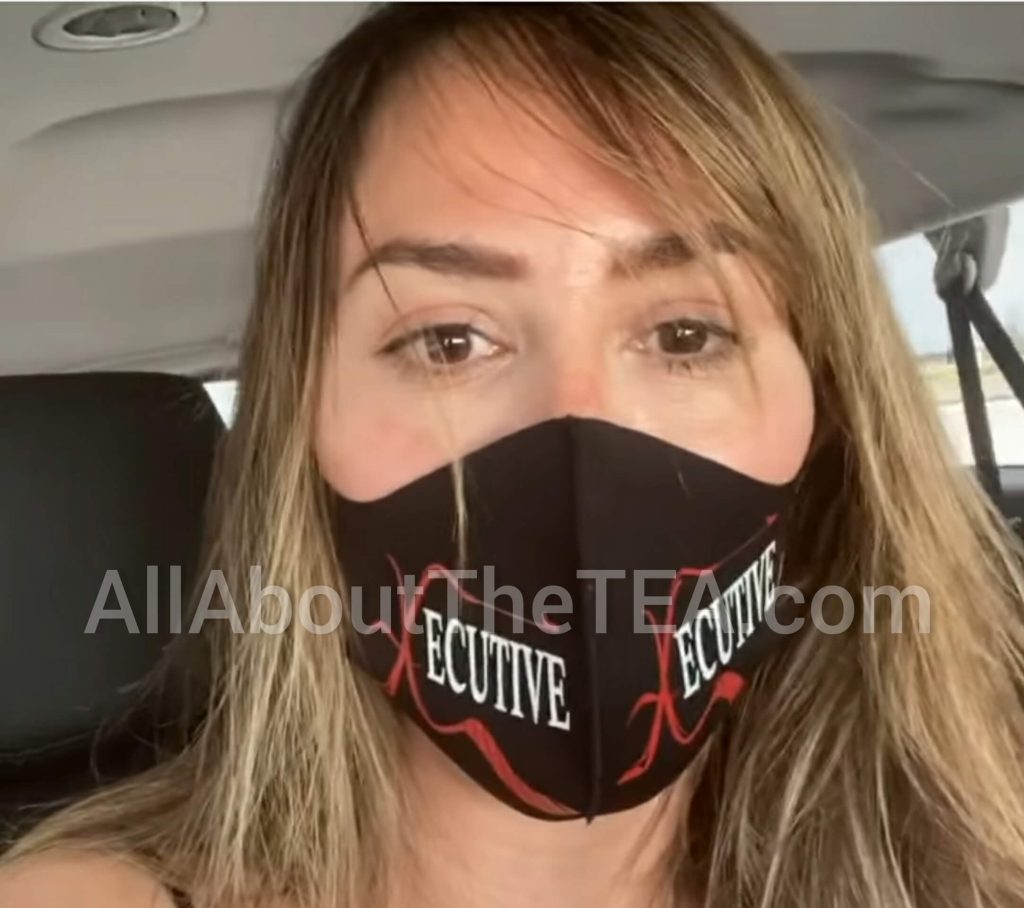 Kelly Dodd made some reckless comments about the deadly coronavirus on Tuesday that has landed the Real Housewives of Orange County star in hot water. 
Kelly Dodd made the incautious remarks on a now-deleted Instagram post of the Real Housewives of Orange County star being driven home from the airport after arriving back to California from New York City. She's been in NYC for weeks visiting her boyfriend, Rick Leventhal, who is a Fox News reporter. 
READ ALSO: Kelly Dodd Embarrasses Rick Leventhal During A Live Fox News Broadcast!
The full message below was in response to an Instagram commenter — Kelly Dodd wrote:
"That many that die anyway!! They would've died this year they were compromised !!!" she began. "Do you know how many people died from the h1n1 the swine flu or SARS ?? It's 25% get your facts straight you are only hearing numbers not the reality !! It's God's way of thinning the herd !!"
The reality diva also gave tips for how "compromised" people can avoid catching COVID-19. "If you are vulnerable or compromised stay inside if you don't protect others by wearing masks and gloves keep your distance and don't go out if you are ill !! It's common sense."
Press play below to watch the now-deleted post.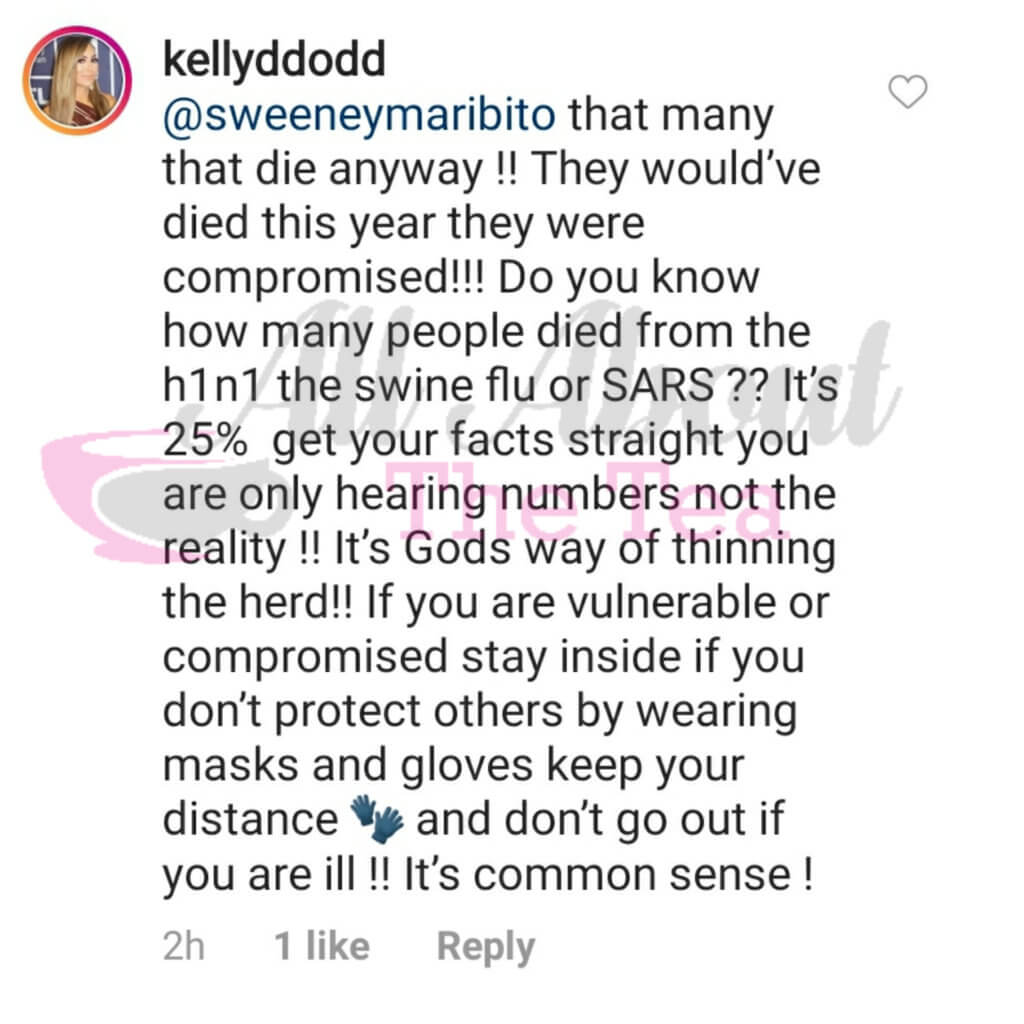 Kelly Dodd's followers were quick to call her out for flying during COVID-19 — then she posted a video of herself getting a COVID swab test. Press play below.
This would be Kelly Dodd's second test in a span of a few weeks and many of her followers were alarmed that she has easy access testing.
Kelly Dodd responded by telling folks that she's "not asymptomatic" — which seemingly means she is showing symptoms of the virus. This led people to question why the reality star was both tested for COVID-19 and on an airplane, apparently on the same day.
"Look back at her posts," wrote @familyfirst1143. "She's in NY then the Hamptons and now flying home. This girl is making a mockery of this. I'm not surprised. More like embarrassed for her."
Someone else called her out. "If non-essential workers keep traveling back and forth like you, it will last longer," said @lunarojanyc. Dodd responded directly. "It's essential that I get back home! I waited…I'm not spreading anything…"
Many questioned why Kelly Dodd left her home in California during a pandemic in the first place to travel to NYC — which has been hit hard by Coronavirus and has the highest death toll from the disease. 
Kelly Dodd lashed out with the following responses below.
"If it's dangerous why are the airlines still flying ? You think I want to fly ?" Dodd responded. "I had to get back how is that elitist ?? People are so judge mental [sic] it's sick!!"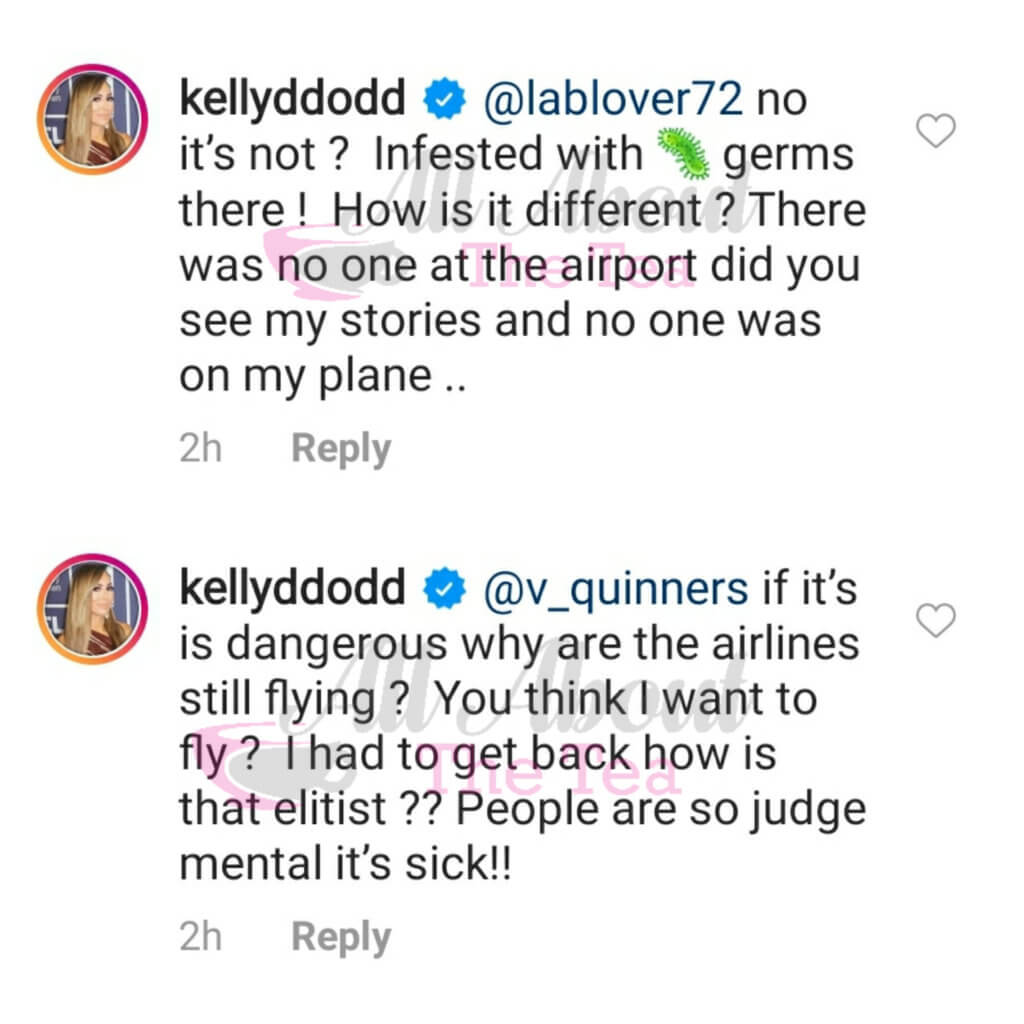 Additionally, Kelly Dodd failed to follow California's executive order in place to self-quarantine following any travel to NYC upon her return to the state of California. 
Share your thoughts on Kelly Dodd saying Coronavirus Is 'God's way of thinning the herd,' while traveling recklessly on planes.  Sound off in the comments below!
Stay Connected With All About The Tea: Twitter Ι Instagram Ι YouTube