'Southern Charm' Star Cameran Eubanks Drags South Carolina Governor Henry McMaster!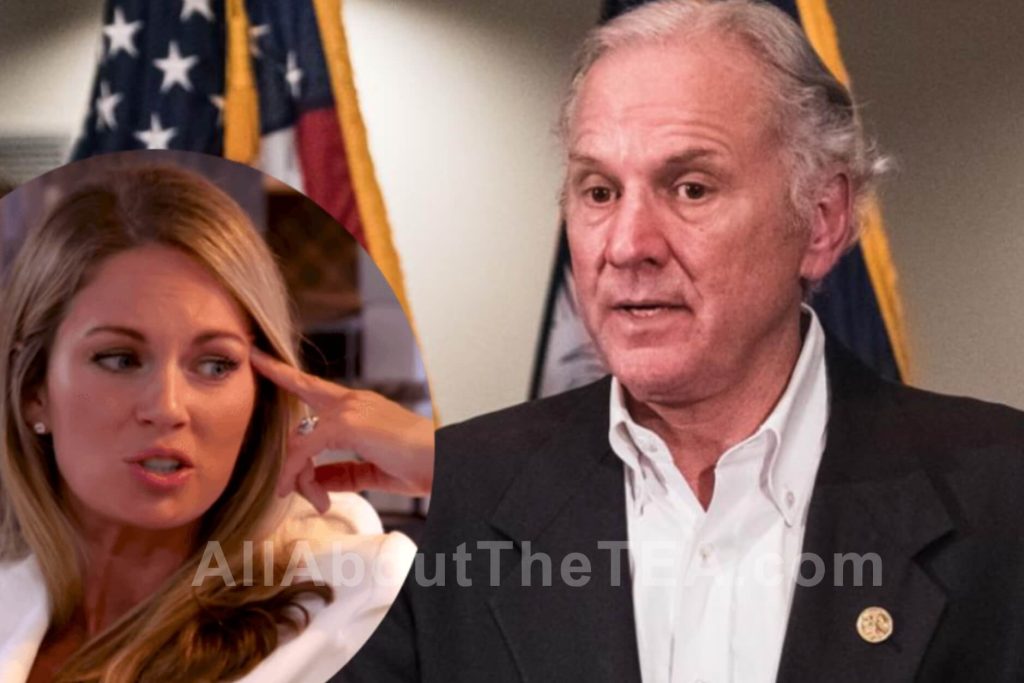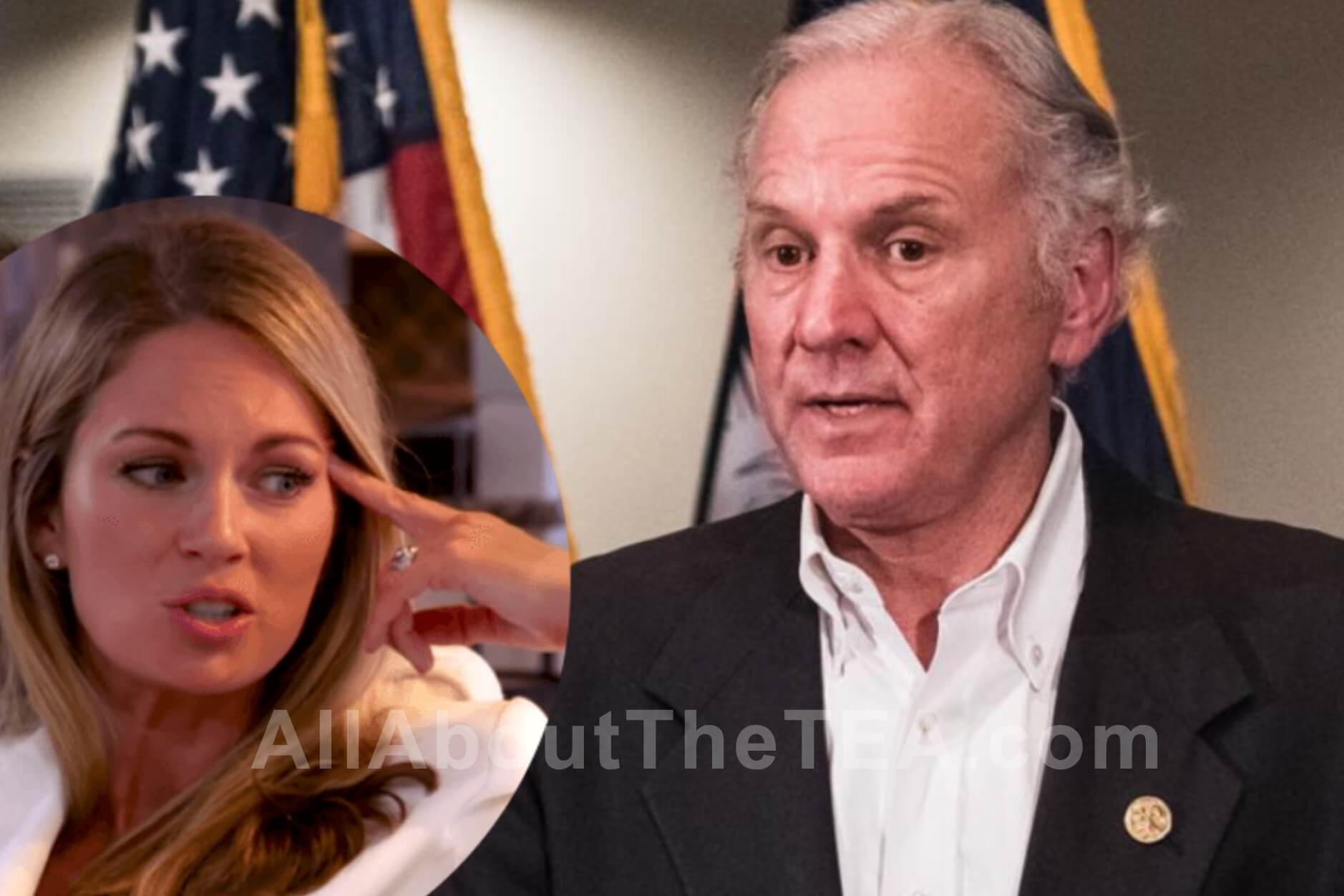 Southern Charm star Cameran Eubanks took to Instagram on Friday to blasts South Carolina, Governor Henry McMaster, over his refusal to issue a Stay-at-Home order to the state of South Carolina in the midst of the COVID-19 pandemic.
"I am embarrassed and appalled that @govhenrymcmaster is continuing to put countless lives at risk in the state of South Carolina. He obviously doesn't understand exponential growth. I never get political on social media but I'm INSENSED (sic) on this!! Fellow South Carolinians please speak out! This isn't a democratic or a republican issue it's F****** COMMON SENSE!!" The Southern Charm star posted on her Instagram Story.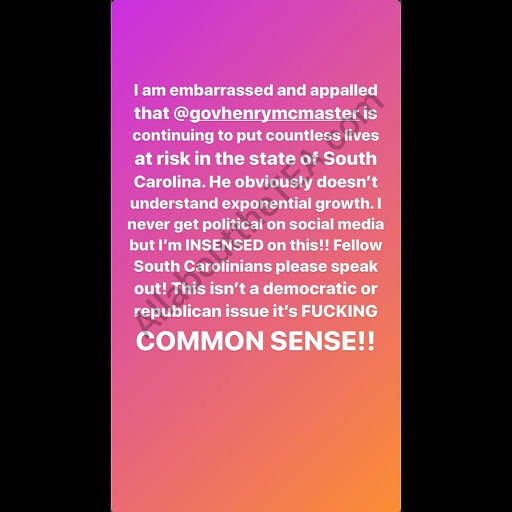 Cameran Eubanks went on to describe the governor's inaction as "Truly unbelievable" and demanded that the SC Governor "do the right thing and issue the order now!!!"
During a press conference Friday afternoon, Governor McMaster stated:
"Every state is different" and cited The Palmetto State's uniqueness for his decision. He was later quoted stating, "They have different economies. They have different resources. They have different medical facilities. We are taking a deliberate approach to be as aggressive as we possibly can at the right time."
READ ALSO: 'Southern Charm' Naomie Olindo's Scandalous Connection To Netflix Series 'Tiger King' Exposed!
On Sunday, April 5, Cameran Eubanks posted another message via Instagram imploring the South Carolina governor to take action as next week will be dire, she wrote: "@govhenrymcmaster what in Gods name are you waiting for?!? Surgeon General Jerome Adams said "The next week is going to be our Pearl Harbor moment, it's going to be our 9/11 moment, it's going to be the hardest moment for many Americans in their entire lives. And we really need to understand that if we want to flatten that curve and get through to the other side, everyone needs to do their part."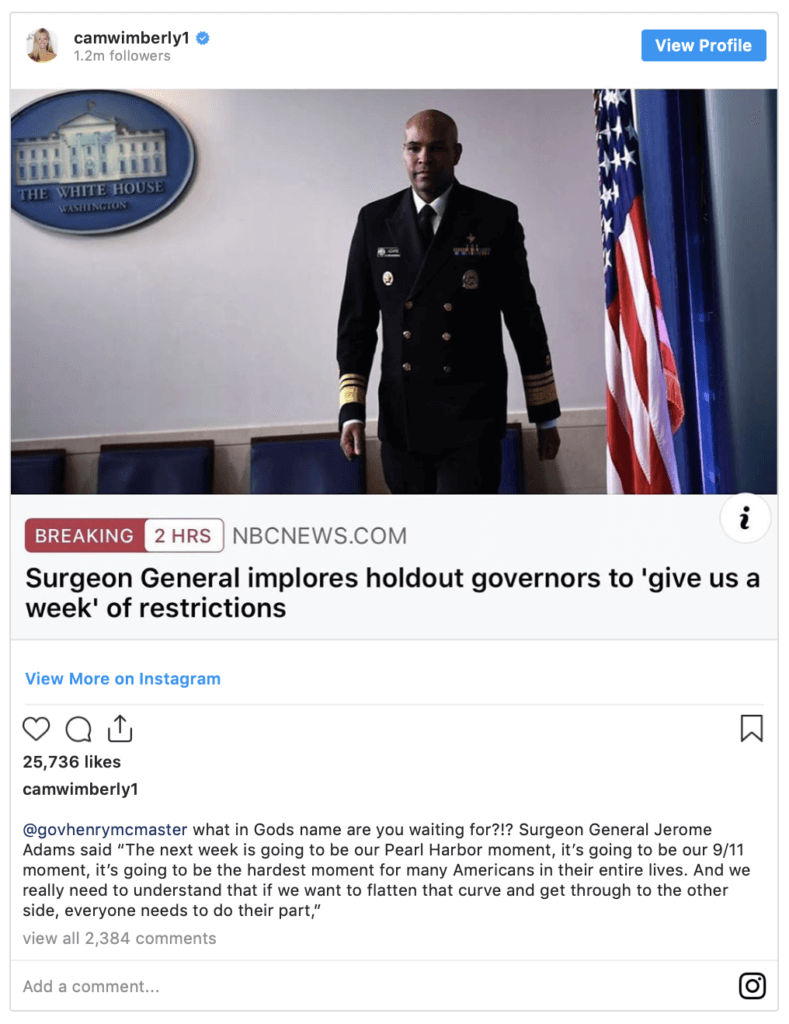 Many are agreeance with the reality star as she was met with a flurry of support from fellow South Carolinians as well as people from many states over.
Cameran Eubanks shared several direct messages she received in favor of Governor McMaster issuing the order and diligently tagged the governor in each one and vowed to continue to do so.
Cameran Eubanks eventually ended her rant by sharing a photo from World War II that depicted a soldier carrying a donkey through a field with a caption that read, "This picture from World War II, a soldier carrying a donkey. It is not that the soldier loves donkeys or has some sort of perversion. What's happening is that the field is mined and that if the donkey was free to wonder (sic) as it pleased, it would likely detonate a charge and kill everyone. The moral of the story is that during difficult times the first ones you have to keep under control are the jackasses who don't understand the danger and do as they please."
PS- CAMERAN FOR PRESIDENT 2020.
Stay Connected With All About The Tea: Twitter Ι Instagram Ι YouTube
Amanda Byerly focuses on Reality TV recaps for All About The Tea. Amanda is a 30-year-old wife, mother and self-proclaimed Bravo TV junkie. When she's not watching Bravo, she's writing about it, reading about it, or listening to podcasts about it. "I get by with a little help from Bravo TV."