'Shahs of Sunset' Inside Tommy Feight's Arrest, Jail Stint & Restraining Order After His Violent Attack On Reza Farahan!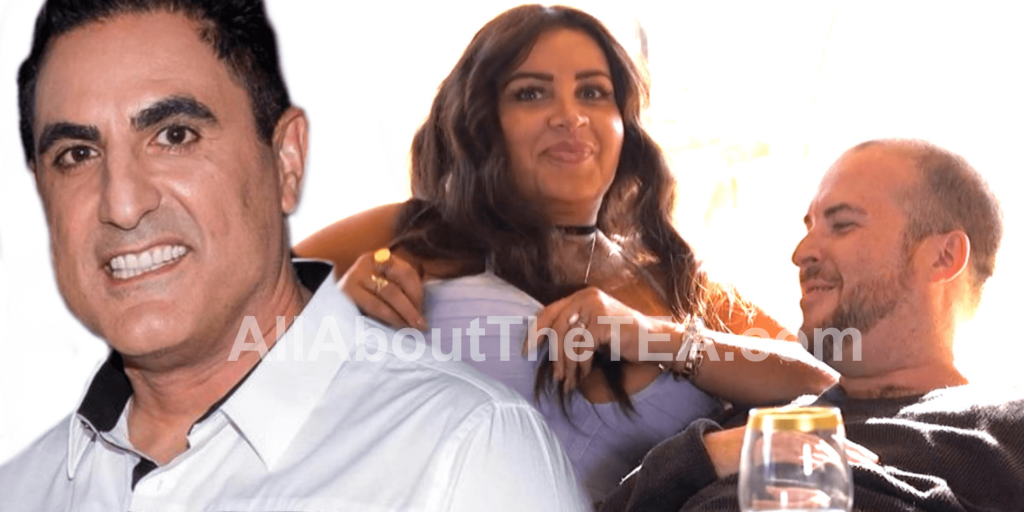 Shahs of Sunset: Reza & MJ's Dramatic Feud Takes an Illegal Turn
You don't need to watch a boxing match to experience a dramatic, knock-out, tear down fight.  The punches being thrown between Shahs of Sunset's Reza Farahan and Mercedes "MJ" Javid have taken an especially serious and illegal turn. 
Abortions. Marriage Trouble. Mom-shaming. Restraining Order. Vandalism. Trespassing. It's all packed into Shah's revolutionary Season 8.  
In 2019, Tommy Feight, MJ's husband, went nuclear on Reza Farahan's Los Angeles home.  It was a disturbing scene: Reza reported that "at 2:18 p.m. on 5/19 he called and threatened my life by phone and at 2:34 p.m. he vandalized our home."  The "he" is Tommy. 
Reza Farahan had video of the event in which Tommy Feight invaded his property, and smashed a potted plant against his fence and furniture. Tommy Feight said, "I broke a plant. I wanted to break his legs." Reza stated that he would fear for his safety without a restraining order.  Reza claimed that MJ's husband "called and said he was going to kill me."
Security footage of Reza Farahan and his husband, Adam Nelly's home, showed Tommy throwing a potted plant around their yard. And this happened in broad daylight.  The alleged vandalism occurred on May 19, 2019, according to documents, and Reza went to court the following day.  Reza filed a restraining order against Tommy Feight, per Los Angeles County court documents.
As a result, Shahs of Sunset stars Reza Farahan and Mercedes "MJ" Javid's ongoing feud — despite 30 years of friendship — is being tried and tested in the courts. A court granted Reza a three year restraining order against MJ's husband, Tommy Feight after he vandalized Reza's home, as captured on a security camera. Tommy was ordered to stay at least 100 yards away from Reza, his home, his job, his vehicle and his husband, Adam. 
In July, Tommy Feight pleaded not guilty to vandalism and trespassing charges brought forth by Reza, who had obtained a temporary restraining order against him. In September, Tommy had allegedly agreed to a plea deal and would plead no contest to vandalism in exchange for prosecutors dropping his trespassing charge.  He was reportedly sentenced to 10 days in L.A. County jail and faced three years of probation after his release.
Shahs of Sunset: Restraining Orders
Restraining orders are issued when someone petitions a court to restrain the behavior of another for safety and security reasons. Restraining orders can be issued on an emergency, temporary or permanent basis.  Note: restraining orders aren't bulletproof. Granted, restraining orders are court orders directing a violent person to stop harassing a victim or the victim's children but they are not invincible.  While restraining orders are a tool – they are not a foolproof tool – against someone who you believe is a serious threat to your well being or your life.  
Many petitioners who file for restraining orders come to court with information and documented evidence.  Typically, petitioners will be placed under oath at a court hearing and expected to show facts and evidence to support their petition for a protective order. 
Threatening texts, emails, social media messages or video footage is helpful proof in support of one's petition for a restraining order.  Generally speaking, verbal rants, accusations, and hearsay hold less weight in a court of law.
READ ALSO: 'Shahs of Sunset' Star Reza Farahan Posts RECEIPTS That Prove MJ Lied!
Shahs of Sunset: Vandalism
In California, the crime of vandalism is defined as maliciously damaging, defacing with graffiti or other inscribed material, or destroying any real or personal property not his or her own. Real property can include vehicles, signs, fixtures, and furnishings.  The severity of punishment for a vandalism charge largely depends on the nature and extent of the damage caused, as well as the defendant's prior criminal history.
Shahs of Sunset: Trespassing 
California law recognizes and respects the sanctity of a person's private property.  As a result, it is a crime to enter or remain on another's property without permission. In California, trespassing can be both a civil and criminal offense. This means you can be sued by a private citizen for trespassing on their property and you can face criminal charges from the state.
Shahs of Sunset: Where It All Went Wrong
Season 8 revolves around the dissolution of a 30-year friendship between Reza Farahan and Mercedes "MJ" Javid that turned especially vial and nasty at a pool party that aired on Bravo March 13.  During that episode, when the two did finally meet face-to-face at Sara Jeihooni's party, hurtful allegations were thrown out by each of them. 
Mercedes "MJ" Javid claimed that Reza and Adam were constantly cheating on one another, while Reza alleged "Your uterus exploded because you had 10 abortions!"  Once MJ's husband, Tommy, found out about what Reza said, he was shown on camera vandalizing Reza and Adam's home. 
What led up to the pool party mayhem?  After delivering her baby, Shams, with complications leading her to land in the ICU, MJ was upset that Reza didn't come to visit her in the hospital as she recovered from an emergency c-section and hysterectomy. (Reza posted screenshots of texts between him and MJ, claiming that he tried to visit her in the hospital but she rejected his attempt.)
Meanwhile, Reza Farahan was upset because he believed that MJ orchestrated for Ali Ashouri to allege that Adam played naked Jenga and sexually harassed him in text messages. When Reza, Ali, and Destiney Rose had lunch together, Ali claimed that MJ was the one behind his decision to open up about the sexual harassment texts.  
Longtime fans of the show have been watching with mouths agape at all the actions and accusations flying between MJ and Reza.  It was very uncomfortable to watch.  As a viewer, it felt like we were privy to extremely sensitive and private information. 
The legal fallout: Reza Farahan was successful in getting a three year restraining order against Tommy. MJ's husband is also now required to stay at least 100 yards away from him during that time period. Reza claimed that Tommy had threatened his life and that he brought a baseball bat to their home. There are allegedly receipts, recordings, and other forms of evidence to prove what MJ did to Reza.  
Ahead of the March 20 episode airing, MJ wrote on Instagram: "His FALSE, SLANDEROUS, DEMORALIZING treatment of WOMEN is UNACCEPTABLE.  People who align themselves with his ABUSIVE attack have blinders on."  All About The Tea's astute readers can read between the lines. Is MJ setting up a claim for defamation with this statement? 
I invite you to unpack Reza Farahan and MJ's allegations, and chime in on the criminal case against Tommy. Besides the downfall of a friendship, how do you see the legal side of this story playing out? Grab your gavel, join the conversation, and tell us what you think!
Shahs of Sunset airs Friday nights, on Bravo, at 8:00 pm ET.
Stay Connected With All About The Tea: Twitter Ι Instagram Ι YouTube
Stacy Slotnick, Esq. holds a J.D., cum laude, from Touro Law Center and a B.A., summa cum laude, from the University of Massachusetts Amherst. She performs a broad range of duties as an entertainment lawyer, including drafting and negotiating contracts; addressing and litigating trademark, copyright, and other IP issues; and directing the strategy and implementation of public relations, blogging, and social media campaigns.