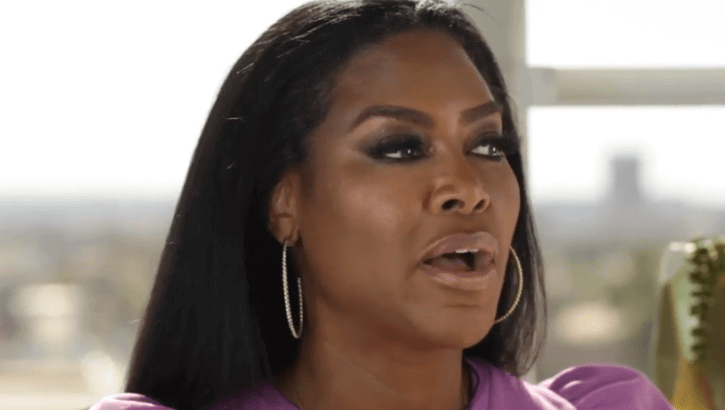 Kenya Moore is feeling embarrassed after her spectacle of a marriage played out on recent episodes of The Real Housewives of Atlanta.
Kenya's alleged husband, Marc Daly was filmed saying he hates his marriage and abruptly quit the Bravo reality series after he hosted a charity event that aired on March 1.
Kenya Moore opened up on the RHOA Aftershow about being disrespected by Marc Daly. She referenced the recent charity event that Marc Daly hosted for black men.
"It was a huge success. Everyone had a great time and it was just a beautiful beautiful event. I have to say. And I have to take the credit for that because a lot it was my doing," Kenya Moore says in the clip below.
READ ALSO: Kenya Moore's Husband Marc Daly Struggles to Fake A Happy Home!
As fans witnessed in the episode, Marc Daly was dismissive and did not acknowledge Kenya's contribution to his charity event. 
"Listen, I've thrown some of the most fabulous parties Atlanta has ever seen, honey. We are not going to forget my forever fabulous and forever relevant party, season 5. I mean come on, what was more fabulous than that? I know how to throw a party." Kenya Moore says in the video below. "I know how to make things look grand. I know that that is a lane that I really do well in and so I wanted to take the league but he also wanted to take the lead and you can only have one quarterback."
Kenya Moore went to explain that she didn't appreciate Marc Daly taking the lead and not consulting her on the event planning.
"I think that Marc likes to be a boss and he is a boss in his own right. So, he's used to taking the lead on business things but I'm his partner and he needs to understand that when you have a partner you consult with your partner. You do things together, instead of racing ahead and basically pretending or treating me like I'm a work buddy versus a partner. So, I let him take the lead but eventually it circled back around to him really needing my help to pull it off." Kenya Moore continued. 
"I was trying to step in at the last minute to take care of some of the fires but had I been involved from the beginning and really had the reigns from the beginning, it could have been out of this world."
READ ALSO: Kenya Moore Admits Marc Daly Dumped Her After Blowout Fight!
A Real Housewives of Atlanta producer asked if she felt Marc was respectful to her enough throughout the entire process of the charity event.
"Respect? What's that?" Kenya Moore whispered then she burst into laughter. "I think that when you want to take the lead on everything I don't think that you respect many things that other people have to bring to the table, including myself. No, I think that I should have been treated in a way that honored the gifts that I could have blessed him with for the event. And I just don't think it happened like that," Kenya Moore said.
The former Miss USA reveals there was tension between the two the evening of the event. 
"I just feel like, all night, there was tension. He just wasn't very warm to me. He never thanked me in front of the crowd. There was just a lot going on but I kept my head up and a smile on our face to represent our family well. It just wasn't a pleasant evening and it didn't end well. I just think at that point we were just very tired of the back and forth and just the stress of our relationship and where we were."
"I'm just happy that the event turned out to be what he wanted," Kenya said.
Press play below to watch Kenya Moore's full RHOA Aftershow interview.
The day after Marc Daly's charity event, he announced that he was dumping The Real Housewives of Atlanta star in a statement to People magazine. 
"I have come to the difficult decision to separate from Kenya at this time. Our daughter has two parents that love her very much and in her best interests, this situation should remain as private as possible. I cherish our family's good times together and will continue to co-parent in a loving way. Rumors, innuendo or false accusations only serve to hurt our family and will be addressed through counsel as the law permits. Please respect our privacy during this challenging period."
His statement was followed by an announcement from Kenya Moore.
"It is with profound sadness that I regret to inform my fans that I am divorcing my husband Marc Daly," Moore said in a statement to ET. "Due to recent and ongoing circumstances, I can no longer continue in the marriage. My sole concern and focus is and will always be my daughter, Brooklyn, my miracle baby. She was made in love and true commitment. I ask for our privacy to be respected moving forward."
The couple married in June 2017, and welcomed their first child, daughter Brooklyn Doris Daly, on Nov. 4, 2018.
Real Housewives of Atlanta airs Sundays, 8 p.m. ET, on Bravo.
Stay Connected With All About The Tea: Twitter Ι Instagram Ι YouTube