Welp, we've made it to the final episode of the Real Housewives of New Jersey. We pick up from last week's episode, where Melissa Gorga confronts Danielle Staub. When Melissa says the group no longer wants Danielle around because of her violent streak, Danielle admits that she only pulled Margaret Josephs' hair because Teresa Giudice urged her to. But for Melissa, this only proves her point — that Teresa makes bad judgment calls when Danielle is around.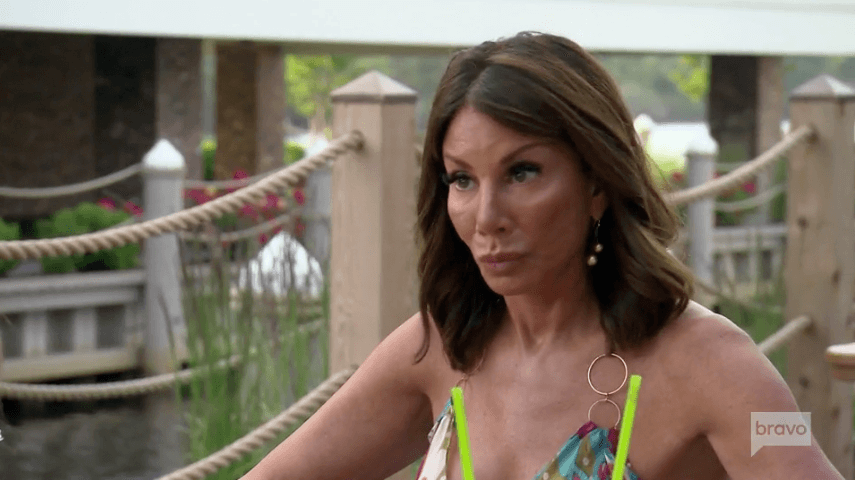 Back at the house on Jersey Shore, we see Frank Catania getting ready for a barbeque. He wakes Joe Gorga from a nap by rubbing a raw weenie across his lips. Cringe!
Melissa Gorga's family has arrived at the house, along with Dolores Catania's friends. Bill Aydin is now awake and sober. Marge Sr. stops by, too. And as they all congregate in the back yard, Melissa arrives from her meeting with Danielle.
Everyone gathers around to hear what happened. Unfortunately, Melissa has to break the news about Teresa's role in the hair pulling incident. The camera closes in on Teresa's face. You can see she's guilty, but at first, Margaret Josephs refuses to believe it. Melissa asks Teresa if Danielle is lying. Not exactly. Teresa stutters out that she'd been drinking that day. It all happened so fast.
Dolores Catania is shocked. And Margaret finally realizes that Teresa was behind the assault. She points out that Teresa has had Danielle's back this entire season, and Danielle just threw her under the bus. Also, Marge calls Teresa an asshole. No arguments here.
Teresa Giudice's response? "I feel bad." She shoots a glance at the cameras. "I hope they don't use it." Melissa mutters that hell yes, they're going to use this footage.
Dolores Catania chastises Teresa, and when Teresa realizes this is all going to come out on the show, she flips off the camera, then throws a drink at the cameraman, hitting Dolores in the process. Then Teresa runs across the patio and shoves a table full of Solo cups to the ground as she flies into the house. Dolores says Teresa is angry with the producers. 
Meanwhile, Margaret Josephs stomps off with her husband, Joe, trailing behind her. Again, she calls Teresa an asshole. Joe is shocked that Teresa was behind the assault. Jackie Goldschneider goes to console Marge, and she's stunned, too.
Teresa Giudice slams into the house and runs up the stairs, threatening to leave the Shore. Melissa says that Teresa always reacts badly if someone calls out her bad behavior. Jennifer Aydin and Dolores follow her into the house. When Jen knocks on the bedroom door, Teresa tells Jen to leave her alone. Dolores says Teresa needs some time to cool off. Teresa never expected Danielle would rat her out and she needs to process it.
We see flashbacks where Teresa denies feeling sorry for Marge and also blames Marge for getting her hair yanked. The producers are throwing Teresa under the bus, as well, and I'm living for it!
Jackie Goldscneider, Marge, and Melissa are still outside. Jackie says Teresa isn't the good friend Marge thought she was. And Melissa says Teresa is so upset because she's embarrassed.
Finally, Melissa goes inside to talk to Teresa. Dolores has been trying to speak to her from the hallway, but Teresa insists she'll call for an Uber and will be heading back to Franklin Lakes. Dolores offers a sage piece of advice: apologize and never speak to Danielle again.
Outside, Marge tells Joe Gorga what happened. He says they've all been trying to tell Teresa the truth about Danielle, but she refused to listen. Hmm, maybe someone should have warned Danielle about Teresa, too. Felons of a feather…
Melissa tries to console Teresa, who finally comes out of the bedroom and says that maybe, perhaps Melissa did her a favor by meeting with Danielle. And she finally realizes all her friends were right — Danielle is a bad person.
Teresa Giudice once more tries to distance herself from prompting Danielle to tug on Marge's ponytail. She'd been drinking. And things just got out of hand so fast! And sure, she was angry with Margaret, but she just wasn't thinking clearly. She's now worried that Margaret will feel let down, and she still wants to go home.
Joe G. goes into the house to speak to his sister, urging her to make amends with Marge. Teresa relents and asks Joe to fetch Marge and bring her to the front porch for a one-on-one.
In the meantime, Teresa calls Danielle. She tells Danielle that she shouldn't have spilled the tea to Melissa. Danielle tells her not to be upset. After all, Teresa did encourage Danielle to pull Margaret's hair. "But what did I say afterward?" Teresa whines. Danielle admits that Teresa told her she never should have done it. Too little, too late, though. Teresa now says she never wanted Margaret to get hurt. She wishes Danielle the best, but the friendship is over.
Marge and Teresa meet on the front porch. Teresa apologizes and says she's upset. Marge wonders if she's upset that she got caught or that Marge got hurt. Margaret is doubly humiliated because her first instinct was to accuse Danielle of lying. Now, she feels like a fool. 
Margaret realizes she really cared about Teresa, but the feeling wasn't reciprocated. Margaret would never have put Teresa in that position. Teresa says that Marge treated Danielle badly and she just wanted Danielle to stand up for herself. But now she finally sees Danielle's true colors, and their friendship is over. 
READ ALSO: Margaret Josephs Calls Teresa Giudice An Embarrassment For Siding With Danielle Staub In Ponytail Attack!
While Teresa remains on the porch, everyone congregates in the kitchen. Marge says she's upset that even after the assault, Teresa kept defending Danielle. Jennifer, Dolores, and Joe G. are thrilled that Teresa has finally cut Danielle out of her life. If this is what it finally took, so be it!
And now, just half way through the episode, we get a wrap up on all the castmates. Jackie had a birthday party for her nine-year-old twins. They went to dinner and a movie — and didn't invite Jennifer.
Jen wants to buy a home in the Hamptons, but she doesn't want to live near Jackie.
Dr. David's house is complete, but instead of moving in, he's living with Dolores and Frank. And she still doesn't have a ring.
Melissa Gorga and Joe hired an au pair so she'll have more time to work outside the home.
And Margaret settled her lawsuit. Now, she's ready to finish her house. If only Joe will get his ass in gear and get to work.
As for Teresa, we follow her and the girls to Italy. We see lots of footage of Juicy Joe getting shuttled to and from court.
When the Giudices arrive in Italy, they only have a weekend to visit with Juicy. Teresa feels resentful toward him. Not only did he cheat on her, he was supposed to protect her, but instead he robbed her of time with her mom and kids.
Teresa Giudice and the girls go to the small town built into the hillside. This is where Joe and Teresa's parents were born. To get to Dad, there are stairs. Lots and lots of stairs.
As soon as the girls see Joe, Melania and Audriana run and hug their dad. Gia cries as she embraces him, and Gabriellea tears up, too. Teresa offers Juicy a quick kiss. Then cousins and other relatives pour out of the house to greet the Americans.
There's a huge spread of homemade food and wine. Audriana and Melania flank Joe as they eat. They cling to their dad, hugging him throughout the meal.
I'm not going to lie, my eyes might have watered a bit as I watched the girls reunite with their dad. Damn you, Bravo!
Juicy has lost a lot of weight. He says he came to Italy with nothing. They practically threw him off the plane.
The quiet one, Gabriella, complains about needing a shower. Joe reverts right back to his usual grumpy self and tells her to pipe down or she's going to give him a headache.
That night, they arrive at the hotel. The girls are shocked to have to schlep their bags themselves. The accommodations are kind of sparse.
Juicy and Teresa finally have a moment alone. He hasn't had to deal with the girls in three years, and he's forgotten how annoying they can be. Teresa points out that they're tired and they're teenagers. He says the kids are stressful. She asks if he's sleeping at the hotel.
He's welcome to stay with the girls. He complains that the beds are little. He wants to spend the night with her, but Teresa says they haven't been together in four years. They need to take it slow. He takes his wine and leaves.
The next morning, the girls are getting ready as Juicy shows up. He comments on Teresa's skin tight jeans and nice curves. In the van, Melania and Audriana fight over who gets the middle seat.
They see a rainbow on their way to the Amalfi coast. Joe reaches over and rubs Teresa's arm. He promises to take her Monte Carlo. She's less than enthused.
As a family, they walk through the town, looking at the architecture and shopping for jewelry. Juicy keeps trying to suck up to Teresa. He asks if she likes a trio of rings and slings his arm around her shoulders. Gia says that her family has been in turmoil so long, the little moments are the ones that count. 
They walk beside the water and take photos. Teresa acknowledges that her husband is trying to be sweet, but she hasn't been happy with him for a long time. We see flashbacks from the first few seasons of the show, where they actually seemed to be united as a couple. But those days are over. She's as done with Joe as she is with Danielle.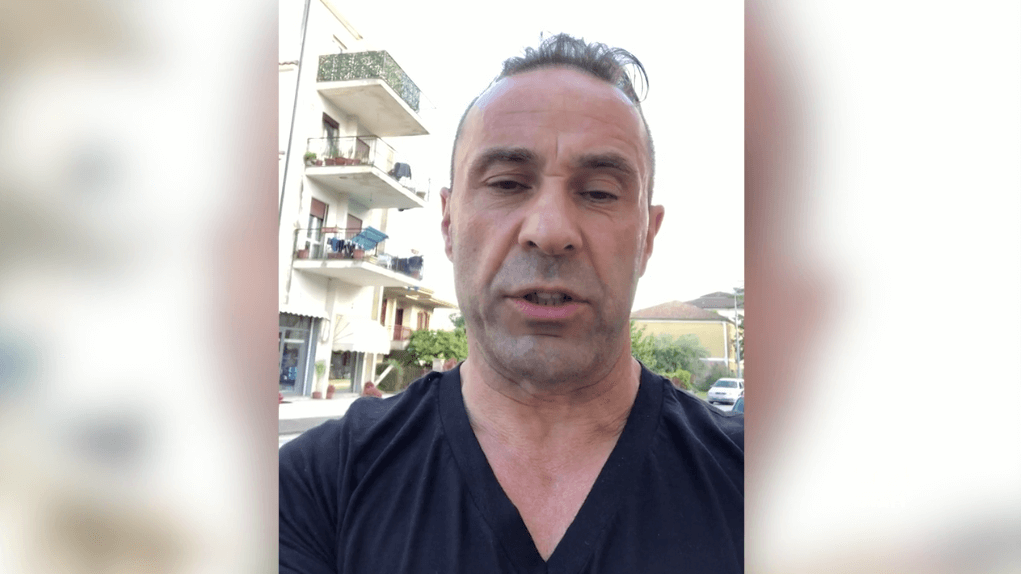 They stop at a restaurant for lunch, and as the family loosens up with pasta and wine, they seem to enjoy each other's company. They have to leave the next day, and once more, everyone starts crying. 
Joe apologizes to the girls for everything that's happened. He promises to keep them all together somehow.
Later that evening, they head back to the hotel. Joe and Teresa have some time alone. She points out that he's been drinking a lot of wine. He says he'll stop when they leave. 
Teresa broaches the subject of their marriage. She wants to know what he thinks about their future. He thinks they can live by flying to meet each other every few months. Maybe it will be good for them. But he won't even look at her. He's said some pretty shitty things to her over the past few years. She wanted him to protect her, but he let her down. Hey, says Juicy, that's life. Shit happens. It's in the past. Get over it and move on.
He doesn't want their marriage to fall apart. But if she's ready to end it now, he understands. 
Teresa's frustrated that Joe still won't take responsibility for landing them both in jail. She blames him entirely. She wishes him happiness, but she's done.
He goes to spend the night with the girls and they give each other one last hug. And I guess that's the end of the Giudice marriage.
At three a.m. the next morning, Teresa and the girls get up for the flight home. She says they're still trying to appeal his deportation, and she's not going to tell the girls that her marriage is over. Not yet. 
As she says goodbye to her dad, Gia is practically inconsolable. He hugs all the girls before they hop into the van to go to the airport.
Teresa now wants to focus on what makes her happy. Here's a hint: it's not Joe.
So, what did you think of this season? Are you glad Danielle is gone? Did Teresa do the right thing by not telling her girls the marriage was over? And how can Margaret forgive Teresa and move on with their friendship?
Stay Connected With All About The Tea: Twitter Ι Instagram Ι YouTube