Teresa Giudice Told Danielle Staub to Pull Margaret Joseph's Hair!
On the Real Housewives of New Jersey, we're still on the Jersey Shore. Crammed into one house on Point Pleasant Beach, Melissa Gorga, Joe Gorga and Teresa Giudice are forced to share a bathroom. Margaret Josephs is pissed that Jennifer Aydin shat on her moment with Teresa. Jennifer complains to Dolores Catania that Margaret threw shade about Jen not working —even though she's raising five kids. Along with her nanny. And Jackie Goldscneider's husband, Evan, arrives. The dude bros are happy to have more testosterone in the house.
Down on the boardwalk, they all tramp out to the beach. Lying on their cabanas, everyone orders cocktails. Lots and lots of cocktails.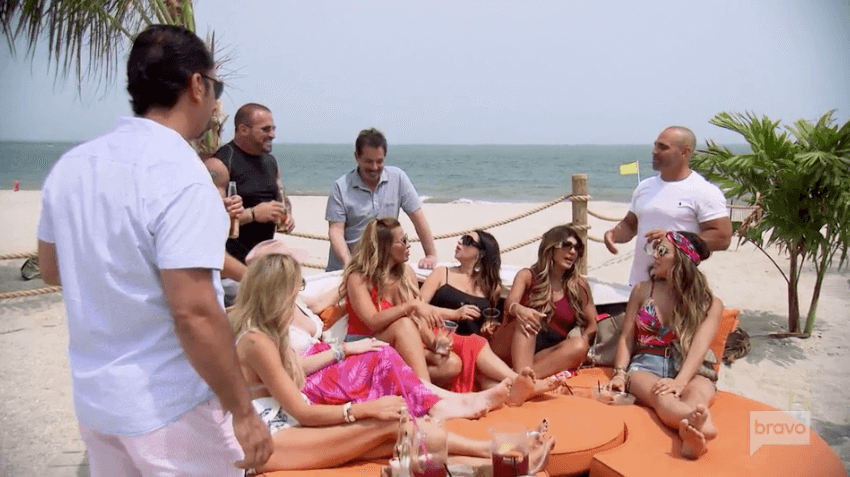 Joe Gorga wonders why Dolores's boyfriend, Dr. David, isn't on the trip. Because he has to work. Joe doesn't accept this excuse, because you know who is here? Her ex-husband, Frank. He's always around. Joe thinks Dolores and Frank are soulmates. But when he suggests they just get back together, Dolores nixes the idea. Frank says he'd never reunite with his ex-wife because he's not sure he could be faithful to her.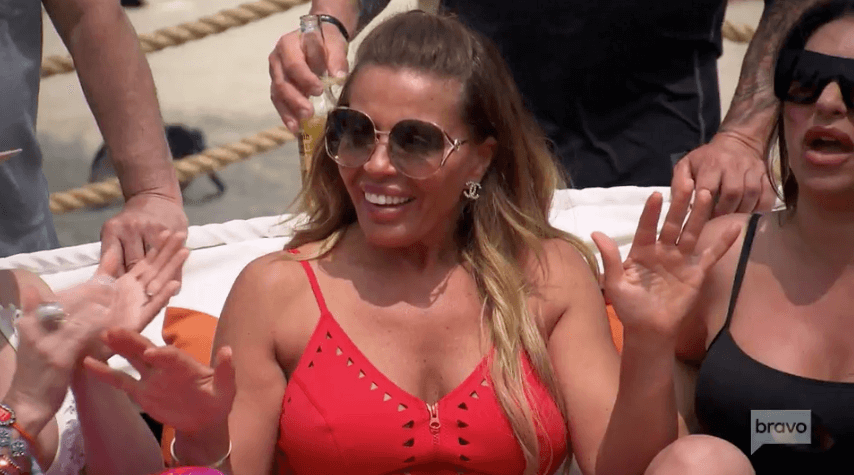 Joe wants Dolores and Frank to kiss — a slow, romantic one. When they give one another a peck, Joe grabs Frank's face and plants one on his lips, to show Dolores how it's done.
Jennifer Aydin and Teresa Giudice go for a walk on the boardwalk. Bill hands Jen a wad of cash so she can shop. And while the ladies are having a little retail therapy, Melissa and Joe take a stroll along the beach. Melissa talks about how proud she is to be from the Garden State. Joe Gorga is as crazy about Melissa as when they first met. But he points out that if they had a baby at home, she couldn't take time off to go to the shore. Joe tells her to embrace her life and stop wishing for things she doesn't have. She agrees and they hug it out.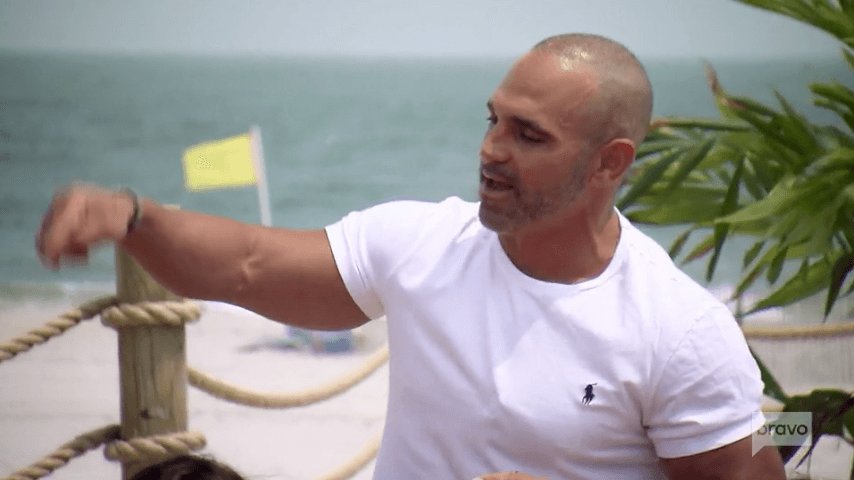 Evan and Bill hit the boardwalk games and win stuffed animals. Meanwhile, Teresa and Jen buy souvenirs for the kids.
At the cabana, Margaret is still bitching about Jen. Dolores tells her to chill out. Jen speaks before she thinks, and she means no harm. Why does Marge want to obliterate Jen anyway? Just ignore her dumb statements and move on.
READ ALSO: Joe Gorga Busted For Shoplifting From Home Depot!
Eventually, they all head back to the house. Joe and Frank spend some time bro bonding by shaving shirtless in the bathroom together. After everyone gets ready, Joe uses a heavy hand as he pours out pre-dinner shots. Jen slams tequila — a double shot. You know that's not going to end well. Everyone heads out to dinner at a restaurant in town. They're shown to a private room and order copious amounts of booze. Teresa eats bread, even though she claimed a couple of weeks ago that it makes her feel like shit.
The guys plan to fish the next day. Jen wants to go parasailing and gets Dolores to agree to come with. Melissa wants to do mini golf, and afterward, she plans on meeting with Danielle Staub. Melissa Gorga is drawing a line in the sand, saying the women are tired of Danielle being violent and they don't want to be around her anymore.
Then Jackie stands up and issues a challenge: she can chug a bottle of beer faster than anyone else at the table. Joe takes her up on it. Evan and Teresa are game, too. Jen says to Jackie, "You know how to suck a bottle, but you can't suck a dick." Marge and Jackie are offended. Margaret tells her to learn how to read a room. 
Margaret Josephs takes Jen to task about ruining the bonding moment she had with Teresa Giudice earlier that day. While Marge was trying to find common ground with Teresa over their finances, Jen pointed out that Teresa doesn't have a husband to help her, whereas Margaret has an able-bodied husband, standing by her side.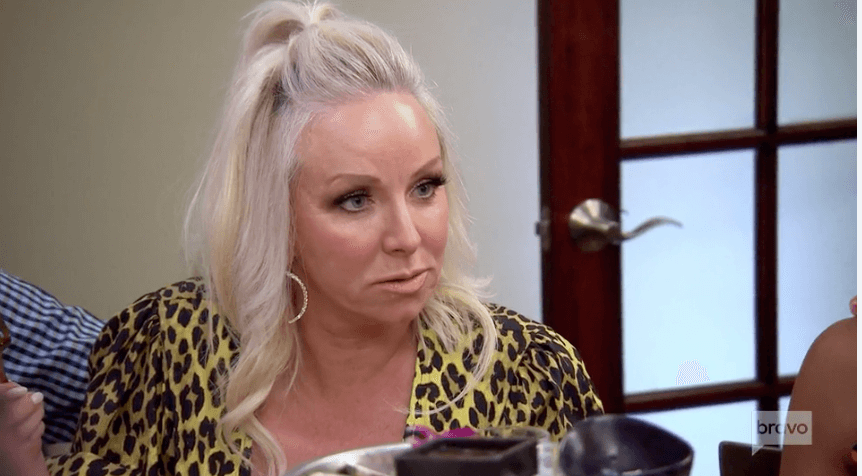 Jennifer Aydin claims she didn't mean anything by her comments. There was no ill intent. Dolores backs this up, saying Jen is harmless. And Jen confronts Marge about not working outside of the house. Jen says that taking care of kids for fourteen hours a day is a real job. Marge is livid. She stands up and wags her finger. The only thing Jen has ever achieved is marrying a rich man — and she's surprised Bill's stuck with her this long. Ouch! Harsh words, Marge. Then she and husband, Joe B., leave the restaurant. The Gorgas and the Goldschneiders rode with Marge, so they leave, too.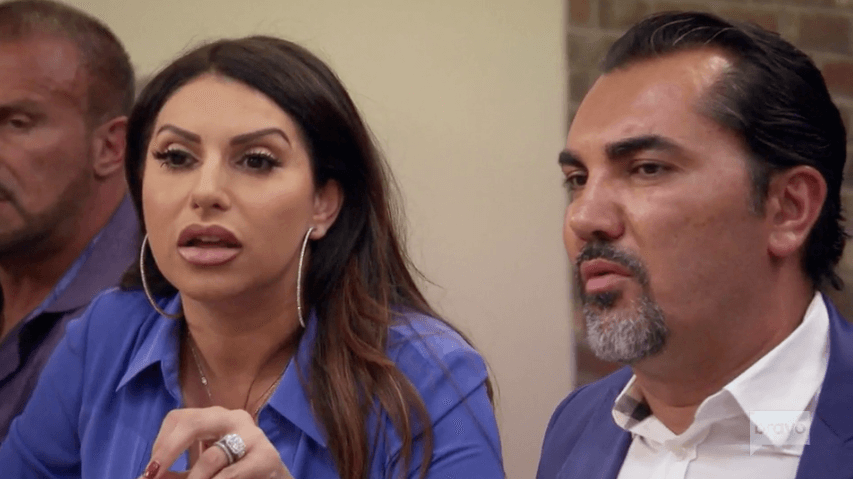 Dolores Catania admits Jen says lots of inappropriate things, but she's not coming from a bad place. Bill thinks everyone should sleep on it and reexamine their feelings in the morning. 
The next day, Teresa calls Nono. He complains about having no hot water in the house. Dolores wakes Frank to go fishing. Joe B. greets Jen in the kitchen, and they're cordial.
Then the men gather for their big fishing trip. They head out on the water aboard the Ol' Salty II. They're on the hunt for seabass. And of course, they lubricate their experience with shots and beer. Joe Gorga pours liquor right into the men's mouths. Then he starts trouble again by saying Jen owns Bill's balls. To prove he's the master of his scrot, Bill knocks one back. 
Later, after a fruitless day of fishing, Bill tips back the rest of the tequila bottle and drains it. The other men dub him an official Guido for the rest of the weekend, then Joe strokes the hair on Bill's chest to show the other guys that Bill's a real boy!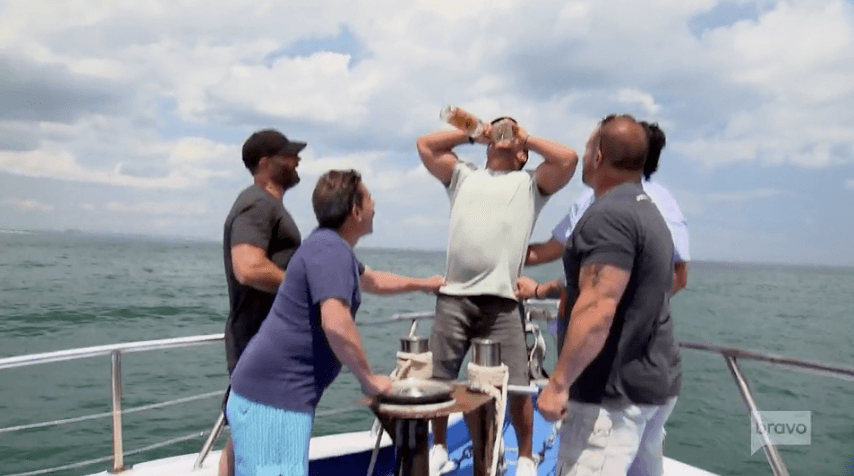 While the menfolk are getting shitfaced, Teresa, Jen, and Dolores go parasailing. Dolores is having second and third thoughts about it, though. When the boat captain promises she won't fall in the water, she calms down. They sail over the choppy waters and Jen can't stop burping. This is what happens when she's seasick. Despite all that, Teresa, Dolores, and Jen sail over the water, side by side. Dolores screams her head off, but in the end, she's glad she got up in the air. 
READ ALSO: 'RHONJ' Star Melissa Gorga Busted For Selling FAKE 'Illegal' Chanel In ENVY Boutique!
At mini golf, Jackie Goldschneider, Margaret Josephs, and Melissa pick out colorful balls. Marge isn't a fan of mini golf, but she rather "wax her vagina with molten lava than spend the day with Jennifer." The course is a little underwhelming, so Jackie gets on the ground and tells Marge to aim for her cleavage. That's one way to liven things up, I guess.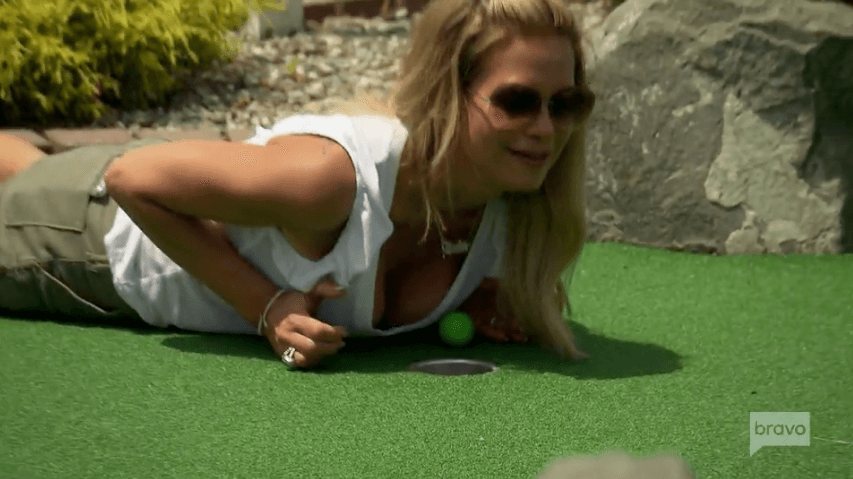 Melissa Gorga's game is off because she has to meet with Danielle later. She knows things aren't going to go well. Melissa thought Danielle had changed her ways, but she was proven wrong. Marge believes Teresa is weak and going through a lot in her life, and Danielle isn't helping.
Eventually, Margaret Josephs, Melissa, and Jackie head to the marina for lunch, and get a table big enough for the other women to join them. When they all reunite, the booze flows again. Jen goes to the bathroom and changes into a t-shirt that says Sorry Not Sorry. But Melissa is still waiting on Jen's apology. For what, Jen wants to know. Um, for throwing silverware in the Hamptons a few weeks ago, dumbass.
Over chips and guac, Melissa Gorga talks about her upcoming meeting with Danielle. Teresa doesn't think it's fair to boot Danielle from their group. Marge has done a lot of damage to Danielle. It's a two-way street. And how dare anyone tell Teresa who she can hang with. That's not fair!
After lunch, the women go back to the house. The men soon follow. Bill is so drunk, he can't walk. Frank hoists Bill over his shoulder and the rest of the men take a limb and carry him into the house. They deposit him on the bed.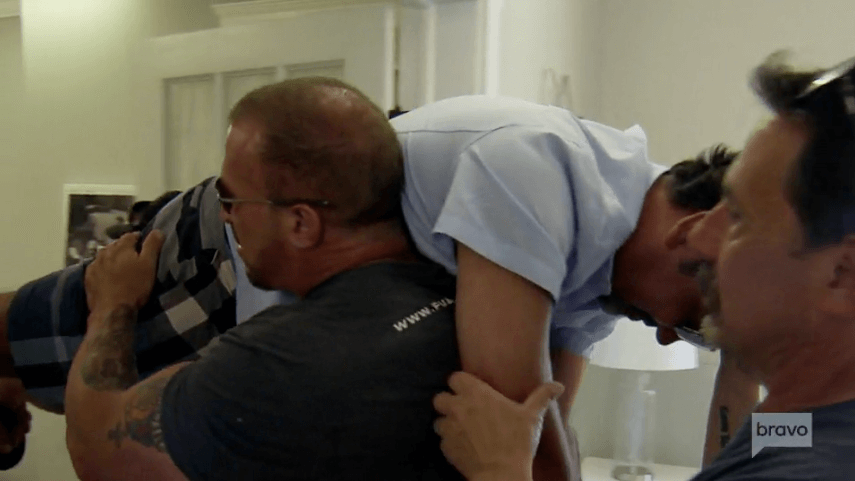 Joe Gorga comes in and rubs a wet cloth over Bill's face. In turn, Bill gets two handfuls of Joe's pecs and squeezes them like a pair of melons.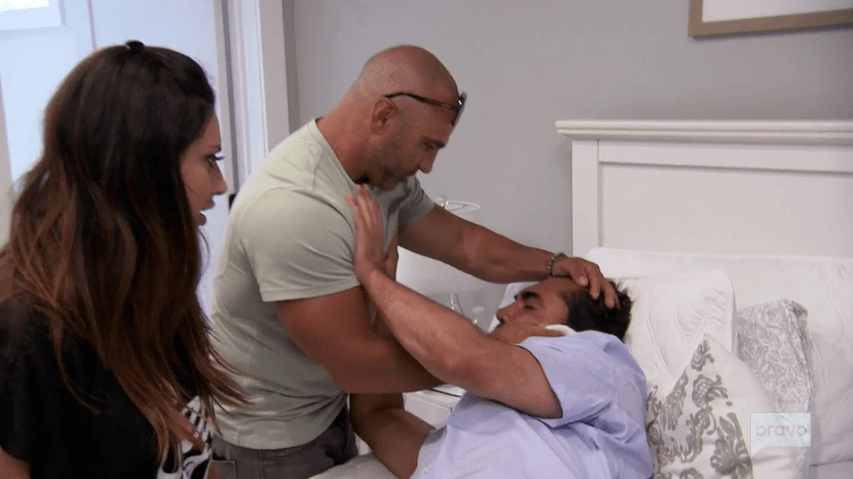 Downstairs in the kitchen, Joe wants to continue drinking. Frank is sober enough to realize that they need to hydrate with water. Too bad Joe's not listening.
Melissa Gorga leaves the house and heads to a waterside restaurant for her showdown. When Danielle arrives, they don't hug. Danielle says her daughter goes to school close to the shore, and that's why she's such a frequent visitor. Then they finally get down to business. Danielle Staub doesn't understand why Melissa has turned on her. Melissa acknowledges that while Danielle has never hurt her personally, she's caused friction in the group. Danielle demands to know how. Um, by yanking Marge's hair. That says a lot about Danielle's character. But Marge threw wine on Danielle and then poured water on her head. How's that not abuse? Melissa keeps talking, saying she speaks for the group and they don't want Danielle around.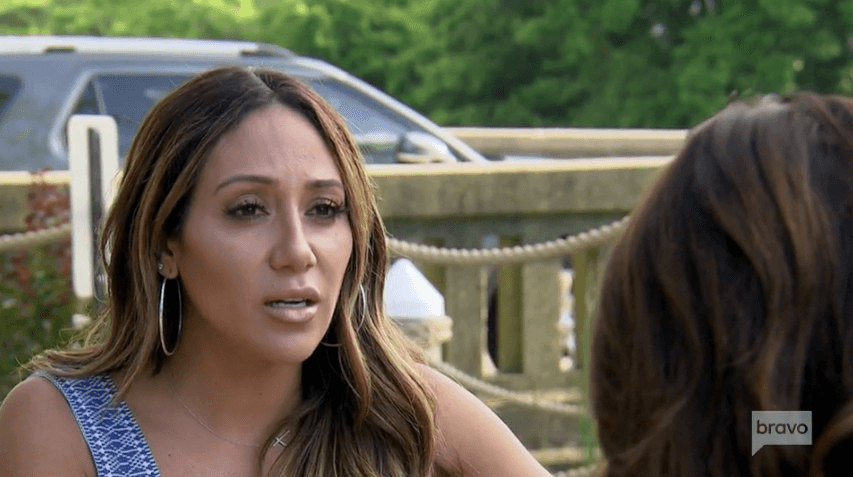 What about Teresa Giudice? Does she want to cut ties with Danielle? Melissa thinks Danielle makes Teresa laugh, sure, but Teresa is going through so much right now, she's not in her right mind. And Melissa is afraid that if Danielle pulls another stunt like she did with Marge, it will adversely affect Teresa. 
Danielle Staub blames her actions on alcohol. Oh, and she was influenced to take things a step further. The owner of the boutique, Steven, encouraged Danielle to pull Marge's hair. And  as AllAboutTheTEA.com exclusively reported, Teresa told her to pull Marge's hair, too. We see a flashback of Teresa and Danielle whispering and giggling. Teresa says, "Do it. Do it. Do it. Do it."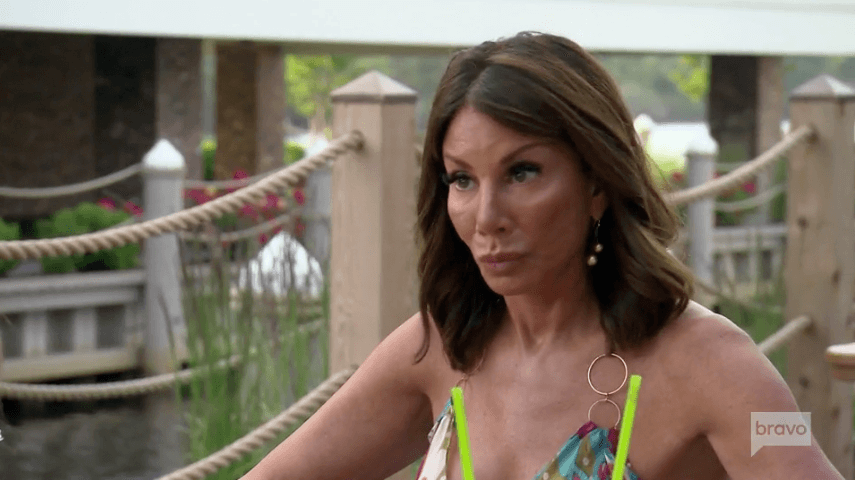 EXCLUSIVE: Danielle Staub & Teresa Giudice's Friendship Fallout EXPOSED — Danielle Betrayed Teresa & Melissa Gorga Is Involved! 
And that ends our episode. Next week is the Real Housewives of New Jersey season finale where Teresa and the girls go to Italy to visit Juicy Joe.
So, do you think Teresa Giudice was as much to blame for the hair pulling incident as Danielle Staub? Is Jen just ditzy and harmless or is she more cunning than the others realize?
Stay Connected With All About The Tea: Twitter Ι Instagram Ι YouTube