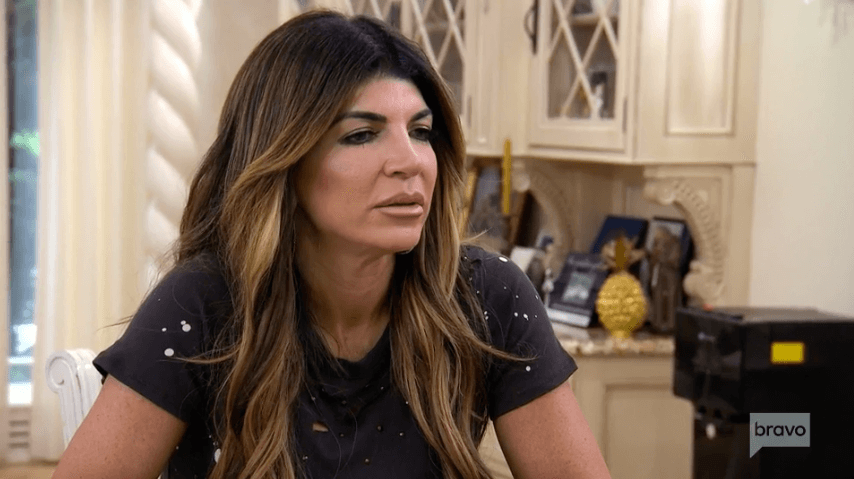 Welcome back to the Real Housewives of New Jersey. Teresa Giudice, her daughters, Gia and Melania, are headed to the ICE facility to see Juicy Joe. But she forgot her driver's license and the girls' birth certificates. If she has copies, it might be good enough. She calls brother, Joe Gorga, to take pics and send them to her, hoping the guards take pity on her.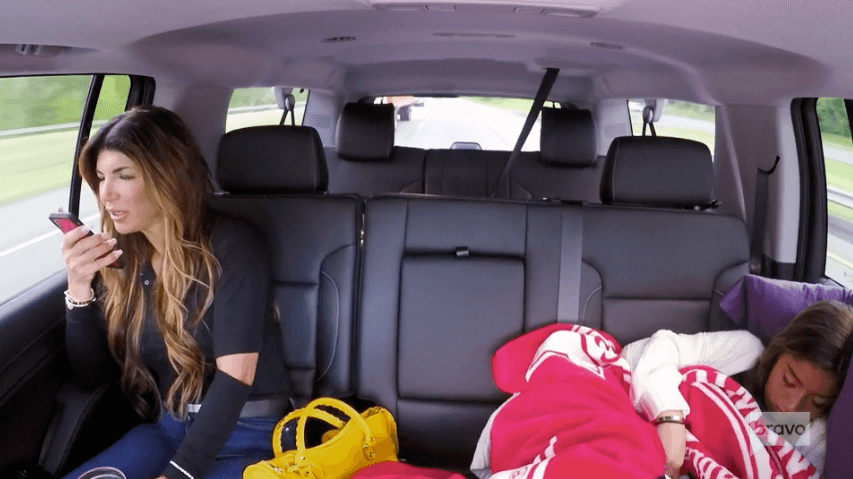 They did, but the cameras weren't allowed inside the facility. After the visit, Teresa Giudice and Gia discuss how thin and beat down Juicy seems. They had to visit him behind glass and weren't allowed any contact with him.
Gia wants her father to keep fighting to stay in the states. On the way home, Juicy calls. But the girls are too tired from their road trip to talk and want to take a nap.
Over at Dolores Catania's house, her daughter, Gabrielle, is home for a visit. She didn't get into a vet school in the states, so she's attending school out of the country. As they wash the dogs, Dolores discusses her boyfriend, Dr. David. But David hasn't made any commitment to Dolores. She's not moving into David's new house (the one she's building and decorating for him) unless there's a ring on her finger.
Dolores says she's not expecting anything from David. She's been hurt too many times. Gabrielle points out that she wants to have expectations of the man she chooses. She tells Dolores to have a real, meaningful convo with the doc, but Dolores doesn't like having deep talks. It's too uncomfortable. 
In Paramus, we catch up with Jennifer Aydin and her husband, Bill. They're out for date night in an outdoor restaurant. Bill's not on call, so he has a cocktail. Jennifer sticks with water for a change.
Jennifer tells Bill that she and Margaret Josephs met up for dinner to discuss Marge's upcoming anniversary party for her business, the McBeth Collection. Marge is worried that Jen will lash out like she did in the Hamptons. Things got so confrontational, Jen and Dolores left early. What will happen when Jen sees Jackie Goldschneider and Melissa Gorga? She tells Bill how disgusted she is over Jackie not spending money for her kids' birthday parties. Bill agrees, saying if adults attend, he wants five different food options. But, he concedes, that is the culture in which they were raised.  Jen admits that she feels bad for calling Jackie cheap — even though she really believes it. She wants to apologize, but she's not sure what to do with Melissa. Maybe she shouldn't have thrown a plate across the table, but Melissa deserved it!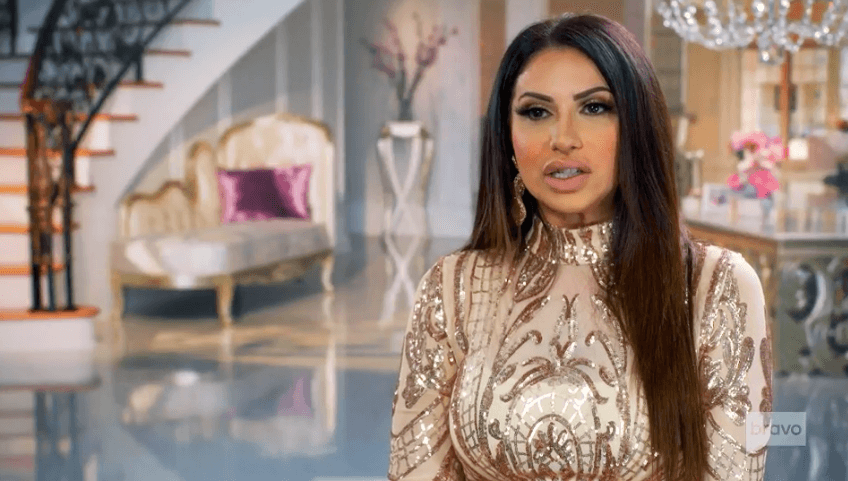 We catch up with Melissa. She meets her mother and sisters for dinner. Melissa has been arguing with her daughter, Antonia, over dresses for a dance. Everything looks like stripperwear, and Melissa is tired of it. Melissa's mom says Mel herself was a handful, and Melissa didn't start liking her mom until she was in college.
Over pink martinis, the women complain about teenagers. Melissa's mom says having her youngest at age thirty was too old. What?! Melissa is talking about having another baby now that she's forty. Her sisters think she's lost her ever-loving mind. Melissa has a thirteen-year-old, and she wants to start over?! Her sister says she's having a mid-life crisis. Yep, Mel, you're middle aged. Deal with it. 
At Teresa Giudice's house, Gia is starving. Nono gives her cheese and a pear. She wants sausage instead. Teresa is having issues with a leaky kitchen sink. She's called Joey G. to come over with his tool belt to bail her out. The trap was loose. Mystery solved. Joe wants to know if Gia and Dolores's son, Frankie Jr., are making a romantic connection. Nono thinks Frankie Jr. is too thick. Those are called muscles. Unless he's talking about Frankie's noggin, and then he might have a point.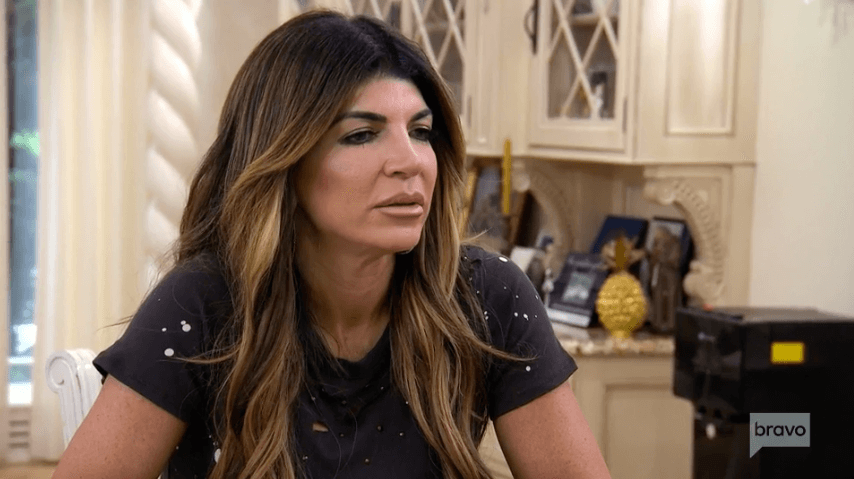 Joe asks about Teresa's visit with Juicy. Gia says her dad will keep fighting to stay in the country. Joe thinks that's crazy. Why throw good money after bad, when their lawyer told them the chances of Juicy getting an appeal were next to zero? Gia leaves the kitchen and Nono shuffles away, so Joe and Teresa can have a heart to heart.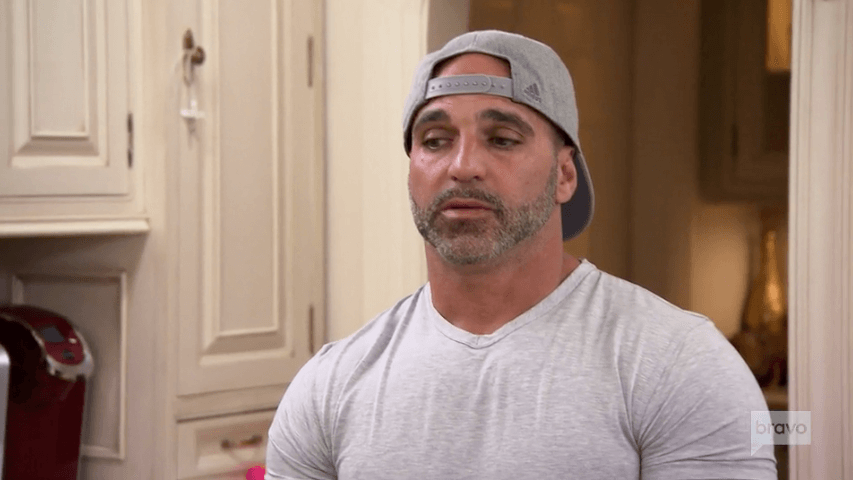 Juicy recently admitted to Teresa that he has no feelings left for her. He wants her to go off and find a new man. Joe thinks his is needs to get on with her life. Even Gia has stated that she doesn't care if her parents divorce. Joe says that Juicy never treated Teresa the right way. He doesn't think their relationship has ever been good. According to Joe, a real man can look his woman in the eye and say, "I love you. You're amazing. You're beautiful. That's a fucking man." Joe is usually an animal, but every once in a while, he comes up with a nugget of truth. Good for you, Joe!
Jackie Goldschneider stops by her dad's house. She's hired professional organizers and is making him get rid of his hoarding mess. At first, he doesn't want to get part with anything. But once Jackie points out that he doesn't need fifty coffee mugs, he becomes more comfortable with the process.
Outside, Jackie and her dad sit and talk by the pool. She's worried about his health. The only thing in his fridge is mashed potatoes and iced tea. But her dad has his own issues with food. He got lap band surgery, and if he gains five pounds, he freaks out. Jackie thinks that her anorexia inspired him to lose weight. He didn't have will power, so he had surgery. Her dad doesn't understand what she went through to maintain that low weight. She was literally starving herself, licking ice cubes in lieu of dinner. Jackie doesn't want him to imply that her eating disorder was a good thing. He finally agrees to stop talking about her weight.
EXCLUSIVE: Danielle Staub & Teresa Giudice's Friendship Fallout EXPOSED — Danielle Betrayed Teresa & Melissa Gorga Is Involved! 
Inside, the organizers have already cleaned out the cabinets. Her dad is satisfied with his new, streamlined kitchen.
We see a quick montage of the women. Marge talks about her upcoming party and hopes the men know what black tie means. Teresa's hairstylist has made a house call and is washing her hair in the now fixed kitchen sink. Dolores is getting her hair curled and wishing Frank Sr. a happy birthday. And Jackie talks to husband, Evan, and discusses how great of a hostess Marge is. But she's worried about her relationship with Jen.
And speaking of Jen, Melissa says Jen had better not even speak to her at the party. Joe thinks Jen gets so heated because she's sexually frustrated. We're treated to a flashback of Bill saying he only gets laid once a month.
Jen has promised to keep her cool at Marge's party. And Marge is holding her to it. She will have security throw those bitches out if they get rowdy. For the party, Margaret wears in a boob-revealing dress complete with epaulettes. The servers don blonde wigs with pigtails a la Marge. And the shirtless waiters will be displaying her new jewelry line. Marge has provided a shit ton of desserts and champagne. She may have paid through the nose with her lawsuits, but she refuses to quit. McBeth will live to see another day!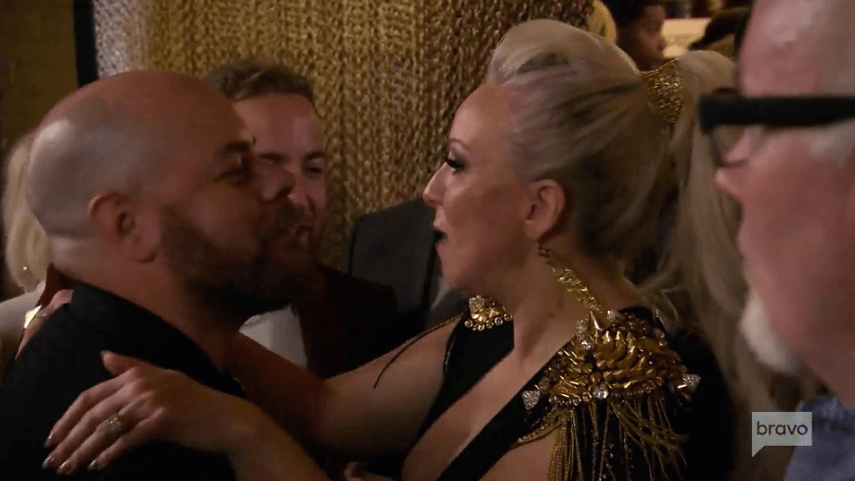 People begin arriving, including Marge's stepson, Brett. Dolores comes solo. No Frank Sr. No Doctor David. Jackie and Evan arrive next. Jackie has never met David, and she's wondering if he's Dolores's invisible boyfriend.
The Gorgas show up. Kisses are shared by all. Dolores says she's rented a house at the Jersey Shore. She's inviting all the women and their men, too. Yep, that includes Jennifer. Mel and Jackie have had enough of Jen's bullshit. But with the men along, maybe things will be calmer. Speaking of the Aydin's, they roll up to the venue and Jen immediately wants tequila. No, Jen! That always spells disaster.
Everyone comments on Marge's free-range titties. You can't help but notice them. When Jen arrives, Melissa plays it cool. They sort of wave at each other, and Mel curls her lip in disgust. She feels she deserves an apology from Jen. But Jen isn't about to say she's sorry. Marge points out that they're all going to be at the Jersey Shore, so they need to make steps toward reconciliation.
Teresa trails Jen to the bar. Marge leaves them with another warning to behave themselves.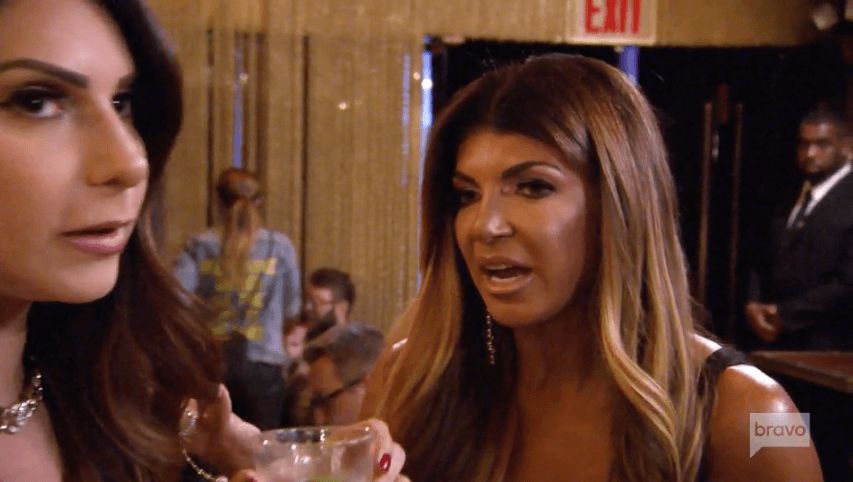 Jackie is avoiding Jen, too. She and Evan really like Bill, and Jackie wonders how he puts up with his wife and her nonsense. Maybe he works so much in order to avoid being with her? Or maybe he has to work so hard because Jen spends every dime he makes. Either way, Bill's a keeper. Jen? Not so much.
Jen and Teresa think Marge throws a crazy good shindig. If only Jackie would take a few tips and add more food for adults. (We get it, Jen. Quit beating that dead horse!) But she is sorry for her delivery, and she's nervous to approach Jackie. So, Jen knocks back a tequila and gathers her courage, then makes tracks for Jackie.
Their greeting is awkward, to say the least. Evan excuses himself so the women can talk. Jen says she never meant to offend Jackie. Too bad. Jen ruined the trip. Jen points out that she talked smack behind Jackie's back. She never thought Jackie would find out. Jackie is tired of hearing Jen's lame excuses. They aren't friends, and that's that. Jen walks off in a huff.
Jen makes a beeline for Marge. She says she tried to apologize to Jackie, but it wasn't accepted. Now, she's mad. Teresa and Dolores join the group. How can all the women come together at the Jersey Shore if there are hard feelings?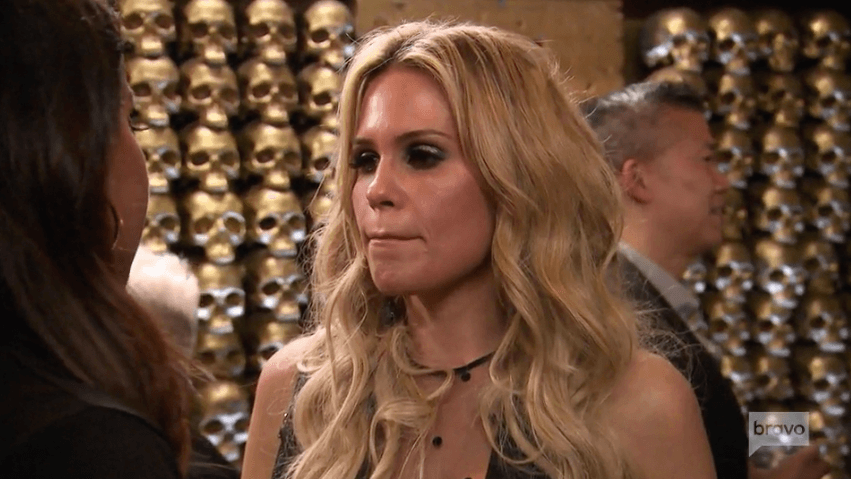 Joe Gorga and Joe B. approach Bill. What's wrong with Jen? Why is she always throwing shit? Bill backs his woman, saying if Melissa calls her names, Jen's going to get angry. Joe G. says Bill should bang his wife more often, take the edge off her frustration. Disgusted, Bill leaves. Joe B. thinks they might have touched a nerve.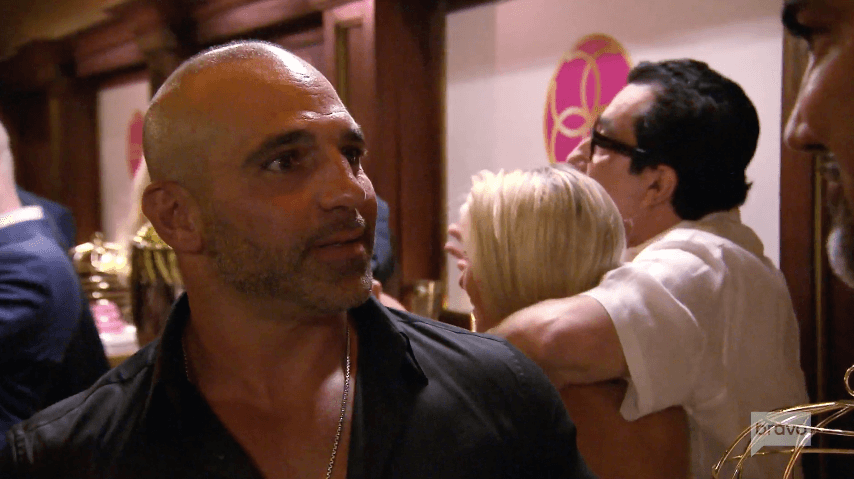 Bill joins Jen, Teresa, and Dolores. He says the men have been busting his chops and needs to sex her up more frequently. Oh no! If the dudes aren't getting along, things will go off the rails on the upcoming trip.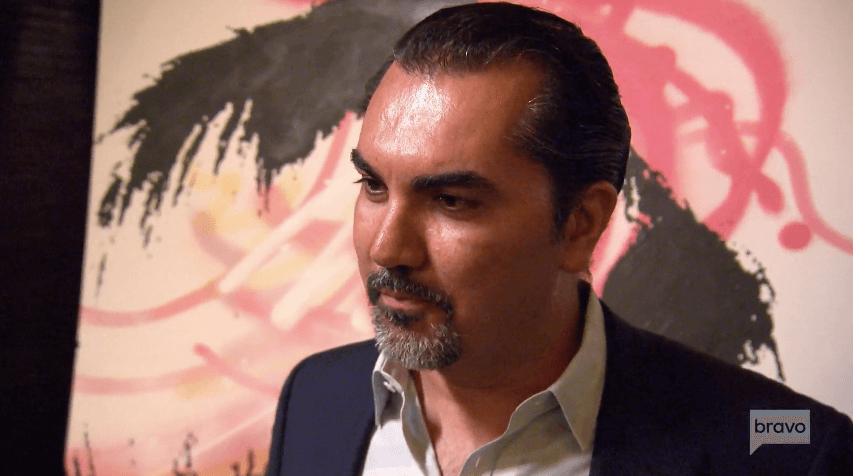 Margaret finally delivers her speech and gives props to her mom as a role model. She didn't thank husband, Joe B., but he's secure enough to take it.
And that's it for this episode. So, do you think Joe Gorga was right? Do Bill and Jen need to do the nasty more often? Was Jackie right in not accepting Jen's apology? And how left will things go next week on another cast trip?
Stay Connected With All About The Tea: Twitter Ι Instagram Ι YouTube