Sister Wives
'Sister Wives' Christine Brown Blames Editing For Irrational On-screen Behavior!
Sister Wives star Christine Brown blames TLC editing for her irrational on-screen behavior and she's lashing out on social media.
In a tweet, she wrote, "My bratty reaction just makes me cringe. I said very very logical things but…I'm not bad, just edited that way." The tweet was accompanied by a picture of Jessica Rabbit that read, "I'm not bad, just drawn that way."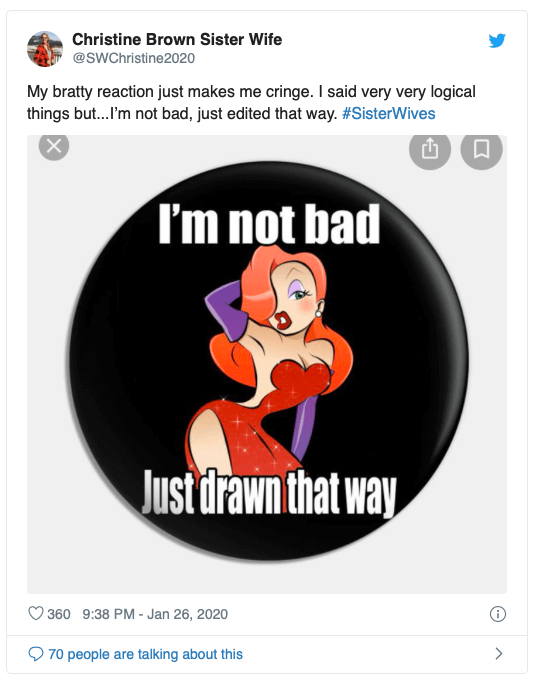 READ ALSO: Polygamous Kody Brown & His 'Sister Wives' Scammed the Government By Living Off Food Stamps, Welfare Money & Bankruptcies!
Christine Brown is referencing the episode where she shared disapproval of Kody Brown's plan to build a polygamous palace to house his four wives under one roof. Christine feels the one-house build is an intimacy killer and wants full autonomy to get touchy feely with Kody. "We couldn't be physically affectionate with each other except for in our rooms, our bedrooms. Every wife deserves to be loved in her kitchen, and her living room, and wherever, outside. You could never really be an intimate couple, because there was always a chance that another wife could and would and did walk in at any time."  Christine said in a talking head confessional. She stressed that living in the same house puts the "kibosh on intimacy," Christine said during the episode. She's fearful that another wife "could and would and did walk-in". 
Christine Brown also shared that Kody's one-house reveal caused her to stress eat and their Vegas homes were the perfect arrangement — she tweeted, "I stress ate SO MUCH after @realkodybrown presented the One House. I loved our living arrangement in Vegas and I just don't see why we'd mess with perfection. It. Was. Perfect."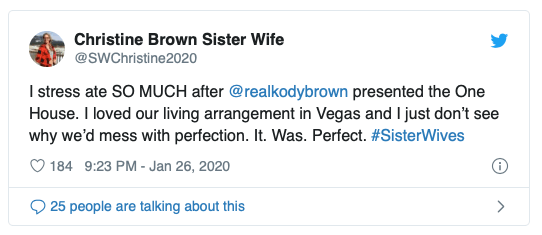 Kody and Christine have six children — daughters Aspyn, Mykelti, Gwendlyn, Ysabel, and Truely and son Paedon.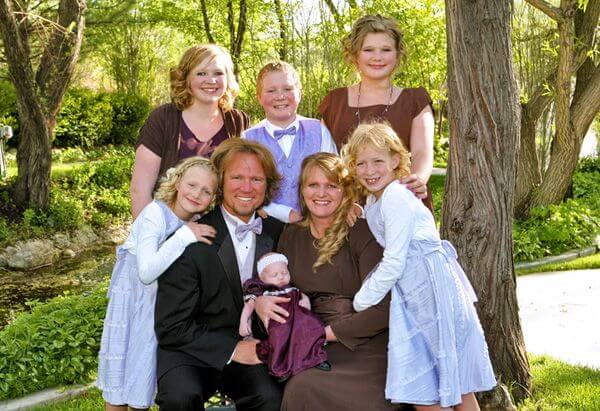 As Sister Wives fans know, the move to Flagstaff, Arizona has sent the family into financial ruins as well as emotional distress.
Sister Wives airs Sundays, at 10:00 p.m. ET, on TLC.
Stay Connected With All About The Tea: Twitter Ι Instagram Ι YouTube