Twitter Erupts After Dog the Bounty Hunter Proposes To His Son's Ex Girlfriend After Promising Beth He Would NEVER Remarry!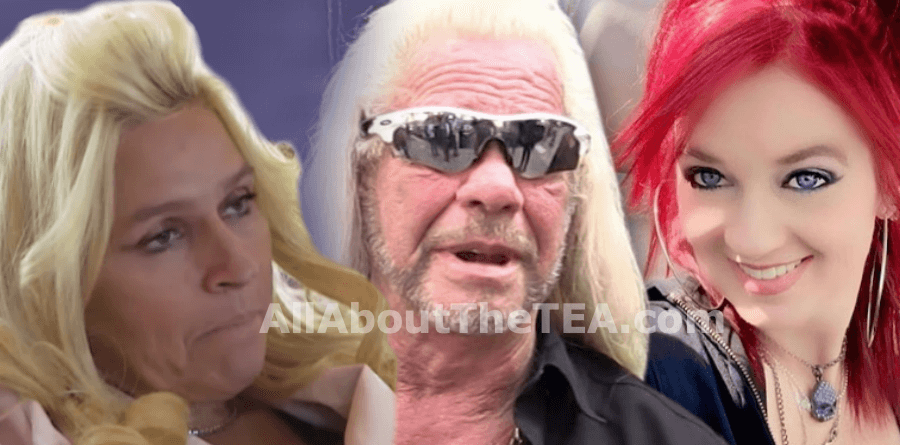 Dog the Bounty Hunter shocked fans Wednesday when he popped the question to his deceased wife's BFF, Moon Angell, in a sneak peek for the February 3 episode of The Dr. Oz Show.
"I am a lot happier with her around," the Dog's Most Wanted star, 66, says in the clip below. "Moon Angell, will you marry me?"
Press play to watch the clip below.
A marriage proposal?

After weeks of family turmoil, @DogBountyHunter and Moon Angell join me to set the record straight.

Airs 2/3. pic.twitter.com/kUsE7zBPRQ

— Dr. Mehmet Oz (@DrOz) January 29, 2020
Dog the Bounty Hunter's proposal comes just seven months after his wife, Beth Chapman, died in June 2019 following a two-year battle with throat and lung cancer.
Dog the Bounty Hunter and Moon Angell's confirmed their relationship earlier this month after denying they were dating.
In August 2019, Dog the Bounty Hunter revealed that he promised Beth that he would never remarry after her death.
"We both said, 'If I die, you can have a man. Ten [men], I don't care. But don't marry one.' … And she said, 'Don't take my name off your chest, Dog. Do not get married.' … Don't worry, I will not get married," he told PEOPLE.
Twitter erupted after the Dr. Oz clip was posted with many people blasting Dog for breaking his promise to Beth.
I absolutely agree with you!!! I've watched dog and Beth every since the show started way back in the day. That just feels so wrong. Hopefully this isn't true 😔 @BabyLyssaC

— Laura Pittman (@BlondeAngel86) January 29, 2020
Absolutely disgusted by this, you promised Beth you would not let the angela kick her out of the home she is building for you in heaven, waiting for you when its your time to go!
Completely out of your mind, you need an intervention!!!

— Emita (@emitajayne) January 29, 2020
https://twitter.com/LeydaMedina18/status/1222543384486739968
It's so sudden since her tragic passing I have to seriously wonder how long they have been together. It feels completely Savage AF and makes the memories with Beth seem fake.

— 🎗 Serena 💃🏻 Unapologetically Me (@SerenaAlbright) January 29, 2020
Thought he promised Beth he wouldn't remarry

— Teetime (@sosohot1) January 29, 2020
😡😡😡😡 horrible such a lier he said he would never marry again beth is the only mrs dog there will be then goes and does this horrible disrespectful to the kids and beth who you say you love clearly not

— lisa spiers (@lisatosh93) January 29, 2020
He's disgusting! He promised Beth, on her DEATHBED, that he would never marry again! Date, yes, but never marry. And with Beth's best friend!? They both disgust me! Poor Beth, I hope she'll haunt them in their dreams for the rest of their lives!

— Elisabeth (@ElisabethEide2) January 29, 2020
Moon Angell was Dog and Beth's assistant for more than 20 years. She began working as Dog and Beth's personal assistant in 1998 and her duties included everything from administrative work to maid services.
Moon Angell also stood as a bridesmaid in Dog and Beth's wedding in May 2006.
As reported, Moon Angell has been feuding with Dog's daughter, Lysaa Chapman.
According to Dog's daughter, Moon Angell's son, Justin Bihag, tried to steal her Beth's ashes after she passed away over the summer. Lysaa Chapman claims Justin Bihag wanted to sell Beth Chapman's ashes on EBay.
Lyssa Chapman has openly criticized Dog's relationship with Angell on Twitter. She also alleged that Angell used to date one of Dog's sons, but did not identify which one. "If someone who met your family by dating your brother, tried to date your father after your step- mom died what would you do?" Lyssa, 32, tweeted on January 7. "If you went to your mothers closet and saw she moved all her clothes and replaced them with her own, what would you do? #ItsNotWhenOrWhyItsWho."
Moon Angell responded days later by posting a series of quotes including,"What you think of me is none my business."
Dog the Bounty Hunter Dating Son's Ex Girlfriend 7 Months After Beth's Death & Family Is Angry!
Beth Chapman leaves behind 11 children and 14 grandchildren, as well as her husband Duane Chapman.
Stay Connected With All About The Tea: Twitter Ι Instagram Ι YouTube
Nancy Zhāng is an Entertainment Blogger for All About The Tea. Nancy covers hot topics, recaps and celeb news. She loves to multi-task as a writer and a private chef. She received a B.S. in Mass Communications from LSU. Nancy's married and the proud mom of 2 German Shepherds.