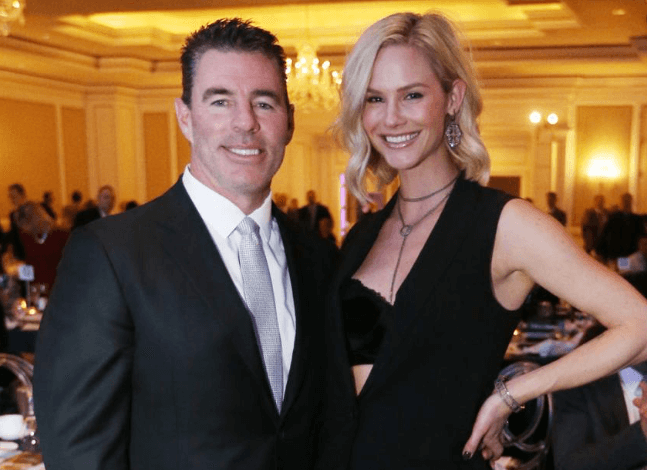 Jim Edmonds is speaking out after his ex-wife Meghan Edmonds claims he's dating a woman they had a threesome with during his marriage!
"I'm tired of the lies for publicity," the 49-year-old former St. Louis Cardinals star told Us Weekly on January 20.
As previously reported, Meghan Edmonds, 35, said during an episode of her "Intimate Knowledge" podcast on Jan 20 that Jim Edmonds was responsible for their threesome with her friend. She also alleged he ran off to Cabo with the woman.
"I found out yesterday that my ex is allegedly having an affair, or seeing somebody," Meghan, 35, said during the podcast. "Okay, well fine right? We're separated."
"Years ago, when he and I got married, I knew Jim had this bad boy kind of past, and we were newlyweds and we were trying to have fun, and he wanted to have a threesome," Meghan recalled. "I thought about it and I thought, 'Okay, maybe, yeah sure.'"
"So we decided to have a threesome with a friend of mine," Meghan Edmonds explained. "I felt very comfortable with her, it just felt like 'Okay if I'm going do this, this can be with who and I'm comfortable with that.'"
Read Also: Jim Edmonds Is Dating Woman He & Meghan Had a Freaky Threesome With!
However, Jim Edmonds explains what's really going on in a statement to US Weekly. 
"I was invited to a surprise birthday party this weekend for one of my best friends and decided to bring a date. There is no affair going on here. It has been a plus-one for the weekend," Jim Edmonds told Us Weekly. "The woman I am in Cabo with is not her friend. They have not spoken in over three years."
The Fox Sports broadcaster clarified that it was Meghan who introduced the threesome in question and suggested more ménage à trois during the couple's marriage. He also accuses Meghan of engaging in lesbian affairs behind his back.
"As far as threesomes go, there were more than a few initiated by Meghan and only Meghan," he continued. "Recently, I have learned that she carried on with a few of these women without me being present. Would that not being considered cheating?"
Jim Edmonds also pointed out that he filed for divorce over 90 days ago. "Meghan has filed as well," he said. "The marriage is and has been over." He added. "How can she have a podcast talking about intimacy and relationships when she has neither?"
Meghan Edmonds on the other hand, claims the freaky threesome was only a "one-time thing" and that she and Jim Edmonds occasionally ran into the woman over the years.
Stay Connected With All About The Tea: Twitter Ι Instagram Ι YouTube