It's time for part 3 of the reunion of the Real Housewives of Orange County. We begin with Braunwyn Windham-Burke and Vicki Gunvalson in a heated argument. Vicki has a problem with Braunwyn's nudity, and in fact, she's lost a couple of clients who said the show didn't reflect their moral compass. But as Andy Cohen points out, Vicki herself has flashed her breasts at the camera and demonstrated a blow job with a lollipop. And she's been so drunk, she peed on Tamra Judge's bed in Mexico. So…physician, heal thyself, or something like that. 
Vicki Gunvalson may gripe about moral standards, but she's had some drunken fun through the years. Including getting Gretchen Rossi "naked wasted" and letting Tamra drink shots from her bra. Still, threesomes are "disgusting" according to Vicki. Plus, she rarely likes the newer castmates. Next season, she and Braunwyn will probably be besties.
Vicki Gunvalson categorically denies auditioning for the show. But Bravo shows us a flashback of Vicki talking about her home when the show was nothing more than a concept. Andy points out that if Vicki doesn't like the direction of the show, she doesn't have to participate. Ouch! Then he dismisses her after she touts her new podcast.
As Vicki Gunvalson realizes that there's another segment and she won't be in it, her temper flares up. Onstage, Andy whispers with Tamra how insane Vicki's arguments were. Emily Simpson thinks Vicki is self-righteous. And in her dressing room, Vicki complains about Braunwyn's disgusting behavior. When Vicki sees the camera is still taping her, she slams the door and tells the cameraperson to f*ck off. 
Next, we move onto the make out scenes between Tamra Judge and Braunwyn. Braunwyn told her kids that she was attracted to women and that she'd kissed her costar. One of her kids said they were also attracted to the same sex. Then we see where Tamra admitted to having had sex (though not penetration — ugh) with three of her friends while Eddie watched. Well, technically, she and Eddie were banging it out on the grounds of the venue when her naked friends joined them. Hey, it was her 50th birthday. What was she going to do, have dinner at the Olive Garden?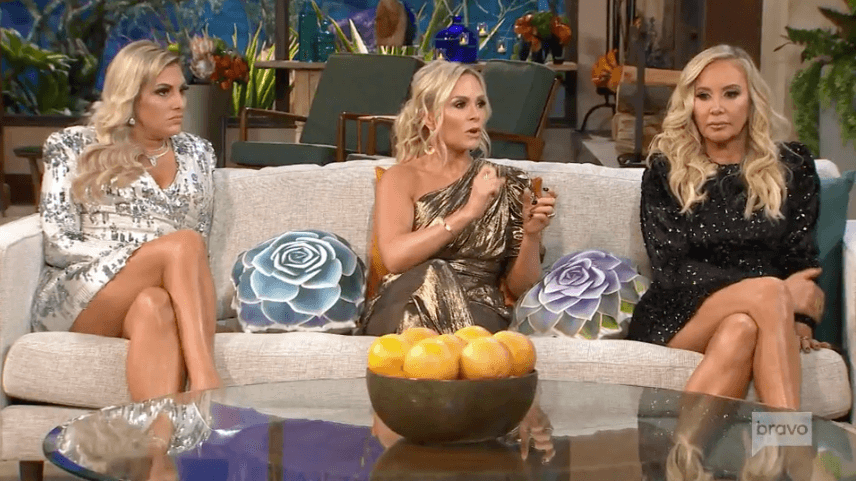 Speaking of sex, we see Kelly Dodd's denial of pulling a train. As we're watching Kelly and Dr. Brian, Kelly's rolling her eyes, saying she doesn't know what she was thinking by dating him. I'll bet she was thinking about his bank account, but that's just a guess. On a happy note, Kelly and her mom are reunited. Kelly's brother started the rumor about her kicking Mom down the stairs, and according to Kelly, her mom NOW vouches for Kelly's innocence in elder abuse
EXCLUSIVE: Kelly Dodd's Mother Says 'RHOC' Daughter Pushed Her Down A Flight of Stairs! 
Kelly Dodd maintains that she never wanted to get engaged or live with Dr. Brian. She says it wasn't a healthy relationship. Kelly was on vacay when a friend introduced her to Rick Leventhal, and they're now engaged. Although, Jolie hasn't met him yet. Anyway, Kelly's ring is huuuuuge. Since Rick lives in NY, Kelly wants to move and take Jolie with her, but as Tamra points out, Michael probably won't allow his daughter to leave Cali. Kelly dismissively tells Tamra that she'll figure it out.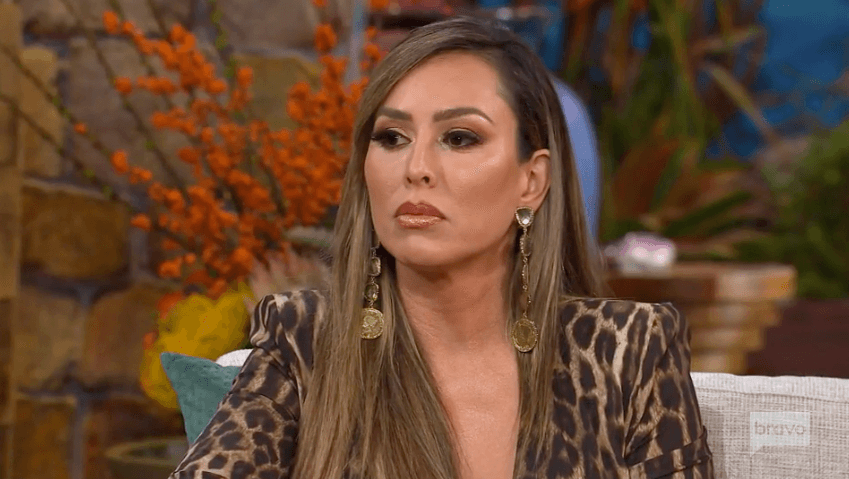 We move onto Emily Simpson and her shambolic life with husband, Shane. He may have surprised her in Vegas for their anniversary, but things were not good between them. She wants compassion from Shane, but never gets it. Still, she has a commitment to her family and wants her marriage to work. 
Emily Simpson's bestie, Gina Kirschenheiter, thinks Emily plays into the negativity with Shane. Case in point, in a fit of anger Emily mistakenly sent a nasty text addressed to Shane to her inlaws instead. Whoops. And whatever she said caused a rift between Emily and her mother-in-law. Emily slapped back at Gina for bringing the subject up, especially since she told it to Gina in confidence.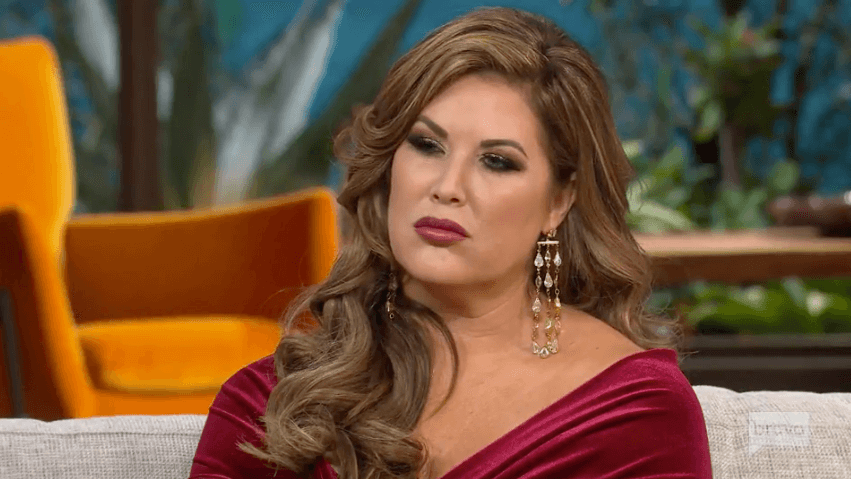 Emily Simpson talks about being body shamed last season. She states that she gained another 25 lbs., but she's embracing her curves as best she can. We hear Emily's pain when she went to Tamra's gym and hopped up on the scale. She's embarrassed by her weight gain. (Girl, we've all been there.)
Eventually, Shane steps onto the stage and parks next to Emily. Though fans don't like Shane, he doesn't seem bothered by it. He admits to being a dick at times, but there's more to him than one side. For instance, when he taunted Emily with the bread basket, fans went crazy. But it didn't bother Emily. Shane says he doesn't think of her as overweight. He thinks she's beautiful. 
But then we see some unseen footage of Shane and Emily having dinner with a very uncomfortable looking Braunwyn and Sean. Shane slams her for forgetting Annabelle's art class, but states she never forgets to go to the mall or the nail salon. Braunwyn says that Shane knocked Emily down that night and never stopped. 
Shane didn't go to Vegas to watch Emily dance because it was filmed. But he loves and supports his wife. He's so complimentary, that Tamra and Shannon tell Emily that she should give him props for that instead of being so negative. But Emily counters, saying she's been close to divorcing Shane because of their problems. Is Emily playing the victim? Gina says yes. And Shane says Emily has anger problems and lashes out.
EXCLUSIVE: Emily Simpson's Nightmare Marriage Exposed & The Real Reason She's Stuck With Shane!
Even Kelly Dodd, who called Shane "a little dork" last season, says he was nothing but sweet to Emily when she went to Cabo with them. But she saw another side to Emily that wasn't so flattering. Kelly says Emily was bitchy to Shane during the entire trip. Apparently, they've now turned a corner in their marriage and are happier than they've been in a while. 
Finally, we get to Gina's issues. Between her DUI, her broken marriage, and the domestic abuse she suffered at the hands of her ex, Gina's had a no good, very bad year. At one point, Gina planned on taking Matt back, but things changed. Fortunately, the kids are doing well. Gina giggles through tears as she talks about the new man in her life. 
When Andy asks Gina about the domestic violence situation, she says she and Matt were fighting during the day. She asked him to leave, but later they went out with friends. They were both drinking, and on the ride home he became angry and got kicked out of the uber. Then his phone died and he had to walk home. When he arrived at the house, it was like he flipped a switch. He attacked her. Gina managed to get out of the house and bang on the neighbor's door, but he dragged her back inside. It sounds like a terrifying ordeal. He's facing up to seven years in jail, if convicted. 
Gina Kirschenheiter blames herself and the show for sharing so much of her dirty laundry with the women. But this happened a mere month after their reconciliation. She didn't want to tell the world about her abuse, mainly because the news of the DUI was out and she didn't want to take any more negativity from the public. 
In the final scene, the ladies hold a rose. Andy passes around a brass bowl to throw the petals in. They say what they want to let go and what they want to invite in. Kelly still wants her water in Costco. Gina let go of her crazy hairstyles. (Good idea, Gina!) Tamra lets go of loose lips. And Shannon lets go of her past. (That means you, David!) Then they take a shot of tequila and toast to sisterhood.
Well, what did you think of the season? Of the reunion? Will all the women be back next year or should someone be cut? If so, who?
Stay Connected With All About The Tea: Twitter Ι Instagram Ι YouTube